Let's face it, in life, it's almost always about luck. In just about everything, right timing is the most important factor.
It mattered when (1955) and where (northern California) Steve Jobs was born. It mattered that Jimi Hendrix lived his life after electricity was invented. It matters that Katy Perry wasn't born in Plymouth, Mass., circa 1636. Shooting sparks like Katy just wouldn't be part of the mindset to 17th century Puritans; churning butter would have been pretty much it.
For all his skill and hard training, Boston Bruins forward Tyler Seguin is also very lucky.
Lucky he was drafted in the first round in 2010 by a team that was one win from reaching the conference finals. (The Bruins and Seguin were in this position as a result of the Phil Kessel trade with Toronto.) Lucky he was drafted into a young and passionate American hockey market, but not an all-consuming one. It took all season for 100 percent of the local media to pronounce his name correctly (national media members are at about 90 percent) -- Seguin as in SAY-gin, as in rhymes with Ronald REAGAN.
Lucky he was able to play 74 games at the NHL level last season with no real pressure to perform but with a burning desire to do so. His NHL acclimation was smooth, and not under a Canadian microscope. Seguin was surrounded by veterans and bodyguards and eventually contributed in the playoffs. (After losing Game 1 of the East finals against the Tampa Bay Lightning, the Bruins trailed 2-1 after the opening period of Game 2. Then, Seguin had two goals and two assists in the second period alone, and the Bruins went on to win the contest and the series in seven games.)
Lucky it took Seguin just 74 regular-season games to raise the Stanley Cup for the first time at age 19 and not the 1,612 regular-season games it took 40-year-old virgin Raymond Bourque to raise his first Cup with the Colorado Avalanche in 2001.
And, after all that, Seguin's luck continues this season; the script continues to be perfect for him.
He is playing on a line with the unselfish Patrice Bergeron, one of the NHL's finest three-zone players. It must have been hard for Seguin to find players on his team who could come close to his skating when he was growing up. The 25-year-old Bergeron, part of the amazing 2003 draft class (he went in the second round), is a fluid, gorgeous skater whom Seguin is pushing to a new level. Brad Marchand, that confrontational rat who takes off layers of board paint with his daring and undaunted play, is another perfect NASCAR complement to the IndyCar-driving Seguin (who will turn 20 on Jan. 31).
All this good fortune, plus Seguin's triple threat of great skating, good hockey sense and killer release, has put him right at the top of the hockey stratosphere this season.
All with the caveat of ... he could have been a Maple Leaf.
Less than 10 months after Brian Burke was named president and GM in Toronto on Nov. 29, 2008, and coming off an 81-point season in 2008-09, he traded for Phil Kessel. Burke gave up Toronto's first-round (Tyler Seguin) and second-round (Jared Knight) picks in 2010 and a first-round selection in 2011 (Dougie Hamilton). I'm sure the thinking in Toronto was that Kessel and others could get the team to 90 points and a sniff of the playoffs, which would push the draft pick it gave to the Bruins down into the late teens of Rounds 1 and 2. Elite players like Kessel (fifth overall pick in the great 2006 draft) are usually long gone by then.
But the Leafs crashed and finished with the second-fewest points to give the Bruins the second overall and 32nd picks in what is already turning out to be a very good draft (Taylor Hall, Seguin, Jeff Skinner, Alex Burmistrov, Cam Fowler). The Leafs missed the playoffs again last season, while the Bruins won the Stanley Cup. The Bruins used that other first-round pick this past summer and picked up a beast of a defensive prospect in Hamilton, giving their organization loads of depth to last for the next decade and beyond if Hamilton plays to his three-zone, Rob Blake-like potential.
But, the way things are going, this trade always will be about how the Brampton, Ontario, kid could have been playing for the Leafs and what a centerpiece he could have been while wearing the blue and white.
Barring injury, Kessel should have a long, productive, 500-goal, Hall of Fame career. He is an elite skater with an elite release, a stunning player to watch in the open ice. The 24-year-old forward is looking to pass a little bit more at times this season, and his shots per game are down a bit, but he will set a career high in assists this season.
What about Seguin? ESPN Boston's Joe McDonald reported in October that Seguin has a congenital condition that makes him more susceptible to a hip injury. Assuming he is able to keep that potential tragically hip under control with exercise and, yes, luck, his career arc has a chance to be very similar to Kessel's with the added benefit of being the likelier one to replace Kevin Richardson and get The Backstreet Boys back to full strength. (They've been playing a man down the past five years, and the music industry is suffering for it.)
We're still years from being able to fully quantify the Kessel-Seguin trade. Hamilton's and Knight's career arcs will be the difference-maker, but if both stay injury-free, the Kessel-Seguin career comparison should be pretty close, Backstreet Boys salad aside. I probably would take Seguin at this point. He has the game, the look, the name, the flair and, yes, the luck to be great. That likelihood increases because he is on a really good team.
Could he have done it with the Maple Leafs? I say yes. Seguin is a very talented player with deep confidence. His coolness would have played well in simmering Toronto. The transition wouldn't have been as smooth as in Boston, but he would have gotten through it. He would have been a gigantically popular player with that giant Leaf on his chest, helping justify those outrageous ticket prices that people are willing to pay. He's the kind of player you go to the warm-up to watch.
But hey, NHL careers are long, and there is a salary cap. Maybe Seguin will end up in Toronto someday via free agency if he blows up into a max-contract player. If Leafs fans are lucky.
The Mother of All Mini-Mailbags
John,
Your thoughts on the Lucic-Miller incident? Personally, I don't think it was a vicious or suspendable act. Sure, he could have pulled up a bit but Miller was coming with equal momentum. He didn't come up high to target the head as much as Miller went low to poke the puck.
The B's always seem to bring out the Sabres' softer side. Their timid response was embarrassing to say the least, but there may be dudes in this league that could throw with that beast.
Bob Gallivan
Buffalo
I watched the Milan Lucic-Ryan Miller collision over and over again, and I agree it falls just short of a suspendable offense. My explanation would have been:
Lucic was skating probably about 15-20 mph as he attempted to get the puck. He was attempting to reach the puck not only for possession's sake but also to have the best angle to attack the net. Then, he saw Miller coming far from his net to play it, and his first instinct was to win the race for the puck and maybe score an easy goal. Miller won the race; at this point, Lucic was about 10 feet from Miller will all the speed he generated during his sprint.
Lucic generally has good speed once he gets going, but he is not a world-class skater in terms of agility, like a Taylor Hall, Sidney Crosby, Claude Giroux and others in the NHL. Lucic could have tried to get on his edges and driven them hard downward, but his speed was so high and his proximity so close, it's doubtful he would have stopped in time without putting himself in danger.
At this point, Lucic likely decided he would follow through and not avoid contact -- that's how he is wired. He is a confrontational person who is not afraid of contact. He brought his elbows in and made contact with his shoulder to the rear shoulder/back of Miller. Did Lucic want to collide with Miller once he reached the point of no return? I think that is obvious. But because it was a race to the puck and Miller was 15 feet outside his crease, I thought Lucic's "controlled contact" warranted the two-minute charging penalty he received. It was a high-speed accident that was the result of two players racing for the puck; it could have been worse if Lucic really wanted to truck Miller. I thought there was a chance of a small fine as a warning to avoid contact with goalies around the net. This collision happened 15 feet in front of the net.
Goalies have to be protected because, like quarterbacks, they are defenseless because they are mostly stationary in a high-speed game. But when they put themselves in motion, the chances for a violent collision increases.
And why didn't the Sabres "respond" the way many believe they should have? Well, I think one reason is they realized there was nothing overtly malicious about the play. Also, they have no one on the team who can really handle Lucic in a fight. He is a ferocious, fearless fighter. Additionally, Zdeno Chara was on the ice. But someone could have taken his gloves off and at least attempted to wrestle Lucic to the ice until it was broken up. Players have to stand up for their teammates, especially their skinny goaltender.
Should the Sabres go out and find more fighters as a result? Not necessarily. It's more important to be fearless going to the net, in the corners and on the road over the long term. It's more important not to whine and play through injuries. I'm not pinpointing the Sabres here; I'm just saying this as a hockey axiom. It's more important to be energetic and sometimes nasty and confrontational than just fighting. These kinds of players are inspirational and do elevate team bonding, a very important ingredient during a long, arduous hockey season. The more physically demanding a team sport is, the higher the importance for unity and togetherness. A team often has to construct "causes" during a hockey season, especially long championship seasons, because hockey is so physically and mentally demanding.
The Sabres have new players, and bonding takes time. But I think it's reasonable to assess what the Sabres have to evaluate more than just fighting Lucic -- do they have a group of players who have a collective cause to win ugly, painful, stinky, bloody hockey games? The Sabres have a lot of sauce on their squad, but they may need more stink. It's fair to say that there needs to be an internal discussion about that in Buffalo.
John,
My wife Heather and I are expecting our first child this March. As a die-hard Ranger fan, I can't wait to skate with this kid one day. The only problem is we can't come up with a name for the little man, any suggestions? Heather already said no to Gordie. Thanks.
Brian Rowe
Adam Michael Rowe. Adam Graves and Mike Richter are great role models.
---
The Twitter ...
@HokieDru: any chance ESPN gets some hockey games with the NBA season in doubt? #amancanhope
I get this question from time to time. Just so you all understand, NBC/Comcast has exclusive rights to broadcast NHL games for the next 10 seasons. ESPNU, ESPN2 and ESPN still has exclusive rights to the entire NCAA hockey tournament. This year's Frozen Four is where? Tampa, you got it.
Spada29: Just got a new golden retriever male puppy. Whats your top 5 hockey names for pets?
1. Dangles; 2. Sauce; 3. Dasher; 4. Mitts; 5. Deke.
---
View from the Hockeyverse
Here are some pictures you've sent me via email. You can also hit me up via Twitter at @buccigross!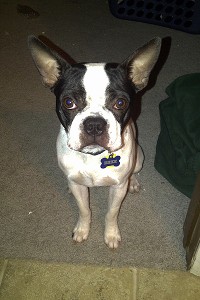 Bucci,
Deke.
Kenny Rausch
Manager, youth ice hockey
USA Hockey, Colorado Springs
He Dekes ... he shoots ... he scores. On the carpet.
Bucci,
So beautiful ... Monthey, Switzerland.
Oren Koules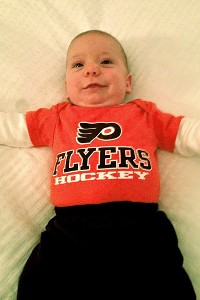 Hi John,
I love your column and thought you would appreciate this picture of the newest hockey fan in my family. My son, Josh, is almost 4 months old and already showing an interest in the greatest sport alive. My husband plans to have him in skates as soon as he's able to stand. Keep up the great work!
Natalie Lennick
Jim Cantore would like that Baby Smedium shirt. Sun's out, guns out.
Stay tuned ...
Bucci will be spending quality turkey time with Ken the Otter next week but will return on Nov. 29 with more hockey goodness.
John Buccigross' email address -- for questions, comments or crosschecks -- is john.buccigross@espn.com.