I like to change up my ESPN.com preseason predictions presentation every year. This year I picked the eight teams I thought would make the playoffs in each conference and then added a Bold Prediction that perhaps the majority wouldn't make. As we approach the halfway point of the season, and in the spirit of transparency (you can delete tweets but you can't delete hockey blogumns), I thought I would revisit the Bold Predictions and then add an even more annoying percentage of accuracy predicted for the original prediction.
Then I will give you 14 more Bold Predictions for the teams I didn't pick to make the postseason.
All free of charge.
EASTERN CONFERENCE
BRUINS
Preseason Bold Prediction: If he gets 16 to 17 minutes of ice time per game and consistent power-play duty, Tyler Seguin will lead the Bruins in scoring.
Now: Tyler Seguin leads the Bruins in scoring and plus/minus, and is tied with Brad Marchand for the goal-scoring lead, despite playing just more than 16 minutes a game. Still just 19 (he turns 20 on Jan. 31), Seguin is an extraordinary all-around talent. In fact, the Bruins have had few players in their history with his skill set -- only Ray Bourque is in his neighborhood, since No. 4, Bobby Orr, left for Chicago. Seguin is an A-plus skater with an A-plus shot, clearly. But he also is obviously very ambitious with eyes on doing great things -- an underrated factor in talent evaluation. You can tell he yearns for more responsibility and opportunities. Also, No. 19 has excellent hockey awareness and a keen sense of timing. He knows when to pass the puck, how hard to pass the puck and where to put this pass. High IQ and sick mitts equals points. The Bruins haven't had a league MVP since Phil Esposito, in 1974. In the next two to five years, as Seguin gets more ice time and improves his faceoff percentage (which he will do), Seguin has a chance to get one.
Preseason Bold Prediction Prognosis Percentage: 80%
SABRES
Preseason Bold Prediction: Buffalo will lead the Eastern Conference in goals scored, with 261.
Now: Thomas Vanek and Jason Pominville could pass last season's offensive numbers but the rest of the team is underperforming, outside of rookie Luke Adam, and this bold prediction will not happen. Drew Stafford had 31 goals in just 62 games last season. He might not get 15 this season. Tyler Ennis scored 20 goals last season but began this season injured. The Sabres ridiculously overpaid for Ville Leino (only $21 million over five years after this year!), who has been a complete bust. I thought Nathan Gerbe would be a 15-20 goal guy after getting 16 goals in 64 games last season, but he got off to a slow start and then got injured. Derek Roy is off an expected 25-goal pace. Between injuries and the roster additions, it's been a swampy first half for the Sabres. They need health and they need to congeal. The season is getting away from them.

Preseason Bold Prediction Prognosis Percentage: 8%
DEVILS
Preseason Bold Prediction: Zach Parise is either traded at the deadline or lost to free agency over the summer.
Now: We are less than six months away from when unrestricted free agency opens, and Parise still hasn't signed an extension. What's the holdup? Parise turns 28 in July and is coming off a serious knee injury; he needs to hit this contract big while playing in a place that fulfills him. I'm sure a seven-year, front-loaded, Fiddy-million-dollar contract awaits him this summer or in the form of a Devils extension. The Red Wings are in a great position to get him if Parise desires Detroit. But just about any team will at least examine its roster/cap/salary trade to land a Christmas tree such as Parise. If you are the Devils, you have to make your best offer to him on or before Feb. 26. If he says no, you trade him.
Preseason Bold Prediction Prognosis Percentage: 60%
RANGERS
Preseason Bold Prediction: A career high in goals for Marian Gaborik.
Now: In the summer of 2009, Glen Sather traded Scott Gomez and stuff to Montreal for salary relief, Chris Higgins and a 20-year-old defenseman named Ryan McDonagh. Sather used that salary relief to sign Gaborik to a five-year contract worth an even $7.5 millon a year. Why didn't Bob Gainey just sign Gaborik? Gaborik, one of the most talented players of his generation, scored 42 goals in his first season on Broadway, tying a career high. Last season, decreased ice time, 14 fewer games and half as many power-play goals (14-7) saw his goal total dip to 22. With the acquisition of Brad Richards and a maturing blue line, I thought this would be the season Gaborik would break out for a career high in goals. He currently is on pace to shatter his career high and sniff the 50-goal mark for the first time. Gaborik always has reminded me of Joe Sakic in one way: a killer release while in full flight. Great athletes do unique, athletic things at elite speed -- that's their gift. Sakic had two 50-goal seasons, one at age 26 and one at age 31. Gaborik, and his otherworldly acceleration, turns 30 on Valentine's Day and has a great chance for his first 50-goal season.
Preseason Bold Prediction Prognosis Percentage: 80%
PENGUINS
Preseason Bold Prediction: Evgeni Malkin will win the scoring title and Hart trophy.
Now: When fully engaged and completely healthy, Malkin might be the most talented all-around player in the NHL. Outside of his pathetic and defenseless 44 percent faceoff number (too big, hands too good not to be great at it), no one can touch his combination of size/reach (he's 6-foot-3), speed, agility, heavy shot and hockey sense. He also is doing something this season that I always thought he should do more of: shoot. His career high in shots per game has resulted in a career-high points per game. The Geno Malkin trophy case is pretty impressive. He has a Calder trophy, an Art Ross Trophy, a Conn Smythe Trophy and a Stanley Cup ring. Claude Giroux, among a couple of others, will pose a major challenge, but if the Penguins win their division, Sidney Crosby ends up missing most of the season and Malkin wins his second career scoring title, he has a great shot at his first MVP. He and Giroux are tied for the lead with 1.39 points game.
Preseason Bold Prediction Prognosis Percentage: 71%
LIGHTNING
Preseason Bold Prediction: Martin St. Louis has another big season and will be inducted into the Hockey Hall of Fame in 2021.
Now: St. Louis took a puck to the face during a morning skate early last month, which certainly prevents him from having a big season in 2011-12. He still has a chance to be a point-per-game guy and continue to build his Hall of Fame case. No. 26 is the patron St. Louis of all the small players playing hockey. There are no slow small players. Obviously, they have to be great skaters and have great hands. Those guys are everywhere. But St. Louis proves that if you play with unbridled joy and enthusiasm and are willing to go to high-traffic areas, you can carve out a career if the situation is right. The Hall of Fame? He has a Cup win, a scoring title, an MVP and two Lady Byngs. He has been on four year-end All-Star teams and has excellent playoff numbers, something I feel should be part of a Hall of Fame résumé -- performing best when it matters most. What is more important than that? If St. Louis can get his career numbers to 400-700-1,100 (goals-assists-points), to go along with his underdog story and classy/stylish play, he would get my vote.
Preseason Bold Prediction Prognosis Percentage: 80%
CAPITALS
Preseason Bold Prediction: Bruce Boudreau does not last the season as coach.
Now: Despite Boudreau's three consecutive 100-point seasons, you could see this one coming. And I believe the seeds were sown during the airing of "24/7." The contrast between Dan Bylsma and Juicy Brucey was stark, right down to a mysterious condiment on Boudreau's grill. The Capitals appeared to be coached by an f-bomb-wielding hot dog salesman, while the Penguins were led by a buttoned-up Wolfgang Puck delivering a meticulous and measured serving of pan-seared tilapia, all with a charming smirk. Bylsma's pregame coaching had the consistent, on-point message of a U.S. senator. Bylsma's f-bombs were postional IDs: F1 (forward 1), F2, F3. Boudreau's f-bombs were delivered with Sam Kinison-frequency in noun, adverb, adjective and verb form. It was profane and it was awesome, but Boudreau was the front man of a half-billion-dollar franchise. Image isn't everything in 21st century sports, but it's a lot. It also doesn't help when your best player coasts for two months.
JETS
Preseason Bold Prediction: Pick up Mark Scheifele for your fantasy bench and watch him win rookie of the year honors.
Now: Major whiff here. Scheifele was returned to his OHL team, the Barrie Colts, for the season. In 19 games there, he is 13-23-36.
So as a backup, ego-boosting move, here is part of my Winnipeg preseason analysis:
"Add in the Winnipeg-Canada fanatic factor and the jolt players will feel knowing they will play in front of 41 sold-out home games, and this should lead to a very strong home record. Evander Kane had a 17-point improvement from his rookie season and the Jets need another jump like that from him this season."
After a slow start, the Jets are playing great at home and now are in position to battle for a playoff spot. They are a fun team to watch but will need great goaltending and better in-zone play to finish the job. After a December filled with home games, the Jets' season will be defined in January with nine of 13 games on the road. We will find out whether they are legit. Meanwhile, Kane is on his way to another 17-point improvement.
Fraudulent/Mulligan Preseason Bold Prediction Prognosis Percentage: 50%
WESTERN CONFERENCE
BLACKHAWKS
Preseason Bold Prediction: Duncan Keith is the best defenseman in the NHL and wins the Norris trophy.
Now: Keith continues to be an ice-time machine who plays in all situations. However, his offensive numbers once again are off his 69-point Norris trophy season of 2009-10. He certainly will reach 40 points, and 50 is plausible. Keith's game is not all numbers, though. He was meant to be seen in person. His ability to close and shrink space with his speed, winning puck races, is the strength of his game. He turns loose pucks into breakouts in his own end and gets to pucks in the neutral zone, squelching offensive rushes from his opponent. Next time you watch a Blackhawks game, just watch how many races Keith wins. With a big second half, Keith could get back into the Norris picture. Meanwhile, Marian Hossa is having a monster season, one of the best of his career, and should be in the MVP discussion.
Preseason Bold Prediction Prognosis Percentage: 25%
AVALANCHE
Preseason Bold Prediction: Matt Duchene will be within the top eight in NHL scoring.
Now: Duchene was tied for 85th in scoring when he injured his knee last week. He had 0.68 points per game in his rookie season and jumped to 0.84 points per game last season. I thought he would continue that ascent and eclipse the point-per-game number. For some reason, it hasn't happened. Young people handle freedom and riches differently, and it doesn't take much to stop the improvement process. Colorado's franchise austerity hasn't helped Duchene. This team is in desperate need of role models and professionals. Perhaps it's part of a master plan. Colorado has $41 million worth of cap space next season. It could sign three Zach Parises. Hopefully, the Avalanche will step up.
Preseason Bold Prediction Prognosis Percentage: 0%
RED WINGS
Preseason Bold Prediction: Either Shea Weber or Zach Parise will be a Wing this time next season.
Now: Red Wings GM Ken Holland has $23 million worth of cap space this summer and no expensive restricted free agents to sign. The Wings will be positioned to land a big-time free agent such as Parise, Ryan Suter or maybe even an Alexander Semin if they think Pavel Datsyuk and the Red Wing Way can inspire him to fulfill his lethal physical potential. Weber is a restricted free agent and would be a difficult land. I would think plenty of teams could offer more in assets than Detroit, but you never can count out the Wings. They have no interest in taking a step back. They will hope their brand name is strong enough to attract new, elite talent at a slight discount.
Preseason Bold Prediction Prognosis Percentage: 50%
KINGS
Preseason Bold Prediction: The Kings will make a big in-season trade and acquire a first-line winger.
Now: This prediction was made because it was so obvious. I picked the Kings to win the West because they are so strong from the net out. They have good, inexpensive goaltending, which makes it much easier for a GM to build a deep roster. But the Kings' top-five D takes up more than $21 million of cap space this season, a healthy number. A big issue is the $8 million of zero offense the Kings have tied up in Dustin Penner and Jarret Stoll. I believe the Kings have the goalie and defensemen to win the Stanley Cup. They don't appear to have the forward group, and that should be their focus right now. I don't see how they can hang with the Sharks, Wings or Canucks in a seven-game playoff series as currently constructed.
Preseason Bold Prediction Prognosis Percentage: 55%
NASHVILLE
Preseason Bold Prediction: Shea Weber is traded before the trade deadline.
Now: Weber, 26, is a beast. Drafted in the second round in 2003 (Loui Eriksson, Patrice Begeron, Matt Carle and David Backes also were second-rounders), the 6-foot-4, 230-pounder is in his hockey prime. Additionally, he has the presence coaches and GMs love. Even his name is cool. Once again, he is having an all-around excellent season. Since Weber arrived on the scene in Nashville, in '05-06, here are the Predators' point totals: 106, 110, 91, 88, 100 and 99. After a slow start this season, Nashville had a good December and has a better than 50-50 chance to get at least 90 points and make the playoffs. However, with Weber, the Predators have won one playoff series, their only playoff series in franchise history, when they beat the Ducks this past spring in six games. Weber and the Preds could not get together on a contract, and Weber was awarded a $7.5 million, one-year contract, the largest arbitration award ever in the NHL. When a player and an NHL team can't get together on a long-term deal, that is a red flag that the player wants to seek a different city. In such a dangerous sport, it's hard to turn down that kind of guaranteed jack. Dany Heatley didn't want to be in Ottawa, but how do you turn down a six-year, $45 million contract extension? Heatley couldn't. It seems to me that Weber and Zach Parise want to be elsewhere. And the time to trade Weber is now. He is a restricted free agent for another year and he could be a difference-maker for a playoff team. The longer the Preds wait, the less they likely will get. I can see them getting a top-2 D-man, a top-6 forward upgrade or a legit prospect and a first-round pick for Weber if he somehow made it understood he would sign an extension with his new team.
Preseason Bold Prediction Prognosis Percentage: 70%
BLUES
Preseason Bold Prediction: Chris Stewart will score 40 goals for the Blues.
Now: If Stewart had been in the NHL when I was 10, I would have scanned his hockey card for something quirky, interesting or noteworthy. ("Chris likes to hunt and fish in the offseason. And collect stamps.") I would not have had to look hard to find something. His season goal totals the past two seasons? 28-28. I would have spent most of my time that school year pondering, praying, that Stewart would score 28 goals again this season. I have a possible explanation for this behavior but I prefer to keep it to myself. Now that I am slightly more experienced, I assumed that with Stewart turning 24 coupled with his 15 goals in 26 Blues games, he would make that next push and get to 40. It will not happen. Stewart's ice time is down, and the Blues are not blessed with the playmaking centers Stewart needs. You wonder whether Stewart might be moved again before the deadline.
Preseason Bold Prediction Prognosis Percentage: 0%
SHARKS
Preseason Bold Prediction: Logan Couture will lead the Sharks in scoring this season.
Now: Last season, Couture was sixth in scoring on the Sharks as a 21-year-old. Couture is one of my favorite players to watch because of his physical literacy level -- he can do multiple great things at top speed. That's why he was productive last season in the playoffs, where everything gets faster. He is part of a balanced Sharks attack that once again has the parts to reach the Stanley Cup finals. Couture leads the Sharks in goals (he has a shot at 40) but Joe Thornton and ice time might keep Couture from making my Bold Prediction come true. Couture is still just 21, and the Sharks aren't going to give him many 20-plus-minute nights, but he still should get his shots and give Jumbo a run for his money.
Preseason Bold Prediction Prognosis Percentage: 40%
CANUCKS
Preseason Bold Prediction: The Canucks will strengthen themselves at some point by trading Cory Schneider.
Now: The Canucks are humming and once again are a Stanley Cup threat. Only the Red Wings and Bruins have a better goal differential this season. Also, Vancouver has scored the most goals in the NHL. Schneider, the Canucks' first-round pick way back in 2004, turns 26 in March and deserves a shot to be a starter. He makes $900,000, is a restricted free agent after this season and keeps getting better every season. Roberto Luongo is signed through 2021. The word "strengthen" I used in the Bold Prediction is relative. The Canucks are capped out and would have to be creative to add a roster piece in a Schneider trade. But "strengthen" also can mean adding young assets. Young, elite legs can extend a window of a successful franchise, and that kind of player could be had for Schneider. Goalies are like NFL quarterbacks -- you have to have a good one.
BOLD PREDICTIONS FOR THE OTHER 14 TEAMS
(in alphabetical order)
Anaheim Ducks: Will land free agent defenseman Ryan Suter this summer.
Calgary Flames: Will trade Jarome Iginla to the Los Angeles Kings.
Carolina Hurricanes: Kirk Muller will take a class to acquire a Southern accent.
Columbus Blue Jackets: Will fire their coach and GM before the All-Star break. Todd Richards will be the interim coach, and Craig Button will be named GM.
Dallas Stars: Will not win a playoff series for five years.
Edmonton Oilers: Will trade Nikolai Khabibulin to the Tampa Bay Lightning.
Florida Panthers: Will win a playoff series for the first time since they won the Eastern Conference finals in 1996.
Minnesota Wild: Will land a big-time free agent this summer.
Montreal Canadiens: Will name Patrick Roy coach this summer.
New York Islanders: One of two possible teams that will end up in Quebec City.
Ottawa Senators: Paul MacLean's facial salad, The MacStache, will challenge Joel Quennville's lip sweater, The Q Stache, to a duel. And lose.
Philadelphia Flyers: Will make the playoffs. (Are we good, Philly?)
Phoenix Coyotes: One of two possible teams that will end up in Quebec City.
Toronto Maple Leafs: Will play in the Winter Classic next year.
Mother of All Mailbags
View from the Hockeyverse
Here are some pictures you've sent me via email. You also can hit me up via Twitter at @buccigross.
Bucci:
On 12/7/11 our family got an early Christmas gift, the NY Rangers' newest fan, Stephen Robert, who is going to get on the ice and into the nets as soon possible. Maybe he will even follow Daddy's footsteps and play goal for Linda Cohn and Steve Levy's alma mater, Oswego State (only hopefully he gets some more PT than Daddy got).
Cheers,
Jon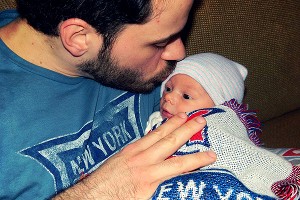 Bucci:
Here's my little man, Joe. He's gritty when it's time for his bottle, but shows some skill too. Just call him a mini Rick Tocchet.
Joseph McFadden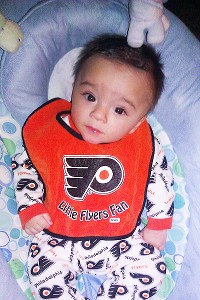 Hi, Bucci:
Love the blogumn and when you're on the Hockey Today podcast ... would love to hear you more often!
Go Bruins go!
Here's a pic of me and my son, Ethan.
Keep up the good work, Bucci.
Regards,
Lawrence Chi
(from Toronto, living in NHL-less Shanghai)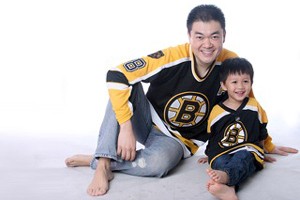 John Buccigross' email address -- for questions, comments or crosschecks -- is john.buccigross@espn.com.