Hello, NFL fans!
I know your season is over and you might be feeling a little down. The thought of the next regular-season NFL game being more than 200 days away is daunting. That game, most likely/best guess, will be Packers at Giants as the Thursday night opener on Sept. 6.
I do understand that NFL free agency, the NFL draft and constant Tim Tebow offseason questions are still interesting and topical news to follow for the next two and a half months. ("Does Tim drive to Jiffy Lube to get his oil changes, or does he have 'a guy'?" "Is his ATM passcode 3:16?" "Can you use a colon at an ATM?") But that's afternoon "SportsCenter" stuff. (Noon to 3 p.m. ET on ESPN, please. Thank you.)
You need spirited, real-TV competition and a physical, passionate display of televised entertainment for your nights and weekends. Rough, tough, fast and exciting. May we suggest the NHL? Our games are very similar, you know.
• You need fast feet to play in the NFL and NHL. If you have slow feet, you'd better be big. There are no small, slow players in the NHL and NFL unless you are a kicker or Darren Pang. (Also, kickers and Pang are excellent golfers -- rhythmic swings.)
• Like the NFL, sadly the NHL has a concerning concussion issue that is causing a quick, decisive changing of the rules. Like in the NFL, hits that were once legal in hockey are now illegal.
• Our fans are also passionate about their team, and some love wearing jerseys to the game, too. Even if the last time they fit into that Wayne Cashman jersey was 1981.
• You play indoors and outdoors. So do we.
• Our players, like your players, bond for life. The more difficult the task, the more unity is required and thus a byproduct of competition. Champions in football and hockey truly walk together forever way more so than in baseball and basketball. As coach Tom Coughlin told the Giants before Super Bowl 46 (we don't use Roman numerals in hockey), coach John Wooden eventually replaced competitive greatness on top of his Pyramid of Success with love. You have to love the game to play football and hockey well. Thus, both games are fertile for bonding.
• You have weirdos (kickers). We have weirdos (goalies, Dallas Stars TV analysts).
• We both have players who are occasionally offside. Although you call it "offsides." Some of our fans do, too, but they shouldn't.
• Like you, we like the players to determine the outcome of the game whenever possible. If it's close, no penalty. "Sorry, didn't see that high stick, Max. Is this your tooth?"
• You have a Gronk; we used to have a Bonk.
But we do have our differences.
• Our game is faster than yours. Skaters move faster than runners. We also have walls and a frozen object 1 inch thick, 3 inches in diameter that weighs between 5½ and 6 ounces and travels 100 miles an hour, or 109 mph when hit by 6-foot-9-inch Slovakians. The playing surface is 66½ yards long and just 28 yards wide, a recipe for constant collisions. All of our games, not just a handful, are played on a frozen tundra. We also carry sticks. And bare-knuckle fighting is still penalized with just a five-minute water-and-towel break. A concussion is possible on every shift.
• Your games last about 3 hours, 15 minutes to 3:30. Ours are over in around two hours.
• NFL championship teams play 19 games, 20 if you are a wild-card team, to win a championship. Stanley Cup winners require more than 100 regular-season and playoff games to win it all. (OK, so technically 98 if they sweep all four playoff series, but that has never happened.)
• Unknown female rappers will never pollute Game 7 of the Stanley Cup finals. The game is the thing.
• You have diva wide receivers. We don't have any divas except for some broadcasters. Diva players end up in the AHL. And then end up dating an extra from a "Warrant" video.
• Your referee's microphones always work when announcing penalties and rulings. Our microphones are Kiwanis Club-quality with a 25 percent success rate. The NHL also does not have an Ed Hochuli orator who can explain rulings in an encyclopedic manner that qualifies as performance art. Little League PA systems sound better than the NHL's. Your referees have law degrees. Ours stopped going to school at 16 to play junior hockey in Saskatoon. Personally, I prefer the good ol' point to center ice or incomplete-pass signal when giving the results of a video review.
• There is no roughing the passer in hockey.
• We have broadcasters interview our head coaches during games. We are guessing that when Bill Belichick has to do this, he will retire.
• All our coaches still wear suits like Vince Lombardi and Tom Landry used to.
• You call your coaches "Coach." Hockey players call their coaches by their first name. We know, in the end, it's the players who make the difference and should get most of the glory. We feel you pay way too much attention to coaches.
• Most importantly, when our championship trophy, the Stanley Cup, is awarded, it is handed first to a player. Not a billionaire owner or a coach. In fact, every player touches our championship trophy before a coach or owner does. Football spends too much time talking about quarterbacks and coaches. We hockey fans know that from age 5 to age 40, it is and always should be about the players, all the players, first. Admit it, our trophy is way cooler. Classic Camaro cooler. Yours is akin to a Ford Tempo. Our trophy is also the best in the world because you can drink out of it. If I wanted to kill someone, I would probably choose yours. P.S.: I have no plans to kill anybody.
A toast to a great NFL football season and its exciting ending. And a toast that the NHL season ends much the same way. We are hockey. We are passionate. We are fun. And we don't demonize having a good time once in a while. We know it's about the love of the game and love of teammates.
Hockey is sacrifice, love, passion and commitment. Tim Tebow loves us and would have fit right in and still have summers off.
Upon further review, we are the closest thing to the NFL you will find. You should check us out.
Mother of All Mailbags

Bucci,
"I will probably have one or two glaring omissions that, upon further Ed Hochuli review, I will admit were foolish."
Jamie Benn. Hard to blame you, I know you probably don't catch a lot of Stars games these days, and there's good reason for that. But Benn has quickly and steadily improved his game since joining the league a few years ago, and today he's the best player on the ice (for either team) on many, many nights. He is no doubt a top-40 or so NHL player, and in a year or two if he improves his faceoffs and defensive-zone coverage, I think he could be top-10 or 15. Plus, Melrose-approved mullet. What's not to love?
Great list overall, keep up the good work.
Dustin Kuczaj
Getting down to 100 players from more than 900 was difficult. I agonized, reranked, pondered, asked NHL people and constructed the list over a six-week period. I looked at stats, trends, playoff performance, teammates and any factor I could think of. It's obviously subjective, and there will be subconscious preferences that one can't see or feel.
There is a tiny difference between 80 and 140.
I got lots of love from Jamie Benn for top-100 inclusion.
I texted Stars TV analyst Daryl Reaugh for a scouting report on Jamie Benn. Here's what he responded. He also sent a nude pic of himself bowling, but the photo did not get past ESPN.com editors.
Reaugh on Benn: "He is a little Lindros-ish. He uses his size and reach, can score himself, sick wrister (but doesn't shoot enough) and is a very slippery playmaker. Moves well for a pretty big guy, especially laterally. Tremendous puck patience. Has struggled a bit in faceoff circle this year but that's about his only deficiency in his game -- that and interview skills that rival Phil Kessel's. But he is improving. Can take over a game (or a series, as he did in junior and in the AHL) and seems to thrive when double-shifted. Hits to get position to get the puck."
I must add he has an A-1, dirty salad. A veritable salad bar.

Mr. Buccigross:
I have been watching a lot of hockey games this year, and I have noticed a lot of teams that have hit the crossbar or the post on shots. I was wondering if there was a stat on which team has hit the crossbar/post more this year than any other team?
Thanks,
Randy
Step away from the TV and your hockey websites, Randy. Go outside. Take a deep inhale of fresh winter air. Through the nostrils and out of the mouth. Do this 14 times. Get down and do 10 push-ups. Repeat step one. Go back inside and think of all the blessings in your life.
Hi, John,
Just curious about where you would put Tuukka Rask on this list if you expanded it out past 100, especially in light of you thinking Tim Thomas could be considered trade bait at this point. In Rask's three seasons in the NHL, two have seen him at the top of the GAA and save percentage leaderboard, and he had a fantastic playoff series against the Sabres, so the playoffs don't seem too big for him. Thanks.
Kellen Marcil
I've had Bruins players tell me that they are convinced that Tuukka Rask will win a Vezina Trophy someday. That when they go against him in practice, he has sick talent and is dominating. He just hasn't done enough in the playoffs, and being the backup and being the starter are two different things. Ask Roman Turek.
@Buccigross: Any chance the Wings go after Ryan Suter? Ton of cap space and young talent to give up.
nivo3, Nick Voss
I don't think the Red Wings would trade for Ryan Suter, and I don't think the Predators would trade Suter to a Central Division team unless they would get a load. The Wings would prefer to sign someone like Suter as a free agent. He would have to take less money to play in Detroit, and my guess is he would.
@Buccigross: Any chance the #Flyers make a big move for Weber or Suter #dneeded
J_ackley, Jack Ackley
I was surprised to hear national broadcasters say in the beginning of the season that the Flyers had one of the best and deepest blue lines. I just didn't see that. They would love Shea Weber. Perfect Flyer. Ryan Suter would be the best Flyers defenseman right now if they got him. I could see the Flyers and Preds as trade partners. The Flyers have some young pieces the Predators would like: James Van Riemsdyk ($4.2 million against the cap starting next year) and Matt Read, to name two. If Suter wants the most money and the Flyers want him in the summer, he'll get the most money in Philly.
View from the Hockeyverse
Here are some pictures you've sent me via email. You also can hit me up via Twitter at @buccigross.
Bucci:
With the way the B's have been playing as of late, what are the chances Claude Julien calls Micah up from the nursery?
Ariel Potischman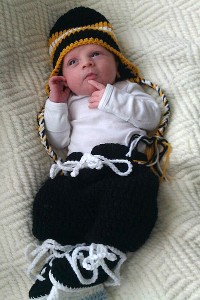 Bucci:
I've been reading your column for ... well, shoot, since you started writing it. Always loved the pictures you post of your readers' kids wearing their team gear, and when my wife and I found out we were expecting? Best feeling in the world (as you already know). Olivia showed up Dec. 13, and has become my constant companion whenever the Blueshirts are on. She's too young to have any good gear of her own (although I'm seriously considering the Kitchener Rangers onesies for the coolness factor), so I wised up and threw her into my No. 24 sweater. As you can see, she's going to be turning heads around the rink someday soon.
Love and hockey pucks!
Steve in N.J.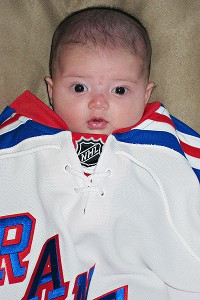 Bucci:
Here is a group of guys, some of them have played together for almost 20 years now. Every Christmas Eve, we all take a little break from the holidays and families and go and play some roller hockey. We used to play on Thanksgiving, but people had some tough times getting there, so we moved it to Christmas Eve. This year, our 18th straight, we had dads and sons, brothers, close friends, all get together to play. We have played in warm weather, cold weather, snow, ice, rain, sun. One year, we shoveled snow for 8 hours the day before so the court was clean for the next day. Nothing stops us. We even have a miniature cup, named The Turkey Cup. Everyone who plays that year gets their name on the cup. I think it's more the getting together and enjoying the time and making memories than it is the actual hockey. Sooner or later, the game will pass us by and we will be able to pass it off to our children, but for the time being, we are going to enjoy every second of it. This is one of the reasons hockey is the greatest sport on earth.
I've included a picture of this year's group, which includes a kid under 10 and a man over 60.
Hope you enjoy.
Tom Granville
Lower Burrell, Pa.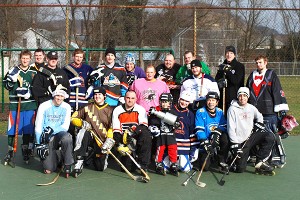 John Buccigross' email address -- for questions, comments or crosschecks -- is john.buccigross@espn.com.