I got this text from a very well-connected hockey source Tuesday night:
"In spending time around the players the last month, I think they are very unified and more misinformed than ever. They don't get it. I know for a fact there are teams that would lose much less money by not playing than if they played. If you are an owner, why would you agree to lose more money when this is your one chance to reset the equation? The players are being walked right down the gangplank and don't see it coming."
Well, here we go again.
The CBA expires at midnight on Sept. 15. The lockout will begin on that day. Training camps will be suspended. Some players and coaches will return home to their summer dwellings, others will probably get some ice time on their own and continue the process of team building.
If the lockout then bleeds into early October, then games will begin to get cancelled. Team employees will probably be OK at the start but lots of local broadcasters will not get paid, as they are paid on a per-game basis. Some veteran broadcasters will get a reduced salary. NHL referees, if the same holds true as last lockout, will also get a percentage of their pay. Players don't get paid and could certainly afford to miss a paycheck or two or three. That doesn't sound like a big deal, but psychologically it will chip away as time goes by. Remember, a guy making a "measly" $1.8 million a year, has a gross paycheck every two weeks of $300,000, money he will never see again. He didn't get most of his salary in a July bonus like Brad Richards did ($8 million signing bonus, $4 million salary for this season). A player making $6 million this season (Zdeno Chara) makes $1 million a month, $500,000 a paycheck.
Gary Bettman will still collect his pay but he probably should. He never works harder for his owners than he does right now. The NHLPA likes to mention Donald Fehr will not be getting paid during the lockout. Big deal. He's a millionaire.
People have said the NHL doesn't want to cancel the Winter Classic (of course they don't) and so it is a sort of lockout inhibitor, but I imagine they could figure something out with the schedule and play the game at a later date through February, if they had to. Backyard rink owners know that.
The fact is, it is too early for "save hockey" videos and impassioned "save hockey" columns. This thing will not get serious until later this month or early October. If nothing is done then, the owners will chill for a month while the NFL and college football is revving up.
My "Bucci All You Can Eat Prime Rib Spin Doctors Are Next" over/under on a lockout length is six weeks. The above source says it will go until December. Others have told me November.
With this mind, I thought it might be a good time to get the perspective of someone who has dealt with Gary Bettman and the owners before. Paul Kelly was introduced as executive director of the National Hockey League Players' Association on Oct. 24, 2007. On Aug. 31, 2009, Kelly was fired. Another bizarre chapter in the history of the NHLPA. He will be our professor for today's class. I've provided the questions, which he sent answers to in email.
John Buccigross: What is the crux of the negotiations between the players and owners?
Paul Kelly: At the heart of the negotiations are the basic economics of the sport and how the revenues generated are to be shared by owners and players. Under the expiring collective bargaining agreement (CBA), the players received 57 percent of a defined pool known as "hockey-related revenue" (HRR) and the owners received 43 percent. The players' share goes to pay salaries of all players under contract to the 30 NHL teams. The NHL believes that it needs to reduce its overall labor costs and that these percentages have to be changed for all of its franchises to remain financially stable. The league is roughly proposing to move to a 50-50 split of revenue. The players believe that the way to achieve financial stability within the sport is to increase revenue sharing between and among the teams, and not to ask for more give-backs from them. They feel that they agreed to a salary-cap system (as opposed to a free-market system) and a 24 percent roll-back in salaries under the existing CBA, only 6 years ago, and they should not be asked to make such significant concessions again this time, especially given expanding league revenues over the life of the current deal.
JB: How much authority do the owners give Gary Bettman in these matters?
PK: Commissioner Bettman has a tremendous degree of authority from the owners when it comes to CBA negotiations. The ownership group, also referred to as the board of governors, has an appointed executive committee consisting of seven owners who represent the larger group and work closely with the commissioner in making decisions during the course of labor discussions. However, it is very clear that the commissioner has the full trust and confidence of his ownership group.
JB: How much influence does the Winter Classic have on the negotiations?
PK: The Winter Classic is certainly a significant event on the NHL calendar, and even more so this season with the venue (the "Big House" at the University of Michigan) and two of the Original Six teams (Toronto and Detroit). This is an event that the league does not wish to lose, and which NBC certainly hopes to be able to broadcast on New Year's Day. That said, the NHL has protected itself legally and financially in the event of a cancellation, and I would not expect either side to materially alter its stance in negotiations based solely on the risk of losing the Winter Classic.
JB: How would you characterize the players' solidarity based on what you are observing from the outside? And what do you think Donald Fehr is telling them?
PK: The players appear far more unified than they did in 2005, and Don Fehr and his staff deserve credit for that. Obviously, solidarity and consensus is important to any labor union involved in contract negotiations. Keeping that solidarity will become more difficult as members begin losing paychecks and sitting idle over an extended period of time. Mr. Fehr is undoubtedly telling them to be patient and allow the process to evolve, and assuring them that what has transpired to date is not unusual or unexpected. He will provide them with first-hand experiences from his time in baseball to remind them that sticking together as a group is the only way that they will achieve a successful result, and that division and dissent will make achieving their objectives far more difficult.
JB: What is your opinion of markets Phoenix, Florida, Tampa Bay, Columbus, etc.? Are these long-term, viable hockey markets in your estimation?
PK: It is undisputed that selling NHL hockey is more difficult in non-traditional winter sport markets where the fan base did not grow up skating and playing hockey as youngsters. Teams in these markets are under greater pressure to win in order to be financially successful. Recent history has shown, however, that when these franchises are successful on the ice, and provide an entertaining product to watch, they will receive strong fan support. This has occurred in recent years in Tampa, Raleigh, Nashville, Dallas and most recently in Phoenix. On the flip side, we have seen that a team that struggles to win and lacks strong and innovative ownership, such as Atlanta, will have challenges that can not always be overcome. However, I do not think we should give up on these markets. With strong management, exciting young players (which we seem to have many of in the NHL these days) and creative marketing, I believe that each of the markets mentioned has a chance to be viable and successful.
JB: Fans appear to be on the players' side by a wide margin. Why is that?
PK: The NHLPA has done a good job thus far in presenting itself to the public as eager to reach an agreement, interested in continuing to play, and willing to be creative and flexible in its approach to bargaining over certain key issues -- like enhanced revenue sharing to aid some of the franchises in smaller markets. If the fans begin to see the union as intractable and unwilling to make additional economic concessions in order to attempt to reach an agreement, that public perception and support could change.
JB: Ron MacLean wrote on CBC.ca this week the following: "Fehr has been in precisely this position many times at the MLBPA. Every time the PA stood its ground, there was never a lockout. The wildcard would be player solidarity. Fehr will keep them in check, and Bettman will make a deal." What are your thoughts on that point of view?
PK: While I hope Ron is correct, I tend to disagree with his rosy assessment of the situation. Significant issues still divide the two sides, and millions of dollars are at stake. As things currently stand, and absent a significant move by one side or the other, we will have a lockout as of Sept. 15 and it will last for at least several weeks, if not longer.
---
Mother of All Mailbags
Copper Cards @Copper_Cards:
@Buccigross,
Any thoughts about Gabriel Landeskog being named Avs captain? Kinda makes me nervous. Think this affects the locker room?

An Avs source told me that Landeskog is a "special kid. Will be able to handle it."
---

Hey Bucci,
I'm not privy to how these negotiations work or the rules of engagement, but it seems to me that the two sides that are currently closest are the PA and the small-market owners. Is there any way that these sides can join together and try to pressure the big-market owners? Here's hoping there are more Blogumns to come and I'm emailing you about the Rangers soon. There's a reason I never studied business.
Thanks,
Dan
Please email me about the Rangers or any team. My lockout talk patience is minimal. It's a negotiation. And all negotiations are about leverage. The owners will always have more because they are owners and the players are merely rich. Owners have other streams of income while most players do not.
I would much rather talk about Ranger defenseman Ryan McDonagh and how he might be the fastest backward skater in the NHL. And how Chris Kreider is still a work in progress for the Rangers. The upside is huge but the Rangers are still concerned about his skating and play without the puck in all three zones. It would be nice to chart his progress. He no doubt will be good, but the jury is out on whether he can be great. (I for one, love him.) As a Ranger source told me recently, "There were times in the playoffs he was our best player and there were times he was our worst."

And, yes, I still think John Tortorella would trade Marian Gaborik for Dan Boyle. Please, let's talk hockey.
---

Bucci,
Why is Gary Bettman still our commissioner? If this lockout stands, it will be the third Bettman has been a part of and failed to compromise without any consequence.
Why are the players asking for more money? Sure, raise the league minimum but come on, NHLPA, let's not get too greedy.
What do we as fans need to do to get our point across! WE NEED HOCKEY. It's not a business or a sport to us. It is a lifestyle, and further, a necessity.
I love your work, keep tweeting.
Regards,
A beloved hockey fan and Michigan State Student, Eric

Gary Bettman is commissioner because he continues to make the rich and powerful in the NHL more rich and powerful. The players are not asking for more money, they are trying to protect their slice. Their slice will be smaller, the only question is by how much.
How do you get your point across? Cancel your Center Ice package before it automatically renews. Cancel your season ticket package and go to 5-10 games. Get season tickets to a local college hockey team. Stop buying hockey sweaters. Watch playoff games on TV. Save all that money, buy a nice pair of skates, and go skating two or three times a week. The End.
---

Hey, John:
Still fave Christmas card photo we've done. Me, wife & dog.
Cheers,
Marc D'Amore
Troy, N.Y.

Looks like he lost a fight with a Rangers dog.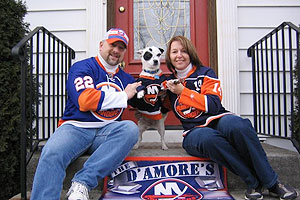 Hey, John,
I long for the days of
NHL2nite and the intro music getting me psyched for a playoff game!
Have a good one, buddy.
Keith Cohen

Melrose and I will sometimes harmonize that theme song in an ESPN stairwell.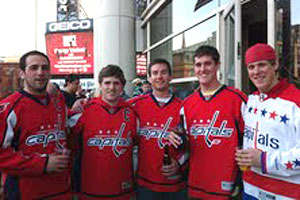 Hey, John,
I'm attaching a picture of my best friend Sherri Long with a Flyers fan when she and I (Penguins fans) went to a game in Philly a few years ago. The guy had made a little noose out of a hockey stick and hung a stuffed penguin with the No. 87 written on it from the stick. How endearing.
Dante Cammarata

Five minutes. Intent to injure.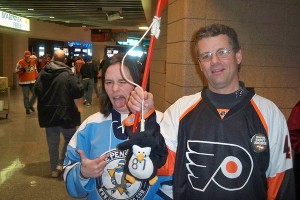 John Buccigross' email address -- for questions, comments or crosschecks -- is john.buccigross@espn.com.