DELAIDE, Australia -- He's back. Then again, many would argue Lance Armstrong never really went away.
Since Armstrong's retirement in 2005 after a record seventh consecutive Tour de France victory, he has remained a formidable presence in and beyond the sport -- a standard for athletic excellence, the celebrity face of an insidious disease and the subject of an ongoing debate about whether he competed clean.
Armstrong is revered, feared, resented and admired. He is credited for pushing road cycling into mainstream U.S. culture, spurring a spike in equipment sales, participation and spectator interest that is colloquially referred to as "the Lance effect." Some people can't get enough of him. Some have had more than enough of him.
At 37, Armstrong has re-entered the present tense of his sport, whether people like it or not, citing his love for cycling and his desire to use it as the vehicle to drive a global cancer awareness campaign. His epiphany came while training for a mountain bike race in Colorado in the summer, and it seemed like a puzzling and abrupt U-turn at first. In a May 2008 cover story interview with Men's Journal, he scoffed at the idea of a comeback, saying, "I'm so focused on other things now that I never think about it."
Indeed, after three years, it seemed as if Armstrong had found more than enough ways to fill the predictable abyss that looms for all great athletes when they gear down to idle. He immersed himself in his foundation's work, his three kids and a string of relationships with famous women that kept the paparazzi scrambling. He trained for the occasional endurance event, twice completing the New York City Marathon in less than three hours, and was preparing to run in Chicago when the tide of competitive desire began to rise again.
The news unleashed some entirely logical speculation. What more did he have to accomplish competitively? Why revive the old questions about his integrity? Was he really worth more to the war on cancer pedaling a bike than stalking the halls of power in a suit and tie?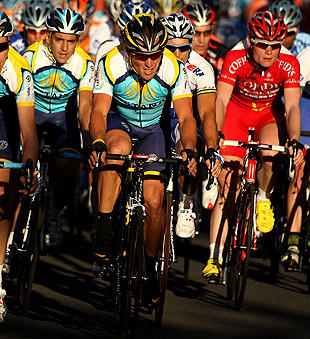 Ezra Shaw/Getty Images
After retiring from professional cycling in 2005, Lance Armstrong was back in action this week, riding for Astana at the Tour Down Under in Adelaide, Australia.
Yet perhaps the more pertinent question about this comeback is, why not? Nothing in Armstrong's life history would indicate he won't succeed. Since recovering from testicular cancer that was diagnosed in late 1996 after metastasizing to his lungs, abdomen and brain, nearly everything Armstrong has touched has turned to gold, or at least to yellow. His former role as boss of the peloton has transferred nicely to real life. He is a rich, charismatic man capable of commandeering tremendous human and financial resources whenever he wishes. The circumstantial evidence that might undermine his assertion that he never doped hasn't knocked him from his perch.
Armstrong's already considerable self-belief has grown since we last saw him mashing the pedals up a mountain. Something about rubbing shoulders with heads of state and business moguls has rubbed off on him. When Armstrong speaks, it's often with the authority of someone who believes he only need utter something for it to be true, or come true. That is the tone he takes when he maintains that riding again carries far more upside than peril.
"You could get injured, seriously injured, that's a risk," he said, referring to himself. "You could not be as strong as you were before or as strong as you wanted to be for whatever reason. People could say, 'Oh, you came back and you were a domestique [support rider].' That's a risk. I don't see any other risks, as long as the strategy at the foundation is playing out and being effective. If that wasn't effective and successful, that's a risk."
Armstrong's plans for this comeback season with the Astana team led by his longtime director Johan Bruyneel are strikingly ambitious, even for an expert multitasker.
He's tentatively slated to race more days in 2009 than he did in his prime, starting this week with a leisurely spin around South Australia in the Tour Down Under and peaking with the Giro d'Italia and the Tour de France, the two most grueling events on the cycling calendar, spaced a month apart.
In the past, Armstrong deliberately narrowed his focus in the months leading up to the Tour, cutting every ounce of extra weight from his body and his appointment book. Now, having declared that this season is as much about his foundation work as it is about the bike, Armstrong will take on more outside obligations. He has pledged to bury past hatchets and to be more accessible to the media.
Just when it appeared Armstrong's life couldn't get any more complicated, he announced in late December that he and his girlfriend of several months, Anna Hansen, are expecting a baby in June -- right between the Grand Tours. Armstrong's three children with his ex-wife, Kristin, were conceived by in vitro fertilization with sperm he banked before undergoing chemotherapy. This baby was conceived naturally, making Armstrong part of a small, indeterminate number of testicular cancer survivors who become fertile again.
Armstrong's contrasting and parallel universes were in evidence in this South Australian provincial capital this week. Sunday, in a festive, state-fair atmosphere of trampled grass and junk food, Armstrong put a number on his jersey for the first time in 3½ years and spun through a 35-mile criterium race on a brassy Southern Hemisphere summer evening, finishing 64th in a field of 133. Many in the estimated crowd of 138,000 were there just to say they had seen him.
Less than 24 hours later, Armstrong sat at a dais in a lecture hall at the Royal Adelaide Hospital wearing a crisp, jet-black suit and yellow tie, cufflinks glinting from his wrists, as high-ranking governmental and health care officials sang his praises and outlined plans to beef up cancer prevention programs in the region and the country. Cancer survivors from Sydney and Melbourne, connected by a satellite link, lined up at microphones to tell Armstrong what his example meant to them. Armstrong, who has a congenitally hard time staying still and has heard thousands of these stories throughout the years, listened raptly.
"I applaud you," said a nonsmoking mother of three who is being treated for lung cancer. A teenager whose fight against leukemia has stalled while he awaits a matching stem cell donor told Armstrong he admired his "courage to get back on a bike and win the bike thing, whatever you call it. … I'm going to achieve my dream of being a music producer."
A man who'd had most of a cancerous esophagus and part of his stomach removed said, "It takes someone of your stature to keep it in the papers and keep it in the conversation." A promising junior-level rugby player described the lonely experience of being kept in glassed-in isolation to prevent infection during treatment for testicular cancer, then said simply, "Thanks, mate."
The message was loud and clear, and Armstrong always has been skilled at delivering and controlling his message. But in 2009, he will ride back into the headwind of lingering questions about his past, surrounded by a peloton still vulnerable to scandal and scrutinized by a public far less likely to give an athlete the benefit of the doubt. Marion Jones and Rafael Palmeiro and Barry Bonds, as well as dozens of prominent cyclists, have seen to that.
Even if Armstrong stays clear of any old or new controversy, it's fair to wonder whether he can keep the altruistic mission of his foundation from being drowned out in the chaotic street theater of a typical cycling season. He insists he is not returning to resolve any old issues. But for the first time since he tested his post-cancer body in competition more than 10 years ago, Lance Armstrong has something to prove on several fronts.
THE GREAT DIVIDE
Lance Armstrong's vast audience can be broken down a few ways. There are cancer survivors and their families who draw comfort and inspiration from him, hard-core cycling fans who parse his accomplishments and star watchers who track his A-list movements. There are people who have followed every twist of his career and those who paid no attention outside of three weeks each July.
There are those who believe him when he says he never used performance-enhancing drugs and those who don't. Some maintain his empire has been built on deceit. Some don't care one way or the other, reasoning that it was an outlaw era in cycling anyway, or preferring to keep sports in the realm of escapism rather than moral relativism.
Doug Ellis, owner of the U.S.-based Garmin-Slipstream team, had never met Armstrong and wanted to establish a cordial relationship, so he invited him to take a casual ride in Manhattan this past fall. Both men said it went well.
"Lance is almost like a politician, the level of emotion people bring to talking about him," Ellis said. "People feel so strongly about him positively and so strongly about him negatively that it's almost hard to come up with a reality about him that makes any sense. It's like people are from two different planets."
Journalist and author David Walsh, whose reporting in the Sunday Times of London and in two books documented numerous accusations against Armstrong, attracted open enmity and legal action from Armstrong's camp. You might not expect him to welcome the cyclist's return, but you would be wrong about that.
"My personal reaction to it from the very beginning was that it was a good thing," Walsh said in a telephone interview from his home in England. "The questions haven't been satisfactorily answered. I think we have to know if the seven Tours were won legitimately or not. Because he's not retired now, it gives us an opportunity to explore those questions again.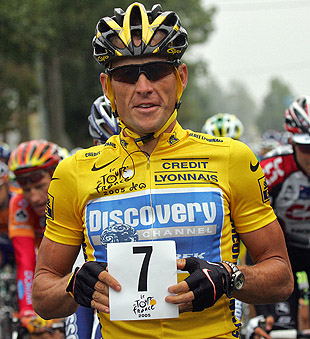 Joel Saget/Getty Images
Lance Armstrong did not fail a drug test during any of his seven Tour de France wins.
"The past is always relevant. The past sets standards. Yes, some people won't let it go, and they won't let it go because it's important."
Armstrong skeptics such as Walsh have their own catechism, composed of articles of nonfaith. They start with Armstrong's past competitive context, which raises doubt as to whether a clean athlete could have prevailed. Doping was pervasive in the peloton during Armstrong's reign. Several of his former teammates, along with the majority of the men who shared Tour podiums with him, have confessed, been busted or both.
There are Armstrong's 1999 Tour de France urine samples that allegedly showed the presence of the blood booster EPO -- tested many years after the fact without the benefit of backup samples, thus not deemed official positives. He has maintained the testing was faulty and politically motivated and has even charged tampering.
When a Dallas insurance company tried to deny him a $5 million bonus for his Tour streak because of doping questions, Armstrong sued and won. Transcripts leaked from the arbitration hearing included testimony by Betsy Andreu, wife of Armstrong's former teammate Frankie Andreu, that Armstrong admitted using performance-enhancing drugs while being questioned by doctors after undergoing brain surgery. Andreu's account was backed by her husband, but Armstrong's lawyers fought to discredit it. Armstrong denies the exchange ever took place and has made occasional disparaging remarks about Betsy Andreu throughout the years, drawing her ire. "I'm not out on my own mission, but I will defend my character," she said in a recent interview.
In another attack on Armstrong's past credentials, a group of Australian scientists re-examined research done by University of Texas physiologist Edward Coyle that purported to show how the changes in Armstrong's post-cancer body had contributed to his later athletic success. This past fall, Coyle was compelled to admit his research -- often cited by the Armstrong camp -- was flawed, although he still maintains his conclusions were sound. As always with Armstrong, there is a subtext. Coyle and one of the Australian scientists testified on opposite sides of the case involving the insurance company.
Armstrong has vigorously disputed every allegation and implication, and none has been prosecutable as such. If anything, his responses have become more dismissive throughout the years. "I'm not a donkey that turned into a thoroughbred," he said in October. "Shortcuts are custom-made for donkeys and four-cylinder engines."
One pending case might stir up the old issues. Three-time Tour winner Greg LeMond, long an open critic of Armstrong's, has sued the Trek bicycle company for discontinuing his eponymous line of bikes, saying his public feud with Trek spokesman Armstrong was partly to blame. The case is scheduled for trial in federal court in Minneapolis next year. Depositions are under way, but it's not clear whether they will be made public or what the scope of the questioning will include.
How will Armstrong be received by a peloton increasingly driven to clean up its act and help the industry survive? Private opinions of Armstrong run the gamut from awe to disdain, but in the end, like all elite athletes, cyclists are pragmatists who focus on racing whomever shows up, rather than dwelling on the baggage competitors might bring to the start line.
Olympic and world track cycling champion Bradley Wiggins of Great Britain, an outspoken anti-doping advocate who will compete on the road for Garmin-Slipstream this season, typifies that mindset.
"I'm sort of excited by it, the prospect of racing with Lance," Wiggins said in November. "It's been quite turbulent since he announced his comeback, there's been a lot of talk and a lot of speculation, but ultimately it's gonna give a whole new audience the chance to watch the Tour again.
"From a competitive standpoint, the chance to beat Lance Armstrong is amazing. I don't know what he's done in the past. He's never failed a dope test, so as far as I'm concerned, he was clean. If Astana's gone with [an independent testing program], then obviously we're all in the same ballpark now. We're all playing with the same rules."
TEAM CHEMISTRY
Armstrong will train this season in a black-and-yellow Livestrong kit to promote the brand now synonymous with the Lance Armstrong Foundation. But on race days, in a bit of visual shock that might never wear off completely for fans accustomed to seeing him compete for American teams, the most prominent splash of yellow on his jersey will be the sun lifted from the national flag of Kazakhstan, whose financiers bankroll the Astana team.
The Texan might be bigger than his sport in some ways, but cycling is a team endeavor, and the tricky physics of Astana's solar system will have a lot to do with how Armstrong fares on the road in 2009. Astana is a talented team that was able to impose its will on many races last year. However, unlike the squads Armstrong rode for at U.S. Postal and Discovery Channel, it wasn't built around and for him.
Among those most blindsided when news of Armstrong's comeback plan leaked out in early September was Astana's leader, Alberto Contador of Spain, who at the moment holds the unofficial title of Best Stage Racer in the World. The 26-year-old was then battling for the lead in the Vuelta d'Espana (Tour of Spain), which he eventually would win, barely holding off his teammate, veteran American Levi Leipheimer.
Armstrong's alter ego Johan Bruyneel, who guided all his Tour victories at Postal and Discovery, was one of the first people in whom Armstrong confided his intention to come back. Bruyneel even flew to see Armstrong in Austin, Texas, to satisfy himself that Armstrong meant business. Caught off guard a couple of weeks later in Spain when the story leaked, Bruyneel issued unconvincing denials to try to keep the media at bay as a stunned Contador fumed. After claiming the Vuelta title -- Contador's third Grand Tour in a 15-month span, including the 2007 Tour de France and the 2008 Giro -- Contador hinted he wanted out.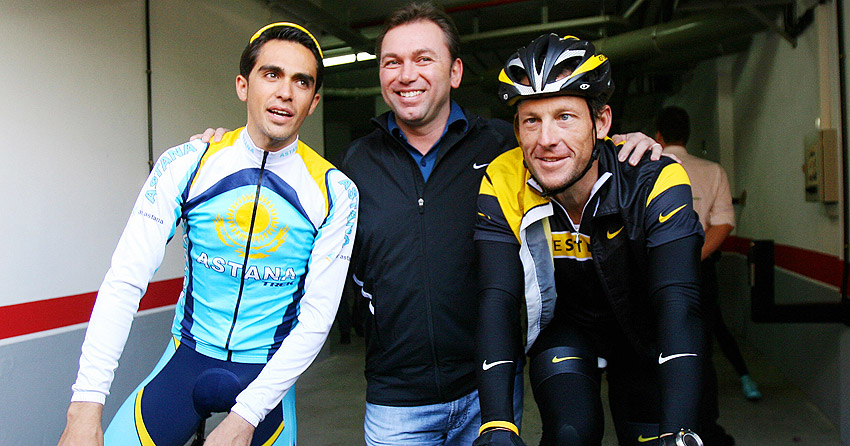 Jaime Reina/Getty Images
Astana manager Johan Bruyneel, center, will have to have to balance the delicate team dynamic between Alberto Contador, left, and Lance Armstrong.
Those bridges supposedly have been rebuilt, but the fact remains that if both Armstrong and Contador make it to the Tour de France start line in July, they will compete for a team leader's role. They are not slated to race together before then.
Contador was denied a chance to defend his Tour de France title in 2008 when race organizers excluded Astana for past doping problems. (Those did not involve Contador, who raced for Bruyneel at Discovery Channel when he won the Tour). He is clearly hungry to return to the stage. Armstrong, after weeks of trading barbs with Tour organizers, committed to riding it late last year. The rider and the race need each other. Enduring fascination with Armstrong translates to commercial appeal for the race, and the Tour provides the biggest platform for Armstrong to campaign for a cause, a trophy or both.
Both Armstrong and Contador have said the team will work for the strongest man, but what that means is open to interpretation. Contador's youth and explosiveness should give him an edge in the mountains, while Armstrong would expect to be significantly better in time trials -- at least on paper. Deciding who should be the chosen one and managing egos along the way could present a significant challenge, complicated by Bruyneel's deep-seated loyalty to Armstrong.
The band hasn't been completely reassembled, but Armstrong has a few familiar faces to provide a comfort zone. Russian iron man and longtime Armstrong teammate Viatcheslav Ekimov is an assistant director for Astana, and a few of Armstrong's former worker bees are on the roster, including Spanish stalwart Jose Luis "Chechu" Rubiera, a support rider in five of Armstrong's Tour wins who postponed his retirement to rejoin him this season. But there also are several riders who could rightfully harbor ambitions of their own, including previous Tour podium finishers Leipheimer and Andreas Kloeden of Germany.
In the past, Armstrong, working in sync with Bruyneel, was accustomed to maintaining a firm grip on a team's psyche. It's hard to imagine him engaging in a Darwinian struggle for leadership, but stranger things have happened in cycling.
TEAM CHEMISTRY, PART II
Armstrong always relished proving his superiority on the road. But offering definitive evidence that his accomplishments were legitimate was something he always labeled impossible -- "proving a negative," he used to call it. He never failed a doping test, but he also never stopped having to defend himself.
The testing landscape has changed. Armstrong retired the year before the Operacion Puerto blood doping scandal broke in Spain, implicating his former rivals Ivan Basso and Jan Ullrich, among others, and prompting teams to institute their own long-range blood and urine testing to build profiles over time. Armstrong retired before the biological passport concept began moving -- albeit slowly -- toward reality and before random controls were widely scrapped in favor of targeted testing of suspected dopers.
It's clearer than ever these days that passing a doping control is not proof an athlete didn't cheat. But the seven-time Tour champion decided that the independent testing model employed by a growing number of teams as an insurance policy of sorts for their nervous sponsors was something he needed to adopt.
Astana already has one in place, overseen by Dr. Rasmus Damsgaard, the Danish researcher and anti-doping crusader who implemented the first such program for Bjarne Riis' Team CSC during the 2007 season. One Astana rider was fired last year for suspicious test results. Armstrong is participating in that program and had blood drawn with the rest of the team at a training camp in the Canary Islands last month. He also has said he will not work with his compromised former mentor, Dr. Michele Ferrari.
When Armstrong held news conferences in New York and Las Vegas in September to outline his comeback plans, Dr. Don Catlin was at his side. Catlin -- former chief of the World Anti-Doping Agency-accredited UCLA drug-testing lab and a pioneer in testing for performance-enhancing steroids -- would design a "personal" system of controls, Armstrong said, to answer those who question whether he is competing clean.
Negotiations took longer than either side expected, said Bill Stapleton, Armstrong's agent, business partner and close friend. An agreement was announced last week.
Catlin's company, the Los Angeles-area Anti-Doping Research Institute, intends to test Armstrong an average of every three days, wherever he is in the world, Stapleton said. (Urine will be collected at each control, blood at regular intervals.) Armstrong will share the "whereabouts" information he submits to national and international agencies with ADR, which also runs independent testing programs for the two U.S.-based Pro Tour teams, Garmin-Slipstream and Columbia. His testing data will be available to anti-doping authorities, provided the tests are performed at WADA-accredited labs.
Stapleton would not reveal the dollar amount of the final contract between ADR and Astana, which is paying the entire tab for Armstrong's testing, but said it would exceed the approximately $500,000 Garmin and Columbia each pay for testing an entire team. Catlin plans to make the test results public in a manner yet to be determined.
Armstrong is subject to tests from five separate entities -- WADA, the U.S. Anti-Doping Agency, the Union Cycliste Internationale, Damsgaard and Catlin. The overkill is fully worth the potential hassles, Stapleton said. Ever competitive, Armstrong contends Catlin's individualized program is better than any other out there. "He's also doing it for his own personal justification, to have the ability to say 'I didn't [dope],'" Stapleton said.
Just as teams such as Columbia and Garmin need to reassure their sponsors, Armstrong wants to make sure doping questions don't interfere with the cancer initiatives and commitments he's trying to move forward in other countries this year.
As he waited for the Catlin contract to be finalized, Armstrong posted chatty Twitter updates each time he was visited by a tester from another organization. At last count, he was up to 33,000 Twitter followers and 12 doping controls.
TEAM PHILANTHROPY
The Lance Armstrong Foundation was planning an international initiative well before its famous founder decided he would ride again. LAF President Doug Ulman understands the concept might seem vague to the public and knows skeptics could view it as a beard for Armstrong's other ambitions. But Ulman, an infectiously enthusiastic 31-year-old who has survived bone and skin cancer, is confident the campaign will gain credibility quickly once it gets off the ground.
"We're not naive enough to think this should be a billboard campaign with Lance saying, 'Let's talk about cancer,' Ulman said last month in an interview in his Austin office.
With 70 employees and estimated annual revenues last year of $38 million, the LAF is still a fraction of the size of the field's two behemoths, the American Cancer Society and Susan G. Komen for the Cure. Since 2005, when the foundation found itself with a windfall of $60 million from the sale of Livestrong yellow bracelets, it has expanded its focus from traditional grants and programming to making an effort to influence government health care policy.
The foundation settled on three countries where it thought it could have the most impact: Mexico, Italy and South Africa, only one of which -- Italy -- is on Armstrong's racing schedule. Ulman said Armstrong will travel to the other two at some point in 2009. The foundation also plans to be active in other countries where Armstrong is racing, starting with Australia.
Cancer is projected to overtake heart disease as the largest cause of death globally in 2010, a dubious distinction announced by the World Health Organization late last year. The core of the LAF's efforts will be an "anti-stigma" campaign to combat ignorance and taboos about cancer that still exist, especially among the disenfranchised. The 2009 drive is slated to culminate with a global summit this summer at a site to be named, to which the LAF will try to persuade at least 20 countries to send delegates.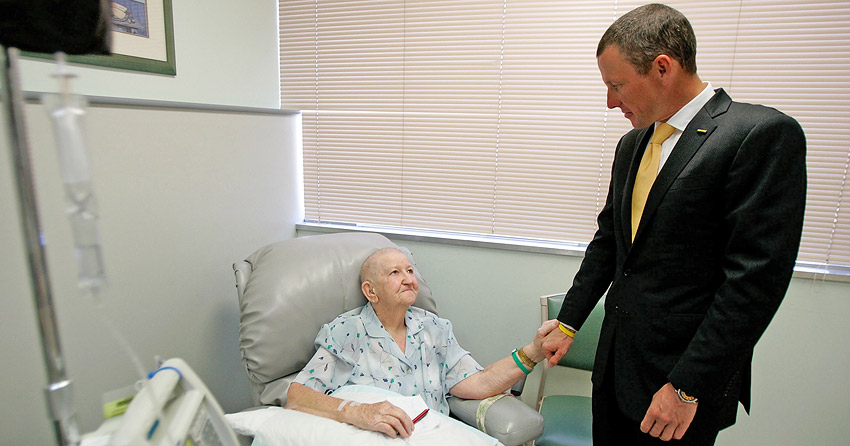 Ezra Shaw/Getty Images
As Armstrong returns to the road, he's taking his cancer awareness message with him and talking to patients, as well as politicians, along the way.
American Cancer Society CEO Dr. John Seffrin said a similar international initiative he spearheaded as president of the International Union Against Cancer was unsuccessful. Armstrong's "star power," Seffrin said, could make the difference in delivering the message that 60 percent of all cancer cases worldwide are preventable.
"I refer to [Armstrong] as the personification of the hopeful side of cancer," Seffrin said in a telephone interview. "What he's doing is much bigger than most people realize.
"I think he was valuable before [the comeback] and could have continued in that vein and made a very substantial contribution for the rest of his life. But being back on the bike brings attention that you couldn't get in any other way."
The LAF is well-positioned to weather the current economic turmoil. The foundation has $24 million stashed in a separate, endowed fund and has several revenue sources other than donations. One is Armstrong's longtime corporate sponsor Nike, which returns 100 percent of the net profits from Livestrong merchandise to the foundation.
In early 2008, the LAF acquired an equity stake of an unspecified amount in Demand Media -- led by MySpace creator Richard Rosenblatt -- in exchange for licensing the Livestrong name for commercial use. The for-profit Livestrong.com is a social networking site devoted to overall wellness and lifestyle issues, with some cancer-related content and links to Armstrong's training data. Ulman said the intent is to drive traffic to the foundation's site, Livestrong.org.
The foundation's chief financial officer, Greg Lee, said that Armstrong is in the midst of fulfilling a $5 million pledge to the LAF and that he does not charge the foundation for any of his travel costs.
Ulman, a former Brown University soccer player who initially met Armstrong through an e-mail exchange, said Armstrong's hands-on involvement in foundation affairs is impressive and his connection with survivors deep and moving. He has never quizzed Armstrong point-blank about the doping allegations that followed him throughout his glory years. Asked whether he is concerned that such issues could interfere with the LAF's agenda, Ulman paused and chose his words carefully.
"The Livestrong brand and the organization, as intimately as they are tied to Lance, have a life of their own," Ulman said.
ELECTORAL CYCLES
If you had the impression that Armstrong was staring out from an unusual number of magazine covers and Web ads in the spring, you weren't imagining things. Stapleton said the exposure was part of a deliberate strategy to promote the new Livestrong.com site, the foundation and the brand in general and not an attempt to prep America's subconscious for an Armstrong comeback.
Was it groundwork for something else? Armstrong repeatedly has floated the notion of running for statewide public office in Texas. A potential Armstrong candidacy is taken seriously by people who know the landscape.
"Texas is such a large, diverse state that basic name identification is key, and he'd go into any kind of campaign with a critical mass of people who know who he is and have a generally favorable impression," said Matt Angle, a Democratic political consultant from Texas who has worked as a congressional staffer.
Armstrong has hobnobbed with the elite from both major parties while keeping his political views sufficiently under wraps that both Democrats and Republicans think they might be able to recruit him. His inner circle provides few clues. His friend and LAF board of directors member, strategic consultant Mark McKinnon, was a campaign adviser to President George W. Bush and GOP presidential nominee John McCain. Morgan Binswanger, hired as the foundation's chief of staff in the summer, worked in the Department of Education under former President Bill Clinton's administration and is a veteran consultant for nonprofits.
In 2007, Armstrong got a taste of the campaign trail when he threw his weight behind Proposition 15, an initiative to earmark $3 billion in Texas state funding for cancer research and awareness and partially funded by state bonding authority. Armstrong testified before the Texas Legislature, personally lobbied lawmakers and went on a bus tour to connect directly with voters.
According to Ulman and McKinnon, Armstrong sweated out the floor debate at the state capitol even though the vote ultimately wasn't close. "He looked like he did when he blew up in that time trial," McKinnon said, referring to a 2003 Tour de France stage when Armstrong became severely dehydrated and lost to rival Ullrich.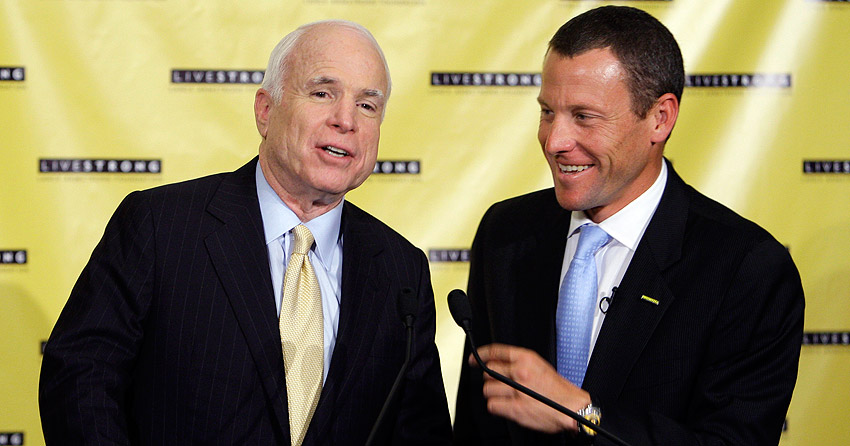 AP Photo/Carolyn Kaster
Since his retirement in 2005, Armstrong has hobnobbed with world leaders and politicians, trying to bring cancer awareness and research to the forefront.
Running on his own merits would be an entirely different animal. The 2010 gubernatorial election, a target Armstrong has raised in casual conversation, recently became a more complicated equation when popular U.S. Sen. Kay Bailey Hutchison announced her intention to challenge two-term incumbent Rick Perry in the Republican primary.
If Hutchison were to step down as senator, her seat initially would be filled by a gubernatorial appointment, then by a special election that could present a major opportunity for a political outsider such as Armstrong, said veteran Texas GOP political consultant Royal Masset. "In a special election, the party machinery doesn't have as much influence," Masset said.
McKinnon, who's admittedly biased, said Armstrong would offer "attitude, competitiveness, and a real record of success and accomplishment in not just sports but the public policy arena. He'd be a refreshing and dynamic candidate who would get a ton of attention. And he'd bring his usual A-game to campaigning."
And liabilities? "One thing that you have to have in the world of politics is patience," McKinnon said. "Lance doesn't have much of that."
Submitting to the personal and financial vetting required of candidates could be a challenge for Armstrong, who hasn't shown much tolerance for such probing in the recent past.
He was angered when his hometown newspaper, the Austin American-Statesman, published a story naming him as the city's top water user in the summer. Armstrong refused to speak with the newspaper's staff for weeks afterward and was still voicing irritation about the story in the fall.
A certain amount of pugilism is useful in both sports and politics, but some of Armstrong's statements since he announced his comeback have seemed over the top. He reacted to florid comments this past fall by Francaise des Jeux team director and former rider Marc Madiot -- who makes no secret of his dislike for Armstrong -- as a call to arms to French citizenry and a veiled threat. Although Armstrong has legitimate security concerns when he travels, bilingual observers felt he blew Madiot's words out of proportion.
Armstrong has always been vigilant to a fault about what is being said and written about him. "I was combative," he told author Douglas Brinkley for an article in Vanity Fair in the fall. "I was unavailable, arrogant …" Thanks to the Internet, the universe of public opinion has expanded exponentially since his first Tour victory 10 years ago. Although he often dismisses anonymous cyber-criticism, Armstrong doesn't ignore it, either.
"If you spend time on cycling message boards, you might feel that the world is upside down," he told ESPN.com in October. "It's not."
THE BOTTOM LINE
At a time when satirists are increasingly viewed as valuable truth tellers, even in a U.S. presidential campaign, one take on Armstrong stands out.
"As The Toto Turns," a weekly comic strip that appears on the nyvelocity.com Web site, spares no one in its send-up of cycling's politics and cult of personality. After LeMond confronted Armstrong at one of his comeback news conferences in the fall, "Toto" co-creators Dan Schmalz and Andy Shen posted a wickedly insightful strip that crystallized an issue likely to color Armstrong's return. LeMond is portrayed as an overly zealous interrogator, Armstrong as his self-important target. In the final panel of the strip, the Armstrong character sighs and utters the punch line: "Why do you love cancer, Greg?"
The joke may be sacrilegious to partisans of both men, but it touches a real nerve. Is it possible to be ambivalent -- or worse -- about Lance Armstrong the athlete, yet support Lance Armstrong the cancer crusader? Does his devotion to his cause have any bearing on his past and present conduct as a rider?
Armstrong is betting most people will take him at his word. He's a gambler, just like anyone who does what he does for a living, barreling down mountainsides with little margin for error. Most of his bets have paid off handsomely.
This time, he's wagering that his middle-aged body will respond well, that his team will function smoothly, that his incredible skein of luck from 1999 through 2005 -- no major illnesses or crashes, Houdini-like escapes from mishaps, barely a flat tire at the wrong time for seven years -- will continue. He is supremely confident the public's appreciation will trump any reservations and he'll emerge even stronger than he was.
Why shouldn't he, with his track record? Right now, it might be hard to get decent odds against him.
Bonnie D. Ford covers tennis and Olympic sports for ESPN.com. She can be reached at bonniedford@aol.com.