Of the five winners of the Tour de France since 1996, only Lance Armstrong, who won seven times from 1999-2005, has not been sanctioned for use of performance-enhancing drugs.
In his new book, "From Lance to Landis" (available Tuesday), author David Walsh follows the trail of r-EPO, or recombinant erythropoietin, from its development in the 1980s as a treatment for anemia to the heart of Armstrong's U.S. Postal and Discovery teams.
R-EPO, a synthetic injectible version of the hormone EPO, helps the body produce red blood cells, which carry oxygen to muscles. Walsh writes about the dramatic changes r-EPO has brought to the peloton, beginning in the early 1990s, and how Armstrong and his teammates responded to those changes.
In this excerpt from Walsh's book, the author tells the story of Frankie Andreu, who was Armstrong's Postal teammate from 1998-2000, and his decision to finally cross the line and use r-EPO. In 2006, Andreu and his wife, Betsy, testified that they witnessed Armstrong admit to EPO use while he was hospitalized for testicular cancer:
From Lance to Landis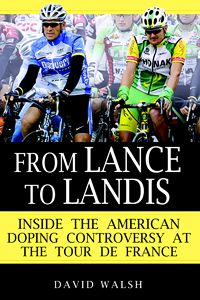 • In his new book, "From Lance to Landis," author David Walsh follows the trail of r-EPO, or recombinant erythropoietin, from its development in the 1980s as a treatment for anemia to the heart of Armstrong's U.S. Postal and Discovery teams. You can learn more about the book here.
• Bonnie DeSimone: Q&A with David Walsh
• Chat wrap: Author David Walsh

The second time Frankie Andreu cracked, it was a more serious matter.
It happened in the aftermath of the Festina doping scandal of July 1998. Some riders didn't think that was much of a scandal at all. Festina had got caught with drugs. Their problem. Others saw it as the shuddering collision with reality needed to make the sport recognize its pervasive doping culture. Andreu was in that camp. Through the mid-1990s, he saw the way racing changed and heard all the talk about r-EPO. He tried not to believe the worst of it and said it was hard to separate rumor from fact. Riders were always convinced the guy on the other team was doing it but no one was coming forward with his hand up. Yet he couldn't delude himself -- r-EPO worked, it was undetectable, and the UCI's decision to impose short-term suspensions on those with hematocrits exceeding 50 made it seem all right to use the drug up to the 50 threshold. He thought of it as legalized doping.
But he wasn't going to get too down about it. Through the days of rampant abuse in the mid-1990s, he didn't do r-EPO, but that was OK, he wasn't paid to win and he could do his équipier's job without the drug. Instead of worrying about others, he concentrated on what he could control. Prepare properly, ride hard, give everything, and accept the results that follow. In a curious way, it was easier to do this riding for the U.S. Postal Service team. [Lance] Armstrong expected team riders to be just that, team riders. There was one leader, him, and for anyone else to think of personal glory was an affront to the ethos of the team. In return, Armstrong won when it mattered and his équipiers made good money. From Andreu's point of view, it was a fair exchange.
But when the Festina guys got found out, he thought things would change. Surely no sport could just carry on in the old way after police searches revealed widespread doping. It wasn't just Festina; Spain's No. 1 team, ONCE, was accused of dealing in drugs; suspicions existed about many other teams; and one rider, Rodolfo Massi, was arrested on suspicion of supplying drugs to his fellow riders on the French-based Casino team. Massi would eventually be acquitted of all charges but the suspicions and arrests were destroying cycling's credibility. "The sport," said Tour de France chief Jean-Marie Leblanc, "needs a new morality." Through the winter of 1998, that became Frankie Andreu's hope.
Believing change was necessary wasn't enough to bring it about. There was still no test to detect r-EPO or human growth hormone, and if used in a measured way, other drugs were difficult to find. What Andreu realized in the early races of the 1999 season was that nothing had, in fact, changed. Well, one thing had changed: even among themselves, riders became more cautious when speaking about doping. Willy Voet and Festina, the villains of the previous summer, were not spoken about, and the legacy of the Festina scandal was greater secrecy. The law of silence was reinforced, and lacking the will to learn from the mistakes of the past, the sport went on repeating them. The evidence of continued doping was everywhere.
Sprinters flew up first category climbs, new young professionals adapted to the rigors of their first year in the peloton with absurd ease, and Frankie Andreu fell farther and farther behind. It wasn't so bad in one-day races -- he could get by in those -- but it was much tougher in stage races. Standing at the start line on the third morning, with two days' tiredness in his legs, he looked around and saw rivals still fresh and, he imagined, fueled by abundant red cells. This wasn't something he could prove but he just knew it. And in the spring of that year, 1999, it got to him.
"I was tired of having no chance, tired of getting dropped, tired of seeing others take advantage of me," he said. "I just wanted to feel normal again, to get back my place in the peloton. This was something I had worked hard to achieve and through no fault of mine, I had lost it. I was training as hard as ever, I was feeling as well as any other year, and I was racing great. The problem was I just couldn't keep up. I wanted to ride to my abilities, to be the team rider I had been throughout my career, but the difference was that I now needed r-EPO to accomplish that."
Andreu had heard enough of the stories to know Switzerland was the place to buy r-EPO, and as he lived in Nice, it wasn't that long a journey. He was told you didn't need a prescription, not even a doctor's note, and, probably most important of all, no one was going to ask to see identification. All you needed was money. But it took weeks for him to finally cross the line. Back and forth, he wrestled with the decision. "Should I, shouldn't I? One day it was 'yes,' the next day 'no.'" He told himself he was doing it to keep his job with the U.S. Postal Service team, to go on providing for his family, but he knew Betsy, his wife, wouldn't buy that. She would say it was cheating and therefore immoral. It wasn't something he could discuss with her before doing it.
In the end, the Tour de France made up his mind. Never before had he ridden in a team that had a potential winner. You might have made a case for Andy Hampsten in 1993, but he had been a long shot against the Spaniard Miguel Indurain. For this Tour, Armstrong was one of the favorites. But to win, he would need the support of a strong team and that meant every rider. The responsibility preyed on Andreu's mind. This was the race where he had to do his job, where he had to be strong. Once the decision was made, it seemed like a weight lifted from his mind and he could get on with preparing for the race.
He heard how simple it was to drive to Switzerland, walk into a pharmacy, and just ask for r-EPO. Little things revealed his reservations: he didn't ask the Swiss pharmacist for r-EPO but for one of the brand names under which the drug was sold. That felt easier. Immediately understanding what Andreu wanted, the pharmacist asked, "How many boxes?" "Just one," Andreu replied, noticing the pharmacist's look of exaggerated surprise. "You don't need more than one?" he asked. Andreu picked up on the inference and said firmly, "No, one is just fine." The journey back into France was one he would prefer not to repeat.
All the way to the Swiss-French border, his heart raced as he considered the consequences of being stopped and searched. Should he immediately admit to having the r-EPO, or could you try to act innocent and hope not to be searched? In the end, the border guards just waved him through and he was relieved to arrive back at the apartment in Nice. Though he had heard a lot of talk about r-EPO, he didn't actually know how the drug was used. How many injections each week? How much in each dose? How long would it last? At what temperature should it be stored? Eventually, he got some advice and began to take the drug leading up to the 1999 Tour de France. What intrigued him was that a tiny amount of a clear liquid, injected into the shoulder, increased his red blood cells. He used the drug at the apartment in Nice, refusing to take it to the preparatory races and the Tour. That would have been risky. He didn't tell people what he was doing and no one asked him. It was his secret.
At first there was no discernible effect on his performance, but once the Tour de France got going, he began to notice the change. Slowly, he felt stronger and better able to do the équipier's job that had once come easy to him. The drug returned him to his rightful position in the peloton, that of the respected team rider. There was no sense of guilt because most riders were using r-EPO, and he also knew there were plenty of guys doing far more. Many were using human growth hormone, corticoids, testosterone, and other products, but for him, that would have overstepped the mark. All he wanted was something to allow him to ride at his normal level.
He didn't suddenly start winning stages or leading the pack in long pursuits of breakaways. In fact, apart from himself, perhaps no one saw any difference in his performance. But there were differences. Instead of finishing each day in a state of total exhaustion, he was just ordinarily tired and he woke the next morning feeling his body had recovered a little. Andreu didn't imagine he would spend more than two weeks defending the race leader, but that's how it panned out in 1999 and he needed his strength. He still suffered in the mountains and there were times when he struggled on flat roads, but because his body was recovering, he was able to do his job. That pleased him. Pretty much from the moment he had turned professional 11 years before, he understood the level of his talent; it wasn't enough to make him a star or win more than a handful of races, but he was strong and got the credit due a loyal team rider.
When r-EPO came, it took that away. His weakness was to want that back, to be able to do his job and make sure no one could say he wasn't pulling his weight. Respect, he supposes, was what he was after.