BOULDER, Colo. -- Conditions are cramped in the modest bedroom with burgundy carpeting and busy floral wallpaper at the Boulderado Hotel.
A small antique-style desk has been cleared off and covered with a clean towel, syringes, vials, latex gloves, a tourniquet and a waste disposal box. A second station is set up on a small round table. Coolers and carrying cases are stacked against the walls.
Blood and urine roll call starts at 6:30 a.m. sharp. The riders report a few at a time, with sleepy eyes and hair rumpled from pulling T-shirts over their heads in a hurry. It's been a scant few hours since the same group gathered at a bar a few blocks away, where everyone had a few drinks and a lot of laughs.
They sit down, verify their paperwork and quietly proffer their left arms to have blood drawn. On the floor next to the bed, a centrifuge machine hums steadily, spinning red blood cells away from serum for analysis.
Cycling's most secretive business has taken place for years in rooms not unlike the one in the Boulderado. Riders, with or without the help of team doctors and all-purpose staff members called soigneurs, have long used the privacy of a hotel room to undergo transfusions or take EPO, steroids, stimulants and other performance enhancers during races and training camps .
But this team does everything differently. This team has pledged to be open about its operations, right down to the open door of this hotel room on a mid-November morning.
This is Team Slipstream/Chipotle, a team with the uncommon vision of restoring faith in a sport savaged by scandal and disillusionment. Its collective commitment to riding clean is a mantra and a business plan rolled into one -- an attempt to persuade fans and corporate sponsors that the team practices what it preaches.
At a time when U.S. professional team sports, those bulwarks of stability, are waking up to the realization that doping is pervasive, Slipstream is a step ahead, tackling a tough question: Is it possible to build loyalty and trust in a sport that has poisoned itself?
---
As the cyclists file in to have blood drawn, Dr. Paul Strauss, who heads the Agency for Cycling Ethics, and ACE co-founder Paul Scott, a research chemist observing the testing, greet them by name.
ACE collects samples from Slipstream riders roughly every other week under a contract that began more than a year ago and is meant to supplement the drug testing done by anti-doping agencies and national and sports federations. The testing establishes baseline blood and hormonal markers and tracks them, making it easier to spot early indications of performance-enhancing techniques.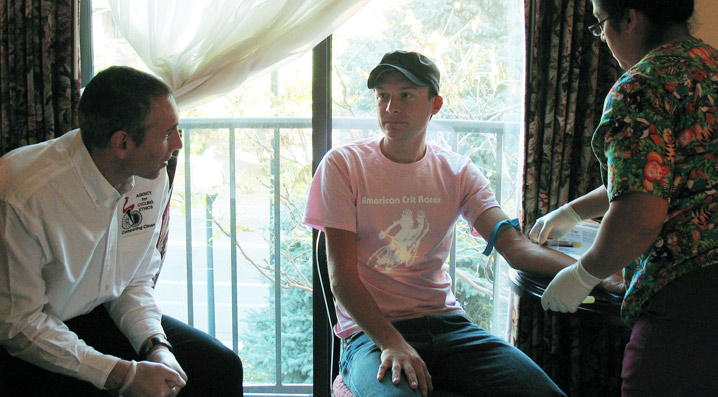 Bonnie D. Ford
A nurse draws blood from rider Danny Pate as Dr. Paul Strauss observes. As part of their team contracts, Slipstream riders have their blood and urine tested roughly every other week.
Slipstream was among the first teams to try self-policing. If a rider's blood profile looks fishy, or if he's supposed to report for a test and can't be reached on his team-issued BlackBerry, he can be suspended or fired.
As more teams adopt these programs, they're viewed warily by some in the anti-doping establishment because of just how blurry the lines can become. Blood analysis can be used for good or nefarious purposes, just as drugs designed to help people heal are now synonymous with doping, hijacked by athletes seeking an illicit edge. No anti-doping measures are airtight, and sometimes it seems that every step toward reform has an echo of the past.
Slipstream's director, 34-year-old Jonathan Vaughters, equal parts bohemian intellectual, earthy jock, fashion plate, wine connoisseur, and savvy strategist, wants to bring credibility and money back to cycling by bucking the entrenched culture of lying and cheating. He's upped the ante on his own experiment this season by adding established stars to his stable of young American achievers.
Vaughters rode for two top teams, U.S. Postal Service and France's Crédit Agricole, in a decade-long career before retiring in 2003, disgusted with trying to compete in a drug-riddled peloton. Many cyclists of his generation were convinced they wouldn't be able to keep up, and thus keep their jobs, unless they doped.
Removing that pressure from the equation at Slipstream is only part of Vaughters' blueprint. He considers team unity crucial, so his riders will train together much of this season in Girona, Spain, or in Boulder rather than converging at race time like far-flung soldiers of fortune. Extensive equipment testing and coaching will give the riders every legitimate edge available, he says. Vaughters is intent on creating a smart, spirited, distinctive team image, packaged in blue-and-orange argyle-patterned jerseys whose design was selected from 600 entries in an online contest. They're meant to be so campy they're hip.
If Vaughters can make clean cool, and cool sells, clean will sell to fans and corporate sponsors, he reasons. If clean becomes cool, and young athletes want to be cool, he'll get the best athletes. If he gets the best athletes, and they win clean, that will be cool all around.
"If we're successful at creating a new paradigm, and winning sometimes, and we show that the economics of this team are going to be successful under a very new paradigm, then I think other teams are going to switch to that paradigm voluntarily, and then we clean up the peloton through example and leadership as opposed to enforcement," Vaughters says in a typical verbal burst.
"It's not about finger-pointing, it's not about being better than anyone else. It's saying, 'Well, we're gonna do it this way, and if this works, you should join us.'"
Now all Vaughters has to do is prove his theory as cycling limps into the 2008 season with a reputation as one of the dirtiest games in the world.
He has two key allies. One is a wealthy stranger who contacted him out of the blue a couple of years ago. The other is among the few cyclists to break the code of silence that has impeded anti-doping efforts for so long.
---
Slipstream isn't the only elite team fighting to save cycling. Team High Road, the German-based team formerly sponsored by T-Mobile and now run by California entrepreneur Bob Stapleton, also has a contract with ACE this year. Team CSC will continue to undergo independent testing supervised by respected Danish anti-doping researcher Rasmus Damsgaard. Other teams will submit riders' samples to the UCI, cycling's international governing body, as part of a project to establish "biological passports."
But Slipstream is front and center for American fans, with an American owner, an American director and a critical mass of American talent. Discovery Channel, Lance Armstrong's former outfit, folded late last year. Slipstream is the lone U.S. team with a realistic shot at a wild-card invitation to the Tour de France. Race organizers have all but rolled out the red carpet already.
Doug Ellis fantasized about fielding a Tour team, but thought that was many years away when he impulsively e-mailed Vaughters in early 2005 and hopped on a plane to see him announce his roster at a Denver restaurant.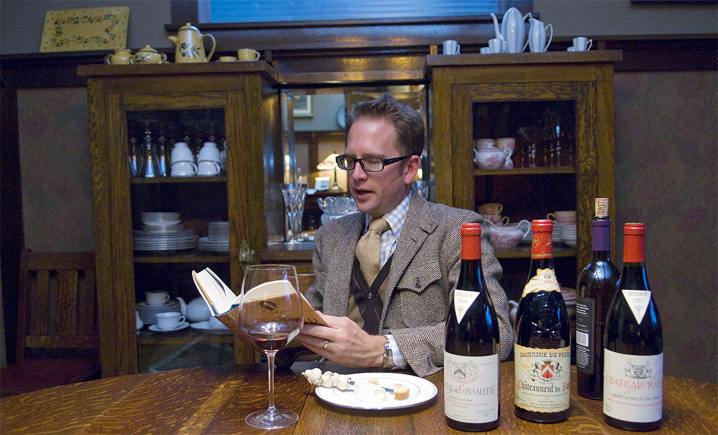 Lucas Gilman for ESPN.com
Jonathan Vaughters rode for two top teams, U.S. Postal Service and France's Crédit Agricole, before becoming Slipstream's team director.
It wasn't exactly a high-profile event. Few people outside cycling had paid attention to Vaughters' efforts since 2003, when he started a squeaky-clean U.S. junior and developmental team with $50,000 from his savings, partially backed by Denver-based 5280 Magazine and Subaru. The TIAA-CREF insurance company later became the chief sponsor. Vaughters initially intended to give young riders a healthy environment to hone their talent. He began to think bigger after David Walsh, the Irish journalist known for investigating doping in sports, challenged him, asking, "What do they have to go on to?"
Ellis, 43, a Manhattan-based private investor and longtime cycling fan, was impressed with Vaughters and decided to contribute to the team's meager budget for international races. By the start of the 2006 season, he'd become majority owner of the new Team Slipstream -- named for an unsold screenplay he'd written about a cycling team.
"We exchanged some e-mails in which we slowly let down our guards to each other," Ellis says, settling into a leather couch in the Boulderado lobby. "I said like, look, my ambition is to own a Tour de France-caliber team in some number of years, but I want that to be a team of Americans, in American culture. But we were always thinking 2010 was when we might be able to do this. The events of last year really accelerated our plan.''
Those events included a relentless drumbeat of negative news that made Slipstream's approach look prescient. Team CSC owner-director and 1996 Tour winner Bjarne Riis admitted decade-old guilt. Another Tour champion, Germany's Jan Ullrich, was linked to blood doping through DNA evidence and retired. Floyd Landis lost his 2006 Tour title when an arbitration panel upheld his positive test result.
The 2007 Tour stumbled to the finish line minus several riders who tested positive, including prerace favorite Alexandre Vinokourov. Presumptive winner Michael Rasmussen was fired by Rabobank for lying to avoid drug testing. T-Mobile, one of the longest-term sponsors in the sport, fled.
Anecdotal evidence points to a peloton in flux, with some old-school riders still trying to commit the perfect crime, some riders who have gone straight and others who have never doped. Cycling and anti-doping officials play the blame game with every fresh scandal.
The state of the sport isn't terribly confidence-inspiring, but Vaughters and Ellis saw opportunity.
"We realized this is maybe the time to start ramping it up," Ellis says. "Obviously the demise of Discovery creates a vacuum that someone can take advantage of. We luckily happened to be in a great position. We had to step up and be as big as we could be."
Slipstream has several secondary sponsors, including the burrito chain Chipotle; Garmin, which manufactures global positioning system devices; H30, a sports management firm, and equipment sponsors led by the U.S. bike maker Felt. The team is still hunting for a "title" sponsor to foot the bulk of its $11 million budget -- triple the 2007 number -- and is seeking sponsorship for the ACE testing, which will cost nearly $500,000 this year. To compete with the best teams in Europe, Slipstream needed established performers. Vaughters scouted them by doing what a number of modern directors now do. He asked riders if he could study recent blood tests mandated by international authorities, and tried to discern whether they were competing clean.
In November, the staff and 25 riders on Slipstream's 2008 roster converged on Boulder for their first training camp. They knew actual riding would be a relatively small part of it. They filled out psychological profiles in advance, and Vaughters made it clear he would stress team chemistry -- the nonsynthetic kind.
More than half the riders are American. Vaughters rode with some and has guided others since they were juniors. There are up-and-comers from France, Ireland, Canada, the Netherlands and Australia. Several are crossovers from mountain biking. There is a preponderance of spiked hair, earrings, biting wit and lack of pretension.
A half-dozen veterans of the European scene signed on for this year. There's irreverent time trial specialist Dave Zabriskie, the 2005 Tour prologue winner; bulky, genial Swede Magnus Backstedt, 2004 champion of the prestigious Paris-Roubaix cobblestone classic; versatile Christian Vande Velde, a solid stage racer who rode for Armstrong's initial 1999 Tour-winning team; New Zealand's forthright Julian Dean, a crack lead-out man for the world's top sprinters; and gifted climber Tom Danielson.
One looms above the rest: David Millar, the multiple Tour de France stage winner from Scotland who is also the most openly repentant ex-doper in cycling.
This is a far stronger team on paper than those Vaughters has put on the road previously, but he worries. Some of his riders have never had a whiff of doping. Some have seen it all. He wants the younger men to accept leadership from the stars they call "the new guys." He wants the veterans to appreciate the righteousness of their less experienced teammates.
Doping erodes the trust of fans, sponsors and journalists. Vaughters maintains it also does a number on team dynamics. A rider can't function well if he suspects the guy dusting him in training is dirty. He can't gauge his progress accurately on a doping-warped curve. He might hesitate to give everything for a leader whose actions could jeopardize the entire team.
---
Vaughters gathers the team privately the first morning of camp and tells the riders everyone is starting fresh. The rules are clear. Everyone has the benefit of the doubt. They owe that to each other, he says, since they've all signed on for the same ride. Afterward, he is optimistic.
"You have to understand that the guys who have come up clean all the way, they emotionally understand why you would dope, they've just been in an environment that has been conducive to not [dope]," Vaughters says. "I think I'm slowly making them understand that if they were placed in the same environment as David Millar, they most likely would have made the same decisions. It's just that they have been lucky enough not to have ever been in that environment."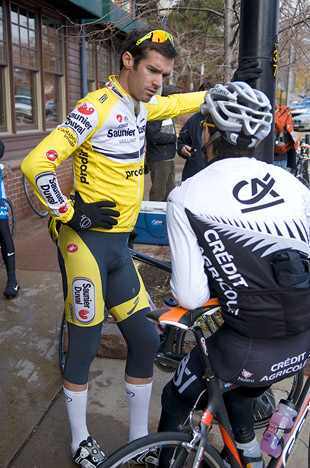 Lucas Gilman for ESPN.com
After serving a two-year doping suspension, David Millar returned to cycling in 2006, pledging to race clean. He believed moving from Saunier-Duval to Team Slipstream was the next logical step.
Before camp starts, Millar worries too. But when he ducks out of team meetings in the Boulderado conference center to chat one afternoon, he looks and sounds relieved.
"Jonathan and the rest of the team have given me an opportunity to kind of put my words into actions," says Millar, who has a small financial stake in the team. "It's one thing talking about it and being on a soapbox, but it's a completely different thing doing something with it.
"One of the things Jonathan has taught me is that it's the process which is just as important, which they lost on other teams. It was just about the results, and you were purely race-orientated. You were kind of a mercenary who was under contract to race for that team. And the team then took no responsibility for how you achieved those results, or didn't achieve them."
Millar just turned 31, getting on for a cyclist, but one of his e-mail addresses includes the arcane term "opsimath": someone who continues to learn and educate himself late in life.
The elegant, emotional Scotsman was born in Malta and grew up in Hong Kong with his father, a pilot. Millar won the 2003 time trial world championship but hit bottom a year later when French police raided his Biarritz home while investigating his then-team, Cofidis. They found doping paraphernalia and threw him in jail.
Shocked at circumstances, filled with self-loathing, Millar confessed, detailing when and how he had used the blood booster EPO to stoke his performance. He was stripped of his world title and served a two-year suspension.
Millar came back in 2006 with the Saunier-Duval team, pledging to race clean and answer any questions about his past. His rare candor makes him a media magnet. When news of Vinokourov's positive test broke at the 2007 Tour, Millar was besieged by reporters. He spoke passionately, saying he was as devastated as any fan, then broke down in tears.
Embracing his role means he'll never open up much distance from his past. "There's always that air of redemption around everything I do," Millar says. Investing in Slipstream seemed like a natural step "to prevent young guys from going through what I went through and make a difference in the sport."
Millar says he would understand if the younger Slipstream riders resented him or others who rode in Europe during an era when doping was ubiquitous. "But they seem to be very mature about it," he says. "Hats off to them. They could have been very cynical, but they seem to be kind of welcoming us into the fold and giving everyone a fair chance to prove themselves."
Just how much these riders are on the same page reveals itself early in the camp.
---
An hour into the first day of team-building exercises, Dave Zabriskie is flashing back to the boot camp-style outings Team CSC held to forge bonds between riders.
"This is so much better than being starving and sleep-deprived in the woods," Zabriskie says in his soft drawl.
Later that afternoon, he changes his tune.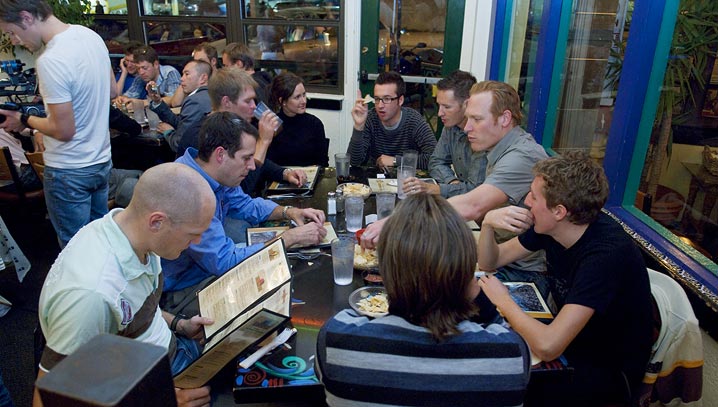 Lucas Gilman for ESPN.com
Slipstream riders believe their time together away from the road is just as important to the team's success.
Vaughters has hired a Boulder-based corporate consulting firm, 5.12 Solutions, led by energetic former U.S. Army Ranger and Ironman triathlete Sal Silvester. Silvester splits the team into groups and asks them to describe the image they want to project. Vaughters balances an oversized pad on his lap as he scrawls suggestions from riders and staff:
Successful ... Stylish ... Clean ... Aggressive ... Professional ... Rich ... Innovative ... Transparent ... Strong ... Tough ... Well-spoken ...
Classics and track specialist Mike Friedman, nicknamed "Meatball," speaks for the next group:
Winners ... Friends ... Genuine
Team physiologist Allen Lim says vehemently, "We are bad-ass mother f-----s who piss and s--- excellence," then reads a few more descriptors:
Pioneers ... Revolutionary ... Ethical
Finally, Silvester calls on Zabriskie, a reliable source of dark humor, who says, "Not Discovery."
The riders previously filled out surveys designed to identify personality traits and communication style, and Silvester instructs them to group themselves according to the results. Zabriskie settles in with "accepting, people-focused, empathizing, receptive, agreeable." He's joined by Vande Velde, Dean, and two young Colorado natives, Jason Donald and Timmy Duggan.
Millar, Backstedt and Danielson make their way to "active, fast-paced, assertive, dynamic, bold." Classics hopeful Tyler Farrar and longtime U.S. standout Danny Pate lurk in the "moderate-paced, skeptical, challenging" corner, agreeing they're conscientious, almost to a fault -- guys who read the instructions before assembling IKEA furniture rather than winging it.
The riders spend a couple of intense, introspective hours caucusing under fluorescent lights, discussing effective ways to deal with each other. It's exhausting. By 4 o'clock, when hotel staffers boot them from the conference room to make way for an unrelated banquet, the riders look as bleary as they do after a 100-mile stage.
They crowd into a dimly lit nearby common area as Silvester assigns a communications exercise involving abstract models made out of Legos. Annoyed waitresses stomp through on their way to the dinner, stepping over and around bodies splayed on couches and the floor.
The sedentary afternoon is as much of a test of will as any hors categorie mountain. Released, the riders scatter, deeply grateful they don't sit still for a living.
Halfway through an interview a couple of days later, Pate arches one eyebrow when he's asked about his aggressive racing style. "Well, I'm medium-paced and calculated," he says, deadpan. "You learned that in the other room."
Silvester takes the riders to a rock climbing gym for more tangible bonding later in the week. This new-age team-building is supposed to help when things get dicey on the road, but unity is especially crucial for Slipstream, as team physician Prentice Steffen stresses in a medical briefing.
"Each one of us has the power to bring this whole thing down," he says. "It's a delicate project."
Steffen's outspokenness about doping has embroiled him in controversy over the years. Most recently, after making comments about former U.S. Postal Service riders to the French sports daily L'Equipe in 2005, he was forced to apologize and then resigned from his post as team doctor for Slipstream's predecessor, TIAA-CREF.
Back in the fold again, Steffen feels he has a unique perspective to give Slipstream riders. He talks about his own past recreational drug abuse -- he still attends Alcoholics Anonymous meetings after 20 years of sobriety -- and tells the athletes, "The thing I recall best when I quit using drugs is how much simpler my life became."
However, few relationships in cycling are truly simple these days.
---
Millar is venting. A casually dressed woman with short hair and a lean triathlete's build stands listening a few feet away. The rest of the riders and staff are seated around Millar in a windowless ground floor conference room at the Boulderado.
"How does Astana get a Pro Tour license?" he says, his voice incredulous.
It's a remarkable moment. Millar, of course, is the most famous convert in the peloton. The woman is UCI anti-doping manager Anne Gripper, an affable Australian responsible for setting policies that theoretically could derail the career of any man in the room. She has increased out-of-competition testing and target-testing of top riders, and made headlines last year when she accused some teams of deliberately evading doping control officers.
At Vaughters' invitation, Gripper has agreed to address the team. It's a first for her. The night before her presentation, she comes with him to the hotel bar where the riders are hanging out and happily makes conversation. Like a friendly cop walking a beat, she seems unfazed by this direct contact, emphasizing in her formal talk that she's there to protect, not persecute them. "I do what I do for the clean riders, and I really believe the majority of athletes in all sports are clean," she says.
Gripper says she came to Boulder out of respect for Vaughters and Ellis. "Meeting Jonathan and Doug was the first inkling I had that there were people like this in the sport," she explains. At one point, she looks directly at Millar and says she values the experience of "riders who have been in both worlds."
Aside from Millar, no one in the room is likely to recount any transgressions publicly, since international anti-doping regulations have an eight-year statute of limitations. "I don't know how we get around that," Gripper says privately afterward. "It's so important for younger riders to hear those stories -- the pain and consequences of doping."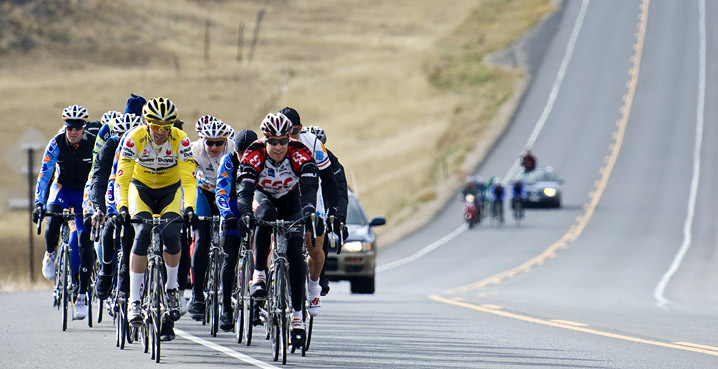 Lucas Gilman for ESPN.com
Along with normal physical training, Slipstream riders went through new-age team-building exercises to help build unity within the group.
Frank and cheery, Gripper talks about the future possibility that riders could be sanctioned for "indirect evidence" -- signs of blood manipulation that aren't out-and-out positives. She reviews some recent history and even takes partial blame for the Rasmussen disaster at the Tour, saying she could have barred him from competing in advance.
The Slipstream riders keep hammering away at Gripper. Many, like Millar, are angry that Kazakhstan-financed Astana will ride this season. They view the team as the direct descendant of a dirty program, starting with the Liberty Seguros team discredited by the Operacion Puerto doping investigation in Spain, and continuing with last year's squad that lost several riders to positive doping tests.
Astana has adopted the same independent testing program as Team CSC, but that obviously hasn't mollified some in the Slipstream group. Astana's new general manager is Johan Bruyneel, former director at Discovery/U.S. Postal, teams that never recorded a positive test but were continually dogged with allegations. Some men in the room chafed during their years at Discovery and don't bother to hide the ax they have to grind.
Danielson, who just completed an injury- and illness-marred season with Discovery, flatly declares that team doctors should go through background checks. "Mine were good at giving me a sleeping pill and checking my hematocrit and not much else," he says.
On another subject, Backstedt complains about filling out four sets of "whereabouts" forms for the different entities entitled to draw his blood. (A synchronized, web-based system is supposed to be in place this season.) Assistant director Matt White asks why World Anti-Doping Agency labs that leak athletes' names are never punished. ("It's a big issue," Gripper acknowledges.) Farrar cites the controversial doping case of Spain's Iban Mayo and presses Gripper on why athletes' "B" samples aren't routinely analyzed at a separate lab. (Not likely to change, Gripper says.) Dean suggests sanctioning dirty team managers and doctors.
Lucas Euser, a nimble 24-year-old American rider who resembles a young Elvis Costello, asks Gripper, "How, as riders, can we take a more active approach in creating a cultural change?" It's a serious question, but the group is getting a little punchy. "I'm volunteering you as a Fuentes mole," team trainer Lim jokes, referring to the Madrid doctor who ran an infamous blood-doping ring.
The meeting breaks up with a sense that there's been a discussion, not a lecture. It's a departure from the usual battlefield sniping between athletes and anti-doping authorities. "Have a fantastic year," Gripper says in parting.
The riders rumble up to their rooms and change into their team kits. Some are still under contract until the end of 2007 and have to wear their old gear. Millar is in the canary yellow of Saunier Duval. The black and royal blue of Discovery, red, white and black of CSC, and green and white of Credit Agricole are all represented.
One rider fulfilling his contractual obligation to a former team looks particularly uncomfortable, "but I don't want to give those dirtbags any reason to go after me," he says.
They pedal off in loose formation, on familiar ground at last.
---
Few teams have been left unscathed by the betrayal, suspicion and sadness that are the natural fallout from years of doping. Even Slipstream is not exempt.
Clean sport makes strange bedfellows. Flanking Steffen at the medical briefing are Lim and ACE's Scott and Strauss. Scott, a former administrator at the highly regarded, WADA-accredited UCLA laboratory, served as an advisor to Floyd Landis' legal team last year after concluding that the case was botched by the French lab that handled the samples. Scott says he feels he was acting honorably, but Steffen isn't wild about that association and neither is the team at the U.S. Anti-Doping Agency that pursued the case against Landis.
Lim, a numbers-crunching training guru with a Ph.D. in physiology, is also Landis' former trainer, but was never implicated in the Landis case.
When the subject comes up over dinner, Lim looks pained and says he hopes his work with Slipstream helps "get this demon off my back." His distress about the Landis case has been compounded by stinging accusations, most of them in anonymous blogs and forums, that he must have known Landis was dirty.
"I will not comment on his guilt or innocence," Lim says later. "I'm not so naïve as to think that no one takes drugs, but I'm also not so cynical as to think everyone's taking drugs. If he did dope, he's one helluva conflicted individual, because if there's anyone who understands the distinction between right and wrong, it's Floyd."
Finally, there is Vaughters, who has all but admitted he took performance-enhancing drugs, but will not cross the line into specific confession.
Vaughters says he is beyond WADA's statute of limitations, but won't discuss details of his own past because of other people it involves. He contends his experience helps him understand the forces at work in the peloton and sift sincerity from hypocrisy. If his tightrope act isn't enough for critics, Vaughters says that's just too bad. His first priority now is to figure out how to make this diverse collection of riders mesh.
---
The riders who have been with European teams throughout their careers can't believe that socializing is not only condoned but encouraged during this training camp. Plenty of legal substances are consumed in the process.
"All my years on French teams, I've never seen this," says Magnus Backstedt, cradling a drink in one big hand at the swank bar of the Julien hotel in downtown Boulder. "There is something different about the vibe on this team."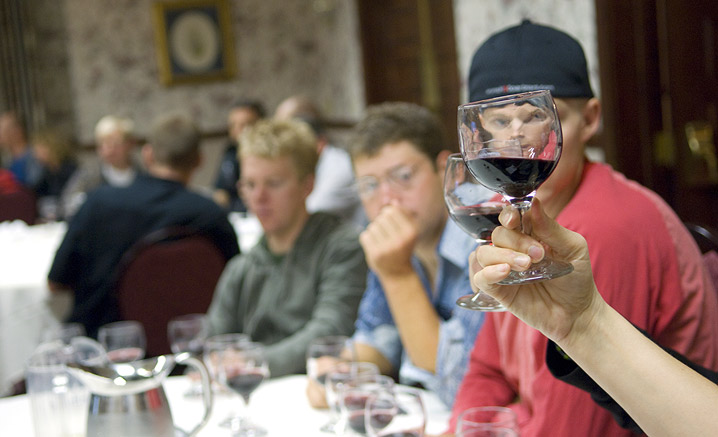 Lucas Gilman for ESPN.com
Riders tasted wines made in the regions of France whose roads some of them hope to race in this summer's Tour.
Cyclists obsess over calories and strength-to-weight ratio during the season. The end of the year is traditionally the time they cut loose a little, but they're used to doing it on the sly.
Not so with Slipstream, which even has an unofficial sommelier. On one evening, Todd Mathis, a friend of Vaughters who works for a wine import company, conducts a tasting from regions the Tour de France will pass through this year.
Whites are served first. Will Frischkorn, who plans to spend the following week in France roaming vineyards and Michelin-starred restaurants, helps pour. Tyler Farrar sticks his nose into a glass with a practiced air.
Mathis describes Sancerre, a wine from the Loire Valley, as having hints of mango and papaya. Jason Donald thoughtfully rolls it around his mouth. "I can't identify it unless he says it," he observes.
Gregarious French rider Killian Patour teases Mathis when he starts describing red wines. "What is this 'Burgundy'?" says the redhead. "I only know a place called Bourgogne."
Patour's English is excellent, but a few others in the French contingent of riders and staff have struggled with the language this week, so the team spontaneously decides to hold "French Appreciation Night" at a local brasserie.
The riders scour vintage shops in town. Frischkorn assembles an absurd outfit that includes a wig, a blazer and a scarf knotted around his neck, draws a pencil-thin mustache on his upper lip and conducts a videotaped interview with VeloNews in full costume. At the brasserie, the French nationals are induced to sing "La Marseillaise."
Other evenings aren't quite so culturally conscious. Twice, a quorum of riders winds up at a cavernous club called The Foundry that is frequented by University of Colorado students.
Friedman, wearing a '70s-style polyester shirt, struts and shakes his booty in a "Meatball" mash his teammates know well. The bigger surprise is Backstedt. Towering above the crowd, his pale face and prominent eyes shining, Backstedt moves so fluidly that the driver's cap planted on his shaved head never moves.
The extracurricular activities don't seem to take much of a toll. Representatives from Felt bikes pull Backstedt out of a team meeting one afternoon to test a stationary bike mounted on a patio outside, figuring he'll jump on and spin for a few minutes. Instead, Backstedt does a 45-minute workout, head lowered and legs pumping in rapid cadence.
Friedman later admits he gained a couple of pounds during camp, but in December, he wins a World Cup track cycling race in Beijing and strengthens his bid to be selected for the U.S. Olympic team.
---
How competitive will Slipstream be? Vaughters' official stance is that winning isn't as important as doing things ethically and striving to get the best equipment and advice. The night of the team presentation at the Boulder Theater, Slipstream also has the best duds. Vaughters and Millar have cooked up a deal with the high-end British men's clothing designer Paul Smith, who fitted each rider with a snazzy charcoal-gray suit.
A knowledgeable crowd buzzes expectantly. Boulder is a cycling capital, drawing riders from the ultraserious to the eccentric, lured by the altitude and the fitness culture. Andy Hampsten, the 1988 Tour of Italy winner, and other local luminaries are in attendance. Kids in junior team jerseys have autograph material ready.
Downstairs, the riders mill around in the green room, picking at hors d'oeuvres left over from a VIP reception. They have the suave, smart-alecky look of the "Ocean's Eleven" cast, but most of them are a bit nervous. There will be live mikes and the audience will be asking questions. Welcome to Slipstream 2008: Total Exposure.
Each man decides on his own neckwear. Millar selects a vivid purple tie and handkerchief; Friedman, a bow tie. Duggan, a charter member of Vaughters' program, opts for the open-collar look. It's his 25th birthday. The team sings to him. Duggan beams.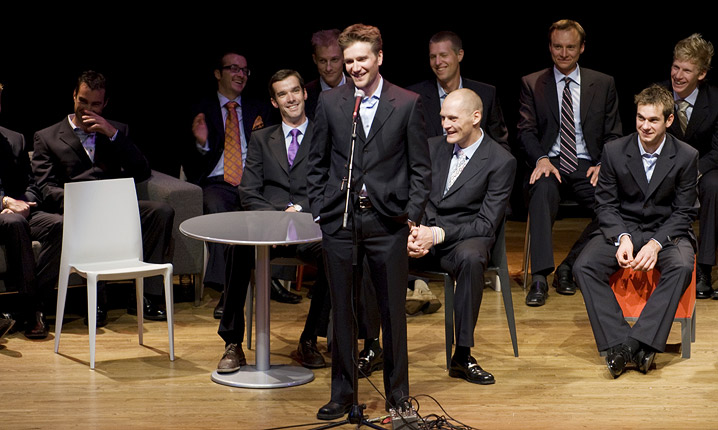 Lucas Gilman for ESPN.com
Dave Zabriskie does his best George Clooney as he answers questions at the Slipstream team presentation at the Boulder Theater.
"One thing we can give the older riders who have really been around the block and seen it all and maybe been in decision-making situations that we will hopefully never have to make, [is] a new kind of excitement about the sport even though they've already been racing for 10, 12 years,'' Duggan had confided a few days before.
Vande Velde proposes a toast: "To a good night tonight, a better year to come, and good friends." Millar has designated him "road captain" -- a rider who marshals the troops during races. It's a gratifying role for Vande Velde, 31, who suffered a long, injury-plagued slump prior to recent success with CSC.
Danielson looks content. On a training ride earlier in the week, he dropped back to the team car and told Vaughters, "Hey, I'm really happy, man, this is a great environment for me. I'm the happiest I've been in my life now."
During the same outing, Danielson pulled alongside 23-year-old Blake Caldwell, who came up through Vaughters' system. "You're lucky to have had this team," Danielson said.
Back at the theater, with the team still waiting for its cue to come upstairs, 17-year-old Taylor Phinney appears with his father, Davis, the first U.S. rider to win a Tour de France road stage in 1986.
Davis has Parkinson's disease, and proceeds from the event will go to his foundation. His strapping son, a junior world time trial champion who rides for Slipstream's developmental team, is the most promising American cyclist to emerge in years, and a tangible reminder of why Slipstream's quest is so crucial. When Taylor tells the audience how much he admires Millar, it feels as if things have come full circle.
When Vaughters begins to speak, his voice is charged.
Vaughters started the Tour de France four times and never finished. Crashes forced him out on three occasions. In 2001, an allergic reaction to a bee sting on his face caused one eye to puff up so badly he couldn't see. In what now seems like almost unbearable irony, anti-doping regulations at that time prohibited him from receiving a cortisone shot to reduce the swelling. Vaughters tried to start the next day but had to pull up after a few kilometers.
He intends to get Slipstream across the finish line of the Tour, his way.
Vaughters talks about the concept of team as family. He talks about riding with panache. Then he veers into no-man's land.
"If we really want to keep doping out of this team, we have to keep how we win in the context of the human body," Vaughters says. "Some days are great, some days are not ... To agree to not dope, to never let that enter the context of a team, is to agree to fail sometimes. It is to agree to let your fans down sometimes. It is to agree to the fallibility of the human body. It is to sign that contract and live by it, no matter how high the pressure.
"We want the skeptics to look as far into this team as possible," says Vaughters, who has invited one of the ultimate journalistic skeptics, David Walsh, to live with the team during the weeklong Paris-Nice race in March. "And that's the last I want to talk about doping."
He knows that's too much to wish for.
Moments later, the riders stroll out onto the stage looking like a cohesive unit.
The crowd cheers ardently, wanting to believe.
Bonnie D. Ford is a writer for ESPN.com. She will cover Slipstream's progress during the 2008 season. Next month, Ford will follow the team in its first major competitive test at the Tour of California. She can be reached at bonniedford@aol.com.
Join the conversation about "Leading Men."