PALO ALTO, Calif. -- Moments after Tyler Farrar lifts a bouquet on the Tour of California awards podium, he's sitting inside a rented white El Monte recreational vehicle parked on the Stanford University campus, carefully pouring his own urine into two sample bottles.
Farrar has just finished a surprise third out of 132 cyclists who flung themselves one by one down a 2.1-mile prologue time trial course ending on picturesque Palm Drive. This is his third anti-doping test in the past five days, counting two previous out-of-competition controls -- as much as most athletes in North American professional team sports are subject to in an entire season. The 23-year-old Slipstream/Chipotle rider was just five seconds shy of world time trial champion Fabian Cancellara of Team CSC and only a second behind British track cycling world champion Bradley Wiggins of Team High Road. On the podium, obviously pleased at the company he's in, Farrar beams beneath his scruff of reddish-blond hair. Threaded through his left ear are two slender glass curlicues, one pale blue, one orange, selected to match his team's funky argyle motif. Veteran CSC press liaison Brian Nygaard turns to reporters standing alongside the platform. "It's quite nice symbolism that it's those three teams on the podium," he says. All have adopted independent anti-doping programs that supplement testing done by national and international entities. Farrar doesn't have much time to savor the performance. A volunteer escort, required to keep him in sight as soon as his number gets pulled for testing, is waiting. Slipstream team physician Prentice Steffen hands Farrar his bike and jogs next to him as Farrar rolls off at a slow but purposeful pace, circumventing fans on bikes, dogs straining on leashes, parents pushing strollers and the other flotsam that clogs the aftermath of a race. Bathed in rare February afternoon sunshine, Farrar wheels through the finish line carnival, past the kids' hula-hoop and jump-rope challenge, the mini climbing wall, the bandstand, the Burger Bungalow and the booth advertising Polish sausage, hot potato and spinach knishes and organic coffee. He rounds a corner and there's the anti-doping RV, cordoned off with yellow crime scene tape and orange traffic cones and fittingly parked at the end of a row of 20 porta-potties. Farrar walks past security and up the steps into the vehicle. A fit woman in a black fleece pullover bearing the logo of cycling's international governing body arrives to check on how the testing is going. "It's a great result for the clean teams, a perfect result," UCI anti-doping manager Anne Gripper says of the race standings.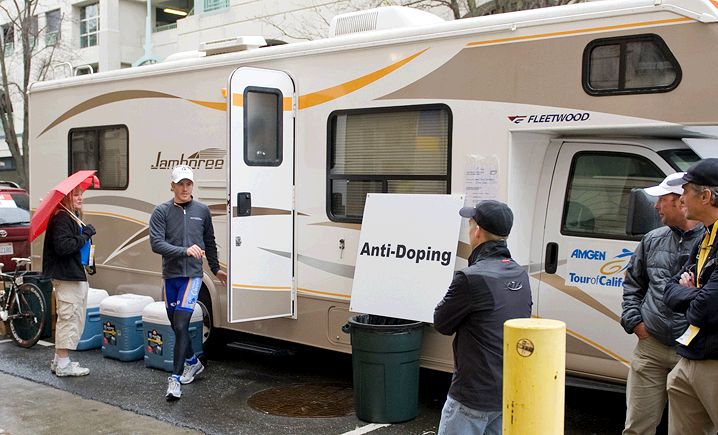 Lucas Gilman for ESPN.com
After taking the overall lead following Stage 2 of the Tour of California, Tyler Farrar is sent to have a doping test.
Isn't she afraid of being disappointed? "No, I don't think so, not with these teams," Gripper says. Inside the van, Farrar washes his hands and urinates into a plastic cup within view of a UCI observer, then verifies paperwork and sample numbers. With three witnesses watching, he opens a sealed box containing the bottles that will hold his "A" and "B" samples. He unscrews the tops, holds the bottles upside-down and makes sure they're spotless. Then he divides the sample himself. This ritual isn't generally required of a baseball player who hits a walk-off home run, or a quarterback who throws a winning touchdown pass. But Farrar (pronounced Fair-uh) is part of a generation of cyclists who are matter-of-fact about the hassles of anti-doping bureaucracy because they know their jobs -- and the sport's economic survival -- depend on it. The sport is re-mapping itself around anti-doping vigilance. Teams once competed covertly to see what they could get away with. Now they vie over whose testing is the most air-tight, whose riders have the most believable resumes, who is to be trusted and thus marketable. Slipstream, which last week received its first invitation to the Tour de France, has been among the most pro-active. "I've always been a clean rider, so my approach hasn't really changed," Farrar says. "I'm just on a team that talks about it a lot more. "I hope as the year goes on our results will start to do a bit more of the talking." The conversation about doping, exacerbated by cycling's chronic political infighting, is near-deafening at the moment. Slipstream, one of the teams that helped raise the decibel level, aims to make noise in another way in this race.
PROLOGUE
The Tour of California starts amid an unusually loud cacophony of competing agendas, protests from wounded parties and strident argument. As usual, all roads lead to the anti-doping issue.
Under a Rock Racing team canopy, three riders sign autographs wearing hastily produced jerseys with a barbed-wire design. Tyler Hamilton, Oscar Sevilla and Santiago Botero have been banned from the race because of unresolved links to the nearly 2-year-old Operacion Puerto investigation in Spain. Rock, the self-styled Hell's Angels of the peloton, and flamboyant team owner Michael Ball find many ways to make statements here. Ball has lured fan magnet Mario Cipollini, one of the best sprinters in history, out of retirement at age 41. The "Rock Three" ride the stage ahead of the peloton each day. Each night, Rock staffers park a fleet of Cadillac Escalades and a Rolls-Royce emblazoned with the team's winged-skull logo in front of a race hotel. More ogling fodder is provided by the "podium girls" furnished for the awards ceremonies by Ball's clothing company, Rock & Republic, a race sponsor. The models parade out in all-black ensembles of skintight jeans, quilted leather jackets and spike heels and toss their cascading hair fetchingly as they smooch the riders' cheeks.
Talking with David Millar
Slipstream's Millar explains why the attitude within the peloton is changing for the better.
Outside the Astana team bus, "Let Levi Ride" posters and campaign buttons blossom. Amaury Sports Organisation, the French sports marketing conglomerate that owns the Tour de France, has announced it will not invite Astana, the Kazakhstan-financed, Luxembourg-licensed, talent-laden team where former Discovery Channel director Johan Bruyneel, defending Tour champion Alberto Contador of Spain and third-place finisher Levi Leipheimer have migrated. Like an NCAA "death penalty" meted out in college recruiting scandals, ASO's action makes Astana's current roster pay for past sins. The exclusion is based on Astana's history of high-profile doping violations, disregarding the team's new management structure and recent enlistment in a respected independent testing program run by Danish researcher Rasmus Damsgaard. The ultra-motivated Leipheimer, a Montana native and the defending champion in California, regards this week as a chance to vent competitive anger. He has a strong supporting cast, and the Slipstream riders know they'll have a hard time containing him.
STAGE ONE: SAUSALITO-SANTA ROSA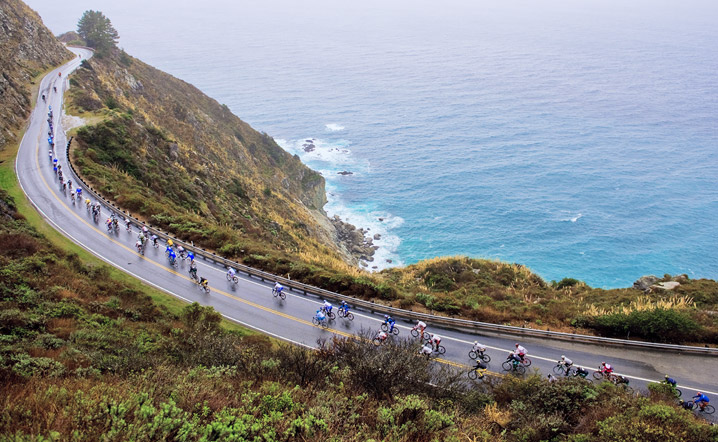 Lucas Gilman for ESPN.com
The Tour of California's scenic routes were not always rider-friendly.
Slipstream works to position Farrar for the intermediate sprints, where he picks up three crucial bonus seconds. Danny Pate sets a hammering pace up a modest climb, trying to wear out contenders for the final sprint. Then 21-year-old Tom Peterson leads the peloton through the first two finishing circuits in downtown Santa Rosa, his normally self-effacing expression hardened into a gamer's mask. Farrar takes sixth in the sprint and is now in second place overall. Team leader David Millar, his face dingy with road grime, clamps Pate in a hug back at the team bus and exclaims, "That was f------ incredible!" Pate smiles back. Christian Vande Velde whoops as he wheels in. Peterson silently rolls up to a curb with his tongue hanging out, painfully dismounts and climbs the steps into the bus hunched over at the hips. "Normally with a young guy, you wouldn't do that to him the first day," Millar says in his lilting Scottish accent. "But he's got such a big engine and he's such a hard little bastard that you know he'll come good. He can handle that kind of workload, which is very rare for a 21-year old." Steve Cozza, sporting a rakish, cartoon-villain mustache, arrives with blood streaming from his knee and calf. Cozza was sick to his stomach overnight and crashed late in the stage, but managed to finish in a group 5 minutes behind the leaders. He's a "grinder" in this race, a guy who will jump into an early breakaway, help dictate pace at the front of the peloton or do whatever grunt work tactics require. There's a postmortem that evening in the team's rented bus, a spacious vehicle appointed for rock 'n' roll touring that has transported such luminaries as Jack Black, J-Lo and Marc Anthony, according to driver Troy Cross. It's equipped with a kitchenette, two bathrooms, plush eating booths, curtained bunks and a salacious-looking octagonal bed in the rear. Slipstream director Jonathan Vaughters and his staff review the care and feeding of the riders. No legitimate performance-enhancing detail is too small to escape their attention. Riders are prone to gulp colas after a stage, so Vaughters asks the soigneurs to look for Coca-Cola made in Mexico, which contains cane sugar instead of high-fructose corn syrup. "Sucrose has a much higher glycemic index," he notes. In a similar vein, team physiologist Allen Lim often sleeps in the bus and rises as early as 5 a.m. to start cooking what he calls "carb bombs" -- scrambled eggs and sushi rice laced with balsamic vinegar. Research indicates that the condiment "aids in glycogen (stored carbohydrate) re-synthesis," Lim says. Vaughters has hired a team psychologist and offered riders the services of a hypnotist before this race. Gear is another obsession. "Want to see innovation in action?" he says one morning, cradling a Giro brand time trial helmet in his hands as if it were a rare dinosaur egg. The helmet has the familiar insect-head configuration, a bulb tapering to a point. Slipstream asked for some design tweaks, and wind tunnel testing subsequently showed that improved air flow around the helmet made up for as much as 10 watts of power at a 30 mph pace. "Given that blood doping or EPO probably only makes a difference of about 40 watts, now we only have 30 to go," Vaughters says. Back in the bus, the riders file in for their meeting. Vaughters points out that Farrar could take the race lead on bonus seconds in the intermediate sprints, but wonders aloud if it's worth trying to control the action to do that. Farrar, a wool cap pulled low over his forehead, seems humbled by the occasion. "I think we have too many guys who can do a good GC (general classification, or overall finish) to waste that energy," he says. Millar speaks up, singling out Cozza and Peterson for praise. "I hope we can carry on like this," he says. "That was good fun today." "Cozza, you feeling all right?" Vaughters asks. "It comes in waves," Cozza says, sounding comatose. In parting, Vaughters reminds everyone to use the anti-bacterial lotions stocked on the bus. A bug like Cozza's can knock riders down like bowling pins.
STAGE TWO: SANTA ROSA-SACRAMENTO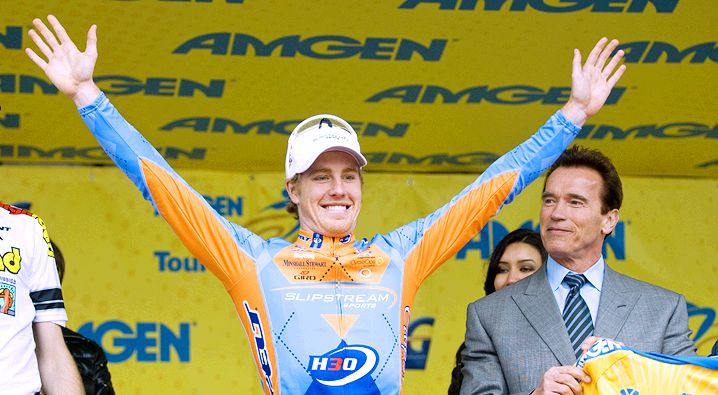 Lucas Gilman for ESPN.com
One of Slipstream's great successes in California -- Gov. Arnold Schwarzenegger, right, handing over the yellow leader's jersey to Tyler Farrar after Stage 2.
Rains falls throughout the day. A rider from the BMC team jumps out early on a solo breakaway. Farrar, protected by the team, competes for the intermediate sprints after all and gains another three seconds. Although he crosses the finish line sixth, those incremental gains put him a second ahead of Cancellara for the yellow jersey. Gov. Arnold Schwarzenegger, his face Hollywood-tanned and smooth, strides across the podium facing the state capitol, resplendent in a gray suit and garden-hose- green cowboy boots. "This is wonderful exposure for Cally-forn-ya," he says before presenting the leader's jersey to Farrar. Once again, Farrar's next stop is an anti-doping van parked a few blocks away, with both a race escort and a cop from Sacramento's bicycle unit waiting to accompany him. As Farrar starts out down the street, officer Gus Johnson, a former amateur racer, hollers, "This way, Tyler -- it's shorter." Farrar U-turns and follows Johnson through an alley. Vaughters, walking briskly behind them, is accosted by a panhandler on the way. By the time Farrar finishes at the news conference and returns to the sprawling Radisson hotel complex on the outskirts of town where all the teams are staying tonight, the other riders are well into their recovery routines. Tom Danielson lies face up on a massage table. A soigneur massages his arms and shoulders while team chiropractor Kevin Reichlin aims a hand-held machine emitting a strobe at his left knee -- "cold" laser therapy designed to promote healing. Danielson is somewhat banged up from a crash, but his main issue is his upper body, which is still out of kilter after surgery on his right shoulder last fall. This is his first race since August. "It was broken for three weeks before I had surgery, and then I didn't do anything for eight weeks, so that side atrophied," Danielson says, his eyes half-closed. Eventually he rolls over and rests his face in the O-shaped pillow at the end of the table, holding his BlackBerry underneath him so he can surf the Internet. Another soigneur, Alyssa Morahan, is scrubbing Millar's shorts in the bathroom sink. As reigning British road and time trial champion, Millar wears a special, mostly-white outfit that quickly turns gray with soot in wet conditions. As Morahan says, Slipstream prides itself on being clean. The three Slipstream soigneurs at this race are massage therapists by profession, but they also handle laundry, grocery shopping, luggage transfers and other odd jobs. They're eager to erase the old reputation of soigneurs as drug mules and doping enablers. "I'm very lucky that I'm in an environment where I don't have to worry about any (riders) coming to me and asking me to do that," says Morahan, 34, who is contractually obligated to report any such incident to Slipstream management. The official dinner tonight is a mass buffet served to all the teams in the hotel ballroom. Platters are heaped with the bland food cyclists eat during races -- broiled chicken breasts, pasta, grilled vegetables, salad and cake. A text message hits the Slipstream riders' team-issued BlackBerrys: Meet at the hotel bar at 8:30 for a champagne toast. Vande Velde and Dave Zabriskie exchange glances over the table. Celebrating in front of other teams so early in the race, with a lead no one expects to hold up in tomorrow's climbing stage, would be bad form. Vande Velde taps a reply. Later, the team and staff gather in the double room Vaughters shares with assistant director Chann McRae. Twenty people sprawl on beds, on the floor, on top of dressers. Champagne and paper cups await, but just as team owner Doug Ellis is about to speak, there's a knock. Pate's been selected for a random anti-doping test. He has 10 minutes to report to a van in front of the hotel. Pate unfolds his lanky frame from the floor. The other riders buzz, as if he's been summoned to the principal's office. Ellis starts again. "I think it's incredibly important that we just stop for a second and appreciate how great an accomplishment today was," he says. "This is really the most significant day, from my perspective, in the team's history. When I called my wife to tell her, I could hardly get the message out, I was so overwhelmed and choked up. Awesome job, guys." They murmur thanks. Vaughters tackles strategy for the next day. Back-to-back climbs up Mt. Hamilton and Sierra Road present the most challenging terrain of the race, and Danielson is the point man. Vaughters cautions him against taking too many risks. "You can go with Levi, but do not lose his wheel," Vaughters says. Danielson, who rode with Leipheimer last year at Discovery Channel, nods somberly. "He's gonna be good," he says.
STAGE THREE: MODESTO TO SAN JOSE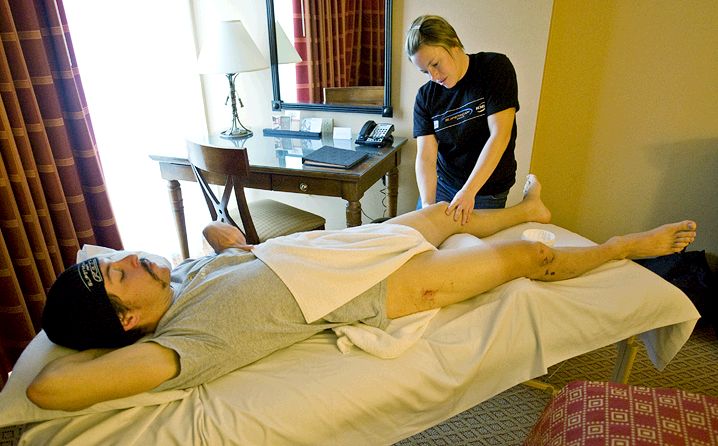 Lucas Gilman for ESPN.com
Slipstream had three soigneurs at the Tour of California, all of whom are massage therapists. Post-stage massages help riders' muslces return to a relaxed state and flushes muscles of waste produced during the ride.
The stomach virus ravaging the peloton has depleted the team's entourage, and Slipstream finds itself short of bodies to hand out jackets, newspapers (riders stuff them under their jerseys as insulation on descents) and hot tea in the cold and fog on the Mt. Hamilton pass. Vaughters recruits the team's longtime press liaison Marya Pongrace and she acquits herself well. "My mom tried to do it once and almost made me crash," Millar tells her afterward. But there's little hilarity for Slipstream today. Danielson struggles with back pain and isn't a factor, limping across the finish 12 minutes behind the leaders. Instead, it's Zabriskie who stays within closest range of a group led by the surging Leipheimer, with Millar, Peterson and Vande Velde in a pack chasing hard behind. Leipheimer crests Sierra Road with Rabobank's young Robert Gesink, and they cooperate for the remaining 10 miles to the finish in downtown San Jose. Gesink wins the stage and Leipheimer goes into the race lead by 13 seconds. Farrar, hit overnight with the stomach flu, climbs into a team car at the 50-mile mark and abandons the race. Cozza expends energy riding off the front early, then drops back with Pate, who's also ill. They coast in with a large "caboose" group more than 24 minutes back. That evening in the rustic-chic Hyatt resort where all the teams are housed, Vande Velde emerges from a room making a face. "I've just been in sick bay," he says. "It's not pretty. Danny has an IV in his arm and he's puking into a bucket in his lap." Steffen can give the ailing riders over-the-counter medications that aren't on the World Anti-Doping Agency's extensive banned list. But his chief concern is dehydration and getting nutrients into their systems. The best way to do that is with intravenous fluids, and using those now requires jumping through some hoops. Post-competition IVs, a staple of endurance sports, also can be used as delivery systems for performance-enhancing drugs. Every time a rider gets IV treatment, the WADA code regulations that apply to athletes in all Olympic sports now require team physicians to fill out paperwork for a therapeutic use exemption (TUE). It's the same process followed when a rider gets medical permission to use normally taboo substances such as asthma medication or cortisone. Steffen has to fax the TUE forms to the U.S. Anti-Doping Agency within 24 hours of administering the IV. Slipstream is hurting, but the picture isn't totally grim. Millar, Zabriskie and Vande Velde remain within 23 seconds of Leipheimer with the decisive Stage 5 time trial in two days. Zabriskie is in that position because he climbed strongly, a skill he's not renowned for. "When I first started riding bikes I could climb fairly well," he says that night. "Then somewhere along the way, something happened, and I lost it a little bit. Last off-season in '07, I kind of asked myself the question, what happened, what's wrong. I changed my position quite a bit, moved the seat back. I went to a bike shop, got all measured up. I think that helped get some of what I used to have back." As for what it will take for cycling to scale the mountain of public perception, Zabriskie says the sport needs to continue to be harsh, and notes that it takes multiple transgressions for players in mainstream American pro sports to be punished with anything near the severity that cyclists are. "I think the real thing is the penalties that we face, the actual cost," he says. "I mean, two years [for a first offense], your career is over, as opposed to just a couple of games here and there."
STAGE FOUR: SEASIDE-SAN LUIS OBISPO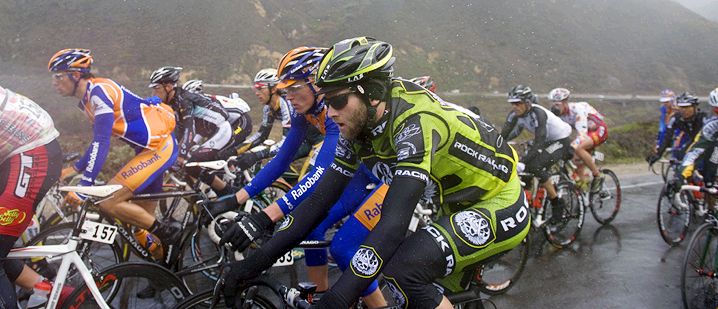 Lucas Gilman for ESPN.com
Illness and rainy conditions during Stage 4 slowed riders from all teams and forced 18 riders to drop out of the race entirely.
The 135-mile ride that follows scenic Highway 1 down the coast looks long but not particularly hard in the official race bible. Instead, it morphs into a nightmarish seven hours in driving rain, raw temperatures and 30 mph headwinds. Five hours in, BMC's Jackson Stewart, who looked sharp in an early breakaway, is taken to a hospital to be treated for hypothermia. Riders put on extra jackets, then roll up next to team cars for help because their fingers are too cold and stiff to zip them. Many shiver uncontrollably in the final miles. "There was a point with about 50 K to go where everyone just wigged out," Vande Velde says later. The peloton's average speed ebbs to less than 20 miles per hour. Eighteen riders -- including Danielson, whose back is spasming -- drop out. Canadian Dominique Rollin ends the misery by sprinting out of a three-man group to win. The first words out of Millar's mouth when he arrives at the bus, looking like a waterlogged greyhound, are "5,000 joules" -- his estimate of the calories he burned during the stage, later confirmed by Lim. Millar calls the day among the five hardest of his career. Pate, who couldn't eat dinner or breakfast before the stage, is in the worst shape. He lurches into a hotel hallway looking dazed, his hair matted and his face dark with windburn, clutching two oranges and a water bottle against his midsection. "This one's not over yet," he says with a dry twang as he heads for his room. It's not clear if he's referring to his illness or the race, or both. Yet later that night when the riders preview logistics for the critical time trial, everyone including Pate is coherent, even slaphappy, in the way of athletes who have survived something absurd. Lim reminds them to "drink s--- tons" and keep their rooms warmer than usual to help retain fluids. Part of their regimen includes Pedialyte, a drink heavy on electrolytes but relatively light on sugar and all too familiar to parents of sick kids. "Are we sponsored by them yet?" Vande Velde cracks.
STAGE FIVE: SOLVANG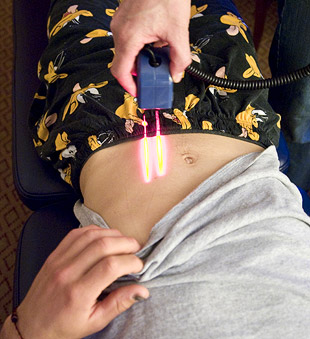 Lucas Gilman for ESPN.com
Some of the Slipstream riders also receive "cold" laser therapy, which is designed to promote healing.
The media contingent around Slipstream at the start in this town made famous by the movie "Sideways" has swelled appreciably. Millar has agreed to share his room with an Outside Magazine writer for two nights this week to make good on Vaughters' pledge of total transparency. Cameramen, writers and still photographers apologize as they stumble into each other on the periphery of the team's mobile compound. Riders circulate to answer questions or talk to friends and family. A radiant Randi Zabriskie, who's expecting the couple's first child in May, cups her belly as she talks; Vande Velde's father, John, a two-time track cycling Olympian, makes the rounds. But eventually, the riders insert earphones, stuff eucalyptus-oil-soaked cotton balls in their nostrils to open their sinuses, mount stationary trainers and tune out the circus. Over at the Astana bus, Leipheimer spins away as team director Viatcheslav Ekimov, the Russian fixture on Lance Armstrong's old U.S. Postal and Discovery squads, chats with him and clasps his hand in encouragement. Leipheimer won last year's time trial here, and he looks confident. It's finally sunny and the roads are dry. Vande Velde logs one of the better time trials of his career, covering the 15-mile course in 31 minutes, 31 seconds. As Millar rolls down the start ramp fourth from last, Vaughters shifts the team BMW into gear behind him, carrying spare bikes, a mechanic and two reporters. Vaughters keeps his counsel over the radio calm and simple, repeating phrases like "good job" and "excellent work." There are long stretches where he doesn't talk at all and just watches Millar take an admirably smooth, controlled line. The roads, flat and wide initially, narrow later in the course, undulating and twisting through orchards and vineyards. Millar is making great time -- a minute faster than Zabriskie in the early going -- but Vaughters fibs and tells him he's only 12 seconds faster. "Don't they get mad at you?" a reporter asks. "They get mad at me for a lot of things," Vaughters says, his gaze dead ahead. When Millar passes the halfway mark with a new top intermediate time of 16:38, Vaughters is less restrained. "Oh, he f------ crushed it," he says. "No way." And then into the radio: "David, you are
crushing
it. You are 10 seconds ahead on
the best
. You are
20 seconds
up on Wiggins. You're f------
crushing
it. Excellent ride. Excellent ride. Doing great. Doing great. You're putting time into the CSC guy ahead of you as well. Good job, David. Good job." Zabriskie's final time comes in over the radio: 32:01. "He didn't recover from yesterday," Vaughters says quietly. Vaughters detours off the course just before the finish line and listens intently. Millar crosses the finish line in 31:15. "You know what?" Vaughters says. "Whatever Levi does doesn't matter to me. That was a beautiful ride for David." Leipheimer blows everyone away with a time 29 seconds faster than Millar's, virtually sealing the race victory. Millar and Vande Velde now stand second and third overall. As they hang out together behind the podium, Millar checking text messages, Vande Velde sipping a drink, they have the comfortable body language of brothers. In an echoing, empty breakfast room in the team hotel that evening, Millar acknowledges that his bounce-back from the seven-hour Stage 4 ordeal to the time trial might have raised eyebrows and deep suspicion in past years. "It's a great thing, especially for the young pros coming up, to see me and Christian getting second and third, because we are clean, and they can see that, there's not that cloud of doubt hanging over us," he says. "It's good, it keeps them working hard. You work hard, you get older, you start winning, you start getting good results. You don't have to wait for that inevitable turning to doping, which is good."
STAGE SIX: SANTA BARBARA-SANTA CLARITA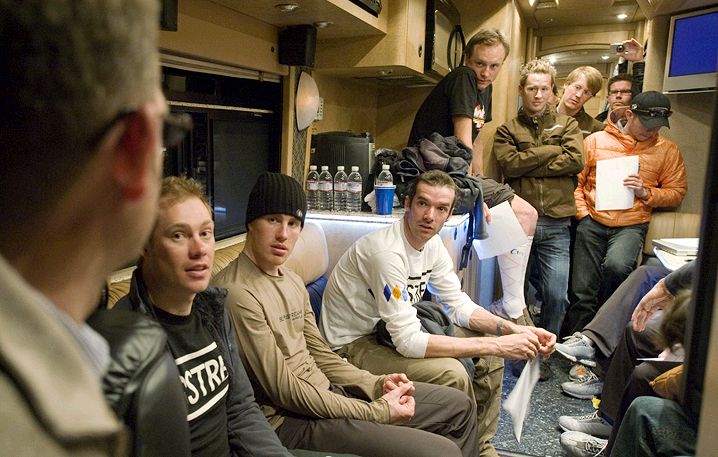 Lucas Gilman for ESPN.com
David Millar, center, and other riders discuss strategy during one of the frequently animated team meetings on the Slipstream bus.
Before the oceanfront start, the skies darken and a stiff offshore wind kicks up. Team High Road owner Bob Stapleton takes shelter in a team car and talks about his feeling of kinship with Ellis and Slipstream. "I see my job as helping guys win races clean and become the future stars of the sport," Stapleton says. "Ultimately, it's those guys who will change the sport -- new heroes who are credible and likeable." Just then, Cipollini rolls by on his way to the morning sign-in, looking like cycling's weathered equivalent of the Ancient Mariner. "And that guy, as much as I like him, and as much as he's accomplished, is not the answer," Stapleton says. Slipstream and High Road have competed for talent, at times contentiously, but Stapleton and Ellis have a couple of important things in common. They're hemorrhaging money to keep their teams solvent without title sponsors, and they have contracts with the Agency for Cycling Ethics (ACE) to do independent testing on their riders. Stapleton signed a deal with ACE for this season after a turbulent 2007 in which events, including a rider's positive test announced during the Tour de France, cost him T-Mobile's sponsorship and led him to believe he needed a better system. Yet, he concedes, every anti-doping program is a human endeavor, subject to imperfection. Another 11 queasy riders drop out of an otherwise uneventful stage. Caucusing in Vaughters' hotel room that night, the Slipstream riders are tired and cranky. There's an animated, circular discussion about whether to race aggressively tomorrow, with little chance to seize the lead. It would be a big risk given Astana's strength and the potential for more bad weather. Zabriskie offers, "I just want to ride like Paris -- easy," referring to the final stage of the Tour de France, where the overall lead is rarely contested. The issue is left unresolved. Vaughters reminds the riders that ACE will do a routine blood collection the next morning. The team has asked the agency to use pediatric-sized tubes -- half the volume of adult tubes, which hold 5-7 milliliters -- to avoid depleting riders who have multiple blood tests over short periods. "If they don't have pediatric tubes, ask them to fill half of the adult tubes," Vaughters says. A round of irritable complaining ensues. Then Morahan, the soigneur, knocks and tells Vaughters a race official is waiting outside. Vaughters steps into the hallway. Papers rattle. "We actually don't have a rider named David Vande Velde," he says mildly. "We have a
Christian
Vande Velde." Inside, Vande Velde rolls his eyes, knowing he's been tapped for a random UCI control. He joins Vaughters and glances at the form. "You don't even have my name right," he says disgustedly. But the race number, 93, is his, so off he goes. Earlier that evening, in a better mood, Vande Velde had allowed himself to visualize the end of the race. "I think I'm going to bring the Puma up on the stage," he says, using an affectionate nickname for his 9-month-old daughter, Uma. There's a new, keener edge to the 31-year-old Vande Velde these days. He spent much of his career struggling with injuries and playing a subordinate role on various teams, starting with U.S. Postal, where he helped Armstrong win his first Tour in 1999.
Talking with Christian Vande Velde
Vande Velde talks about the team's environment is more open than others he's been with in the past.
That began to change at CSC, where Vande Velde felt secure in the regimented structure of the team led by master tactician and motivator Bjarne Riis. Vande Velde stayed healthy, felt his competitive hunger increase and got better results. Vaughters' offer presented Vande Velde with a tough choice. He was happy where he was, but the chance to be a co-leader and help build an American team was tempting, and Millar was egging him on. Then there was Vande Velde's friendship with Vaughters. They shared a tiny apartment as young pros with U.S. Postal a decade ago in Girona. That old loyalty, and his belief in what Vaughters was trying to accomplish, tipped the balance. But Vande Velde makes it clear he wants to maximize the last few years of his career and isn't interested in being part of a novelty act. "Yeah, we're the biggest American team now, but still, I think a lot of people said, 'Oh, it's Slipstream, it's cute,' kind of thing," he says. "I think we really turned some heads this week." Vande Velde, as much or even more than Millar, has been forceful and direct with his opinions during this race. "That's actually kind of hard for me because Jonathan and I are so close and he is the boss," he says. "He has to stand his ground and I have to respect that. So far, we haven't killed each other." Vaughters thinks Vande Velde can excel at the Tour de France this summer. "You heard it here first," he says. It's the kind of wholehearted endorsement Vande Velde might have shunned before, but is ready to accept now.
STAGE SEVEN: SANTA CLARITA-PASADENA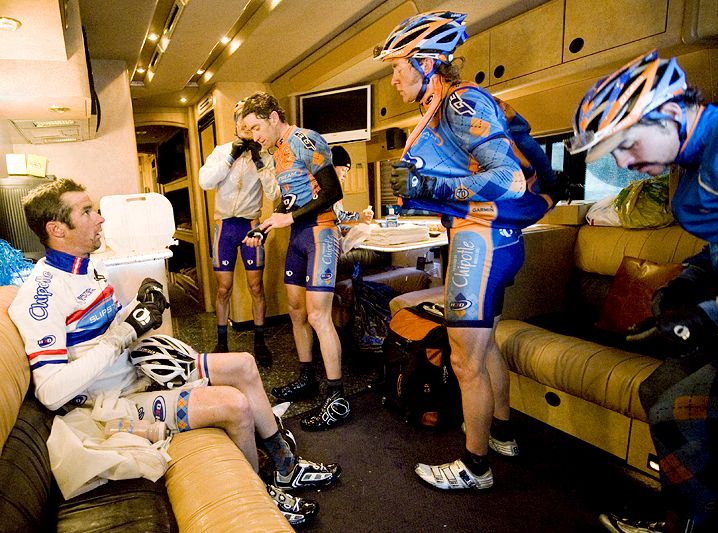 Lucas Gilman for ESPN.com
David Millar (from left), Christian Vande Velde, Tom Peterson and Steven Cozza convene and recover in the Slipstream bus after another grueling stage.
Millar sits on the rock-star bed in the back of the bus to put on his shoes. It's beginning to rain. Vande Velde walks in. "We have to decide what we're doing,
now
," he says firmly. He and Millar agree the team should leave the finish to the sprinters and let the overall status quo stand. Zabriskie wanders by, his hair held off his forehead by a wide argyle headband, and breaks into the theme song from "Camelot." Challenged on his knowledge of the rest of the soundtrack, he moves on to another number:
The candles at the court, they never burned so bright; I wonder what the king is doing tonight?
He ducks his head and exits, stage right. High Road's veteran George Hincapie wins the stage by bolting free in the last loop around the Rose Bowl, raising his spidery arms high in the downpour as he crosses the finish line. But the final results are an unqualified triumph for Slipstream. Millar and Vande Velde are on the podium, the team finished first in the cumulative-time team classification and the younger riders performed valiantly. "I was really hard on those guys last year, really hard, to the point where I didn't really feel comfortable with it," Vaughters says, "but I knew it was the only way I was going to be able to make this year work." Vande Velde indeed takes his daughter, who smiles angelically from beneath the hood of a pink cable-knit sweater, on stage. He cuddles his most precious trophy before handing her off to his wife, Leah, who's waiting in the mud at the edge of the podium. When Leipheimer and Millar join Vande Velde on the podium, it's hard for an observer not to reflect on the warfare they've waged together and separately in this chaotic sport. But all they can muster in the moment is classic jock behavior, dousing each other with magnums of champagne in an extended, slapstick release of tension. A bizarre news conference follows in the dank bowels of the Rose Bowl. Rock Racing's riders, including the banned Rock Three, sit on the floor against one wall like kids waiting for class. Owner Michael Ball is present, along with his lawyer. Reporters start quizzing them even as the official event drones on. Someone asks Vaughters about Slipstream's success. The director, who has a tuning-fork build to begin with, looks as if he's shed weight during the race. He answers seriously, staring out through tinted prescription glasses. "Starting back in mid-2007, we've had this project of trying to build a team with the right riders, working with them on a sociological level to make sure they worked together as a unit," Vaughters says. "The morale we have and the overall spirit, I've never seen anything like it in all my years in cycling."
EPILOGUE
Three weeks after the Tour of California, Tour de France officials issued formal invitations to 20 teams. Slipstream, High Road and CSC were among them. Astana, as expected, was not.
The announcement was bittersweet for the riders and staff of CSC, whose aggressive anti-doping stance and competitive success in recent seasons still weren't enough to persuade its title sponsor to stay in the game. The U.S.-based information technology company will end its corporate support after this year. Slipstream's debut in cycling's biggest event will ratchet up the scrutiny and expectations on all fronts for Slipstream, whose early season results and commitment to riding clean clearly were factors in the Tour's decision. Between now and late June, Vaughters has to decide which riders will best flesh out a nine-man Tour roster that is sure to include veteran performers like Millar, Vande Velde and Zabriskie. In the meantime, Slipstream will race a demanding schedule that includes spring classics like Paris-Roubaix and the season's first Grand Tour, the Giro d'Italia, in May.
Bonnie D. Ford is a writer for ESPN.com who is following Slipstream throughout the 2008 season, including at the Tour de France. Ford can be reached at bonniedford@aol.com.
Join the conversation about "Revolution in Motion."