If we really want to keep doping out of this team, we have to keep how we win in the context of the human body.
Some days are great, some days are not.
To agree not to dope, to never let that enter the context of a team, is to agree to fail sometimes. It is to agree to let your fans down sometimes. It is to agree to the fallibility of the human body. It is to sign that contract and live by it, no matter how high the pressure.
-- Jonathan Vaughters, at the Slipstream team's training camp, November 2007, Boulder, Colo.
Prologue: Nine Men In
BREST, France
-- Thousands of people are jammed into a sunken square facing the severe, columned facade of City Hall in this seaport at the far western end of bicycle-crazed Brittany to witness a grand, quaint and corny Tour de France ritual, the team presentation.
Like athletic models strutting down a runway, the elite invitees to cycling's most prestigious event will wheel out on shiny, state-of-the-art bikes, wearing gear as yet unsullied by road grime or blood or scandal.
The first of the 20 teams to be introduced is the only one making its Tour debut, although some of its riders are veterans. Garmin-Chipotle's presence here is the culmination of a bold experiment.
Team director Jonathan Vaughters' improbable vision has come to fruition. The American junior program he started five years ago, with the Utopian ideal of making clean synonymous with cool, has matured into a force to be reckoned with. The riders -- a mix of marquee internationals and homegrown talent -- pledged to compete drug-free, submitted to extensive independent testing and agreed to permit media access unheard of in a sport steeped in deception and secrecy.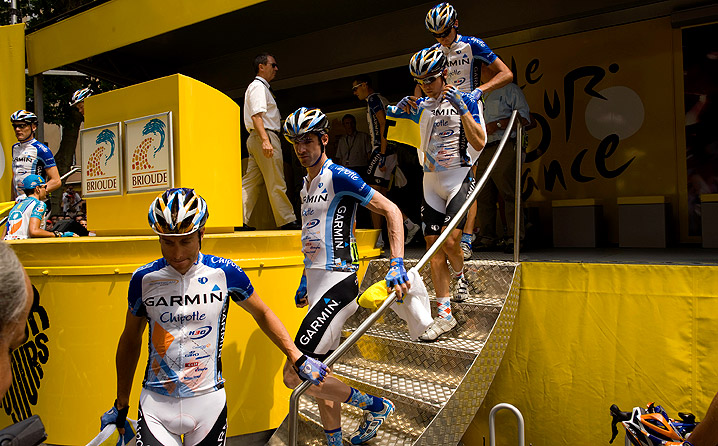 Lucas Gilman for ESPN.com
Based on their strong performance during the first week of the Tour, Garmin-Chipotle's riders led the team classification for four days and wore special bright yellow bib numbers. Also part of the honor -- taking the podium and receiving a gift at the morning sign-in.
Weeks before the Tour, the team formerly known as Slipstream landed a title sponsor, global positioning system company Garmin. The company's willingness to shell out $10 million rested in large part on the team's ethical commitment. That is the thinking and the economic outcome Vaughters hopes will spread throughout cycling.
Now it's time to enter the unlit tunnel of the unknown.
What constitutes success for Garmin-Chipotle? Might their results -- win, lose or draw -- resonate throughout cycling or sports as a whole?
The riders are proud of their reputation as a clean team, but being principled and being at the Tour start are not enough. They want to turn heads. They have goals. They are not interested in being the cute caboose of the Tour peloton.
"It's gone from this band of brothers trying to prove something to be a very focused professional team," says David Millar, the elegant Scot and gifted time-trial specialist who has rehabilitated his career after a doping confession.
The peloton is widely thought to be a cleaner workplace these days, thanks to intensified testing efforts and other like-minded organizations such as CSC-Saxo Bank and Team Columbia, who are trying to replace illicit performance enhancement with innovation. But Vaughters' team includes five Tour rookies. Three have never done a three-week race. His team leader is a somewhat reluctant front man. Neither he nor they know how they'll hold up.
The Tour's extravagant orchestral theme music swells in the square, and race announcer Daniel Mangeas, the indefatigable Dick Vitale of France, bellows the official French pronunciation of a team intent on making a difference on and off the road.
Gar-meen Chee-po-tull!
It doesn't exactly trip off his tongue, but that's fine. A 23-day, 2,200-mile race isn't supposed to be smooth if it's done honestly.
---
First down the ramp is Christian Vande Velde, wearing bib number 191, which is significant in cycling shorthand. The man whose number ends with "1" is the team leader -- the chief threat for stage wins, or an overall placement, or both. He is the hub of the wheel, the man for whom other riders will sacrifice.
Vande Velde has never been No. 1 in 11 years as a pro. He isn't sure he deserves the designation. He would have preferred that it go to Millar.
The 32-year-old Vande Velde, a career support rider who was on Lance Armstrong's first winning Tour squad in 1999, is used to being the selfless, sturdy-legged water-carrier of a team, not its spotlit face, and certainly not the larger-than-life image on the side of the bus. In January, he confided he was aiming for a top-10 finish in the Tour, then wished he hadn't said it out loud. Vande Velde is trying to bridge a sizeable psychological gap, and he's not sure he can do it in time to trade blows with race favorites.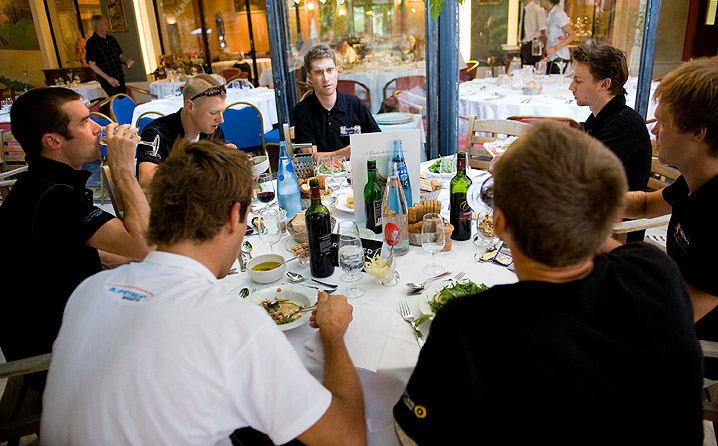 Lucas Gilman for ESPN.com
Garmin riders chow down at an historic hotel in Nimes after a 113-mile stage. Team chef Willy Balmat has been cooking for cycling teams for the past 20 years.
His teammates follow in alphabetical order, squinting into the sunlight.
Bulky, bald Swede Magnus Backstedt raises his arms and grins confidently, but he's nursing uncertainty too. He hasn't felt right this spring.
Julian Dean looks stern in his black-and-white New Zealand national champion's jersey. At 33, with silver starting to dust his dark hair, he's finally getting a chance to go for his own sprint stage wins after years of leading out other stars.
Coloradan Will Frischkorn, the last man named to the team, is intent on showing the directors they were right to pick him. Next to him are laid-back former mountain bike champion Ryder Hesjedal from Canada; slightly built Australian climbing specialist Trent Lowe, with a tousled mop of hair that belies his attention to detail; and winsome-faced Martijn Maaskant, a shy 24-year-old Dutch phenom who finished fourth at the legendary Paris-Roubaix race last April.
This is Millar's seventh, and perhaps most meaningful, Tour. He owns a piece of the team and considers it the final step in his evolution from cocky time-trial champion to dedicated professional, with a dark detour in between. Wasp-thin, his scalp shining through a recent buzz-cut, the 31-year-old has devoted his entire season to peaking for the first time trial and a stab at wearing the yellow jersey early in the race.
Finally, there's Danny Pate, a longtime fixture on the U.S. domestic scene who never pictured himself here. Now that he's arrived, he's determined to treat it like any other race.
Vaughters stays backstage while assistants Matt White and Lionel Marie bound out in dark navy suits with crisp orange ties and handkerchiefs to match the riders' color palette. White -- an earthy, charismatic Aussie with a cockscomb of moussed platinum blond hair that looks as if he styles it in a raging headwind -- will direct the team on the road daily.
In April, Vaughters realized he was stretched too thin. His little-team-that-could had become a huge operation and he needed to pay more attention to the business end. He has had to hand off his baby, delegate responsibility. He'll spend much of his time at this race with VIP guests and sponsors, directing only for selected stages.
Isn't it like putting his firstborn into a basket and watching it float down the river?
"Yes, but Moses went on to become Moses," he points out.
White radiates confidence and good humor, but in introspective moments, he wonders how he'll handle the job. He's barely off the bike himself, having wrapped up 12 years in the peloton in 2007 with Discovery Channel. Millar, Dean, Vande Velde and Lowe are all former teammates and good friends.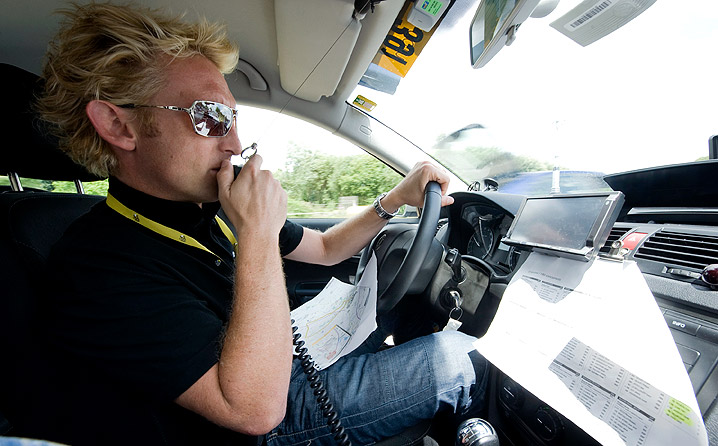 Lucas Gilman for ESPN.com
Australian Matt White, who just retired as a rider last season, used his humor, pragmatism and 12 years' experience in the peloton to connect with and motivate Garmin's riders during the Tour.
But Whitey, as everyone calls him, is a pragmatist who knows he can't game-plan every aspect of this huge, chaotic race.
White made his first Tour roster as a veteran domestique, or support rider, for the French Cofidis team in 2004. He was warming up on the course for the short opening time trial in Liege, Belgium, when he hit a metal-encased television cable on the street, and woke up in the hospital with a broken collarbone, out of the Tour before it began. He finished the race the following year.
He directed the team at the Tour of Italy, where Slipstream won the opening team time trial and helped seal the sponsorship deal that was then hanging in the balance. "We didn't talk about it, but we were there for one reason," says White, lingering over the dinner table at a no-frills Campanile chain hotel. "Keeping the guys cool, keeping the staff cool, it was stressful.
"I just reassure them that a bike race is a bike race. I just try to instill confidence."
It means something coming from a guy who's only too familiar with how capricious the Tour can be.
Stage 1: The Usual Suspects
Brest to Plumelec
-- On a windy, nervous first day on the road, flamboyant Spanish star Alejandro Valverde conquers the short, steep final hill to win the stage, dons the first yellow jersey of the race and is promptly asked to provide blood and urine samples.
After years of feuding, Tour organizers split with the UCI, cycling's international governing body, last spring. The race is now under the aegis of the French cycling federation, and the AFLD, France's national anti-doping agency, is in charge of testing.
Riders aren't chosen for doping control until shortly before the finish, when their bib numbers are posted -- an attempt to prevent any funny business on the course. The stage winner and overall leader are tested every day, but the rest of the list varies. In addition, AFLD will surprise riders with out-of-competition tests at their hotels. The Agency for Cycling Ethics, which administers independent blood profiling programs for Garmin and Team Columbia, continues to collect samples during the Tour.
"These aren't random," Garmin team doctor Prentice Steffen says as the riders stream in after Stage 1. He's cupping a piece of paper with the numbers of those who will be tested that day. They include Lampre's dynamic Italian leader, Damiano Cunego; veteran Spanish domestique Manuel Beltran, a former support rider for Lance Armstrong; and Millar.
AFLD escorts wearing blindingly bright orange vests wait at the finish line, holding up clipboards and scurrying after the marked men. To minimize the possibility of sample tampering, the monitors are supposed to keep the riders in sight at all times. They follow them onto the buses and watch them undress, they follow them to the interview area behind the podium if they are being honored, and they follow them to the white van where their blood and urine are taken.
Millar steps out of the Garmin bus with his minder, holding a sports drink and a small Styrofoam bowl heaped with eggs and rice. He appears unperturbed. AFLD officials did basic blood tests on the peloton before the race began and have suggested they will target-test any rider whose profile looks suspicious, but none of the Garmin riders fell into that category.
So why is Millar being tested? Because he confessed to doping four years ago? To show AFLD isn't giving the "clean teams" a pass? No one will ever know, and Millar doesn't care. He has told the world he has nothing to hide.
Millar and Steffen, who accompanies him as required by protocol, start walking against the flow of departing fan foot traffic, matching each other's long strides. The AFLD escort trails a few paces behind with the vigilant discretion of a Secret Service agent.
Testing might offer one incentive to stay clean, but Garmin-nee-Slipstream has also tried from the start to give its riders the positive reinforcement of knowing they have every technological edge.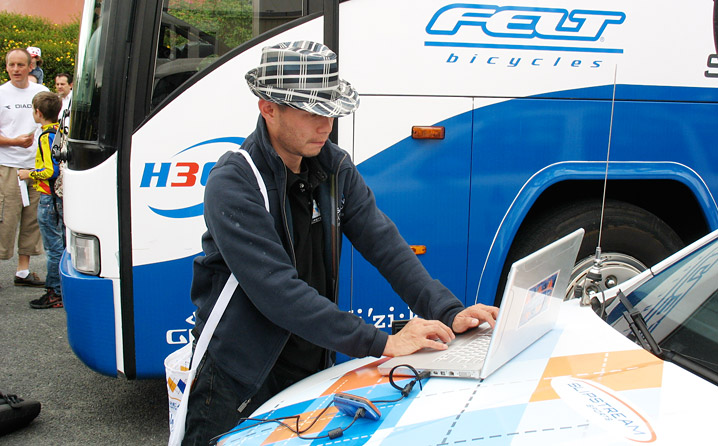 Bonnie D. Ford
One of Allen Lim's many tasks: downloading rider data from a Garmin device into his laptop before stage starts.
The Garmin devices are part of that process. About the size of a cell phone and mounted on the handlebars, they are the object of fan (and other rider) curiosity at stage starts and finishes. Developed in an accelerated rush just before the Tour, they can display up to eight screens with information about the course distance, profile and elevation, along with the rider's power output and heart rate.
Team physiologist Allen Lim downloads the data and crunches the numbers every night and gives riders feedback on why they might have done well or poorly on certain stretches that day. He has procured what the riders call "space boots," inflatable pull-on devices that compress a rider's leg from foot to hip and are designed to promote recovery through better circulation.
A former national-level junior rider, Lim is now a PhD and confirmed academician who wishes he could bring his office to bike races. Part of his intense devotion to helping Garmin riders excel is the result of an old wound to his professional pride, the guilt by association some people constructed because he was dethroned 2006 Tour winner Floyd Landis' trainer. Lim was never implicated and Vaughters, among others, doesn't believe he would ever help an athlete cheat.
Lim also performs a plethora of lower-tech tasks. Long convinced of the performance-enhancing powers of hydration and cooler core temperatures, Lim has the riders wear ice vests while warming up for time trials. He stuffs ice cubes into cut lengths of women's panty hose and sees that riders drape them around their necks or stuff them down their backs during stages. The "ice socks" have a more ribald nickname within the team because of their appearance as they melt.
Perhaps most beloved of the items in Lim's virtual black bag, however, are the rice cakes he puts together every morning, using the hot plate on the team bus.
Allen Lim's rice cakes recipe for one nine-man roster:
1 kilo Arborio, Calrose or other fat/round/medium grain rice, cooked in 2 liters of water
1 dozen eggs, scrambled in olive oil
300 grams prosciutto, finely diced and pan-fried
Balsamic vinegar
Bragg liquid aminos
Salt
Mix, pack into folded paper cubes with easy-open flaps for eating while in motion and throw a dash of sugar on top before sealing. Makes 64 servings. About 80 kcals per piece with about 3 grams of protein and 2-3 grams of fat depending on amount of olive oil used.
Stage 3: Where There's a Will
St. Malo to Nantes
-- "All right, guys," White says to kick off the team meeting in the back of the bus. "So far, so good, eh? We want to keep it that way. They're predicting hard crosswinds. It should be a lot slower than yesterday. Dead-flat run-in the last five K."
The stage is tailored, White says, for a veteran speedster like Team CSC's Fabian Cancellara or pugilistic Australian Robbie McEwen of Silence-Lotto.
"Four guys have open card to attack at the start," White says, nodding toward Pate, Frischkorn, Maaskant and Hesjedal. They'll try to set up the final sprint for Dean, but the day's chief mission is to keep Millar and Vande Velde protected.
"How much energy are we going to put into the break?" Vande Velde asks.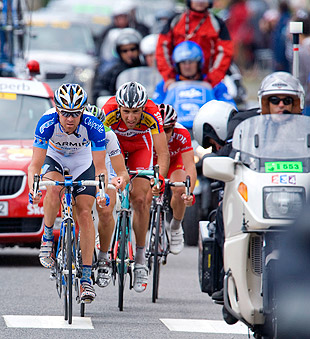 Lucas Gilman for ESPN.com
Will Frischkorn didn't waste any time proving he deserved to be on Garmin's nine-man Tour roster. He attacked as soon as Stage 3 began and stayed in the breakaway until the end, narrowly missing a stage win.
"There's not a chance in hell it'll stay away," White answers. "The only good thing about getting into the break is getting exposure for your team."
Backstedt, who sprinted out of a breakaway for his one and only Tour stage win in 1998, speaks up. "You'd be surprised at what a breakaway in the Tour de France can do for you, your name, your team," he says. "All of a sudden, you've got every TV camera on you." The younger riders listen quietly.
"Seize the day," Millar concludes.
Not far from Kilometer Zero, Frischkorn accelerates out of the whirling vortex of the peloton. Three other riders follow. The bunch lets them go. They'll let the breakaway guys get their airtime, then inexorably reel them in to ensure a sprint finish. White's voice crackles into Frischkorn's radio earbud. "See you in four or five hours," White says cheerily. "Have fun out there."
Except that's not what happens.
The peloton fights the rain and wind all day. Halfway through the 129-mile stage, the breakaway has a 11-minute margin. Riders in the front half of the peloton start to chase, but with reduced numbers, they don't make much headway. With just more than 30 miles to go, the gap is still almost seven minutes. A late crash splits the group.
French television commentators yap breathlessly about les courageux -- the brave ones -- two of them French. When they get to Frischkorn, they admit, "We know practically nothing about him."
Frischkorn and the other two men fly under the 10-kilometer banner and enter the industrial back door of Nantes with a lead of 3:09. They pass weed-filled vacant lots, crumbling concrete walls covered with graffiti, and see none of it.
The 27-year-old, prep-school-educated wine connoisseur from West Virginia was part of a daylong, 140-mile breakaway at the Milan-San Remo race earlier this season, but Frischkorn knew that one would be inhaled. The adventure taught him a lot about his own fortitude, and loosed a small avalanche of admiring attention.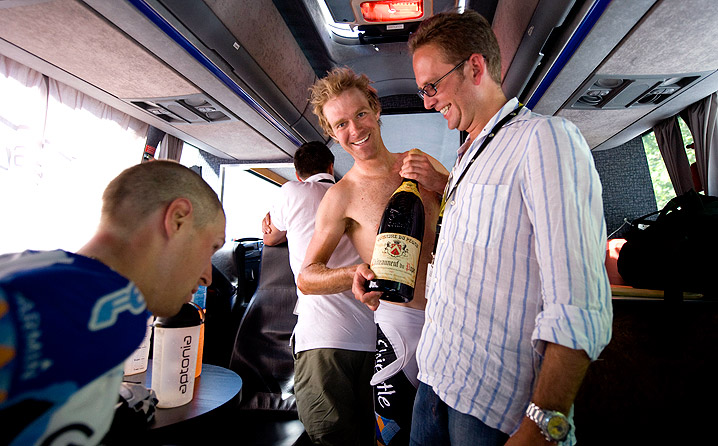 Lucas Gilman for ESPN.com
Jonathan Vaughters, right, detoured to the famous vineyards of Chateauneuf du Pape during the race and bought the riders wine. Fellow wine connoisseur Will Frischkorn got a collector's item -- a 3-liter bottle called a "Jerobaum" in industry jargon.
This is different. This is a one-in-a-million moon shot for a guy who considers himself an able domestique, a reward for years of struggling with physical ailments and wondering if the corrosive influence of doping would kill the sport he loved.
This is gonna stick, Frischkorn thinks. Amazing. We're actually coming in for the stage finish. What a life-changing thing that would be if you could get that win.
But in the end, Frischkorn hesitates just a crucial second too long as the three jockey for position and finishes second by a wheel's width. Back in the United States, the team's Web site crashes under the weight of fan zeal.
Frischkorn is named Most Aggressive Rider of the stage and accepts the honor on the podium, elation and disappointment swirling in his head, where the finish is replaying on a continuous loop. "I was coming up hot, but 15, 20 meters too late," he says later, sitting in a team car. The skies have opened and rain is dripping off the open windowsill.
"His exuberance almost won the stage, and his lack of experience lost the stage," says Vaughters, clearly moved by Frischkorn's exploit. This dichotomy will repeat itself throughout the race.
Stage 7: Magnus cum Laude
Brioude to Aurillac
-- Soigneur Alyssa Morahan stands a few yards past the finish line, a soft cooler filled with canned beverages slung over her shoulder and a worried frown creasing her face. An ominous number is scrolling over and over on the digital display mounted on the finish line archway.
27m57s … 27m57s … 27m57s …
Magnus Backstedt is still somewhere out on the course, trying to finish this hilly stage over narrow roads. He was dropped early on when several teams pushed the pace to try to earn the overall lead. If Backstedt doesn't arrive within 27 minutes, 57 seconds of the stage winner's time -- the cut calculated daily as a percentage of that time -- he will not be allowed to start tomorrow.
"I heard he was with a small group off the back," Morahan says hopefully. A reporter corrects her. Backstedt is alone and has been for a while.
Morahan stares into the distance. "That f------ sucks," she says.
Backstedt has had a rough season, starting with a broken collarbone suffered in an early crash. He led the team in the Paris-Roubaix classic, which he won in 2004, but abandoned after his wheel shattered on the chunky cobblestones. He got sick during the Tour of Italy and withdrew.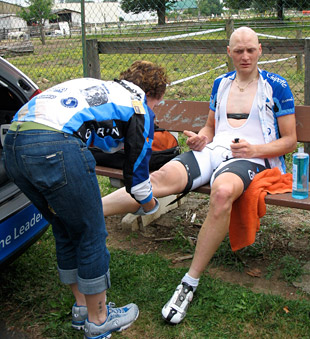 Bonnie D. Ford
Magnus Backstedt's rough season continued at the Tour. He did not start Stage 8 after missing the time cut here the day before. Backstedt has been told his recent struggles have to do with his not processing lactic acid properly.
Doctors decided something was wrong with the way Backstedt's metabolism was processing lactic acid. He tried tweaking his diet. Morahan worked with him in massage.
But today Backstedt's legs go dead early and he drifts back, trying to find a rhythm he can hold. For 60 of the stage's 99 miles, the big Swede hunches over the handlebars, fighting pain and exhaustion alone in the fog.
Lionel Marie, steering a team car slowly in Backstedt's wake, is his lifeline. The clean-cut, gregarious, perpetually upbeat assistant director has the typical blue-collar background of a French cyclist. Before turning pro, he bathed patients in a hospital in his native Normandy, toiled at a menial job in a nuclear plant and scrubbed machine oil from a metal press off the walls of a submarine-building facility.
Today, Marie keeps his advice simple and encouraging. "Come on, you're brave, come on," he tells Backstedt when he pulls alongside him to offer him a snack or a bottle of water.
"It's hard to see someone suffer like that," Marie says later. "I had a French TV reporter with me in the car. I said to him, 'This is a story you should do. Doping has become marginal. Look at how proud this man is. Look at what he's enduring.'"
Visibility is so poor during one of the descents that a police officer on a motorcycle rumbles up to Marie and offers to ride ahead of Backstedt with his headlight on. Backstedt follows the beacon and screams downhill at 50 miles per hour.
But he struggles again on the last climb, and by the time he reaches Morahan, the sands have run through the digital hourglass. When she tells him he has missed the time cut, he sags against the barricades, half-out of his pedals. A spectator reaches over and grabs his jersey to keep him from collapsing. Race staff rush in. "Give him air, please," Morahan says.
The bus has long since left. Backstedt rights himself, wobbles around the corner to a waiting team car, dismounts and lowers himself onto a nearby bench, his skin paper-white, his eyes red-rimmed. Behind him, horses switch their tails in a paddock next to a run-down stable. The smell of manure wafts on the breeze. Backstedt leans back, unzips his jersey and removes his heart monitor strap. A boy starts to approach with a pen and an autograph pad. An adult stops him, saying "Il est mort." (He's dead.)
Morahan wordlessly removes Backstedt's shoes and socks and wipes his legs down with eau de cologne. It will be a while before he can shower. The start town for the next stage is 45 minutes away. Backstedt's expression is caved-in, devastated, but he doesn't flinch when a TV crew shows up and lowers a fuzzy boom mike next to his head.
"What happened?" a reporter asks.
"The other boys are going on, and I'm going home," Backstedt says.
Later, Backstedt stops by the lobby of the team hotel in Figeac, looking pale but composed. "I'm finding this hard to live with," he says, propping himself against a barstool. "To be perfectly honest, I wasn't 100 percent at the start of the Tour, but I was 80, 85 percent. I thought, with the stages being set up the way they were, 'I'm a professional and I can ride into form.'"
Vaughters' eyes are bleary behind his rose-tinted glasses. He observes that few Tour teams finish with all nine men. It's just that Garmin, with so many riders, untested in this situation, has just seen its margin of error shrink perceptibly.
Stage 8: How the Other Half Lives
Figeac to Toulouse
-- Danny Pate is laughing as he rolls up to the bus the next morning, a braying, contagious laugh. He can't help himself. It's too ironic. "They're parked right next to us," he says.
Not long after the Garmin bus pulls into the parking lot, the lime-green Liquigas bus shudders to a stop directly alongside, followed by sprinting reporters.
A Liquigas rider, Spain's Manuel Beltran, produces the first positive doping test result of this year's Tour when the blood booster EPO is detected in his initial A sample collected after Stage 1. There are knowing smirks in the start village. Beltran, a 37-year-old career domestique, came of age at a time when doping was widespread in the peleton, and few find it surprising that he might dabble on the dark side.
Beltran is already in police custody. Harried Liquigas team officials profess shock and indignation but keep the Italian squad in the race. A contract signed by all Tour teams mandates a 100,000-Euro fine for a first positive result. Only in the event of a second positive would a team be forced to withdraw.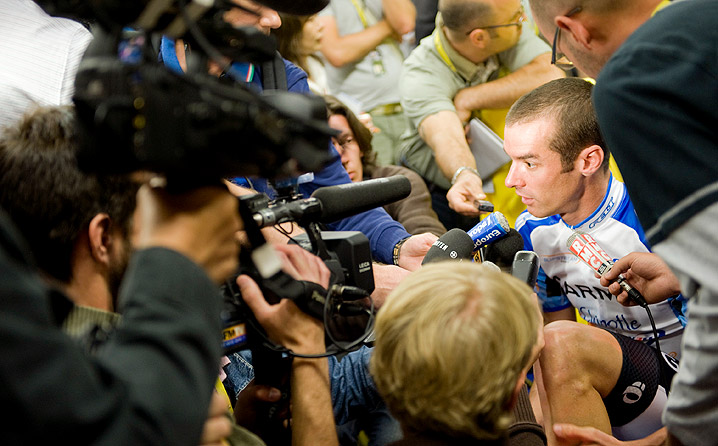 Lucas Gilman for ESPN.com
Media demand for David Millar was intense and began even before the race did. Many of the questions he fielded had to do with whether there has been progress in cleaning up the sport.
Reporters begin to congregate around other buses, those belonging to the teams with independent anti-doping programs. The Garmin riders and directors are among the go-to guys on the issue now, the young statesmen expected to put things in perspective.
Vaughters goes first. "First thing is, it isn't a doping scandal," he says tersely. "It's a positive test done through proper channels. You're gonna have some casualties when you're declaring war."
The questions continue: Is this distracting? Discouraging?
"One of the most destructive things I did during my time as a rider was worry about this guy, that guy, this team, that team," Vaughters says. "It eats you alive. Whatever anyone else does, I can't do anything about it. I can do something about this." He gestures at the Garmin bus.
Vande Velde is concise. Years ago, when he was a support rider with U.S. Postal Service, Beltran was part of a Spanish platoon whose hiring helped make Vande Velde expendable. But there's no trace of bitterness when he shrugs and says, "It's one less person who was doping, out of the race."
A light rain begins to fall. Millar dutifully steps out, his bike shoes clattering like a tap dancer's on the pavement, and begins speaking between bites of one of Lim's rice cakes.
The questions are familiar, repetitive, and frustration begins to creep into Millar's cordial voice.
"It makes me f------ pissed off when people are surprised that this happens," he spits, speaking rapidly. "It's like, we've been decades getting to this point. If everybody's naive and foolish enough to think that we're never gonna have a positive control again, you might as well go home and not cover this race."
After a few more comments, he looks around the circle. "Anything else?" Millar asks, then nods and gets back on the bus.
Stage 10: Christian Among the Lions
Pau to Hautacam
-- Vaughters is holding court at the start as the riders prepare for their first real day at high altitude, gesturing in that herky-jerky way he has when he's warming to a subject. He's wearing a vintage blazer, an untucked shirt and worn jeans, and he looks more like a bohemian graduate student than the brains behind a multimillion-dollar professional team.
Nonetheless, he knows his personnel.
"The problem is, with Christian, is he doesn't want to be a leader," Vaughters says. "He hates the pressure. Hates it, hates it, hates it.
"We'll see how it goes today. Today is literally the tipping point in the Tour for him. He's doing all right so far. He doesn't like the you-can-do-it speech. It doesn't work."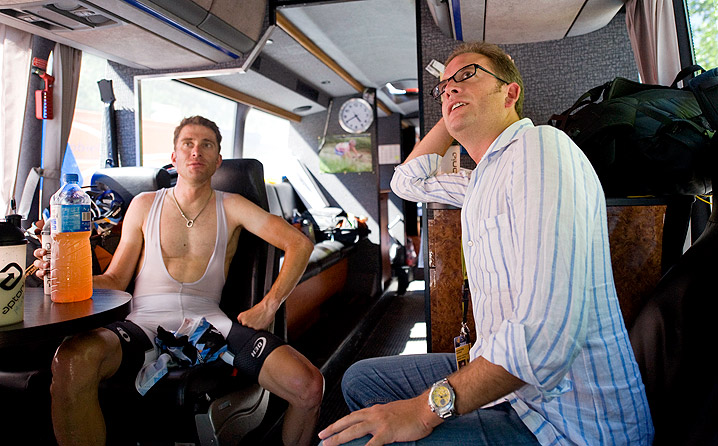 Lucas Gilman for ESPN.com
Christian Vande Velde, left, and team director Jonathan Vaughters take a moment to relax in the team bus. The two have known each other since they were young pros 10 years ago on the U.S. Postal Service team.
The mountain roads in the Pyrenees are generally sharper and steeper than those in the Alps. For a steady climber like Vande Velde, they're more treacherous because a rival with better afterburners can leave him in the dust. But today, something clicks for Vande Velde. He goes up as one rider and comes down as another, in third place in the Tour de France, just 38 seconds off the lead. His molecular structure is permanently altered by natural means.
It's not because he wins or mounts a fearsome attack, but simply because he stays with the podium contenders: Silence-Lotto team leader Cadel Evans of Australia, who's hurting from a previous crash; Russia's Denis Menchov of the Rabobank team; Team CSC's two-headed threat of Carlos Sastre and Frank Schleck; and Austria's Bernhard Kohl, the Gerolsteiner climber who will be the surprise of the Tour.
Vande Velde gauges his form against theirs. He doesn't feel even, exactly, but senses that the difference is his lack of experience as a leader, not his raw ability. Finally, impatient with the group's lack of assertiveness, he sprints through the last half-mile.
It's a revelation. Vande Velde wraps a towel around his neck for warmth before he descends to the team bus waiting at the base of the mountain in the town of Argeles-Gazost. When he arrives, he has the air of an unheralded boxer who kept a champion busy for 15 rounds.
A reporter, remembering Vaughters' comments that morning, asks Vande Velde whether he feels like a leader now. He laughs knowingly.
"Yeah, I think so," he says. "I think I'm definitely worthy of having the 1 at the end of my number. I almost wish there was another mountain stage tomorrow, 'cause I'm on top of my game right now.
"If I keep it close, I know I'm gonna kill that last time trial, so that's my biggest goal."
Behind him, Allen Lim raises his eyebrows and looks around to see if anyone else is surprised. Vande Velde's mini-manifesto is something he would have been incapable of uttering a year ago, maybe even a week ago.
Rest Day: Millar, Clean and Somber
PAU, France
-- David Millar is pale and tired when he walks onto the terrace of the team hotel. It's been months in the making. He finished third in the Tour's first time trial -- a scintillating ride topped only by an unexpectedly dominating performance by Germany's Stefan Schumacher -- and was just 12 seconds out of the yellow jersey going into the moderately hilly Stage 6 in the Massif Central. But Millar could not close the deal. His Tour isn't over, but his individual ambitions will have to be mothballed for another year.
The day Vande Velde conquers his ambivalence on the climb of the Hautacam, Millar runs out of gas and limps in 33 minutes later with the stragglers in the grupetto. "One of the worst days I've ever had on a bike," he mutters when he reaches the bus. Millar isn't a stellar climber, but he expects to cope with the terrain better than he did.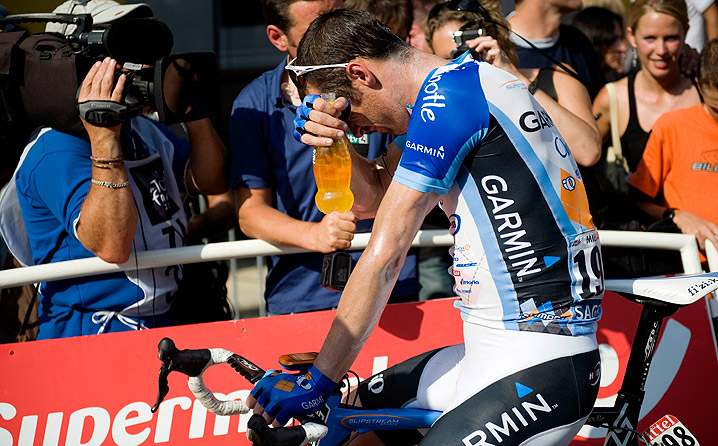 Lucas Gilman for ESPN.com
While David Millar struggled through this year's Tour, he said his greatest satisfaction was watching teammate Christian Vande Velde evolve into a leader during the race.
Cyclists talk about the inevitable
jour sans
-- a day without -- during a Grand Tour. Energy plunges, sometimes for no specific reason. Riders merely survive, rather than compete, on those days. Millar is about to have something like 10 of them in a row.
Part of being a clean athlete is accepting that bodies sometimes balk and rebel against the demands made on them. At least Millar has a reason to keep pushing.
"We've been saved to a large degree by Christian's excellent performance," he says. "It's bonded the team together, and now we have a real big goal. The most dangerous thing for any rider in a Grand Tour is self-pity. If you get sucked up in that, you're f-----. But if you've got somebody you've got to worry about, there's only a minority of the day you get to worry about yourself."
There might be another reason for Millar's cumulative fatigue -- the constant demands he encounters in his other, unpaid job as an anti-doping standard-bearer.
There have been two busts so far in this Tour as well as open speculation about two Italians on Millar's former team, Saunier Duval -- double stage winner Riccardo Ricco, who motored away from the overall contenders on the Col d'Aspin in Stage 9 at an astonishing rate, and Leonardo Piepoli, victor on the Hautacam, where Millar flagged so badly.
Millar has been an unfailingly gracious and eloquent spokesman for the cause since he returned from his suspension, but he's having an occasional jour sans now and then in this role, as well. He broke down publicly at the 2007 Tour after he was informed of one positive. "I've been trying to keep myself better protected and not do so much press," he says. "I feel saturated.
"It's time to move on from my sort of line with the team. I'm really pleased that we've got another story. Christian's finally writing his own story."
Other plotlines also persist, however.
The next morning, police theatrically escort Ricco from the start in the small town of Lannemezan. Authorities say he has tested positive for a "new generation" of the blood booster EPO. Once again, the perpetrator's bus -- Saunier Duval's lurid yellow one -- is next to Garmin's. Everyone watches as the mechanics load up the disgraced team's bikes and drive away as the organization voluntarily leaves the race. The company soon announces it is discontinuing its sponsorship.
Reporters queue up to get Millar's umpteenth take on the subject. He obliges.
"The unfortunate thing is, when things look like they're too good to be true, they are too good to be true," Millar says.
His past is inescapable, a few extra ounces he will always carry in a weight-obsessed sport.
Stage 15: It's Not Easy Being Pate
Embrun, France to Prato Nevoso, Italy
-- Thunderstorms rake the start on a cool morning. The riders are edgy as they emerge from their meeting. The overall standings have remained the same since Stage 10, but the race is heading into the high Alps now, and Vande Velde's hold on third place is at stake. The normally jocular White shifts from foot to foot, obviously anxious.
"I'm not asking them to do anything they're not capable of," he says, biting his thumb.
This odd stage starts with the wearing 12-mile climb of the Col Agnel. After an equally long descent, the course flattens out until the steep uphill finish.
It's logical that a breakaway will go up the road. Danny Pate answers the bell this time, along with three riders from other teams: baby-faced Aussie Simon Gerrans of Credit Agricole; Egoi Martinez of the all-Basque Euskaltel team; and another Spaniard, AG2R's Jose Luis Arrieta.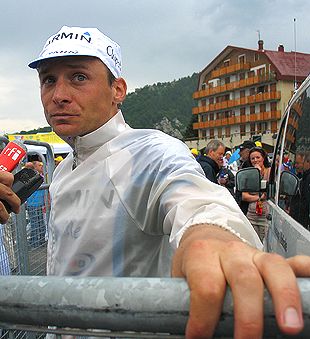 Bonnie D. Ford
Danny Pate came close to winning Stage 15 at the Tour de France, finishing third behind Simon Gerrans and Egoi Martinez.
Pate, one of the toughest men in the peloton, has one weakness: asthma. He treats it with medication that -- unlike many asthma remedies -- is not on any banned list. It works only if he maintains a steady level in his system, however, and he's been lax recently about taking it.
The familiar deflating-balloon sensation hits Pate's lungs late on the initial climb, and he struggles. Great timing, he thinks.
"I felt horrible all day," he will say at the finish. "It's Day 15. Everyone feels horrible."
Pate excels at visualizing how tired other guys are and convincing himself he can outlast them through sheer orneriness. When the foursome top out at the summit of the Agnel and start descending, Pate's breathing eases.
What happens in the middle of the race doesn't necessarily dictate what happens at the end, he reminds himself. The guy who wins rides fast at the end.
Pate assumes Martinez will be superior on the uphill finish, but as they attack and parry, dropping first Arrieta and then Gerrans, it gradually dawns on him that he's just as good. "He must have been more afraid of me than I thought he should have been," Pate says later.
He has deliberately divided this marathon into something his mind can digest: 21 one-day efforts. Pate won't let himself be overwhelmed by the importance of the occasion. Since symbolism doesn't win races, he won't dwell on the fact that he's leading the race into Italy, the place he came to grief as a young pro eight years ago. Neglected by a dysfunctional team, depressed by evidence of the doping culture in European cycling, Pate went home to Colorado Springs and didn't return for many years.
Gerrans fights his way back on, and within sight of the finish line, he blasts ahead of Pate and Martinez. Pate's shoulders drop; his head lowers in a silent concession. He finishes third, 10 seconds behind.
Martinez uncorks a single, explosive expletive. Pate, gutted, is near-speechless. He shrugs into a jacket, runs his hand over his close-cropped, sandy-brown hair and pulls on a cloth cap. Eventually, he manages a smile, the laugh lines crinkling around his blue eyes. "I was so mad back there, I couldn't do an interview," he says. "Now I'm just disappointed."
On the rest day that follows, with the benefit of sleep and hindsight, Pate kicks back on a couch in the lobby of the team hotel and warily allows that he had a good ride.
"Yeah, there's a lot of satisfaction, I don't know what you'd call it, a relief of accountability," he says. "I'm supposed to be able to ride a certain way for the team. To me, it's all about doing everything I can to not give up. I did that yesterday, and I was happy with that."
But not just happy to be there any more. Neither is anyone else on the team. Vande Velde held his own and is fifth, 39 seconds off the race lead, with two more Alps stages to go. A podium finish -- practically unthinkable a few months ago -- seems within reach.
Stage 16: Ryder to the Rescue
Cuneo, Italy to Jausiers, France
-- Dozens of reporters stand silently in the
espace presse
, a tent near the finish line equipped with screens showing the video feed from the bleak, treeless landscape of the 9,000-foot Col de la Bonette, watching the overall leaders duke it out.
Except one. Vande Velde is missing and hasn't been shown on the course for an hour. The reporters are at a loss. Is Vande Velde dropped? In the grupetto? Has he tumbled over the side of the mountain?
Marya Pongrace, Garmin's efficient press liaison, glances up after an extended session on her BlackBerry. "Tour radio has officially admitted they don't know where Christian is," she says.
Fortunately, Ryder Hesjedal does.
When several of the overall leaders surge together about halfway up the Bonette, Vande Velde can't respond and falls behind, alone. In cycling jargon, this is known as "losing contact." There are few lonelier places.
Hesjedal, up ahead in a breakaway, gets instructions on the radio: Stop. Wait for Christian. Get him to the top.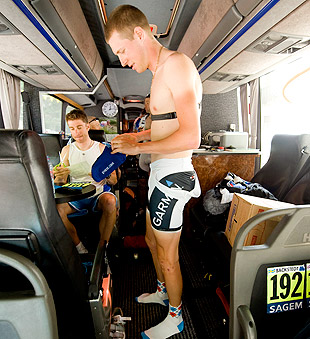 Lucas Gilman for ESPN.com
Canadian Ryder Hesjedal played a key role in helping Christian Vande Velde survive Stage 16 of the Tour.
The 27-year-old Hesjedal is one of the most even-tempered men on the team. Before a big stage or after one, bleeding from road rash or intact, he's never too worked up to say hello, answer a question, tolerate a camera in his face.
Hesjedal crossed over to road racing from the more freewheeling world of mountain biking, in which he won a silver medal in the 2003 world championships and qualified for the 2004 Olympics. But neither event finished the way he would have liked.
"The guy who beat me at worlds [Belgium's Filip Meirhaeghe] in Lugano went positive for EPO the next year," he says matter-of-factly one evening, lying on his stomach as a soigneur works on his back. A flat tire 10 minutes into the Olympic race derailed him in Athens. Two years later, Hesjedal found himself unemployed when the Phonak team folded after 2006 Tour winner Floyd Landis' positive doping test. Being part of a clean team is a deadly serious matter to Hesjedal.
Now, he's ready to do for Vande Velde what Vande Velde did for so many other team leaders over the years -- bail him out.
Hesjedal gets back on his bike when Vande Velde grinds into view and hands him a bottle of water. "At that moment, I was better than he was, so I was able to lift his speed," Hesjedal says later. "It wasn't like he had fallen apart. I was more than pleased that I was riding a pace that could help him."
The pair crests the Bonette just 35 seconds behind the group that includes Evans, Menchov and Kohl. Vande Velde cannonballs down the descent with Hesjedal riding behind him, hoping to gain ground, but crashes on a tight turn and loses another two minutes. Menchov gives up time, as well, and crumples at the finish line, howling, with severe cramps.
Vande Velde rolls up to the bus, his mouth set in a grim line, his eyes unseeing behind orange-colored goggles. He's fallen to sixth place, 3:15 behind Schleck.
Team owner Doug Ellis, standing in the shade cast by the bus, is philosophical. "I think we've all, collectively, been suffering from mission creep," he says. "We weren't even sure we would be invited to the Tour. Now we're disappointed because Christian might not be able to make the podium. I understand why he's down, but we have to put this in perspective."
Meanwhile, Vande Velde is showering. All along the street, soapy water, cleansing away the day's travails, is being disgorged underneath team buses. Fans slosh through it as they walk back to their cars. The Tour is not for the squeamish.
Hesjedal's assistance will turn out to be crucial for Vande Velde's final result. "It was one of the biggest professional moments our team had," Vande Velde says. "I'll be eternally thankful to him. I know what it feels like. I did it for Carlos countless times."
Stage 17: Christian Among the Lions, Part II
Embrun to L'Alpe-d'Huez
-- There's not a lot of time for recovery or self-pity. The next day brings the uphill finish on one of the most fabled mountains in cycling, after a brutal day with two other "beyond category" climbs.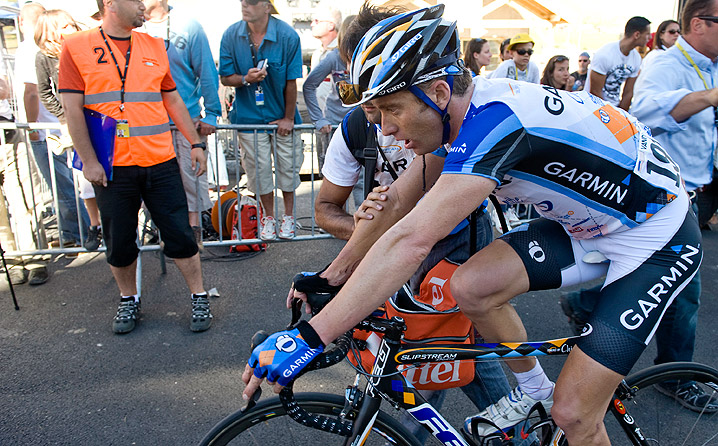 Lucas Gilman for ESPN.com
A depleted Christian Vande Velde crosses the finish line at L'Alpe-d'Huez, where he held on to sixth place by staying with the other overall leaders after Carlos Sastre, the Tour's eventual winner, attacked at the bottom of the climb.
Vande Velde has been up the Alpe before, three different times for three different teams. In 1999, depleted from his support duties with Postal, he limped to the finish more than half an hour after the leaders. In 2004, he was riding for Roberto Heras with Liberty Seguros, a rider and a team soon to be consumed by doping flames. In 2006, rejuvenated, he helped Team CSC's Frank Schleck to the stage win.
Now Schleck is among the rivals Vande Velde is determined to match. He is inspired by many things when he sets out that morning.
There is his anger and frustration from the day before, with its lost time that cost him a shot at the race lead. There is the memory of being cast aside by Postal, the lost year at Liberty, the fresh start at CSC. There is his wife, Leah, who has known him since elementary school and who gets him through rough, moody patches with her strength and common sense and love, and his 1-year-old daughter Uma. There is his family in Chicago: his father, the former Olympic cyclist who "thought I could win every bike race I was ever in," Christian says; his gentle mother, Joan, a teacher; his kid sister, Marisa, who is in culinary school, the one who hangs out with him at the family retreat in Wisconsin, has a couple brewskis and talks about anything but cycling; and their younger brother, Ian, who was born with a congenital liver disease and almost died when he was 9 after his body rejected a transplant.
Ian is grown and healthy and his own man now. At Christian and Leah's wedding reception, he makes a speech: "Christian was the one who made me feel normal." Christian has never taken his own physical gifts for granted. "But Ian never wanted me to treat him any differently, just like I wouldn't want him to treat me differently just because I do well in the Tour de France," Christian says.
Just because I do well in the Tour de France. Hasn't he done that already, by finishing, by helping other riders? Yes. But he can do better this time. He can do it for himself and for this team that has made so many promises to so many people.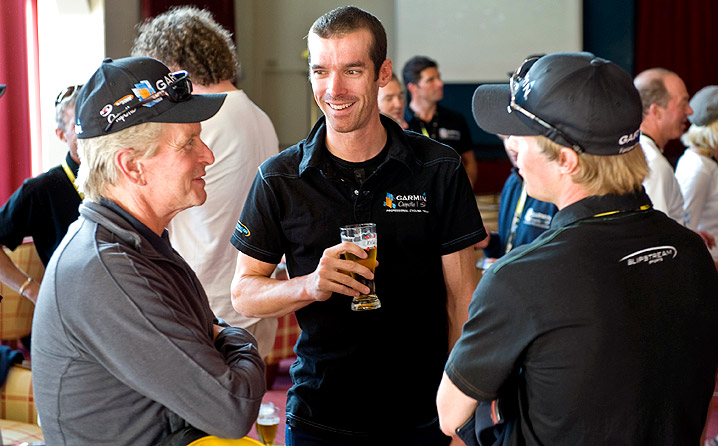 Lucas Gilman for ESPN.com
David Millar chats with actor Michael Douglas, left, after the L'Alpe-d'Huez stage. Douglas and Miami Heat president Pat Riley viewed the Tour that day as team guests in a helicopter.
Like everyone else in the peloton, Vande Velde correctly figures that his friend and former teammate Sastre will go for broke at the steep base of L'Alpe-d'Huez. Schleck is in the yellow jersey, but Team CSC's director, master tactician Bjarne Riis, won't hesitate to make him give it up if it gives the team two shots at the podium.
Vande Velde doesn't follow Sastre. Too risky. His best hope is to maintain his position and make up ground in the time trial. He stays safely tucked in with his new peers, and at the end of this six-hour day in the saddle, Vande Velde is still in sixth place -- 4:41 back, but feeling much, much better about it.
Besieged by reporters and camera crews, Vande Velde comes to a stop past the finish line and leans over, coughing, sweat streaming off his face. When he lifts his head, his olive-green eyes are aglow with competitive pleasure.
L'Alpe-d'Huez tends to bring out the stars, and among Garmin's guests today are actor Michael Douglas and Miami Heat team president Pat Riley, who are on a barge-and-bike trip around France and saw the Tour from a VIP helicopter.
The riders are still in treatment when Douglas and Riley arrive at the mountaintop Club Med resort where many of the teams are staying. Douglas greets the directors and says, approvingly, "The clean vibe this year, it's different." They go downstairs to wait in the bar, and Riley, sporting at least a day's worth of stubble on his famous jaw, settles into a chair and chats with anyone who comes along.
He rides at both his homes in Florida and California, "but my bike has handlebars like this," he says, indicating a shoulder-height beach cruiser.
Lionel Marie, who is shy about speaking English, sidles up. "I've seen you on TV," Marie says.
Riley nods sagely and goes about putting Marie at ease. "You know, the hardest thing about coaching is getting an athlete to do what he doesn't want to do," Riley says.
As if on cue, Vande Velde, whose biggest obstacle has been a lack of self-belief, arrives with his teammates. They mingle and pose for pictures before the celebs depart via chopper. The minute they're gone, Vande Velde goes back upstairs for more massage, intent on giving himself the best chance possible in Saturday's time trial.
Stage 20: The Verdict
Cerilly to St. Amand-Montrond
-- French television ignores Vande Velde during the final time trial, perhaps assuming he's too far out of the money.
Under the radar as usual, Vande Velde conducts an inner monologue as he bears down over his bike in stifling heat. You don't want to look back and think you could have done better. Attack this for yourself. Don't think about the other guys. Give everything.
He hasn't previewed the course, but Vaughters has been over it twice the night before and keeps up a steady, calming stream of commentary on the radio.
It has been 10 years since they were kid phenoms on the soon-to-be-mighty U.S. Postal Service team and lived together in a claustrophobic apartment in Girona, Spain, where each could stretch out his arms and touch the walls of his bedroom. Vaughters and Vande Velde have had their tense moments over the past year -- they know each other far too well -- but in this enterprise, Vande Velde trusts Vaughters implicitly and asked that he be in the car.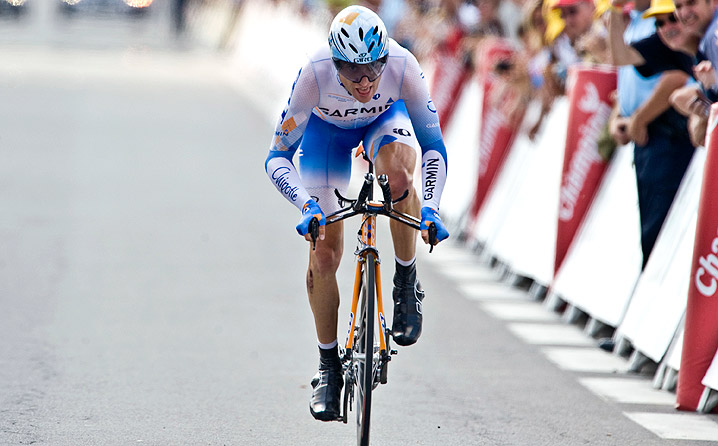 Lucas Gilman for ESPN.com
"I'm gonna kill that last time trial," Christian Vande Velde predicted 10 days before in the Pyrenees -- and he did, logging the best time of the top six men in the race and moving into fifth place overall in the final standings.
As Vande Velde crosses the finish line, he doesn't glance over his shoulder to see his time as he usually would. He's afraid he'll crash into a photographer, and what he has just done is too precious to jeopardize. Yet as hard as he's gone, he crosses the line not quite satisfied. He crosses the line knowing he could have been faster. He crosses the line already thinking about next year.
When a scrum of reporters forces him to brake to a stop, he bows his head, completely drained, and waits for a long moment before speaking. It's over. What a relief. He has logged the best time of any of the top six men, and leapfrogs into fifth ahead of Schleck, who had a horrible day.
Not surprisingly, someone else wants to talk to Vande Velde moments after the ride of his life -- a young man with strawberry-blond hair and glasses whose face has become familiar. He's one of the doping control escorts. "I'd like to change first," says Vande Velde, still dripping sweat. The monitor walks briskly behind him as Vande Velde pedals to Garmin's van.
By the time they return to the fenced-in area around the doping control van, reporters and photographers are massed around it, waiting for a glimpse of presumptive Tour winner Sastre and runner-up Evans. Vande Velde politely tries to clear a path. No one budges. "Move," he shouts angrily, and shoulders his way through. It's hard to imagine most top American athletes going to such lengths just to prove they're honest. But cyclists like Vande Velde know that showtime in their sport will always mean putting up with a little bit of a circus.
That night, he and several teammates get up from the dinner table at yet another cookie-cutter Campanile hotel and walk out to the hotel patio for some fresh air. They sit down not far from a party of eight in the middle of dinner -- the AFLD escorts and their bosses, including the redhead who trailed Vande Velde after the time trial.
They don't interact, but no one seems uncomfortable. Maybe it's because, at some level, they're on the same side.
Stage 21: What Goes Around
Etampes to Paris
-- The faces on the Garmin bus reflect pure relief as Matt White calls the last team meeting, but he reminds them there's still a day to get through, and one last goal.
"We won't sum up the Tour, we can do that tonight over a few beverages," White says. "Let's worry about today."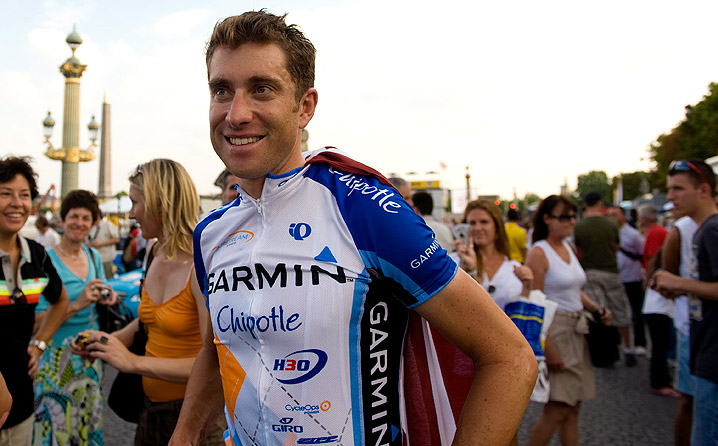 Lucas Gilman for ESPN.com
A relieved and happy Christian Vande Velde stands in the Place de la Concorde after the Tour's end. He began the race with uncertainty about what he was capable of and finished it a more self-assured team leader.
Julian Dean has finished among the top 10 in five stages with sprint finishes. White wants the team to do all it can to set up the difficult final sprint for him. "We've shown commitment to VDV," White says, using the abbreviations he favors. "Today is JD's day."
Before the team rolls out, Vande Velde thanks his teammates. "I know everyone did everything they possibly could," he says.
Dean, who grew up on a dairy farm run by his parents, wears a piece of jade around his neck in the shape of New Zealand's signature silver fern -- a good-luck charm to bring him home safely. He, like Vande Velde, has found it new and different to have other men working for him.
"One of the things I find quite hard is telling them what to do," he says. "I ran on instinct. As it's panning out, more than anything, I have to give the guys confidence for them to do what they feel is right."
During this race, the sentimental Dean has used a small camcorder to film hours of behind-the-scenes video and mounted the camera on his helmet when he went -- at a sprinter's deliberate pace -- up L'Alpe-d'Huez.
He would have loved the footage of Millar and Vande Velde later this day, taking tremendous digs at the front of the peloton on the last circuit of the Champs-Elysees, doing their best to position him. Dean can't quite get through the mob and finishes sixth.
But even at 33, he's hopeful he has some prime years left, and he lauds the technology his team has put to use for him, providing a more satisfying tailwind than doping ever could.
"It does make a difference mentally, the fact that you know you're tapping into all these different possibilities to try and improve your performance." he says.
The man who put it all into motion is waiting at the finish.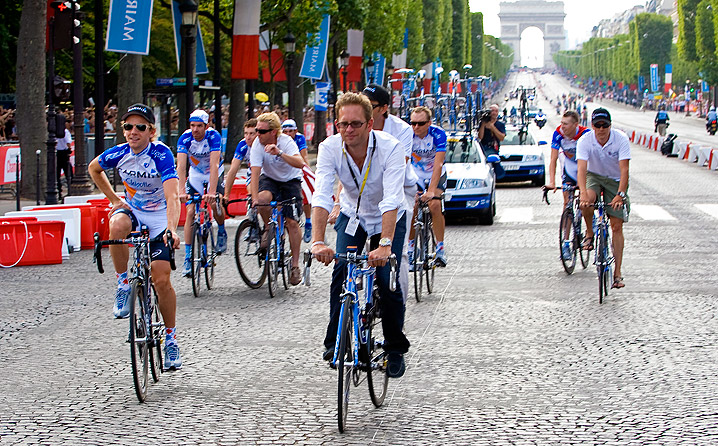 Lucas Gilman for ESPN.com
Jonathan Vaughters, who started four Tours as a rider but never finished, finally gets to do a parade lap on the Champs-Elysees with the team he founded five years ago in hopes of showing that it's possible to compete clean.
Until today, something has always prevented Jonathan Vaughters from getting to the Champs-Elysees. He started the Tour four times as a rider and crashed out three times. An insect's sting thwarted him the last time, in 2002. One of his eyes swelled shut and he couldn't get treatment because of anti-doping rules.
Now Vaughters stands amid the madness of the Place de la Concorde, where team buses encircle the signature obelisk and riders' loved ones are flocking to celebrate. His vision of a different kind of dream team has become concrete. Millar, Vaughters' minority partner in the concept, throws his head back in exultation, a yellow sports drink in one hand and a bottle of Champagne in the other. Vande Velde, transformed into a leader who will be among the favorites next year, embraces his parents and his wife.
Five riders who had never done a Tour -- Frischkorn, Hesjedal, Lowe, Maaskant and Pate -- have completed it, accomplishing what Vaughters couldn't. Garmin led the team classification for four days early in the race and competed for several stage wins. Now, the team is about to take its traditional parade lap, and he is going with them.
"Yeah, I've never been here," Vaughters says. "I didn't even know how long the laps were." He looks down at his dark, pencil-legged pants. "Four K in jeans," he says ruefully.
He pauses. "It was always my dream to finish the Tour de France," he says. "If you can't get there one way, try, try again, I guess. Maybe I got to change the Tour de France a little bit instead, and have a longer-lasting impact than finishing 43rd."
Vaughters throws one leg over a bike, settles into the saddle and leads the train of eight riders plus White, Marie and Ellis to the foot of the famous avenue. It yawns empty and wide, a silvery carpet of cobblestones gently rising to the Arc de Triomphe.
Backlit by late afternoon sun, Garmin-Chipotle's delegation rolls at a languid pace to cheers from the still-packed crowd behind the barricades, getting smaller and smaller until it vanishes in the hazy distance. The group makes the big turn and comes back the other way, gradually materializing, life-sized and in full color.
They've just survived 2,200 miles together, their way. They're not going to disappear.
Bonnie D. Ford is a writer for ESPN.com. She covered Garmin-Chipotle's progress during the 2008 season through the Tour de France. She can be reached at bonniedford@aol.com.
Join the conversation about "Magical History Tour."