On March 7, Kendall Coyne Schofield was eating breakfast in Tempe, Arizona -- in town for the final stop of the Professional Women's Hockey Players Association's Dream Gap Tour -- when she got word that the IIHF Women's World Championships were canceled.
"Initially, we were heartbroken," Coyne Schofield said. "But with it being an international tournament, [COVID-19] is something that affected other parts of the world before it affected us here. The warning signs were there, and with our world championships being canceled, that was really the indicator for what was coming for North America."
Coyne Schofield flew to Chicago, and on March 8, she was the analyst on NBC Sports' first all-women broadcast for the Chicago Blackhawks vs. St. Louis Blues game. The next morning, she flew to San Jose, California, to host two girls' clinics. While she was there, Santa Clarita County announced a ban on large gatherings, meaning the Sharks would be playing future games without fans.
"Immediately, everyone in the building at that time was scrambling," Coyne Schofield said. "They were all asking, how is this going to work? What are we going to do? Everyone just didn't know what was next."
Coyne Schofield returned to Chicago on a red-eye flight that night -- and she hasn't left her town of Orland Park, Illinois, since. Coyne Schofield was supposed to be with Team USA at a training camp this week, ahead of the world championships in Nova Scotia. She was also supposed to speak on a panel at the SheBelieves summit and broadcast another nationally televised NBC game, the Blues vs. the Sharks. That didn't happen, as the NHL season is on pause because of the coronavirus pandemic.
It caps off what has been a strange season for women's hockey at the top level.
"To think about the lack of growth that will happen in women's hockey because there was no international tournaments this year, that's what really hurts," Coyne Schofield said. "I think it just further proves the importance of what we are fighting for -- a true professional structure. The men's world championships being canceled wasn't the end of the world because people have been seeing the best players play regularly since October."

Coyne Schofield is one of roughly 175 women who boycotted professional hockey this season, hoping that a more sustainable league in which they can earn a living wage would emerge.
While there have been great strides in visibility -- including the NHL adding a women's 3-on-3 event at the All-Star Game in January -- there also have been halts in momentum. The U.S. women's national team typically competes in two international tournaments, and both were canceled. Novembers' Four Nations Cup didn't happen, as the Swedish national team was boycotting its federation for equal treatment, and now the world championships.
Coyne Schofield played fewer hockey games this past season than any other year she can remember.
"And I mean this with all due respect, but fewer meaningful games as well," Coyne Schofield said. "Games where you're playing for a championship, where you're playing for a world ranking. The fact that there wasn't one game that incorporated that seriousness, that level of competitiveness, hurts the game. That part is very challenging. When Four Nations was canceled, instead of coming to a resolution that incorporates the rest of the world coming together to compete under one umbrella, we took the two teams in North America to play against each other in an exhibition series. That doesn't mean anything but bragging rights."
Coyne Schofield typically takes two weeks off after worlds before she restarts her training, but for now, she's trying to stay as active as she can -- to stay in shape but also keep her mind off things. So is her husband, Michael Schofield, an NFL offensive lineman going through free agency right now.
"He's fighting to get on an NFL roster right now, and he'll need to be in shape a lot quicker than me," Coyne Schofield said. "So he's a little more stressed on what we're able to accomplish day in and day out. I don't have anything [hockeywise] until Aug. 10. So it's a little easier on me mentally right now, but we're trying to make the most of what we have ... in a basement of a townhouse with limited equipment."
Once the ice arena and gym at which the couple usually works out closed, the two raided Coyne Schofield's parents' basement for any workout equipment they had. "We also raided Michael's sister's basement for a bike she had to get a little cardio," Coyne Schofield said. (Schofield rides that bike, while Coyne Schofield has a platform she can attach to her road bike and ride it like it's stationary.)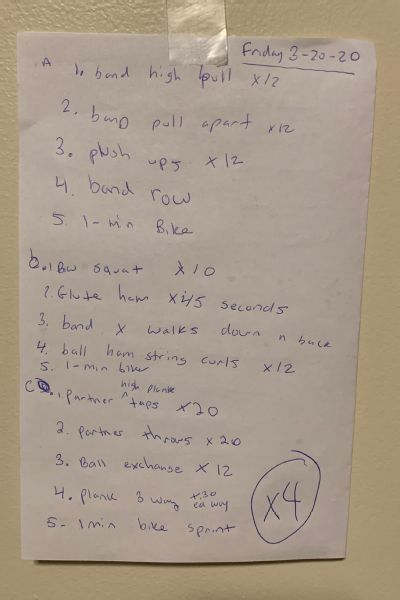 Workout sheet courtesy of Kendall Coyne Schofield.
They ordered a set of dumbbells on Amazon. "We're still patiently waiting for that to arrive," Coyne Schofield said. In the meantime, six days a week, they go to the basement where they have bands and a yoga mat and blast music. They also use their stairs for box jumps or any type of elevated moves.
"I would say our program right now is a hybrid of what we were doing before," Coyne Schofield said. "And adjusting what we can do now. And the other thing we've been doing is committing to biking around the town to local business and ordering takeout food to support them. It promotes exercising, and it promotes supporting local businesses during challenging times. [This weekend] we had a 7-mile ride. I have to say I'm a little more optimistic about biking than my husband is, being a 300-pound man, but he's been a trouper. We go on a bike ride, and then stay inside the rest of the day to follow guidelines with social distancing."
7 mile bike ride for exercise and food to support our local businesses! Back inside and can't wait for our trip tomorrow! Stay tuned... pic.twitter.com/ei5wcnO33S

— Kendall Coyne Schofield (@KendallCoyne) March 22, 2020
Coyne Schofield and Schofield went to the same high school in Orland Park -- where Schofield's father is the fire chief -- and they've been passionate about giving back when they can. They are now on Day 3 of volunteering at the town's food pantry.
"They were in dire need of volunteers who hadn't been affected by the virus that can lift 50 pounds or more and aren't in the high-risk category," Coyne Schofield said.
The couple's foundation donated 60,000 meals to the Chicago food bank, and also committed to donating two weeks of meals to the local Ronald McDonald House, which is especially important since it can't have volunteers right now.
And with the time away from the rink, Coyne Schofield will use some time to reflect.
"I think this was a historical year for women's hockey -- it was a pivotal year, and a transformational year," Coyne Schofield said. "You think about internationally how much wasn't accomplished, but you can also look at the positive side and how much was accomplished on the professional side of things with players from the PWHPA.
"We've brought so much attention and awareness and visibility to the women's game through our Dream Gap Tour that there are people already asking, 'Where's the next stop? When can I come see you again? What's the plans for next year?' And that, to me, really provides a lot of optimism, especially during this time."