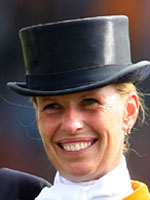 Anky van Grunsven
Date of birth
1968-01-02
Birthplace
Erp
Height
170 cm
Weight
55.0 kg
Discipline
Dressage
Olympic Games (6 medals - 2 gold, 4 silver)
Individual dressage: 1st (2000, 2004), 2nd (1996), 4th (1992)

Team event: 2nd (1992, 1996, 2000), 4th (2004), 5th (1988)
World Equestrian Games (6 medals - 2 gold, 4 silver)
Individual freestyle dressage: 1st (1994, 2006), 2nd (1998)

Individual dressage Special: 2nd (2006)

Team dressage: 2nd (1994, 1998)
European Championships (12 medals - 4 gold, 8 silver)
Individual dressage: 1st (1999, 2005), 2nd (1995, 1997)

Individual freestyle dressage: 1st (2007)

Individual dressage Special: 2nd (2007)

Team event: 1st (2007), 2nd (1995, 1997, 1999, 2001, 2005)
World Cup (9 medals - 8 gold, 1 silver)
Dressage: 1st (1995, 1996, 1997, 1999, 2000, 2004, 2005, 2006), 2nd (1998)
European Championships (5 medals - 3 gold, 2 silver)
Dressage: 1st (1999, 2005, 2007), 2nd (1995, 1997)
Dances with horses
Dutch rider Anky van Grunsven is the undisputed Queen of the Dressage scene and has single-handedly halted a long-standing German domination of the discipline, winning the last two Olympic titles, and she is also reigning world and European champion.
Hugely popular on the equestrian scene she and her current mount Keltec Salinero set a world record score of 87.925 at a German Grand Prix in 2007 thanks to fabulous artistic impression as understanding between horse and rider hit a peak in the run up to her bid for a third straight Olympic crown.
Beijing will be Van Grunsven's sixth appearance at a Games when she will be 40, and given the fact Britain's Lorna Johnstone competed at the Munich Games of 1972 aged 70, the likeable blonde may have another six in her.
All her previous horses, Prisco from the 1988 Seoul Games, Bonfire, on whom she won silver at Barcelona 1992 and Atlanta 1996 before finally claiming gold together at Sydney, and Joker, who had shown promise before injury and is her favourite horse, are all still present and doted upon in her personal stables at the family farm.
Her father and brothers are all committed horse people and there are some 30 horses on the farm including the Hanoverian gelding Salerino (who will be 14 at Beijing), who is 2004 Olympic, 2006 world and 2007 European champion.
A second great horse
Van Grunsven is not in the business of breeding but prefers to buy horses of proven appetite at around the age of six. She was once accused (by a German magazine), and cleared of illegal training methods.
She believes in allowing the horse to do its business, to sit back and enjoy the ride if her mount is doing well, rather than constantly pushing the horse, claiming too that all errors are caused by the rider.
She was born in Erp January 2, 1968 and had her first pony at the age of six and though not taking riding very seriously until maturity, won the first of her 13 national dressage titles in 1990.
She is married to a horse trainer with whom she has two children and as well as running a very busy stable and gallivanting around the world to equestrian events she also runs a riding clothes company.
Van Grunsven says that after Bonfire she never expected to have a second great horse, but Salinero would seem to be even greater than his illustrious predecessor and the pairing would appear to be unbeatable at Beijing.