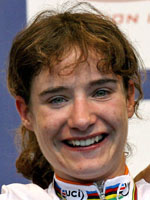 Marianne Vos
Date of birth
1987-05-13
Birthplace
's-Hertogenbosch
Height
168 cm
Weight
57.0 kg
Disciplines
Road, track and cyclo-cross
World road racing championships (2 medals - 1 gold, 1 silver)
Road race: 1st (2006), 2nd (2007)
World track cycling championships (1 medal - 1 gold)
World cyclo-cross championships (1 medal - 1 gold)
The girl who wants it all
Marianne Vos of the Netherlands made history when she won the gold medal in points race at the world track championships in March 2008 becoming the first person to win titles in three cycling disciplines.
The then 20-year-old Dutchwoman is a former world road race and world cyclo-cross champion and is now aiming for an audacious three gold medals from two disciplines at the Beijing Olympics this summer.
"My big objective this season is to win three gold medals at the Olympics, in the road race, the time trial and the points race," added Vos, although her team bosses will be looking closely at the race schedule in Beijing to make sure she does not suffer burn-out.
Vos said she would not be tempted to also race in the BMX events. "I like to keep my wheels on the ground," she joked. Nor will she compete in the mountain bike discipline.
Vos' first major world title came at the cyclo-cross world championships in January 2006, and she added another rainbow jersey when she capped a late attack to win the world road race crown in September of the same year.
In 2007 Vos was also the overall World Cup champion.
Olympian effort
And she put her talent on display early in the 2008 season when she decided to compete at the 2008 cyclo-cross championships on a whim, and then walked away with the silver medal.
Remarkably, Vos had not even planned to compete at the Manchester track world championships because she was bang in the middle of preparing for the upcoming road cycling season.
But her hand was forced after she failed to qualify for the Olympic points race at the last pre-Olympic World Cup track event in Copenhagen.
"I didn't even want to come here. I'm right in the middle of training in Spain for the road season," said Vos, who would have been assured of an Olympic place had she finished fifth or sixth."
She was born in 's-Hertogenbosch in May 1987 and was keen on a range of sports from a very early age. She became national Dutch junior mountain bike and time trial champion way back in 2002.
She enjoys a colossal drive linked to an outright love of her sport, a love affair that could bear the ultimate fruit at the 2008 Summer Games.