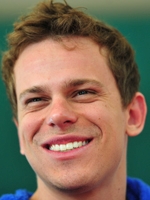 Cesar Cielo
Date of birth
1987-01-10
Birthplace
Santa Barbara d'Oeste
Height
196 cm
Weight
83.0 kg
World records
2 (50m, 100m freestyle) - up to 18/12/2009
Olympic Games (2 medals - 1 gold, 1 bronze)
50m freestyle: 1st (2008)

100m freestyle: 3rd (2008)
World Championships (4 medals - 4 gold)
50m freestyle: 1st (2009, 2011)

50m butterfly: 1st (2011)

100m freestyle: 1st (2009)
World Short Course Championships (5 medals - 2 gold, 1 silver, 2 bronze)
50m freestyle: 1st (2010)

100m freestyle: 1st (2010)

4X100m freestyle: 2nd (2004), 3rd (2010)

4x100m medley: 3rd (2010)
Pan American Games (8 medals - 7 gold, 1 silver)
50m freestyle: 1st (2007, 2011)

100m freestyle: 1st (2007, 2011)

4x100m freestyle: 1st (2007, 2011)

4x100 medley: 1st (2011), 2nd (2007)
Heavenly sprinter
As Olympic and world champion over 50m and world record holder over 50m and 100m Brazilian freestyle swimmer Cesar Cielo is one of the men to beat at London 2012.
The flamboyant figure will be easy to spot, standing at 1m96 for 83kg.
His pre-Olympic year was somewhat sullied by a doping affair after he tested positive for a diuretic known for its masking agent qualities. Cielo blamed the test on a contaminated food supplement and he was eventually cleared.
Long encouraged by his sports teacher mother, Cesar joined a Sao Paulo swimming club at 16 where Gustavo Borges, a double silver medal Olympic sprint winner held court.
Very quickly Cielo caught up with and overtook the ageing master before deciding to switch to the US and the Auburn club in Alabama where he came under the guidance of the Australian coach Brett Hawke.
At the 2007 Pan American Games in Rio de Janeiro, Cielo claimed three titles with gold medal performances in the 50m, 100m and 4x100m freestyle relay.
The Brazilian torpedo then hit Beijing, winning an Olympic gold medal in 2008 in the 50m and a bronze in the 100m behind the Frenchman Alain Bernard who took gold and Eamon Sullivan of Australia.
Roman Empire
At the 2009 worlds at Rome he did even better when not only speeding to the 50m title but by becoming the first swimmer to do the two-lap 100m in less than 47sec, 46.91sec to be precise.
He was to soon add another world record with 20.91sec over 50m in the national Brazilian championships also in 2009.
The doubles just kept on coming; 50m and 100m free at the 2010 Dubai short course worlds, the 50m free and the 50m butterfly at the 2011 world championships at Shanghai, where however he came fourth in the 100m far behind the Australian James Magnussen.
After the butterfly gold he cried in the pool as both cheers and wolf whistles rang around the tribune. Cielo would later say it'd been a tough time and that both his talents and his ability to endure insults had been tested.
At the 2011 Pan American Games of 2011 he enjoyed yet another double, this time the 50m and 100m free, showing he'll be a tough nut to crack and doubtless there or thereabouts for medals in the sprints at London 2012.