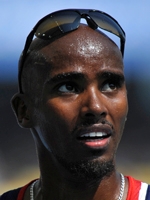 Mohamed Farah
Date of birth
1983-03-23
Birthplace
Mogadiscio (Somalia)
Height
171 cm
Weight
60.0 kg
World Championships (2 medals - 1 gold, 1 silver)
5000m: 1st (2011)

10000m: 2nd (2011)
European Championships (2 medals - 1 gold, 1 silver)
5000m: 2nd (2006)

10000m: 1st (2010)
European Indoor Championships (2 medals - 2 golds)
European Cross-Country Championship (1 medal - 1 gold)
Far away the best
There is a feeling in athletics circles that Mohamed Farah's star is on the rise, that the world and European 5000m champion and favourite for the 10,000m Olympic final is capable of producing a career defining performance at London 2012.
It'll be a rags-to-riches story for the man born in Mogadishu, Somalia in March 1983 if he secures a gold medal or even two for Britain at the Games, but also the story of a man who knew how to surround himself with the right people.
As well as a talent for running, he also has that rare gift of touching people's emotions, making current and ex-champions rally to his cause, inspiring devoted coaches and former teachers to go that extra yard to help him along the way. The Londoner can count Steve Cram and Paula Radcliffe amongst his mentors and Cuban-American marathon great Alberto Salazar as his personal coach.
He once shared a house with leading Kenyan runners, including the then 5000m world champion Benjamin Limo, and whilst away on regular stints in the Rift Valley, he learned about dedication: 'to eat, sleep and train' and nothing else, he says.
Everything he does is focused on the next race, and it is this focus and dedication that those around him feel will turn his talents into medals at London.
He stressed out and trained too intensely for Beijing 2008 and had nothing left in the tank when he arrived, disastrously coming sixth in his heat for the 5000m after pundits had been hanging the gold around his neck.
Running faster since his marriage
But by 2011 Farah was crowned European athlete of the year.
That season he had won the European cross-county long race, won the NYC Half Marathon, took gold in the 3000m European Indoor Championships, and made his breakthrough into the big-time at the Daegu World championships by taking the gold in the 5000m and silver in the 10,000m.
He had been favoured to win that 10,000m race but was outsprinted by Ethiopian Ibrahim Jeilan in a razor's edge finish.
He also relocated to Portland in 2011 so as to benefit from the talents of Salazar, who is celebrated for rectifying the tiny style details that make all the difference in terms of titles. To that end he follows Farah around on a bike during his training runs.
He also recently tied the knot with his long-time fiance and former running club mate and says he's been running faster since his marriage.
He moved to London from Djibouti to join his IT consultant father at age 8, an event he describes as the happiest moment of his life, because he realised he'd be seeing a great deal more of his dad finally.
As a kid all he wanted to do was play down the right wing for his beloved football team Arsenal but luckily for Great Britain he'll be gunning for gold out on the track as the Olympic spotlight hits his adopted hometown this summer.