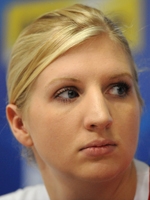 Rebecca Adlington
Date of birth
1989-02-17
Height
154 cm
Weight
70.0 kg
World records
1 (800m freestyle) - up to 16/08/2008
Olympic Games - (2 medals - 2 gold)
400m freestyle: 1st (2008)

800m freestyle: 1st (2008)
World championships (4 medals - 1 gold, 1 silver, 2 bronze)
400m freestyle: 2nd (2011), 3rd (2009)

800m freestyle: 1st (2011)

4x200m freestyle: 3rd (2009)
European championships (3 medals - 1 gold, 1 silver, 1 bronze)
400m freestyle: 1st (2010)

800m freestyle: 2nd (2006)

4x200m freestyle: 3rd (2010)
World short course championships (2 medals - 1 gold, 1 silver)
800m freestyle: 1st (2008)

4x 200m freestyle: 2nd (2008)
Britain's golden girl
Rebecca Adlington is the defending Olympic 400m and 800m champion, and also the reigning world champion and world record holder over 800m.
With wild home support to boot, she is just about the best bet Britain has for a gold medal at London 2012, in the pool or anywhere else.
Coach Bill Furniss spotted her at 12 and describes her as technically pure and very driven. One French coach out at Beijing said before the finals that whatever happened at the Olympics the future (of 800m freestyle) belonged to her.
At 13 she won European junior gold at Lisbon over 800m, before a two-year lay-off in 2005 and 2006 due to glandular fever. Two years later in the 800m final in Beijing, Adlington shattered the longest-standing world record with a sensational all-the-way victory in the women's 800m freestyle, lopping 2.12secs off American Janet Evans's 19-year world mark in a time of eight minutes 14.10. She swam much of the final out on her own and had a massive 6.13sec to spare at the finish over Italian Alessia Filippi, who claimed the silver.
A few days earlier she had caused a sensation by seemingly coming from nowhere to claim the 400m freestyle title, Britain's first female swimming gold for 48 years.
Adlington went into that final eighth-ranked in the world, but left Italian world record holder Federica Pellegrini (fifth) and French world champion Laure Manaudou (eighth) in her wake in one of the great British Olympic swimming triumphs.
On top of the world
Adlington's jubilation at her 400m victory was not witnessed by her parents at pool side after the Mansfield couple were the victims of an Olympics ticketing scam. FINA, the sport's world governing body, arranged front-row tickets for Adlington's parents to be in the Water Cube for the 800m final however.
She suffered a blip at the 2010 European championships at Budapest, and explained that she had yet to find her form after only placing seventh in the 800m freestyle won by Danish world champion Lotte Friis, who finished more than four seconds ahead of her.
But Adlington claimed her first world title with an expert 800m swim in Shanghai in July 2011 when she hung on Danish front-runner Lotte Friis's shoulder before hitting the front in the closing metres. She also finished second to Italian great Federica Pellegrini in the 400m freestyle.
Becky, as she likes to be known, comes across as a real girl next door type and likes to spend time relaxing in her hometown Mansfield, Nottinghamshire walking her dogs and watching movies at home, sometimes indulging in her secret vice of chocolate.
She also claims her strongest desire is a long lie in, something that she rarely has chance to do. But if she can deliver again at London 2012, where Friis will likely be her key rival again, then few would begrudge her a few extra hours in bed.