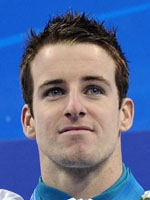 James Magnussen
Date of birth
1991-04-11
Birthplace
Port Macquarie
Height
195 cm
Weight
90.0 kg
World Championships (3 medals - 2 gold, 1 silver)
100m freestyle: 1st (2011)

4x100m freestyle: 1st (2011)

4x100m medley: 2nd (2011)
Pan Pacific Championships
4x100m freestyle: 2nd (2010)
Shanghai surprise opens door to Olympic challenge
For James Magnussen, everything changed at Shanghai where he came into the world championships as a relative unknown and went on to shock the field in the 100m freestyle final where he walked away with the gold medal thanks to a blistering time of 47.63secs.
It has been 43 years and the 1968 Olympic Games in Tokyo since Mike Wenden was the last Australian man to win the blue ribband event at a major competition and he pulled off the feat despite a hindering bout of pneumonia on the eve of the competition.
Four days earlier, Magnussen showed off his peak condtion by swimming 47.49secs and leading Australia to the 4x100m relay, becoming the fastest man in history without the controversial and now banned new combination suits.
The previous world mark was 47.84secs set by Dutchman Pieter van den Hoogenband at the 2000 Sydney Games.
Now established as a world class 100m swimmer, his final 50 metres in the relay was also the fastest ever and a time of 24.39secs shows he will also be a threat in the shorter distance at the 2012 London Games.
"Battleship"
"He is very strong psychologically and has become stronger at getting the better of his opponents," explains Leigh Nugent, the head of the Australian coaching team.
"Everyone slows down towards the end of a race but he does it much less than the others."
Nugent compares Magnussen to a "warship with a massive engine", much in the ilk of his great compatriot Ian Thorpe who had the capacity to maintain speed and finish strongly.
He was left to hone his skills in his home town of Port Macquarie on the east coast of Australia where he also picked up a degree in business.
Proud of his Norwegian heritage, he can trace his routes in the Scandinavian nation back several generations and he spent six weeks there after his studies in order to maintain contact with his paternal family.
On his return, 18 months before Shanghai, he began training seriously in Sydney with Brant Best and at just 20-years-old, the world championships in Shanghai was only his second major competition after the 2010 Pan Pacifics where he picked up silver in the 4x100m relay.
However when he recorded a time of 48.29secs and beat former world record holder Eamon Sullivan at the Australian trials in April 2011, the cat was out of the bag regarding his arrival at the top of the sport.
Now London will give him the ultimate stage to further enhance his reputation, a challenge he is relishing.
"I love the pressure and the big competitions and just can't wait for the Games", were the words that the rest of the field will surely worry about hearing.