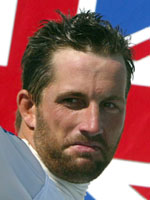 Ben Ainslie
Date of birth
1977-02-05
Birthplace
Macclesfield
Height
187 cm
Weight
93.0 kg
Discipline
Laser, Finn
Olympic Games (3 medals - 2 gold, 1 silver)
Finn: 1st (2004)

Laser: 1st (2000), 2nd (1996)
World Championships (10 medals - 7 gold, 3 bronze)
Finn Class: 1st (2002, 2003, 2004, 2005, 2008)

Laser Class: 1st (1998, 1999), 3rd (1996, 1997, 2000)
European Championships (10 medals - 8 gold, 1 silver, 1 bronze)
Finn Class: 1st (2002, 2003, 2005, 2008), 2nd (2004)

Laser Class: 1st (1996, 1998, 1999, 2000), 3rd (1997)
Other Honours
MBE (honour bestowed by the British monarch)

ISAF World Sailor of the Year (1998, 2002)

British Yachtsman of the Year (1995, 1999, 2000, 2002)
Alone with the elements
Ben Ainslie is well onto his way to becoming one of the most successful sailing competitors of all time and targets a remarkable fourth consecutive Olympic medal at Beijing in 2008 after winning a pair of golds and a silver during a rapid rise to the top of his sport.
He is already Britain's greatest sailor alongside 1960's hero Rodney Pattison but shows no signs of slowing down as he competes on several fronts and goes to China as one of the hot favourites when he will still be only 31-years-old.
Before taking to the Asian waters his versatility and talent saw him employed as strategist for a New Zealand based team at the 2007 America's Cup in Valencia, where they were eventually runners up.
Winning gold in the Laser class at Sydney 2000 at the age of 22, he was already a double world and quadruple European champion in the event, not to mention his Laser silver at the Atlanta Games when he was just 18.
He has since followed up on that by gaining 15 kilos for the 2004 Athens Olympics where he made a successful switch to the larger Finn class and claimed his second Olympic title.
He puts part of his success down to eating Chinese meals before racing which sets up the ideal setting in 2008 where there will be all the noodles and rice he can eat when Beijing is set to host the world.
In the run up to Beijing Ainslee won the European Championships in Italy in May, taking gold in the Finn, his fourth such title.
A different class
To keep a Finn upright at over 10 knotts an hour requires a heavy-set sailor. No problem.
Ainslie adopted a 4500 calorie per day diet and a rigorous weight training and aerobics fitness plan to attain a weight of 95 kilos rather than his previous 76.
He reaped immediate success, winning the 2002 European and 2003 world championships. The ISAF felt the jump in class and his success merited a world sailor of the year award, just as they had in 1998, when he won his first world championship and second European championship at Laser class.
He won a third world Finn championship title in 2005 for his sixth global crown and made it a magnificent seven of world titles in 2008 winning the Finn competition again.
He took up saiing at 8 after his parents gave him his first dinghy, "the Optimist" as a Christmas present, in which he won the junior national championship in 1988.
Now he is chasing a third Olympic gold in China where few would bet against the all-conquering Brit.