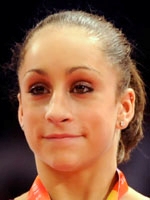 Jordyn Wieber
Date of birth
1995-07-12
Birthplace
DeWitt
Height
153 cm
Weight
42.0 kg
World championships (3 medals - 2 gold, 1 bronze)
Individual all around: 1st (2011)

Team all around: 1st (2011)

Balance beam: 3rd (2011)
Wieber looks to continue US domination
The reigning world gymnastics champion Jordyn Wieber will go to the 2012 London Games attempting to keep the Olympic gold in American hands for the third straight competition after previous triumphs by Carly Patterson in 2004 and Nastia Liukin at Beijing four years ago.
The main threat to her challenge is likely to come from Victoria Komova; The Russian finished second at the 2011 world championships in Tokyo by just a few thousandths of a point, while her compatriot Aliya Mustafina should also pose a major threat if fit.
At just 16 Weiber won the team title in Tokyo before engaging in a nail biting battle with Komova that went all the way to the floor routine, where a foot out of bounds by the American was fractionally less of an error than a bad landing by Komova.
Komova who was a star at the first youth Olympics in 2010 thought she had done enough for gold but the judges thought otherwise and awarded the world title to the American champion by a mere .033 points.
Psychological advantage
"It was definitely a little nerve-wracking," Wieber said, remembering how she had waited for the final result. "It turned out amazing. I was so happy to see my name on the top. I wasn't really expecting it all so I was surprised."
The result stunned Komova, who was recovering from an ankle injury which sidelined her from the European championships in April.
"I was surprised at the score," said the Russian, who edged Wieber out in qualifying and thought she did better in the final.
"I don't like to lose for hundredths of a point. I'm very upset because it was time to win the gold medal."
Wieber also picked up a bronze medal on the beam as the Michigan native emerged from the world championships in ideal shape to launch her bid for Olympic gold in the summer of 2012.
She knows however that Komova and the rest of the field will push her all the way in the battle for supremacy.
"It's up to me to be better than Komova and that is what gives me extra motivation every day in training."
Victory in the English capital would make her the fourth American female champion following on from Patterson and Liukin while the other US champion was Mary Lou Retton who won gold at the 1984 Los Angeles Games