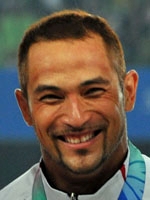 Koji Murofushi
Date of birth
1974-10-08
Height
187 cm
Weight
96.0 kg
Olympic Games (1 medal - 1 gold)
World Championships (3 medals - 1 gold, 1 silver, 1 bronze)
Hammer: 1st (2011), 2nd (2001), 3rd (2003)
If I had a hammer
Born to athlete parents, Japan's Koji Murofushi was trained in the obscure, mainly Eastern European art of hammer throwing from an early age and while he goes to London in the twilight of his career he also goes on the back of his 2011 Daegu world championship triumph.
Murofushi's mother was the Romanian javelin champion from 1970 while his father and long-time coach was Japanese hammer champion and national record holder for 23 years. Both were also Olympians.
So Koji, born in Aichi in October 1974 was virtually pre-destined to thrive in the athletics arena. Now 37 and heading out to London in peak mental condition, he will be easy to spot on the field.
The thing that marks out Murofushi from his peers is his tight style. He enjoys precise control of the centrifugal force over the two turns of the hammer and the astonishing speed and controlled footwork with which he performs the four body spins is a sight to behold.
The defending world champion, who also took the silver medal a decade ago at Edmonton 2001 and the bronze in Paris in 2003, stands at 1.87m and weighs in at around 90kg, but appears, while oozing power, relatively slender inside the 2.135m circle.
He shot to fame in 2003 at a meeting in Prague where he established a landmark throw of 84.86m, which is by far the best throw from anyone from an Asian country and a mark that has been fifth on the all-time records list ever since.
Fourth Olympics
Brimming with this confidence and newfound recognition, he set off for the Athens Games with high hopes and when the original winner Hungary's Adrien Annus was caught doping, Murofushi was moved up from silver medallist to Olympic champion.
The Japanese then suffered a spell of poorer form, albeit peppered with Grand Prix wins here and there, before reemerging at the Beijing Olympics in 2008. Doping again seemed set to hand him a medal after he originally finished fifth.
Both the silver and bronze medallists were first disqualified before eventually being reinstated on appeal.
He now goes to London having won the Japanese title 17 consecutive times.
He is also Japan's most likely track and field medallist for the 2012 Games, where he will go one better than his father, who only managed to go to three Summer Games.
Having set the world's best mark in 2001, 2003 and in 2010 after missing the 2009 worlds with back pain, the prospect of a gold medal in London seems well within his capabilities.