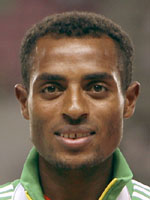 Kenenisa Bekele
Date of birth
1982-06-13
Birthplace
Bekoji
Height
160 cm
Weight
54.0 kg
Discipline
long distance and cross-country
World records
6 (2000m and 2 miles indoor, 5000m indoor and outdoor, 10,000m outdoor) - up to 16/02/2008
Olympic Games (2 medals - 1 gold, 1 silver)
5000m: 2nd (2004)

10,000m: 1st (2004)
World Championships (4 medals - 3 gold, 1 bronze)
5000m: 3rd (2003)

10,000m: 1st (2003, 2005, 2007)
World Indoor Championships (1 medal- 1 gold)
World Cross Country Championships (24 medals - 15 gold, 7 silver, 2 bronze)
Short course: 1st (2002, 2003, 2004, 2005, 2006), 2nd (2001)

Short course teams: 1st (2004, 2005), 2nd (2002, 2003, 2006), 3rd (2001)

Long course: 1st (2002, 2003, 2004, 2005, 2006, 2008)

Long course teams: 1st (2004, 2005), 2nd (2002, 2003, 2008), 3rd (2006)
World Cup (1 medal - 1 silver)
Other Honours
IAAF Athlete of the Year (2004, 2005)
Someone like me
Ethiopians who once basked in the glories of the great Haile Gebrselassie can now thrill to the exploits of his peerless successor and compatriot, the undisputed long distance master Kenenisa Bekele.
This child of the high plains of Arsi showed great early promise with a world junior 5000m record and by 2003 all the signs said he was ready to dethrone Gebrselassie.
"Haile is the absolute champion, if I have to run against him, it will not be my lot to beat him," said the young Kenenisa, who then thrashed the past master to take the 2003 world championship gold in Paris.
A sensational last lap in the 10,000m final at the 2004 Olympic Games saw Bekele destroy the competition in Athens to succeed Gebrselassie as Olympic champion too, just three months after also crushing his compatriot's world record over the distance of six-years standing.
Only the magnificent Hicham El Guerrouj stood between him and gold in the 5,000m at Athens, a race featuring a desperate and relentless neck-and-neck struggle to the line ending in victory for the Morrocan and silver for the world record holder.
For all his talents Bekele was dealt a hammer blow by fate in January 2005 when his girlfriend Alem Techale, a world junior 1,500m champion, died of heart failure while the two were on a training run. The pair had been due to marry in May of the same year.
Digging deep
Despite this tragedy, Bekele retained his world 10,000m crown later that year before breaking his own 10,000m world record and was also, for the second consecutive year, awarded the IAAF Athlete of the Year award.
In 2006, Bekele won a fifth straight world cross-country double and it appeared there was simply no stopping him as the plaudits rained down.
"Bekele can run on any surface. He's more versatile than any other runner," explained his Dutch coach Jos Hermens, himself a 1976 Olympic 10,000m finalist.
His first real hiccup came as something of a surprise when he ran out of steam at the 2007 Kenya world cross-country race, the athletics world looked on in bemusement as a wide-eyed and desperate looking Bekele lifted the track boundary cord and staggered away in confusion.
So the seeds of doubt had been sown as the 10,000m race at the 2007 world championships got underway and when at the 9,000m mark Kenya's Martin Mathathi overtook Bekele there was a wave of shock in the Ethiopian camp.
But Bekele, still just 25, dug deep down and produced his trademark last lap turn of pace that left viewers breathless and all rivals trailing way back in his wake as he took a third straight 10,000m world crown.
In November 2007 he married 22-year-old Ethiopian actress Dannawit Gebregziabner and showed off in front of his new bride by winning a sixth world cross-country title in Edinburgh in March 2008 despite having to stop and put one of his shoes back on after being clipped.