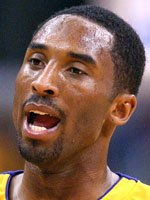 Kobe Bryant
Date of birth
1978-08-23
Birthplace
Philadelphia
Height
198 cm
Weight
99.0 kg
Sport
Basketball
Position
Guard
Clubs
Los Angeles Lakers (since 1996)
NBA
3 titles (2000, 2001, 2002)

10 All-Star Game selections (1998, 2000, 2001, 2002, 2003, 2004, 2005, 2006, 2007, 2008)

MVP of the season (2008)

MVP of the All-Star Game (2002, 2007)

Top scorer in the 2006 season (35.4 pts/match)

Youngest starter in an NBA game (18 years-old, 158 days) and in an All-Star game (19 years-old, 175 days)

Most points scored in one game : 81 (against Toronto - 22/01/2006) - 2nd highest total in history behind the 100 points scored by Philadelphia's center Wilt Chamberlain against New York (02/03/1962)
Bryant rises again to emerge as a basketball great
Kobe Bryant has forged one of the most sparkling careers in NBA history since being drafted straight out of high school in 1996, going on to win three titles with the LA Lakers and establishing a reputation as one of the best shooting guards to play the game.
Now he will be a key member of the star-studded USA team that chases gold in Beijing although the American's have not always had things their own way in recent international tournaments, a problem Bryant and company aim to put to rest.
While noone can doubt Bryant's limitless talents, his career was nearly ruined by a scandal in 2003 when he was accused of sexual assault and pushed under the media spotlight for all the wrong reasons before the charges were eventually dropped and the case settled out of court.
The only son of former NBA star Joe "Jellybean" Bryant a player with the Philadelphia 76ers, the 1.98m Bryant grew up in Philadelphia before his family moved to Italy when he was six.
A massive soccer fan, Bryant nearly opted for a career kicking the ball rather than throwing it and he is a big fan of AC Milan and Barcelona, following his time in Italy where he learned to speak the language fluently.
But when his family moved back to the States in 1991, it soon became evident of his fantastic talent on the basketball court and he soon caught the eye of NBA scouts with his displays for Philadelphia suburb high school Lower Marion.
Sex scandal takes its toll
Such was his skills, that at just 17, he opted to enter the NBA draft without taking the usual route through college and it was a move that he never regretted.
His love for the LA Lakers forced the Charlotte Bobcats who drafted him to work a trade with the glamourous California club and he made his professional debut in 1996.
Alongside the collosal Shaquille O'Neal, a man with whom Bryant did not always see eye to eye, the club won three straight NBA crowns between 2000 and 2002 before his world fell apart following an incident in a Colorado hotel with then 19-year-old Katelyn Faber.
While the married Bryant admitted they had a consensual sexual encounter, the hotel employee accused the basketball star of rape, prompting his arrest and a highly publicised court case.
However when Faber refused to testify and Byrant agreed to an out of court settlement, he was able to gradually pick up the pieces of his career and marriage and move on.
He once scored 40 or more points in nine straight games, a record but the departure of O'Neal in who had never forgiven Bryant for personal comments to the media and a difficult relationship with coach Phil Jackson led to a difficult spell for Bryant and the Lakers.
While the team consistently qualified for the playoffs, they did not return to the NBA finals until 2008 when Bryant was awarded the season's prestigious MVP award, his first.
The team were finally beaten by the Boston Celtics in six games but after the troubles of 2003, sponsors and fans alike have returned to the Bryant fold and the future again looks rosy for both club and country.