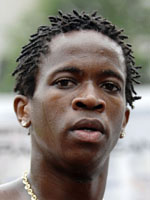 Dayron Robles
Date of birth
1986-11-19
Birthplace
Guantanamo
Height
192 cm
Weight
89.0 kg
Disciplines
60m hurdles, 110m hurdles
World record
1 (110m hurdles) - up to 12/06/2008
World Indoor Championships (1 medal - 1 silver)
The best is yet to come
Dayron Robles laid down the gauntlet to his rivals and in particular Chinese superstar Liu Xiang when he set a new 110m hurdles world record two months before the Olympics with a 12.87sec showing at Ostrava.
The 21-year-old Cuban now has a time just a hundredth of a second faster than his Chinese rival and their struggle at Beijing should be electric.
He had registered a previous breathtaking chrono when winning the world athletics final at Stuttgart in September 2007, stopping the clock at 12.92 but can he do the business in a major competition where he sometimes lets nerves get the better of him.
It would seem incontestable that Robles has a golden future when reflecting on that day in Stuttgart, when he also went some way to erasing the painful memory of the 2007 world championships at Osaka where he felt crushed by the size of the event and could only manage fourth on the big day.
Speaking about the big stage pressure Robles had this to say: "I had failed to take this aspect into account. Today, I know the best is yet to come."
Robles was born in November 1986 at Guantanamo and benefited from training with 2000 Olympic champion Anier Garcia while his own uncle, Eulogio Robles, was a major figure in Cuban hurdling back in the 1970's.
Vintage year
As a youngster, Dayron first took to athletics at age 10 where his first adventures saw him favour the high jump, but by 13 his course was firmly fixed on the ten hurdles that make up this sprint event.
Years of hard training finally bore fruit at the 2004 world youth championships where he took a silver medal and confirmed his talent on the big stage.
A year later Robles was competing against the men, and made it as far as the semi-finals of the 2005 world championships in Helsinki.
His progress since has been steady. He beat Garcia's Cuban record at Stuttgart in September 2006: "I'll end up going under 13 seconds, it's just a matter of time," he predicted. In the event it turned out to be just a year.
The 2006 campaign was a vintage year for him with a silver medal at Moscow for the 60m hurdles at the indoor world championships and also a new personal record over 110m with 13 seconds exactly.
Since that time the young reggae and rap fan has bee inching his way to the summit of the sport and come Beijing he will be one of the main rivals to the man the world will be watching at the 110m final, Liu Xiang.