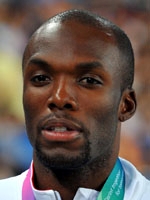 Lashawn Merritt
Date of birth
1986-06-27
Birthplace
Portsmouth
Height
190 cm
Weight
84.0 kg
Olympic Games (2 medals - 2 gold)
400m: 1st (2008)

4x400m relay: 1st (2008)
World Championships (6 medals - 4 gold, 2 silver)
400m: 1st (2009), 2nd (2007, 2011)

4x400m relay: 1st (2007, 2009, 2011)
World indoor Championships (1 medal - 1 gold)
In the footsteps of Michael Johnson
LaShawn Merritt will get the chance to defend his 400m Olympic crown in London despite testing positive three times for steroids and serving a 21-month ban which has since expired opening the way for a crack at the double in the English capital.
His participation also hinged on a decision by the Court of Arbitration for Sport (CAS) to override the policy of the IOC who normally exclude athletes from competing at the Olympics if they have served bans of longer than six months.
Until he ran into these problems, which he blamed on treatment to enlarge his penis, his rise to the top had been spectacular.
A native of Portsmouth, Virginia, Merritt initially took up football and baseball before switching to athletics on the advice of his father.
World junior champion over 400m in 2004, he then took world silver at senior level in 2007 when he ran under 44secs for the first time (43:96) in the Japanese city of Osaka and picked up gold as the USA won the 4x400m.
At the Beijing Games in 2008, the 400m final produced a surprise as Merritt defeated his compatriot and race favourite Jeremy Wariner with a personal best of 43.75secs and the fifth best time in history, behind world record holder Michael Johnson (43.18secs), Harry Butch Reynolds, Wariner and Quincy Watts, all fellow Americans.
He then picked up his second Olympic title just days later by helping lead the crack US relay team (Wariner, Angelo Taylor, David Neville) to 4x400m glory ahead of Great Britain and Australia.
In memory of Antwan
One year later at the world championships in Berlin, Merritt again dominated Wariner to take his first individual global crown and added his second straight 4x400m gold before his troubles began.
"I have never taken products to improve my performances. It was an idiotic and immature mistake. There is no sanction that can hide my embarrassment and humiliation," claimed the Olympic champion who continued to train seriously even during his 21-month ban.
On July 29, 2011, he returned to competition in Stockholm and clocked an impressive time of 44.74secs to finish second behind Jamaica's Jermaine Gonzales and signal that he was still capable of further greatness.
At the 2011 world championships a second title eluded him but silver was still an brilliant showing as Grenada's 19-year-old starlet Kirani James stunned the field to win gold.
He will take much heart however from the fact he set the year's fastest time of 44.35secs.
"At London, I will be more motivated than ever". he declared ahead of his quest to become only the second man after Michael Johnson to successfully defend the 400m Olympic title.
He will not be alone in his bid as he continually carries the memory of his older brother Antwan who was killed accidentally in 1999 when he fell out of a window.
"Everything that I do, I try to do it for Antwan. When I run, I know he will be there at my side." he said.
Before every race, Merritt points to the sky for inspiration and will certainly be running for his brother when he chases one of the rarest doubles in Olympic athletics.