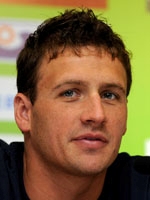 Ryan Lochte
Date of birth
1984-08-03
Birthplace
Canandaigua
Height
187 cm
Weight
87.0 kg
World records
16 / 12 individual (long course: 200m backstroke, 200m medley, 4x200m freestyle - short course: 100m, 200m backstroke, 100m, 200m, 400m medley, 4x100m freestyle) - up to 09/02/2012
Olympic Games (6 medals - 3 gold, 1 silver, 2 bronze)
200m backstroke: 1st (2008)

200m medley: 2nd (2004), 3rd (2008)

400m medley: 3rd (2008)

4x200m freestyle: 1st (2004, 2008)
World Championships (19 medals - 12 gold, 3 silver, 4 bronze)
200 freestyle: 1st (2011)

100m backstroke: 2nd (2007)

200m backstroke: 1st (2007, 2011), 3rd (2005, 2009)

200m medley: 1st (2009, 2011), 2nd (2007), 3rd (2005)

400m medley: 1st (2009, 2011), 2nd (2007)

4x100m freestyle: 1st (2009), 3rd (2011)

4x200m freestyle: 1st (2005, 2007, 2009, 2011)
World Short Course Championships (22 medals - 14 gold, 5 silver, 3 bronze)
200m freestyle: 1st (2010), 3rd (2004)

200m backstroke: 1st (2006, 2010), 2nd (2008)

100m medley: 1st (2008, 2010)

200m medley: 1st (2006, 2008, 2010), 2nd (2004)

400m medley: 1st (2006, 2008, 2010)

4x100m freestyle: 1st (2008), 3rd (2006)

4x200m freestyle: 1st (2004), 2nd (2010), 3rd (2006)

4x100m medley: 1st (2010), 2nd (2006, 2008)
The big challenger to Phelps
Ryan Lochte stamped his authority on the men's world of swimming just one year ahead of the 2012 London Olympics when he won five gold medals and a bronze at the 2011 world championships in Shanghai.
On top of that in the two races that he came up against the legendary Michael Phelps of 14 Olympic gold medal fame, Lochte relegated his American compatriot into second place during the 200m freestyle and 200m individual medley, setting the stage perfectly for what will be an epic battle in the London pool.
At Shanghai, the Florida native displayed a menacing show of competitive spirit as the surf-loving Lochte took his results to higher levels thanks to extensive dry-land training that has recently brought him out of Phelps's shadow.
He has already shown a wide array of all-round talent that makes him arguably the only man who has the natural skills to compete with Phelps in multiple races going into the Olympics.
In 2008 at the Beijing Games where Phelps won a historic eight titles, Lochte won his first Olympic individual gold with victory in the 200m backstroke which opened the floodgates for a string of titles.
At 28-years-old, Lochte already has 47 top competition medals, including six Olympic (3 gold), 19 world championship long-course medals (12 gold, 7 individual) and 22 medals in short-course events (14 gold, 11 individual).
"A bit more crazy"
"What Michael (Phelps) did in 2008 will go down in history," readily admits Lochte ahead of Shanghai. "But that was three years ago and I am a much better swimmer than in 2008".
The American certainly proved that as he scorched to gold in the 200m freestyle, 200m backstroke, 200m and 400m individual medleys and the 4x200m freestyle relay while also picking up a bronze in the 4x100m freestyle relay.
He also broke the first world record since the disappearance of the controversial combination suits with a time of 1min 54.00secs in the 200m individual medley.
Outside the pool, Lochte and Phelps are different types of personality. "We have different lifestyles. He is a bit more conservative while I am a bit more extravagant or crazy," admits Lochte who has been known to don colourful pink or purple trunks in competition.
He is also popular with the opposite sex and is often greeted with crowds of young and old screaming admirers who have come out to cheer him on.
His father who is a swimming instructor played a major influence on his young son and introduced Ryan to the pool at just 3 which was where his rise to stardom began.
He obviously loves the big competitions as well and after two medals (4x200m gold, 200m medley silver) at the Athens Olympics, four in Beijing (200m backstroke gold, 4x200m gold, 200m and 400m medley bronze), the big question is what can he win in London.
Time will tell.