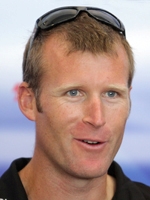 Mahe Drysdale
Date of birth
1978-11-19
Birthplace
Melbourne (Australia)
Height
200 cm
Weight
100.0 kg
Olympic Games (1 medal - 1 bronze)
Single sculls : 3rd (2008)

Quadruple sculls : 5th (2004)
World Championships (6 medals - 5 gold, 1 silver)
Single sculls : 1st (2005, 2006, 2007, 2009, 2011), 2nd (2010)
Drysdale targets ultimate conquest
Five-time skiff world champion (2005, 2006, 2007, 2009, 2011), Mahe Drysdale is still striving for his ultimate prize in the form of an Olympic title and London 2012 will likely be his last crack at the gold with his best performance so far on the highest stage being a bronze four years ago at Beijing 2008.
The New Zealander picked up the Olympic bug and the ambition of becoming champion all the way back in 1988 when he witnessed the likes of Carl Lewis, who was just one of the stars on show in Seoul.
"At school, I competed in a lot of sports and I loved competition but I never reached the level needed to qualify for the Olympics", he confessed.
That was before he discovered rowing at 18-years-old while attending the University of Auckland and going on to show potential Olympic class before he shelved his sporting future in order to concentrate on his education.
After picking up a degree in business, he went back to rowing and made his World Cup debut in 2002 with the New Zealand coxless fours team before appearing at his first Olympic Games at Athens 2004 and helping the team to fifth place.
After the Games, he made the bold decision to switch to the skiff and row solo in order to take advantage of his 2 metre height and hefty frame of some 100kg.
Beijing disappointment
The decision reaped immediate benefits and a maiden world title at Gifu, Japan in August 2005, amazingly just three months after he fractured two vertebrae during training when he collided with a water skier on Lake Karapiro in New Zealand.
It would be the first of five world titles.
He was given the honour of carrying his country's flag at the opening ceremony for the Beijing Games but despite being hot favourite to win skiff gold, he encountered a nightmare when sickness drained him of crucial energy and only a brave effort salvaged a bronze behind 2004 Norwegian Olympic champion Olaf Tufte and Czech rower Ondrej Synek.
Such was the effort required just to take third in that race while carrying a nasty stomach bug that he was taken to hospital by ambulance following the race.
He won his last world title at Bled, Slovenia in the summer of 2011 which was especially satisfying following a gruelling season in 2010 when he was laid low by a serious back injury but still managed to finish second at his "home" world championships on Lake Karapiro.
"Now, I am completely confident and I really want to fulfill my dream on August 4 in London," he admitted shortly after his most recent world crown.
It will almost be like competing at a home away from home in London as he splits his time living and training in the English capital and his homeland of New Zealand.