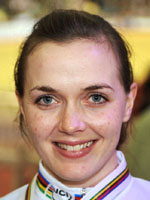 Victoria Pendleton
Date of birth
1980-09-24
Birthplace
Stotfold (England)
Height
165 cm
Weight
62.0 kg
Discipline
Sprint, keirin
Olympic Games
500m time-trial: 6th (2004)
World Championships (8 medals - 6 gold, 2 silver)
Sprint: 1st (2005, 2007, 2008), 2nd (2006)

Team sprint: 1st (2007, 2008)

Keirin: 1st (2007), 2nd (2008)
Commonwealth Games (2 medals - 1 gold, 1 silver)
500m: 2nd (2006)

Sprint : 1st (2006)
Queen Victoria's naked ambition
After a meltdown at Athens she is ravenously hungry for further success, admitting that six world titles are far from enough, Britain's beautiful track queen Victoria Pendleton is determined and focused on an Olympic title.
Born in Southern England in September 1980 her father Max was a former cyclist and by 16 she had had trails at the Manchester velodrome, scene of her latest world titles and currently her permanent home.
Graduating in sports science in 2002 she launched into a cycling career with the Commonwealth Games, in Manchester, where she took a fourth place in the sprint. At the world championships of 2003 and 2004 she also came fourth in the sprint, but set off for Athens with high hopes.
She now admits to being completely overwhelmed by the experience and was let traumatised by her underperformance. The British team sport psychologist helped her straighten out her ideas and gave her the emotional armoury to deal with high pressure events.
The following year she powered to victory in the Los Angeles worlds but was unable to rejoice, saying she felt lucky. The 2006 season featured a commonwealth gold and the World Cup, but had to settle for world sprint silver when Belarusian Natalia Tsylinskaya's experience and power proved enough for the gold.
The fruit of her labours
But in Palma de Majorca in April 2007 everything came right for the then 26-year-old when she reclaimed her coveted sprint crown, took the inaugural women's team sprint with her new partner and friend Shanaze Reade and stormed to a third gold in the keirin finishing convincingly ahead of strong Chinese racer Shuang Guo.
The performance caused a stir in Britain, where track cycling is a minority sport, but due to the strong national team and Pendleton's stand out physical beauty, she started to get a great deal of attention.
Ahead of the home based World championships of 2008 the Observer ran an arty photo of a nude Pendleton on a bike, similar to the one Annie Liebevitz did of Lance Armstrong.
She defended her world sprint and team sprint titles at those Manchester worlds but mistimed her finish in the keirin, where she still got silver.
I actually enjoyed this one," she said. «I had a lot of pressure on me to back up what I did last year so I was really hoping I wouldn't disappoint anyone.
"So winning this one really confirms to me that I can do it, that I do have the legs to be the best in the world," she said about her sprint title.
Out at Beijing there will be a single event for women's sprinters, the sprint itself, where she must now back up the back-to-back world titles by burying the ghost of her Athens meltdown.