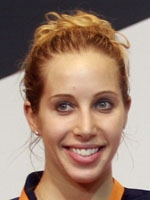 Mariel Zagunis
Date of birth
1985-03-03
Birthplace
Beavertown
Height
173 cm
Weight
73.0 kg
Olympic Games (3 medals - 2 gold, 1 bronze)
Individual : 1st (2004, 2008)

Team : 3rd (2008)
World Championships (8 medals - 3 gold, 4 silver, 1 bronze)
Individual : 1st (2009, 2010), 2nd (2006, 2011)

Team: 1st (2005), 2nd (2004, 2006), 3rd (2011)
World Cup
1st (2006, 2009, 2010, 2011)
The Queen of the Sabre
Mariel Zagunis has already won two consecutive Olympic sabre titles and now targets a rare hat-trick in London as the American attempts to erase the disappointment of losing the 2011 world title by a single point.
The 27-year-old is at the summit of her art and agonisingly missed out on a third straight world title in Catania when she blew a 12-5 advantage against Russia's Sofia Velikaia and suffered a painful 15-14 defeat.
The daughter of Robert and Cathy Zagunis who met during American rowing trials for the 1976 Olympics in Montreal in which they both competed brought up their daughter Mariel in the Oregon-based city of Beaverton where she discovered fencing at a very young age and made the decisive early switch from foil to sabre.
Another early advantage for the young Zagunis was that the former Polish fencer Ed Korfanty carried out his training in Portland and was able to pass on valuable expertise during the 1990's.
It was obvious she had a bright future in the sport when in 2001 at just 16-years-old, she won the under-17 world title as well as the individual and team titles in the junior category (under-20's), a feat never seen before.
Last minute Olympic entry
Her greatest triumph was just around the corner when at 19, she won Olympic gold in the women's sabre at Athens, the first fencing title for the USA in a century, ironically when she only slipped into the competition thanks to the withdrawall of a Nigerian competitor.
After her miraculous Olympic victory, Zagunis solidified her place at the top of the sabre ladder, winning 4 world medals : inidividual silver in 2006, team gold in 2005 and silver in 2004 and 2006.
While she was an unknown at the 2004 Games, Zagunis was odds-on favourite at Beijing in 2008 although she came into the competition ranked only fifth in the world.
She cruised through the field and into the final where she thrashed her American teammate Sada Jacobson 15-8 while Rebecca Ward completed an unprecedented USA sweep of the medals.
Strangely however the American trio could only manage bronze in the team event.
World titles followed in 2009 and 2010 for the newly crowned double Olympic champion before the heartbreaking one point defeat in the 2011 final.
She will be a young veteran in London where at 27, Zagunis chases a third straight gold medal in the only individual sabre event to feature at the Games.