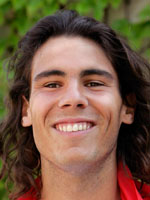 Rafael Nadal
Date of birth
1986-06-03
Birthplace
Palma de Majorca
Height
185 cm
Weight
85.0 kg
Professional debut
2001
Grand Slam titles
5 (up to 06/07/2008)
Victories in tournaments
29 (singles), 4 (doubles) - up to 06/07/2008
Best year-end ATP world ranking
2nd (2005, 2006, 2007)
Grand Slam Tournaments
Australian Open : 1 semi-final (2008)

4 French Open titles (2005, 2006, 2007, 2008)

1 Wimbledon title (2008), 2 finals (2006, 2007)
Other victories
1 Davis Cup title (2004)

Masters : 2 semi-finals (2006, 2007)
Records
81 consecutive victories on clay (08/04/2005-20/05/2007) - previous record : Guillermo Vilas/ARG - 53 in 1977 -
The red clay raging bull
With three consecutive Roland Garros titles between 2005-2007, an insatiable will to win every single point and a brutal, pummelling style of play, Spain's Rafael Nadal is the undoubted king of the clay court.
The bullish Mallorcan is one of the few men stopping Roger Federer from total domination of the game and seemingly has sport in his genes, with his uncle the ex-Barcelona defender Miguel Angel Nadal playing at three World Cups for Spain while another uncle, Toni Nadal, is Rafael's coach.
Born in 1986 he was playing tennis by the age of four, was entered at competition at eight and at 16 was the youngest man to ever win an ATP game at the Mallorca International series of 2002.
His first taste of top level glory came with the so called "Armada" Spain's David Cup team, who beat the USA in the 2004 final, endearing him to the national press and public. That year he also won his first ATP tournament.
Federer's bogeyman
Perhaps Nadal's finest hour was his first run to glory at the French Open in 2005 when his seemingly bottomless well of passion, energy and verve carried him past a disgusted looking Roger Federer in the semi-finals.
He had to then come from a set down against Argentine Mariano Puerta to win 3 sets to 1 in the final.
In the following two finals, 2006 and 2007, he brushed Federer himself aside, the silken Swiss seemingly losing his cool under the relentless left-hander's steel gaze and ever improving service.
The rivalry, that also saw two Wimbledon final wins over Nadal for Federer in 2006 and 2007, has been emblematic of their generation and many feel it is only a question of time before the Spaniard wrestles the world number one mantle from the older man's grasp.
Such is the draw to take part at what should be a truly unforgettable Beijing Games that Federer, Nadal and most of the world's top players of either gender will be vying for gold out on the hard courts in China 2008.