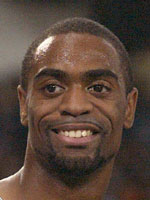 Tyson Gay
Date of birth
1982-08-09
Birthplace
Lexington
Height
183 cm
Weight
75.0 kg
Discipline
100m, 200m
World Championships (3 medals -- 3 gold)
100m: 1st (2007)

200m: 1st (2007)

4x100m relay: 1st (2007)
Tyson triple KO's all comers
Sprint sensation Tyson Gay entered an elite club of just three triple champions at the 2007 world championships, joining Maurice Greene and Carl Lewis when winning gold in the 100, 200 and 4x100 in Osaka.
The spotlight will now be firmly focused on the American rather than his chief rival and one-time 100-meter world record holder Asafa Powell of Jamaica, who finished third in Japan.
Even Powell's countryman Usain Bolt, the 100 world record holder, does not frighten Gay, who recorded a wind-aided time of 9.68 and another chrono of 9.77 at the U.S. trials.
While Bolt has ran .05 seconds quicker and Powell has stopped the clock .03 seconds faster than Gay, that will count for nothing when the gun goes in the Olympic final, should all three as expected qualify.
Gay came from behind to overtake a panicked Powell in Osaka and win the 100 in 9.85, and also beat Michael Johnson's championships record with a 19.76 in the final of the 200.
There was a lot of talk about Gay breaking Johnson's mythical 200 record of 19.32 at Beijing but disaster struck at the U.S. Olympic trials when he failed to finish the 200 after breaking down with cramps.
He first proved he could pack a punch with the heavyweights of world sprinting in 2006 as he bludgeoned his way to the top with a relentless series of lightening times throughout the season.
In his breakthrough year of 2005, Gay had threatened to win the 200 at the world championships in Helsinki when setting a blistering semifinal pace to go into the final as the fastest man and ahead of race favorite Justin Gatlin.
Clean, but neither lean nor mean
But his inexperience hamstrung him on the big day as Gatlin stormed to gold ahead of Wallace Spearmon and John Capel. Gay's fourth-place finish, however, made it the first world track event where competitors from a single nation took the top four places.
Not that the lack of a medal bothered him, as he says his faith in God helps him accept defeats in the same manner of victories and that at that stage, having won neither a major competition nor set a world record, he had no room for arrogance.
In the face of Justin Gatlin's doping problems Gay says God is his own doping product, that he has come this far clean and will continue in that manner.
He is a marketing graduate whose bulky frame pays testament to his love for American football as a schoolboy but whose side interests now include vintage cars; he is the proud owner of a 1970 Plymouth Satellite.