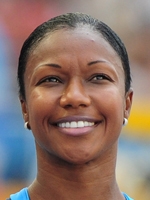 Carmelita Jeter
Date of birth
1979-11-24
Birthplace
Los Angeles
Height
164 cm
Weight
60.0 kg
World Championships (6 medals - 3 gold, 1 silver, 2 bronze)
100m: 1st (2011), 3rd (2007, 2009)

200m: 2nd (2011)

4x100m: 1st (2007, 2011)
World Indoor Championships (1 medal - 1 silver)
Jet engine
Los Angeles native Carmelita Jeter will look to build on the 100m world title she won in 2011 by making it a golden double with Olympic glory in London, where a strong cast will do battle for the greatest sprint prize on offer.
Jeter will also be quietly confident of a rare treble as she looks to improve on a world 200m silver in Daegu and her second 4x100m global gold as the American team look to stamp their mark in the English capital in the summer of 2012.
A late bloomer, she hit the jackpot at 31 in South Korea after a season of consistently strong showings but eyebrows were raised in some corners after her sudden rise to the top of women's sprinting in the space of just one year.
In 2008, the American was recording times in the region of 10.97secs over 100m but a stunning race in September 2009 in Shanghai saw her stop the clock at 10.64secs, which goes down as the fourth fastest time in history.
It was also the fastest mark since the late 1988 Olympic champion Florence Griffith-Joyner who sill holds the world record of 10.49secs set in the Seoul final.
"I am not surprised that people are asking questions about my form but I have been working very hard and I am very disappointed not to get the recognition I deserve," retorted Jeter who has transformed her physique in an impressive turnaround.
Basketball distraction
Jeter is no newcomer to international success and at 27, she won bronze at the Osaka 2007 world championships, where she also helped the USA to 4x100m relay gold, a feat repeated two years later at the Berlin worlds of 2009.
She is now trained by John Smith and originally had ambitions of becoming a professional basketball player before her college coach advised her she had a brighter future in athletics.
A problematic groin injury slowed her progress but when back to full fitness she improved on her time of 11.48secs from a June, 2006 race in Los Angeles, to 11.02secs one year later in Osaka to nail down that first individual world bronze.
For many years she was considered as an athlete who couldn't do it on the big stage and even failed to qualify for the Beijing Olympics in 2008. She finally silenced her critics in 2011 when she was elected American athlete of the year thanks to the success of her first individual gold at the world championships.
Jeter will be a major contender when one of the biggest prizes in athletics, the women's 100m dash, goes on offer at the much anticipated London Games.