OTTERDAM, Netherlands -- Lance Armstrong was signing autographs next to the RadioShack team bus at the start of a stage race in Luxembourg in early June, the focus of attention during the curious cycling ritual where the working media is forced to jostle for work space with fans.
A camera from a Belgian television network was trained on Armstrong when an unseen reporter aimed a microphone at him and said, "Floyd Landis accuses you of doping. What do you have to say about that?"
The seven-time Tour de France winner didn't look up.
"Absolutely nothing to say," Armstrong replied, continuing to sign away.
"Did you ever use doping substances?"
That merited eye contact. Armstrong looked up through sunglasses tinted as dark as limousine windows and paused significantly.
"How many times have I answered that question?" he said with that familiar, deliberate cadence. "The answer hasn't changed. Don't ask me another stupid [expletive] question like that."
Armstrong is tired of the "stupid [expletive] question." So are a lot of people, whether they despise him or revere him. It has been more than a decade since the question was first posed publicly, yet real closure still seems distant.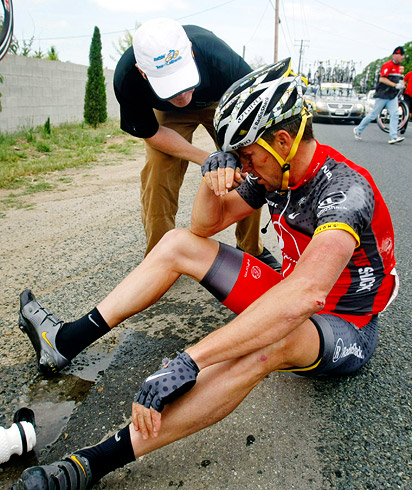 AP Photo/Marcio Jose Sanchez
After crashing out of the Tour of California in May, Lance Armstrong's form seems to be on the upswing with top-three finishes in Luxembourg and the Tour of Switzerland in June.
It used to be rare to see Armstrong so openly cranky. It used to be unusual to see him crash, too, so it was odd to watch him abandon the Tour of California in mid-May with blood streaming down his face. Yet that wasn't nearly the most damaging event of that race.
The 38-year-old Armstrong will start his 13th Tour de France on Saturday in this North Sea port city figuratively bloodied as he faces the most serious doping allegations of his controversial career -- allegations that touch several other teams and riders lining up for the race and could help make this one of the more volatile Tours in recent memory.
Landis, who rode for Armstrong's U.S. Postal Service team from 2002-04, detailed organized doping within that team in a lengthy interview with ESPN.com during the Tour of California and in e-mails sent to cycling officials in the months leading up to his admissions. In that interview, he directly implicated all of the Postal riders on Tour de France rosters during those three years, along with the team's management, adding, "I hesitate to say it was ever forced on me, or expected of me. It was there and they said, 'Here's how you do it,' but it wasn't demanded, that's for sure … It was my decision, every time." Landis also named several riders from other teams and said the complicity in cheating at Phonak, the Swiss team whose colors he wore for two seasons, went all the way to the top. No one he named has publicly corroborated his statements.
After years of maintaining his own innocence, Landis also confessed he had used performance-enhancing substances and techniques throughout his career, including during his winning campaign in the 2006 Tour, a title subsequently stripped following Landis' positive test for synthetic testosterone. Landis told ESPN.com he eventually mastered the art of blood doping by himself and became increasingly bold about it, even having a friend dressed as a fan deliver a replenishment blood bag to him at the finish line of a 2006 Tour stage.
Armstrong has raced under suspicion and under investigation before, but Landis' charges were apparently the first to make U.S. federal officials sit up and take notice. Jeff Novitzky, the Food and Drug Administration agent who led the probe into the BALCO case that involved several high-profile American athletes, is casting a wide net to try to determine if Landis' information is enough to empanel a grand jury to consider charges against Armstrong or any of the other individuals or corporate entities Landis named.
Novitzky is in the process of interviewing riders and staff members, some who were named in Landis' allegations and others who were not, but might be able to contribute leads or evidence. His probe is being supported by U.S. Attorney Doug Miller, a Los Angeles-based federal prosecutor who also figured into the BALCO case. Novitzky is also leading an investigation into another U.S.-based cycling outfit, the now all-but-defunct Rock Racing team that sought unsuccessfully to sign Landis for this season. Some Rock Racing riders also competed for Postal in previous years, but the Rock inquiry began well before Landis spoke with Novitzky.
In addition to the FDA inquiry, Armstrong and other riders who competed for the Astana team in last year's Tour are the subjects of an ongoing investigation by French authorities who said they found banned transfusion equipment in discarded medical waste. Finally, several national cycling federations are conducting investigations against individuals fingered by Landis.
Since 1999, when Armstrong found himself on the defensive about reports that he had tested positive for a corticosteroid in the midst of his first winning Tour campaign, he has consistently denied using performance-enhancing drugs. He has maintained that stance while repeatedly sprinting through burning hoops of skepticism that might have consumed any other career. He has said Landis' statements about him and the team are false and won't affect his current Tour bid. "In fact, in the end, it will be the opposite," he told a small group of wire service reporters this week. "It's going to inspire me."
Armstrong once addressed a book brimming with circumstantial evidence against him by telling the assembled media at the Tour -- including the book's co-author, Irish journalist David Walsh -- that extraordinary allegations required extraordinary proof. The recent allegations by Landis are the most extraordinary yet because of their scope, their soul-baring nature and their source, a man whose life is in a shambles and has no clear way to profit from his revelations.
Landis' credibility is an easy target and he will continue to be savaged by Armstrong and others, but that's moot now, because his statements have triggered an extraordinary effort. The narrative is now beyond the control of either man.
If the picture Landis sketched is true, its historical impact would reach far beyond Armstrong. It would mean that doping condoned and/or organized by cycling teams never even paused after the 1998 Festina scandal that lifted the lid on its extent, but simply went deeper underground until the next round of mines went off in 2006 and 2007.
A few truisms have become abundantly clear since then, not just in cycling but throughout elite sport. (1) The number of tests an athlete "passes" may have no correlation to his or her guilt. (2) Athletes have an amazing capacity to lie and deny about the subject of doping for years on end. (3) A charismatic personality is not an accurate indicator of integrity.
The intense prerace interest in whether Armstrong is truly in legal jeopardy is competing with interest in the actual event, in which defending champion and Astana team leader Alberto Contador of Spain remains the favorite, although he did not look dominant in the recent Dauphine Libere tuneup. Saxo Bank's young talent Andy Schleck is not far behind despite growing disarray on his team, and a half-dozen other riders -- many lists include Armstrong, who finished third last year -- are probably in a position to contend for the last podium slot.
Armstrong's physical form was shaky for much of this season, but seemed to be on the upswing with top-three finishes in Luxembourg and the Tour of Switzerland in June. He has looked more like his old self in the mountains than in time trials since his comeback and was best late in last year's Tour, so a course with only one long individual time trial and extreme doses of climbing back-loaded on the third week suits him. His focus is renowned, he is a canny in-race tactician, and he certainly has ample practice at parrying attacks on his character.
RadioShack is fielding one of the strongest and most disciplined nine-man teams in the race. Armstrong, versatile if aging, is expected to ably navigate the treacherous cobblestones of Tuesday's Stage 3 where some overall contenders may lose the Tour.
But it's difficult to imagine that it'll be business as usual when he rolls down the start ramp for the prologue time trial on Saturday -- as difficult as it is for many to swallow that Armstrong could have been virtually the only clean athlete among the top riders of his generation.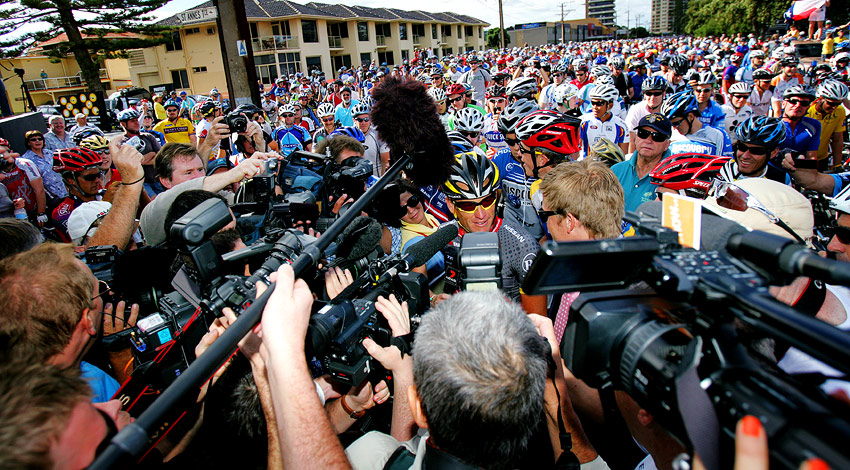 Mark Gunter/AFP/Getty Images
Media scrums at cycling races are definitely unique, as riders hold makeshift interviews before and after stages.
Reality strikes again
Landis' bombshell included a sobering explanation of how sophisticated athletes have become in beating testing that has also grown far more refined in the years since Festina. That upped the ante for anti-doping authorities. It also suggested, not for the first time, that law enforcement involvement might be a more efficient, effective deterrent than any blood or urine sample analysis.
Will this Tour feature police searches of hotels and buses? Will detectives be hunting for incriminating evidence in team trash? Border crossings during the first week could give customs officials, who have cracked more than one doping case in the past, license to rifle through vehicles in the enormous Tour caravan. Bob Stapleton, owner of California-based HTC-Columbia, has certainly considered the possibility.
"It could turn the race into a circus, for sure, but if there's a reason to do it, we have to take all steps necessary to ensure fair competition and build public confidence in what they're seeing," Stapleton said. "I personally don't fear that."
Garmin-Transitions director Jonathan Vaughters said he welcomed any action that "pressures the sport to move forward … I've said publicly and privately on multiple occasions that we can withstand any level of scrutiny." He instructed all of his riders and staff to cooperate if contacted by Novitzky or other investigators, and to tell the truth.
Testing oversight will change slightly at this year's Tour, although not strictly because of what Landis had to say. For the second time in the short history of the World Anti-Doping Agency, observers from WADA will monitor Tour testing by the UCI, cycling's international governing body. WADA played the same role in 2003.
The French anti-doping authority (AFLD) conducted anti-doping controls at the 2008 Tour at the height of a pitched feud with UCI that led to the race being removed from the international calendar. Seven riders tested positive that year. But when the Tour returned to UCI jurisdiction, the AFLD found itself shut out of in-competition testing again under WADA rules designed to avoid agency conflict at events. No positive tests were logged at the 2009 race.
AFLD requested permission to do extra tests at this year's edition, citing information funneled to it by French investigators. The UCI resisted, but invited WADA to shadow its testers. WADA ultimately ruled that its observers -- two three-person teams, each of which will work half the race -- would be the go-betweens, trying to ensure that riders the French want to target will be tested with no advance notice.
One of Landis' most serious charges was that Postal was routinely warned of supposedly unannounced morning doping controls, prompting riders to dilute their blood the night before to mask microdoses of EPO. Whistle-blower Jesus Manzano of Spain made similar allegations pertaining to his Kelme team several years ago, and the 2009 Astana team that included Armstrong was accused of delaying testers one morning.
WADA director general David Howman said the agency's decision was made independently of Landis' statements. "We didn't sit down and analyze any evidence that is still what I would call 'under consideration,'" Howman said. But he said he is being kept "up to speed on the progress" of all the investigations triggered by Landis' confession.
In the case of the U.S. federal probe, Howman said WADA could assist investigators by coordinating with Interpol, the international police agency, if U.S. officials want to talk to riders from other countries. (Interpol facilitates cooperation among police for crimes that span several of its 188 member countries.) He said the scope of the investigation is such that he expects its pace to be deliberate. "I'd rather it be slow and compelling than fast and loose," Howman said.
Testing at the Tour began with a round of visits Wednesday night, including one to Armstrong, whose Twitter feed recounted having given "six tubes of blood and urine. Must be time for the Tour!"
Garmin leader Christian Vande Velde, who will start his eighth Tour this weekend, said veteran riders have come to expect all kinds of media and doping-related shrapnel to fly in the days leading up to the race. He doesn't expect the peloton to be distracted once the race starts. Vande Velde said he has enough to worry about between aching ribs from a recent crash and a back-breaking stage strewn with cobblestoned sectors looming in the first week. He has added a reminder to himself on his iPod -- a hip-hop recording of the Serenity Prayer that counsels adherents to distinguish between what they can and can't control.
Risk versus reward
When Armstrong announced his return to professional cycling after a three-year absence, he vowed things would be different. He said he wanted a new and improved relationship with the media. He pledged transparency, outlining supplemental individual anti-doping controls to be performed by respected researcher Dr. Donald Catlin, with results to be published. He said he wanted to prove he could win clean, abandoning his past mantra that it was impossible to prove a negative. He said his main motivation was to promote a global campaign for cancer awareness.
Armstrong dismissed the idea that the risk-reward ratio of his comeback might be out of whack. He said he was most worried about riding poorly and didn't think questions about the past would weigh him down.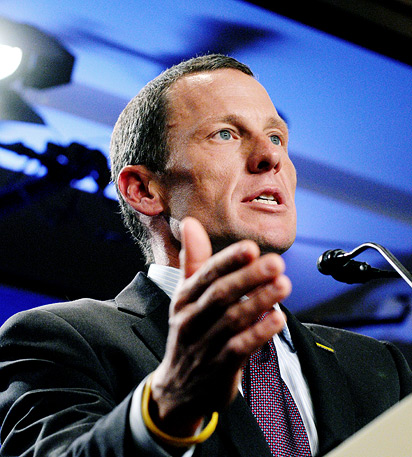 US Presswire
Lance Armstrong has said his main reason to return to competitive cycling was to globally promote cancer awareness.
Bit by bit, that construct has crumbled. The Catlin program fizzled before it began. When critics challenged Armstrong's blood values from last year's Tour as suspect, they were scrubbed from the Web. Armstrong later criticized a Danish scientist who had expressed public doubt about those numbers, saying he must have "graduated last in his class."
Armstrong has granted few interviews this season. During the 48 hours before the Tour starts, teams traditionally make their top riders and staff available to the media. Every top team in Rotterdam scheduled such a formal session but one -- RadioShack. The predictable theater of some past pre-Tour confrontations will thus be avoided, perhaps replaced by improvisation.
The Livestrong Foundation will have promotional booths at the start of each stage and bought a full-page ad in the race guide distributed to media and staff. "Wear Yellow," it proclaims under a black-and-white photo of Armstrong in the saddle in full competitive snarl.
Cancer advocacy is what made Armstrong transcend his sport. It's not uncommon to hear the argument that he has somehow balanced out any unacknowledged doping transgressions with good works, just as it's not uncommon to have people shrug at the notion that Armstrong took performance-enhancing drugs because they're convinced he simply did what all his peers were doing at the time. But Armstrong set himself apart by using his celebrity for the cause, urging people to combat an insidious disease with personal courage and healthy living. Cheating would be the antithesis of those principles no matter how widespread -- and pragmatic -- doping was or is.
Even Landis said he wouldn't tell people to take off those ubiquitous rubber bracelets. He said they've come to represent something beyond the polarizing figure who once treated him as a protégé. "People want hope, and that's why they want to buy yellow bracelets," he told ESPN.com recently. "Lance Armstrong survived cancer and became a better bike racer. It gave people hope that not only can they survive it, they can be better off afterwards. Hope is the root cause of all these problems."
Yet the hope that Armstrong has given cancer survivors by conquering his illness and subsequently conquering the most demanding endurance event in the world seven times running has long been based on another related hope: That he is telling the truth. Recent developments have brought that "stupid [expletive] question" to the forefront again. It may prove very complicated to get a definitive answer, but the question is not going anywhere.
Bonnie D. Ford covers tennis and Olympic sports for ESPN.com.