LONDON -- Forget all the world records for a moment. Forget, if you can, all the Olympic golds, the excitement he brought to the sport, the sheer presence that for 12 years injected much-needed excitement into track and field. When you break down Usain Bolt's dominance, examine the details of what he did and how he did it, it becomes clear why we might never see an athlete like him again.
Bolt was literally the biggest thing sprinting has ever seen
At 6-foot-5 and 208 pounds, Bolt is by far the largest man to ever hold the 100-meter world record. The enormous length of Bolt's strides allowed him to finish races in fewer steps, and his power helped him maintain the stride turnover rate of smaller men.
The Jamaican legend's closest competitor in terms of longevity, dominance and Olympic medals is Carl Lewis, who was 3 inches and more than 30 pounds smaller. No record-holder comes within 2 inches of Bolt's height; most are shorter by about half a foot. Calvin Smith, who set the record in 1983, was more than 50 pounds lighter. All that mass also provided a mental edge.
"Standing at 6-5, that's intimidating," said Justin Gatlin.
Bolt vs. other 100-meter world-record holders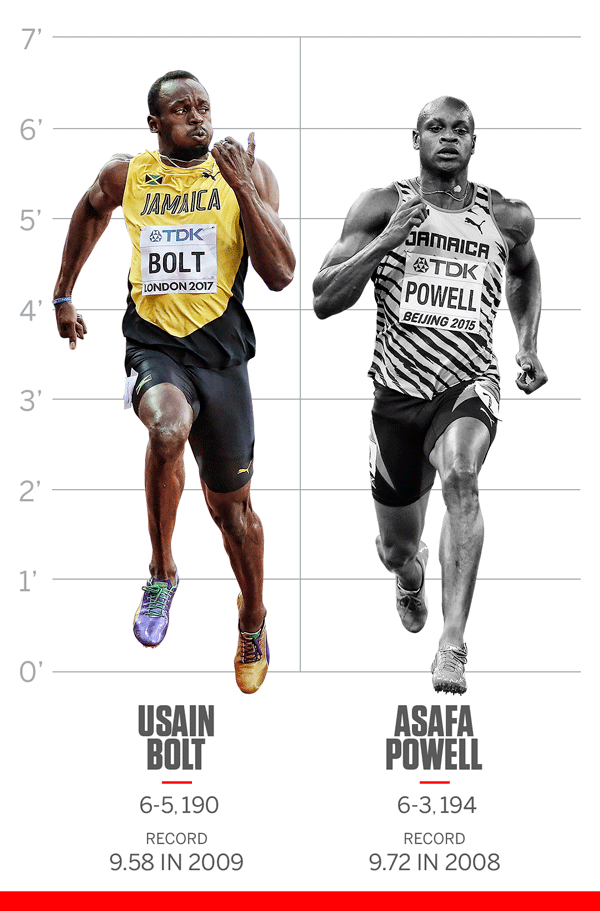 His margins of victory
Another sign of Bolt's dominance. Going back to 1983, when world championship meets were added to the Olympic slate, Bolt's average margin of victory in championship races is 32 percent larger than other winners. In other words, Bolt left 100-meter competitors further in his wake than anyone else.
Bolt was never tainted by track's doping scandals
Of the seven men who have run 9.80 seconds or better in the 100, Bolt is the only one who has never tested positive for performance-enhancing drugs.
The intangibles also matter
Bolt finally was beaten in his last 100-meter race at this past week's World Athletics Championships, but that does not erase his magnificence. His world record of 9.58 in the 100 is set in stone. No current athlete is within shouting distance of his 19.19 in the 200. He won three sprint golds in three straight Olympics, when no other athlete has done that twice. (One relay gold was later revoked, due to a teammate's positive drug test.)
But just as much as these astonishing numbers, Bolt's personality set him apart -- the energy, joy and excitement he delivered every time he stepped onto the track.
After finally defeating Bolt in London, Gatlin did not exult or strut. He literally bowed down to Bolt. "It was paying homage to someone who has changed the game, who has come along and took the sport to another level," Gatlin said. "Not just sprinting, but the sport, and helped sports in general be lifted to a different plateau."