Apolo Anton Ohno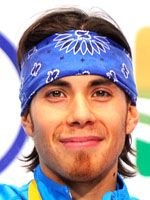 Apolo Anton Ohno
Date of birth

1982-05-22
Birthplace

Seattle
Height

173 cm
Weight

75.0 kg
Olympic Games (5 medals - 2 gold, 1 silver, 2 bronze)
500 m : 1st (2006)
1000m: 2nd (2002), 3rd (2006)
1500m: 1st (2002), 9th (2006)
Relay 5000m: 3rd (2006), 4th (2002)
World Championships (23 medals - 9 gold, 7 silver, 7 bronze)
Overall title: 1st (2008), 2nd (2001, 2005), 3rd (2007)
500m: 1st (2008), 2nd (1999)
1000m: 1st (2005), 2nd (2001, 2008, 2009), 3rd (2007)
1500m : 1st (2001, 2007)
3000m: 1st (2005), 2nd (2003), 3rd (2007, 2008)
5000m relay: 1st (2001, 2009), 3rd (2005, 2007)
Team event: 1st (2008), 3e (2009)
World Cup
Overall title: 1st (2001, 2003, 2005), 2nd (2009), 3rd (2004)
Rocket man
In the Olympic orbit since 2002 and a gold medal winner at both Salt Lake and Turin Apolo Anton Ohno of the United States is fine tuning his rocket engine thighs with the 2010 Vancouver Games his next major mission.
His father Yuki, a hair stylist, happened to watch a short track competition on television during one of his many trips to Europe, where he styled the hair of top models at fashion shows.
When he got back to the US, he suggested to Apolo that he have a go, and from then on he has never looked back.
As a 14-year-old the American became the youngest US short track champion ever when he sped to victory in the US championships in 1996.
The national coach Pat Wentland was so impressed he moved mountains to incorporate the prodigy into the Olympic training centre, despite the fact that he was under-age.
His performances in the build-up to the Nagano Games in 1998 were such that he had been pencilled into the team, but his plans were shortly sidelined after a slight weight problem hampered his chances at the start of the season.
Millionaire
Annoyed at the delay Ohno doubled his efforts and at the 1999 world championships in Sofia he was fourth in the overall standings, having come 2nd in the 500m. By the end of the year he had won his first World Cup race.
At the 2001 worlds he picked up silver medals in the 1000m, 1500m and the 5000m, paving the way to Salt Lake, which may be the high point of his career so far.
The American was to snatch his first Olympic gold in the 1500m on a night of controversy. World-Cup holder Kim Dong-Sung crossed the line ahead of Ohno but the South Korean was disqualified for blocking Ohno's path. The Koreans were scandalised, but Ohno, who also took silver in the 1000m, danced with glee.
Ohno confirmed his status with world championship titles in 2003 and 2005 and was to claim three further Olympic medals at Turin.
At 24 he claimed the 500m title and bronze medals in the relay and the 1000m. All these titles and savvy backing had made him a millionaire, but a very tired one, so he decided to take a break.
He stayed away less than a year, coming back to claim another world championship gold, the 1500m. Two years later he was just short of the mark, claiming silver this time.
All bodes well for the 2010 Games, where another title would come as no surprise.
Copyright 2008 Agence France-Presse.