Bode Miller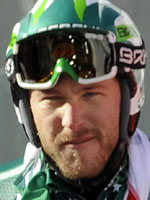 Bode Miller
Date of birth

1977-10-12
Birthplace

Franconia
Height

187 cm
Weight

97.0 kg
Olympic Games (2 medals - 2 silver)
Downhill: 5th (2006)
Giant slalom: 2nd (2002), 6th (2006)
Combined: 2nd (2002)
World Championships (5 medals - 4 gold, 1 silver)
Downhill: 1st (2005)
Super-G: 1st (2005), 2nd (2003)
Giant slalom: 1st (2003)
Combined: 1st (2003)
World Cup
Overall ranking : 1st (2005, 2008), 2nd (2003), 3rd (2006), 4th (2002, 2004, 2007)

Downhill: 2nd (2005, 2008)
Super-G: 1st (2005, 2007)
Giant slalom: 1st (2004), 2nd (2003, 2005)
Slalom: 2nd (2002)
Super-combined : 1st (2008)
Combined: 1st (2003, 2004), 2nd (2006)

31 victories (up to end of 2009 season)

7 downhills
5 super-G
9 giants
5 slaloms
2 super-combined
3 combined
Speed the king for slopes rebel
With an unorthodox self-taught posture and an ambivalence to victory stemming from his hippy background, you may not have tipped self-confessed party-lover Bode Miller to become America's greatest ever alpine skier.
But the maverick who grew up in the isolated wilds of New Hampshire and who divides opinion with his idiosyncratic stances, is hero worshipped by the fans in Europe, and regardless of whether the 'greatest' tag fits him, he is undisputably the outright star of the circuit.
Miller's stated aim is to ski as fast as he can, every time he hits the slopes. That's what he calls honesty, and it is an ideology that has brought him more World Cup wins than any other American, earning him eight crystal globes, two of them overall titles, as well as four world championships golds.
In spite of his sublime talent, some might say because of it, he failed to build upon his Salt Lake City Olympic debut where he took silvers in the giant and the combined, leading a riotous existence at the Turin Games, where he still managed 5th in the downhill and 6th in the giant.
Four years later at Turin, Miller went out to the Games as defending World Cup champion but apparently enjoyed some Olympian 'après ski' in the evenings, and even declined the early morning course examination which allows racers a last chance to get a mental picture of the course.
Unique attitude
Overhauling his entire racing and training philosophy, overcoming his win-or-nothing approach, and breaking away from the US Ski team and its coaching program, Miller experienced something of an Indian summer in the 2007-2008 season.
A string of sublime performances earned him the overall and super combined titles and second place in the downhill standings, a discipline he might have won had not the last race been cancelled. What's more at the end of that season he had 31 world cup wins, four more than previous American record holder Phil Mahre.
The tall, solidly built and uncompromising man dropped out of the 2008-2009 season after the World Championships due to both an ankle injury and a keen desire to spend more time with his infant daughter.
Miller has hinted he may not appear at the 2010 Olympics and has lost the services of his coach John McBride.
Fans will hope for one last dazzling tournament at Vancouver to complete his impressive medals collection with an Olympic gold, although it shouldn't be forgotten that a medal may not be a motivating factor for this unique athlete.
Copyright 2008 Agence France-Presse.