No Drought!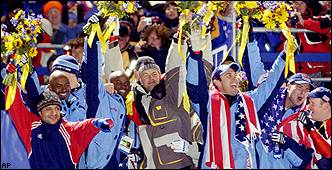 Todd Hays and Brian Shimer ended 46 years of U.S. bobsled frustration in a big way, taking silver and bronze in the four-man. And in the inaugural women's competition, Americans Jill Bakken and Vonetta Flowers -- who most thought weren't even the best U.S. team -- won an improbable gold.
• Complete bobsled results | Bobsled medals
• Caple: Sledding prince | Bakken's golden choice | Tourists
• Cruz: Suspended Jovanovic left out in cold


Total Medals by Country


Adelson: An experience worth millions
German Glessner's medal hopes died in January when, with $20 in his pocket, he tried his ATM card and it was invalid.

Adelson: Luge's not a spectator sport
Watching luge isn't exactly fan friendly. In fact, like NASCAR, most of it is all a big blur.

Keown: Fourth not the place to be
Americans Todd Hays and Garrett Hines finished in a hearbreaking fourth place in the two-man bobsled.

Caple: One in a billion
Shiva Keshavan is literally one in a billion. He's the lone athlete from India.

More Features & Columns


• Taiwan member critical after car crash
• Germans win gold, U.S. 2-3 in doubles luge
• Wilczak doesn't medal, but father is there
• Germans sweep women's luge | Can't watch
• Forget about any Racine-Davidson reunion
• German Hackl fails at 4th straight luge gold
• Caple: Hays emotional, but maybe uninformed
• Bobsledder Jovanovic banned for two years
More Headlines




In a sport dominated by Germans, American luger Becky Wilczak, a 2001 bronze medalist, is ranked fourth in World Cup and stands the best chance on the women's side to earn a U.S. medal at Salt Lake City.