Gold, and So Much More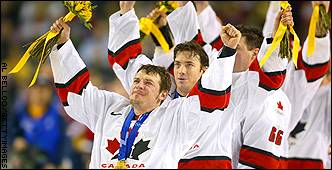 It was an unprecedented display of talent assembled on an international stage, and yet, it isn't a given that NHL players will return in the 2006 Games in Turin? The Games gave fans one of the biggest upsets in Olympic history, one United States men's team that couldn't repeat the "Miracle" and one Canadian team that ended 50 years of frustration with gold.
• Men's hockey: Complete results | Bronze medal
• Gretzky does it | Canada reclaims 'its game'
• Frei: Olympics worth NHL's time | Greatest game?


Total Medals by Country

| | |
| --- | --- |
| | WITH GEORGE JOHNSON |
Whether Wayne Gretzky's outburst was merely an emotional release of pent-up frustration or a ploy to divert pressure away from his players with the quarterfinals upon them is still unclear. What's inarguable now is that it's up to the Canadian players, over $120 million (in U.S. funds, no less!) in talent, to step up to the plate.

Adelson: What should have been?
While Belarus exceeded its expectations, the Russians were falling short of theirs.

Hradek: An 'eerie meeting'
Friday's Russia-USA 'Miracle on Ice' rematch is a hockey happening plenty of folks want to see.

Adelson: Not Mezin's day
Poor Andrei Mezin. The Belarus goalie knew this wasn't his day when Theoren Fleury rang one off his mask just after the opening face-off.

Johnson: Some teams get all the breaks
Suddenly, Team Canada has gone from the goat of the tournament back to the gold-medal favorite.

More Features & Columns


• IIHF president angry with Russia's comments
• Wings' Shanahan breaks thumb in Olympics
• U.S., Canada hockey officials deny flag-stomp rumor
• Bettman not ready to commit to 2006 Games
• Russian women shut out Germany for fifth
• China finishes with OT win over Kazakstan
• 'Miracle' rematch? Millions were watching
• Turek will rest rather than play in Olympics
More Headlines