X-ceptional Games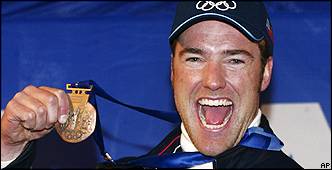 Was it surprising the United States dominated snowboarding at the Olympics? Not really, but that didn't mean there weren't great stories in Salt Lake City. American Chris Klug won bronze in the men's parallel giant slalom, just 19 months after receiving a liver transplant. It was a Halfpipe Nation as Ross Powers, Danny Kass and J.J. Thomas gave the U.S. its first Winter sweep in 46 years.
• Snowboarding: Complete results | Medal results
• Cruz: Klug's crew | Memory continues | Two families
Fan Guides:
Snowboarding
Get ESPN.com's outlook, the names to watch, and the finer points of the events, as well as a cool animated feature on each sport's ins and outs.


Total Medals by Country


Keown: Snowboarders get ticket to fame, fortune
Snowboarders might look out of place, but their medals allow permanent access to the halls of commerce and media.

Snowboarders still weeding through issues
Four years after gold medalist Ross Rebagliati made headlines for testing positive for marijuana, snowboarding still struggles to fit in with the Olympic establishment.

Olympic diary: Snowboarder Ross Powers
Ross Powers and other U.S. snowboarders hoped for some practice time at the Olympic venue but it didn't work out.

DeSimon: Lucky star
The bartender at the Holiday Inn in Mammoth, Calif., just happens to be Mexico's best snowboarder. Go figure.

More Features & Columns


• Clark wins first U.S. gold | Smokin' run
• Slovenia's Valentan wins jumping event
• Czeschin earns spot on U.S. halfpipe team
• France sharp in snowboarding tuneup
• Sorsa, Alzina win snowboard events
• Powers clinches 2nd Olympic berth
• Pogue edges Klug for Olympic berth
• Greenwood clinches Olympic spot




Jeff Greenwood started out as a recreational skier, but at age 12 he went snowboarding with a friend and after that he gave up skiing. Five months after joining the U.S. snowboard team he became the 1996 World Champion.