The Need for Speed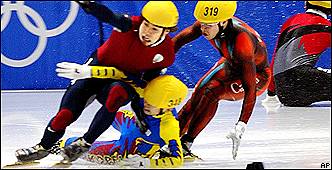 Apolo Anton Ohno was on the map even before the start of the Games. But for U.S. speedskating, there was more to these Olympics than the soul patch phenom. Ohno took home two medals in short track, but Derek Parra came out of nowhere to win gold and silver in long track. And Chris Witty's long-track gold rounded out a total of 11 medals won by the Americans.
• Speedskating: Complete results | Medal winners
• Ohno: Falls short | Ohno golden | Canada steals show
• Caple: Is a soul patch enough? | Parra true
Fan Guides:
Speedskating/Short Track
Get ESPN.com's outlook, the names to watch, and the finer points of the events, as well as a cool animated feature on each sport's ins and outs.


Total Medals by Country

| | |
| --- | --- |
| | WITH JIM CAPLE |
U.S. speedskater Annie Driscoll watched her teammates and her boyfriend get the call to go to the Olympics. She continued training as if she would make the Olympics but the days passed by, the opening ceremonies neared and she still didn't know whether she would be marching in with the other athletes or fleeing Salt Lake.

Q&A with Rusty Smith
Short track speedskater Rusty Smith settles into an Olympic rhythm and breaks in a new pair of skates.

Hovey: Ice, ice, baby
The Delta -- er, Salt Lake Ice Center is the hot spot at the center of the Games. It's about to get hotter.

Litigation between friends
Even if Davidson gets reinstated things might be a bit chilly for the team in Salt Lake.

Skaters say oh my to Ohno
As teammate Apolo Ohno gets the attention, Rusty Smith sits in the cool darkness of that shadow enjoying the peace and quietly making his own mark.

More Features & Columns


• Pechstein skates to gold, 5,000m record
• Dutchman posts world mark for 10,000m gold
• Parra wins 1,500 gold | True Olympian
• Short-track skater gets stern warning
• Ohno 'falls short' of gold | One-rink circus
• Germany's Friesinger adds to golden style
• Witty wins world-record gold in 1,000m
• Van Velde sets world record; Cheek bronze
More Headlines




A three-time world champion on roller skates, Jennifer Rodriguez made the switch to ice prompted by the man who has become her financé, KC Boutiette, in time to compete in 1998. At Nagano, she placed fourth in the 3,000 meters.