Situated southeast of Birmingham, Ala., Lay Lake is decidedly in the Deep South. But lately it's been more like the Deep Freeze.
The 2010 Bassmaster Classic is setting up to be one of the coldest Classics in the event's 40-year history. Fold recent rainfall into the mix — and the muddy mess it has created on Lay Lake — and you have a stiff challenge for the 51 anglers hoping to ascend to the throne of Classic champion.
"It's going to be a grind, no doubt," said Kevin VanDam, a two-time Classic champion and the reigning Toyota Tundra Bassmaster Angler of the Year. "The absolute toughest conditions are extremely cold and muddy water, especially a body of water where the water temperature is lower than normal.
"The fish don't like it. They shut down. You're not going to get 30 or 40 bites a day. You're going to have to work hard for a handful of bites. It'd be hard to catch them with an electroshock boat right now."
Cold Classic Days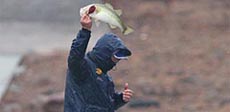 (click photo to open gallery)
The last time the weather was brutally cold for a Classic was Day One of the 2008 event on Lake Hartwell.
It's one of the coldest days in the history of the Classic.
Lay Lake's water temperature is currently in the low to middle 40-degree range, several degrees colder than it usually is this time of year. When the Classic last visited Lay Lake in 2007, the water temperature started out in the upper 40s during Classic practice and climbed into the mid to upper 50s by the end of the tournament, sending largemouth bass into the shallows in a classic prespawn movement that made them more accessible to anglers.
But Alabama and the rest of the southeast have experienced below-average temperatures throughout the winter. And according to the National Weather Service forecast office in Birmingham, anglers shouldn't expect a warming trend.
"The entire Deep South has been below normal," said Kevin Pence, science and operations officer for the weather service in Birmingham. "We've had several Arctic blasts, and the pattern is looking like there will be more shots of cold air."
Boyd Duckett of Demopolis, Ala., who reaped the benefits of the prespawn shift to win the 2007 Classic, said he's seen ice-covered feeder creeks on Alabama lakes this winter, an extremely rare occurrence in these latitudes.
"I go a whole winter down here and don't see 40-degree water," Duckett said. "I've seen it in the 30s this year. I'm willing to bet we'll see 45- to 46-degree water for the Classic. Fish are cold-blooded creatures, so their metabolism slows down. I'm not even sure they'll know it's Feb. 19."
Reed Montgomery, who has operated a fishing guide service on Lay and other Alabama lakes for close to four decades, said Lay's water temperature dropped as low as 38 degrees in January.
"It's been slower to warm than it's ever been," Montgomery said. "A real fast warming trend is about the only thing that would help."
The average maximum air temperature for Birmingham was 48.4 degrees in January, a nearly 4 ½-degree drop from normal, and the average minimum temperature was 29.4, just less than 3 degrees below normal. The mean temperature for January was 38.9 degrees, nearly 6 degrees cooler than the January 2009 mean temperature.
"It's the worst winter I've ever seen in the South," said 47-year-old Classic contender Matt Herren, a lifelong Alabama resident from Trussville. "It's absolutely stupid cold."
The cold by itself makes for difficult fishing. But the muddy water that's also present complicates fishing to the point that anglers are scratching their heads about how to proceed.
"I can deal with cold water, and I can deal with muddy water. But I can't deal with both," Herren said. "Cold and muddy is just tough. I'd love to give you a real good answer about how to fish it, but I just don't know. In all the years I've been fishing the Coosa River chain, I ain't seen this. These fish are absolutely shell-shocked. We're about to see the nasty side of Lay Lake."
According to Classic contender Randy Howell of Springville, Ala., recent weights at local bass tournaments have been much lower than usual. Howell and others predict the same for the Classic.
"I've been saying it would take 50-plus pounds to win," Howell said. "But with it getting colder, it may take a lot less, probably more like 43, 44, 45 pounds."
Duckett's estimate went even lower.
"If I had to bet, I'd say 11 or 12 pounds a day looks pretty good," Duckett said. "You might win this with 36 pounds."
Backstage Pass to the Classic


• Behind the scenes access

• Daily blogs from VanDam & Iaconelli
• Official Classic weigh-in archives

Sign up for a 30-day Free Trial!

Several Classic contenders said the cold weather will mean Lay Lake's famed spotted bass will play a bigger role in the Classic than in previous visits. The winning formula on Lay typically calls for a stringer of spotted bass anchored by a big largemouth or two. But with cold water keeping the fish down, finding a limit of spotted bass may be more difficult, and finding a lunker largemouth may prove downright daunting.
"It's probably going to shut down the largemouth and take them out of the game," Howell said.
"The spotted bass are going to be a bigger player now," Herren said. "They tend to bite better in cold water."
The conditions on Lay Lake also will make practice days even more important than usual.
"It will be very important," Herren said. "You'll have to resist the temptation to fish the past, to fish your memory, because it's going to be a totally new lake, even to me."
Catching fish likely will require a slow and methodical approach.
"You have to slow down and not cover as much water," said Alabama pro Gerald Swindle. "They're not going to chase a bait."
The cold weather pattern appears to be locked in for the foreseeable future. The National Weather Service's Climate Prediction Center shows a 90 percent chance of below-normal temperatures through Feb. 19, the first day of the Classic, and an 80 percent chance of below-normal temperatures over the next 8-14 days.
If there's a bright spot in the long-term weather trend, at least the precipitation chances aren't great, a factor that may help clear the water in Lay Lake and remove one negative variable for Classic anglers. It's not exactly a rosy forecast, though. There's a chance of cold rain or snow on Feb. 12, the first official practice day, and although there's still uncertainty in the long-range forecast, there's also a chance of precipitation around the first competition day Feb. 19. With saturated ground (the area around Lay Lake was 20 inches above normal rainfall last year), any runoff could muddy the lake.
"It's not good, for sure," VanDam said. "Lay Lake is a fantastic fishery, but it probably won't show itself."
For a complete list of 2010 Classic qualifiers, click here. For more event info, click here.