Editor's note: To get more liveliness out of the live blog, refresh your page.
4:48
PM ET
We are shutting things down here on the live blog. Thank you all for following along.
Today promises to be an exciting weigh-in. With 15 minutes left to fish, anglers are likely on their way back in, not counting Randy Howell and Chris Lane, who are sitting outside the weigh-in fishing until the final seconds.
David Walker and Dean Rojas both want this win bad -- Walker to get back to the Bassmaster Classic after his return to B.A.S.S. a dn Rojas to put another Elite Series victory to his name.
Rojas has been close many times since his win on Oneida. This tournament could come down to ounces between the two or we could be surprised by one of the other 10 anglers and some last-minute heroics.
This return to Toledo Bend has far surpassed every expectation, from the hospitality down to the fishing. Just one look at the crowd at the weigh-in is a telling sign that bass fishing in Texas is more than just a pastime. It's a way of life.
Watch some of the great footage from out on the water on Hooked Up, which starts at 5 p.m. ET, and then stay tuned for the final showdown as the weigh-in gets cranked up right afterward.
Again, thanks for watching and commenting ... we'll see you at West Point in a few weeks.
-- Rob Russow
---
4:17
PM ET
James Overstreet is back from his day on the water and brings you his money shots of the Day Four action from the TroKar Battle on the Bayou.
PHOTO GALLERY
---
4:10
PM ET
I hate to even bring it up at this point: The dreaded three-letter word -- TIE.
We are all sitting here in some sort of dreadful state, wondering if by some quirk of fate that this event ends up in a tie.
We always do that. Because we're scared to death it could happen. After four or five days on the water, we're ready to hit the highway. But truth is, this is close enough at the moment where a tie could actually happen.
Some may remember the Open here a year or so ago that ended in a tie and James Niggemeyer won that in a fish-off.
It's hard to fathom that after four days of fishing that two of these guys could wind up knotted together with the same pounds and ounces. But it could happen.
If it does, hopefully we will have a fish-off today. The last one of those I was involved with was in Dallas at a MegaBucks 15 or more years ago. Denny Brauer and Jeff Magee ended up tied and they had a sudden-death fish-off. Magee won that.
If it works that way here, it will be exciting as well. Trip Weldon says if there is enough light, we would do the tiebreaker tonight.
The only reason I bring it up, I'm hoping to jinx the tie, ensure it doesn't happen.
-- Steve Bowman
---
3:56
PM ET
Walker has caught several short fish over the past few minutes, and he just put a decent keeper in the boat.
He dug out his culling beam but I was too far away to see if he actually traded up.
If so, the difference was just a few ounces. We are about to head toward the weigh-in, which may take a few minutes with the wind blowing harder now than it has all day.
-- Trey Reid
---
3:54
PM ET
Lane is throwing a Carolina rig now a stone's throw from the take-off. He said he caught a 4.5-pounder here yesterday 10 minutes before check-in. He's dragging it along the edges of the humps, between what timber is left on these mid-lake structures.
-- James Hall
---
3:36
PM ET
Not to neglect the other side of the top 12, James Hall reported in that he saw Greg Vinson on his way to find Lane, and Vinson had four fish for about 8 pounds.
Andy Montgomery has completed his limit for 14-6 and is in eighth place. Ish Monroe is stuck on two fish for 5-8 and James Stricklin has four fish for 8-12.
Aaron Martens started the day in fourth place but has dropped to ninth with four fish for 12-6.
-- Rob Russow
---
3:32
PM ET
Walker's power poles are down again. He's throwing at a small cluster of stick-ups, making one or two casts each with a jig and a swimbait. He just pulled out another rod and dragged a buzzbait with a toad across the same area.
Now he's back on the trolling motor, heading toward the spot that gave up the big one an hour ago. I'm sure he's hoping for another big bite, but he doesn't seem stressed or pressured.
-- Trey Reid
---
3:28
PM ET
With about an hour and a half left in this contest, it's easy to see that this is no way over or even easy to call.
At one point, it looks like Rojas was going to walk away with this. Then it appears as if he's running out of fish. Meanwhile, David Walker is having one of those Walkeresque kind of days that many of us have seen over the last couple of decades.
He's listed as a rookie. But he's far from it.
Then you have Chris Lane jumping into the mix, just a few pounds away from glory.
Lane wants it as bad as any one of these guys, but he may have too much to make up.
Rojas is typically a closer. He knows how to win and how to get it done. But he has to get some cooperation from the fish and the two guys below him who are as hungry as it gets.
Walker, who is a true veteran of B.A.S.S. and FLW events, has never won, although he has a string of second-place finishes as long as your leg.
The way this is shaping up all of the sudden is a battle of strengths. Rojas, who is one of the very best at catching spawning fish, vs. Walker, who is one of the very best flippers in the country, with the upstart Lane, who is using a jerkbait and can be considered one of the best at that technique.
This could boil down to a referendum on which one of those techniques and tactics is actually the best on this lake, during this time of year or simply on this day.
Regardless, all of them are simply one above-average to big bite away from winning this event. Toledo Bend is obviously more than capable of producing that any second.
If you look at what has happened the previous three days, then you know that someone in this 12-man field (maybe several someones) will capture one of those Bass-squatches. Whoever catches the one with the biggest feet wins.
-- Steve Bowman
---
3:21
PM ET
Walker just fired up his big motor for the first time since he shut it down upon arriving at his spot this morning. He didn't go far. He moved several hundred yards toward a bank that has been catching wind all day.
-- Trey Reid
---
3:17
PM ET
Our on the water gallery of Randy Howell, who has been fishing within sight of the take-off, just went up. Take a look.
PHOTO GALLERY

---
3:14
PM ET
We're not close enough to talk to Walker at the moment, but the last time he passed close to us, I noticed he had a big grin on his face.
He also seems very relaxed. It has been interesting to watch him fish all day. His body language is a picture of fluidity. He just seems very relaxed. Not sure what you can read into that, but that's what I'm seeing.

-- Trey Reid
---
2:52
PM ET
Swindle and Lane just took off. Lane is heading to Indian Mounds. Kennedy has caught two more fish that helped him cull, but he thinks he only has around 13 pounds. Those last two fish only added a couple ounces to his total.
We have left, following Lane to Indian Mound, but we ran across Fred Roumbanis. He has a limit going around 15 pounds. He's caught a dozen bass today. He broke off a big one at the boat while trying to swing it aboard.
He's fishing the mouth of a Six Mile Creek, casting a jig along a ledge that dives to 11 feet of water. Fred says his bigger bites have been coming later in the day. When the sun gets high, the bass bunch tighter to the ridge he's fishing and are more susceptible to his presentation.
-- James Hall

---
2:50
PM ET
I just got off the water after spending about an hour with Randy Howell.
He's sitting right out in front of blog central about 600 yards away and catching them at a pretty good clip. He's have to capture a couple of monsters _ Bass-squatch as Mercer calls them _ to win this thing. But he's working his way up the standings and gaining as many Toyota Tundra Bassmaster Angler of the Year points as possible.
PHOTO GALLERY

Howell is milking a series of humps and channels that have scattered stumps and shell beds on them. Unlike most post-spawn situations, the fish aren't exactly ganged up in one spot, so he's just hopping around with a Carolina-rigged lizard and a jig called a Rat Jig. It actually looks like a rat in some ways, you can see that on BassCam.
Howell might be in contention to win this event if not for a pitiful Day Three. He's obviously around a wad of fish, no doubt some of them are re-treads from all the tournaments that are held here. They weigh well none the less.
His expectations are to keep knocking around on those humps for the rest of the day, hoping for a Bass-squatch to show up. He caught a 7-pounder there on Day One, so it could happen.
Check out some of the photos of him in action in the gallery.

-- Steve Bowman
---
2:50
PM ET
Here is the latest BassTrakk positional update
---
2:42
PM ET
The deadlock continues at the top of the leaderboard, with Walker and Rojas in a virtual tie. Moves keep coming from below them, however. Swindle has culled some with a 3.5-pounder that puts him over 15 pounds and into fourth place. James Hall reports Steve Kennedy culled twice from the flat he was on and went to check on how big they were.
Mark Zona dropped off some pretty awesome videos from watching Dean Rojas. Check them out here. If you want to see that big one he caught this morning on a popping bait, don't miss it. It made a heart-stopping jump and Rojas was pumped when he landed it. That's quality work from Zona.
Also soon to come are some on the water photos from our grizzled veteran James Overstreet. He always knows how to capture just the right shot and Rojas put on a show for him.
Just over two hours remaining and a lot can still happen.
-- Rob Russow
---
2:38
PM ET
In case you missed it, here is the 2 a.m. Live Update
---
2:27
PM ET
What makes this place so good?
Lane says it's an area where the bass traditionally spawn. A creek channel leads to the back of the small pocket and is a highway for bass in and out. The grass along the edges holds baitfish so there is food for the fish as they migrate.
-- James Hall
---
2:21
PM ET
To give you an idea of how these guys are positioned around this creek, Swindle is at the very tip of the point, hear the boat lane. Lane is 400 yards in, fishing the mouth of the creek. Kennedy has moved south of the mouth, fishing the flat 300 yards down and Rojas is still in the very back of the pocket.
-- James Hall
---
2:17
PM ET
Walker made a slight adjustment to produce that 5-pounder I reported a few minutes ago. After spending most of the morning weaving through the timber on the same track, back and forth, he fished his way farther back in this pocket. Almost all the way to the back, in fact. It's near the spot where he started out first thing this morning. Another adjustment was the bait. He has been throwing a chatterbait and flipping a jig and some sort of creature bait.
The 5-pounder hit a 5-inch swimbait. Walker is making a wide circle around our boat now, slowly working back toward the big fish spot.
And who can blame him?
-- James Hall
---
2:14
PM ET
Locals are combing the newly exposed beach for arrowheads as Lane, Rojas and Kennedy mine the area for bass. Rojas has not caught a fish since he arrived.
Lane has switched to a swimbait and estimates his weight at around 16 pounds. I think he may be underestimating.
Unlike Kennedy, Lane is tight to the bank, throwing the swimbait into deeper water. This gives the fish a different angle of presentation. We now have almost half the final day field in eyesight.
Swindle just pulled up, targeting grass further offshore than the other.
-- James Hall
---
2:09
PM ET
Howell just caught one he thinks is 4 pounds. He's fishing these stump-filled flats with a Carolina rig and a jig. The fish are scattered and he's fan casting, which is a good thing. I doubt he could pinpoint these small spots in this wind. Key areas seem to be around and under washed-out stumps and around small shell beds.
-- Steve Bowman
---
1:56
PM ET
We have us a race.
After a quiet last hour or so, big catches are filtering in by the minute. My phone is blowing up with 4- and 5-pound catches. That big one by Walker just put him in a virtual deadlock with Rojas. For the first time all year, we are starting to see a real race as the final day is ticking down.
Howell just upgraded himself with a 4-pounder that has him at 18 pounds, but after yesterday, it might be too little, too late. He's still in fifth place.
Here's how the top six is sitting with today's weight in parenthesis:
Walker 70-8 (17-2)
Rojas 70-7 (13-0)
Lane 68-14 (17-8)
Swindle 66-8 (14-8)
Howell 65-4 (18-6)
Kennedy 64-13 (14-6)
Still, one big bite by Rojas could blow this thing away. And should Kennedy get back-to-back 6-pounders, he'll be right in the mix. With three hours left to fish, this game is still wide open.
-- Rob Russow
---
1:56
PM ET
Walker is flexing his muscles. He just wrestled a big one into the boat and he estimated its weigh at "close to 5 pounds." He immediately dropped his Power Poles, culled a small keeper and after catching his breath, he's now fan casting around the area.
-- Trey Reid
---
1:53
PM ET
Lane is now inside the pocket and has switched to a Carolina rig. Looking at the grass here, it's about 6- to 8-inch hydrilla
Lane just landed a 4-pounder on the Carolina rig. Things are getting very interesting!
-- James Hall
---
1:42
PM ET
Kennedy just swung a 4-pounder into the boat. It ate his big swimbait. That brings his total into the 13-pound range. In the meantime, Lane swung a dink in but no help for him.
I feel like I'm burning calories just watching Chris Lane work the jerkbait. The guy is a machine!
-- James Hall
---
1:35
PM ET
Kennedy's swimbait appears to be an Osprey or something very similar. It's about 7 inches long and light brown/shad in color with a single belly treble. He's throwing it to the edge of shallow grass looking for a big bite.
Lane and Kennedy are now about 30 yards apart as Kennedy has trilled toward the mouth of the small cove he's been fishing. The two are discussing their mornings. Their boats cross and Lane heads back to the south side of the mouth.
-- James Hall
---
1:29
PM ET
In case you missed it, here is the 1 a.m. Live Update
---
1:28
PM ET
Walker is staying in this area, known locally as the 1215 because of the old state highway of the same number once ran through here before the lake was impounded. He's made a slight move from the area, to a spot he hasn't fished yet today, moving closer to the shoreline.
-- Trey Reid
---
1:28
PM ET
Lane just caught two more bass on back-to-back casts. The last bass culled one from his livewell, but just barely. It looked to weigh 2.5 pounds.
Lane has moved to the south side of the point he's been fishing. This side leads to the cove in which Kennedy is parked. This is also the area Kevin Wirth sacked 16-plus pounds yesterday.
Now we welcome in Mr. Rojas. Dean just pulled into the cove with Kennedy. They are now about 300 yards from the mouth, where Lane is fishing.
As Lane was explaining to me the tremendous boat traffic on his spot this morning (30-plus boats), he lands another small bass, but it doesn't help his total.
Since Kennedy and Rojas are within spitting distance, we are going to troll up to Steve to see how his morning played out. We will keep our eye on Lane, who is camping at the creek mouth.
that these bass are finicky and just coming off the spawn. When a bass lazily blows up on a topwater, one treble isn't enough to keep it hooked up. Likewise with a swimbait if a bass bumps and doesn't get hooked well. Jerkbaits present a similar problem.
-- James Hall
---
1:16
PM ET
Dean Rojas has slowly, but surely been chipping away at a limit and a few minutes ago, Sanders reported it filled with a 2-pounder. That gives him 13 pounds on the day, pushing him firmly into the lead as the first to break the 70-pound barrier. Rojas continues to look for one big fish to move up on a bed. When I followed him the other day, he filled out a limit and then was very particular about the fish he chased. You can save a lot of time as an angler when you don't waste time catching 2-pounders off beds you don't need. At this point, he's looking to cull a 2-pounder.
Chris Lane is right behind with 16 pounds today, but he is still 3 pounds behind and needs one of those truly big fish to catch up. Those big 'uns swim in Toledo Bend but they have not been easy to come by.
In third is David Walker. He's ounces behind Lane, 3 pounds back of Rojas, and if it stays that way, he will be kicking himself for those lost fish. His limit weighs 13 pounds, but it could be heavier.
Every tournament anglers lose fish, but this tournament it has been a widespread problem. Part of the reason is that these bass are finicky and just coming off the spawn. When a bass lazily blows up on a topwater, one treble isn't enough to keep it hooked up. Likewise with a swimbait if a bass bumps and doesn't get hooked well. Jerkbaits present a similar problem.
-- Rob Russow
---
1:02
PM ET
A few more casts with the Warmouth and Rojas hits his limit with another 2-pounder.
Bonus coverage: Swindle pulls up on this same windblown bank 200 yards away and lands one that looks to be 3.5 pounds.
-- Tommy Sanders
---
12:59
PM ET
Walker's fifth fish wasn't anything to write home about. But he finally has a limit and that's saying something from the reports I'm hearing. He just caught a short fish and dropped his Power Poles to concentrate on a small area.
-- Trey Reid
---
12:55
PM ET
Lane just lost a small keeper halfway to the boat. He says it wouldn't have helped his total. He thinks he needs a 3-pounder to upgrade what's in his livewell.
Lane's jerkbait cadence is much different than Swindle's. Lane is making very aggressive downstrokes with his rod, almost never letting the bait sit still. Seems like he is going for a reaction bite where Swindle was looking for a feeding bite.
-- James Hall
---
12:55
PM ET
Our aerial gallery from this Final Day of the TroKar Battle on the Bayou just went up. Take a look.
PHOTO GALLERY

---
12:53
PM ET
David Walker just completed his limit now. I couldn't really see what size because he had asked us to tie up to a tree and then he drifted about 100 yards downwind. I'm heading closer and will report an updated weigh in a few minutes.
-- Trey Reid
---
12:46
PM ET
That last bass was his seventh keeper of the day. He has two in the 5-pound range. He's caught them all on jerkbaits.
Lane is fishing just south of the mouth of Six-Mile Creek. He estimates his limit to weigh 15 pounds. The wind is blowing directly onto the point he is fishing, making a perfect scenario for the jerkbait bite.
As Chris Lane fishes around this main-lake point, I can see Steve Kennedy about 500 yards away. Kennedy is in the pocket he and Rojas shared the first three days. No sign of Rojas here now.
-- James Hall
---
12:46
PM ET
Dean makes another move to a creek mouth 5 miles up the lake. It was a good move too. His first cast resulted in a bass under 2 pounds. He doesn't know it, but that fish moved him back into the lead over Chris Lane.
That fish came on the swimbream, the Big Bite Baits Warmouth.
-- Tommy Sanders
---
12:39
PM ET
We had a comment about accessing yesterday's blog. The link can be found at the bottom of today's blog, but you can get the link here instead. (http://www.espn.com/outdoors/tournaments/elite/news/story?page=b_ES_TroKar_Battle_On_The_Bayou_live_blog_Saturday)
BASSCast live streaming video is no more "texags 99." The technology was ahead of the cell coverage. Imagine here at Toledo Bend where we lose track of guys halfway down the lake. I wouldn't be surprised to see something better emerge soon.
-- Rob Russow
---
12:37
PM ET
Randy Howell is making a move on the final day. He's finished off a nice limit of 16 pounds, 6 ounces, which moves him into fifth place. Howell is fishing right outside of Cypress Bend Park, at that series of humps and sandy ridges covered in stumps. He stumbled yesterday with only 9 pounds, best guess, because of the wind. The waves were so large that he couldn't hold properly for exact presentations. If not for that, Howell would be more of a contender on the final day.
-- Rob Russow
---
12:36
PM ET
We left Swindle and headed even further south to find Chris Lane. Lane is fishing a main lake point that extends almost to the boat lane. Lane just landed a 2-pounder and put it in the livewell. We are trying to get closer to ask him some questions.
-- James Hall
---
12:29
PM ET
The 7-pounder was abandoned and Rojas was about to make another move. Now he's gone back to looking and casting the popper. He catches another short fish, but he needs another big bite.
-- Tommy Sanders
---
12:28
PM ET
In case you missed it, here is the Noon Live Update
---
12:27
PM ET
Missed opportunities are never good, but they are especially painful on the final day of a tournament. Walker just lost what would've been his fifth fish, a bass that looked to be 2.5 pound range. He lost a 3.5 earlier so that makes 6 pounds that he has had on the line but failed to put in the boat.
-- Trey Reid
---
12:23
PM ET
Hey "bigtadc" I got some bad news for you. It doesn't look like Aaron Martens is going to win. I know you want your Bassmaster Fantasy team to get a boost (I have Rojas on mine and have been chortling each 5-point bonus I get), but let's keep it real. Martens only has three keepers right now and sits 8 pounds behind Chris Lane, who's in the lead.
Still, I appreciate the comment. Fantasy anything gets us to cheer unreasonably for people and believe anything is possible. Ask Steve Bowman...I think he still believes he has a chance to catch me. Not going to happen Steve.
Congratulations to mitch357 who is destroying everyone this season. He has three anglers in the top-12 led by Chris Lane. If you haven't set a Bassmaster Fantasy team of your own, check it out (http://bassmasterfantasy.com/EditEntry.aspx?entryID=12192).
-- Rob Russow
---
12:12
PM ET
Yet another dink for Swindle on the Carolina rig. I find it interesting how he gave up on three other areas after landing small fish, but commits to this grass flat after landing shorts. Perhaps the ditch nearby is a migration route and the fish pull up on the flat to feed as they meander by.
Just as I type that, Swindle is pulling up and moving.
-- James Hall
---
12:00
PM ET
Just wanted to say thank you to "toledobasser" for serving as a Marshal out there this week on Toledo Bend. Hope you had fun with Andy Montgomery and yes, you did a fine job of entering his catch data. I don't think anyone will call you an "idiot Marshal!" These glitches are a part of the system that we do our best to work around. Plus, you got to be a part of a real special day as Montgomery made his first top-12 of his rookie year.
Keep those comments coming.
-- Rob Russow
---
11:58
AM ET
Swindle just missed one on a Carolina rig. That's his first bite since he returned to the flat at the mouth of Housen.
-- James Hall
---
11:58
AM ET
Rojas has stopped short and is backing up with spinning rod now in hand. Zona says it's a big one — 5 plus — swimming, not locked on a bed.
Zona now says that Dean makes it over a 7 — still watching it.
-- Tommy Sanders
---
11:55
AM ET
Our spectator helicopter just made another fly-by. Still not much for him to see, though. It has been almost an hour since Walker's last catch. Walker continues to weave through stumps, which are surrounded by submergent vegetation. The majority of the grass is coontail in this area. There are a series of underwater bridges running north and south, and Walker is fishing deeper troughs, anywhere from 3 to 6 feet of water, between the ridges. I've noticed several vacant spawning beds on the tops of those ridges, which feature a hard sandy bottom. While I was typing this, Walker picked up his fourth fish, a small keeper that should put his total weight between 8 and 9 pounds
-- Trey Reid
---
11:48
AM ET
Chris Lane's big move has him atop the leaderboard right now with 67 pounds, 6 ounces. That's a full pound ahead of Rojas, who is still working on three keepers.
One factor we haven't heard from is Steve Kennedy. He has had two monster days sandwiched around one terrible day. On Day Three, he caught his two biggest fish within 5 minutes on a swimbait. The first one he caught had a 4-pounder swimming with it. Kennedy said he knows there are a few more big fish schooled in that area. He just needs to be able to get them to bite.
The wind is starting to pick up again today (although nothing like yesterday) and that might help. If he runs into that school, he can be one flurry away from the lead himself.
With Rojas struggling, the leaderboard is wide open.
-- Rob Russow
---
11:46
AM ET
Here's a great picture courtesy of Steve Bowman up in the helicopter. I call the photo "Total Coverage" because it represents every aspect of how we cover this event. You have Dean Rojas, the leader of the tournament with an ESPN cameraman behind him. Then there is Mark Zona at the back of the boat, getting BASSCam updates and passing along secret blog information to Tommy Sanders. Speaking of Sanders, he is in the boat behind Rojas with James Overstreet, our photographer. At the corner of the shot is the camera boat operator for the ESPN cameraman, essential for getting boat-to-boat shots for the television show.
Pretty cool shot. Aerial photos coming soon.
-- Rob Russow
---
11:46
AM ET
Swindle's school is not cooperating. The surface temperature has warmed a couple of degrees. It will be interesting to see if they start feeding again once the sun gets high.
-- James Hall
---
11:40
AM ET
We've now moved a mile uplake to the mouth of a larger creek. Dean Rojas is working the popper over shallow grass and doing a bit of looking. James Overstreet observes that this is the clearest water he's seen on the lake this week.
Rojas is now making longer pitches with a craw-type bait.
-- Tommy Sanders
---
11:35
AM ET
Swindle just landed another dink, then pulled up his trolling motor to move again back to the flat at the mouth of Housen Creek where he caught his early limit. His jerkbait is back in action.
We have drifted behind Swindle on top of a hump. We are sitting in 2 feet of water. He's casting to the edge of this super-shallow water with his jerkbait, twitching it back.
-- James Hall
---
11:21
AM ET
A little over three hours of fishing has elapsed. 30 keepers have been caught. Swindle, Roumbanis, and Lane are registering limits. Rojas, Walker, Howell, and Montgomery all have three fish. Martens, Monroe, and Strickland have one keeper. Kennedy and Vinson are not showing any catches so far.
As I was typing this Chris Lane culls up to 16 pounds. He talked to BASSCam this morning about scrapping his game plan "going fishing". Looks like he is making the best adjustments so far.
-- Hank Weldon
---
11:17
AM ET
In case you missed it, here is the 11 a.m. Live Update
---
11:16
AM ET
Swindle is now fishing the boat ramp at Fin and Feather Resort. His first cast yields a dink. I can smell breakfast from the restaurant on the bank 50 yards distant.
This area is much different than the others he's fished. He's casting to a rocky point jutting from the bank with a 10-foot seawall completely out of the water behind it.
Ok, the Toledo Bar and Grill is calling my name. If Swindle would fish here for an hour I'm certain I could blog over scrambled eggs and coffee.
-- James Hall
---
11:13
AM ET
We've got a helicopter of unknown origin out here now, hovering about 10 feet above Rojas shooting pictures. One can only imagine the disruption below the surface in this tiny shallow place. Can't understand what this crew is up to.
-- Tommy Sanders
---
11:11
AM ET
Not much action in the David Walker camp, but Walker just told me that his bites here typically come in bunches.
"When I get one bite, I usually get several more," he said. "And then I won't get anything for awhile."
We are apparently in the midst of one of those lulls.
-- Trey Reid
---
11:08
AM ET
A big lull with no bites since the big one came 45 minutes ago. Dean continues to slowly wheel around this six-acre bay, fishing over the grass, outside the grass, very patiently working the popper. The low water means that this place is now ringed with a sandy beach.
It's starting to look like a piney woods Coney Island here now, with folks driving out on the sand in old SUV's and cars — even a golf cart — fishing, sitting in lawn chairs, even cracking open a cold one on this fine Sunday morn. Some take note of Rojas and some could care less.
Zona says Dean is going to start looking for spawners soon. And just now, another bite on his swimbait-type bait, the Big Bite Baits Warmouth. That gives him three fish for around 9 pounds.
-- Tommy Sanders
---
11:04
AM ET
Swindle just landed a small keeper on a chatterbait fishing the creek channel. It didn't help his total though.
He's ripping the chatterbait through the milfoil much like ripping lipless crankbaits from hydrilla.
Now he's moving.
-- James Hall
---
11:03
AM ET
Like much of our audience, "ULMusicMan" wants a link to the BASSTrakk map. Here's the best we can do, a picture of where some of our top-12 are fishing here on the final day. Note, we don't have GPS positions for the leader, Dean Rojas.
-- Rob Russow
---
10:56
AM ET
Swindle is focusing on a creek channel lined with milfoil. He says he's sitting in 9 feet, throwing to 4. He cranks the square bill to the grass then rips it free. No takers yet.
-- James Hall
---
10:55
AM ET
As Trey Reid reported, David Walker keeps adding to his total. His last two fish put him just over a pound behind the leader, Gerald Swindle. Walker, Swindle and Rojas are all within a few pounds of each other with Rojas and Walker short of a limit. One big fish will change the face of this leaderboard. Swindle seems to be running around looking for an upgrade while Rojas and Walker are trying to finish their limit. Both Rojas and Walker have one big fish on which they can build a big stringer.
Ish Monroe is on the board too with a 3-pound, 8-ounce fish. He's been fishing on the north end of the lake and expanded on the pattern that netted his 10-pound giant earlier in the week. James Stricklin is up there close to him and the rookie seems to be enjoying his first top-12 experience.
Andy Montgomery is still fishing close to home, but after an early flurry of catches, has gone quiet.
-- Rob Russow
---
10:49
AM ET
Walker continues to work his area, which, like much of Toledo Bend, is filled with stickups. There's abundant vegetation too. Walker is alternating between flipping and throwing what appears to be a chatterbait.
He just boated a 1.5-pounder for his second keeper. A few minutes later, he swings number three into the boat, a 2-pounder. That gives him three fish for 9.5 pounds.
-- Trey Reid
---
10:45
AM ET
Swindle moved a couple miles further back into Housen. Looks like he's fishing a creek meandering through the thick timber. The square bill is getting the nod here.
-- James Hall
---
10:37
AM ET
Monster backlash for Swindle. Took a solid five minutes to undo. In the meantime, his crankbait hung in a stump. He's retrieving it now.
Now he's moving again.
-- James Hall
---
10:35
AM ET
Thank you to "grandmakathyf" for making sure we don't forget the rest of our top-12. There are some pretty cool aerial pictures coming in soon on the photo gallery page here of the rest of the top-12 guys. Also, check out BASSCam for some videos Steve Bowman got from the chopper. They give a unique perspective on this lake that you can't get any other way.
As for on the water updates from those guys, all we have is what our Marshal's and BASSTrakk is telling us. We have four boats on the water, but they are keeping pace with the leaders. If someone starts to make a big move, you can be sure we will get all over it.
-- Rob Russow
---
10:33
AM ET
Swindle is finally moving. He motored 300 yards further into Housen Creek and is casting towards shoreline wood. This is where he caught the 5-pounder yesterday.
He's now focusing on a secondary point in Housen. The bank slopes sharply into the water. The north side of the point is riddled with stumps emerging three feet out of the water. The south side of the point, where he is focusing most of his casts, is barren. I'm assuming there's grass here.
-- James Hall
---
10:30
AM ET
In case you missed it, here is the Live Update 10 a.m. ET
---
10:30
AM ET
I've seen a lot in 15 years of covering bass tournaments, but I just witnessed something I've never seen -- a spectator helicopter!. A chopper the isn't the television production aircraft just showed up and has been circling Walker for 5 minutes. At one point he hovered 30 feet over Walker, so close it stirred up the water. On a more typical note, Walker has three spectator boats, all of which are maintaining a respectable distance. There are also five recreational anglers fishing within 100 yard radius of Walker. All but one, however, are fishing farther off the bank than Walker.
-- Trey Reid
---
10:22
AM ET
Greg Vinson just blew by, heading to the back of Housen Creek. Never a good sign to see guys moving early.
-- James Hall
---
10:19
AM ET
Things are moving like crazy on the leaderboard with fish catch information coming in. Hank Weldon has been getting in touch with cameramen and Marshals to verify catches, especially in the hard-to-reach places.
Here is how the top-five is shaking out:
Swindle 64-8 (12-8 today)
Rojas 64-7 (7-0 today)
Walker 59-6 (6-0 today, one fish)
Montgomery 56-15 (6-13 today)
Martens 53-2 (1-8 today)
Outside the top-five, Randy Howell has boated 5-8 on the day with two fish so far. He's still sitting outside the take-off, where he started the day.
-- Rob Russow
---
10:14
AM ET
We've finally reached Walker, and he has one 6-pounder in the boat. He lost another good fish in the 3.5-pound range that shook off right at the boat. With a 4-pound deficit to make up, that could be a big miss.
-- Trey Reid
---
10:12
AM ET
I'm surprised the surface temperature has dropped to 63 degrees. It was up to 70 yesterday. The north wind and a chilly night brought it down significantly.
Anyway, Swindle just went a-culling. His sixth fish of the day looks to be around 3 pounds, culling one of the dinks he boated earlier. His jerkbait is getting a workout.
-- James Hall
---
10:08
AM ET
Dean Rojas says that yesterday with the north wind a fish like that last one would have crushed a popper. Today he just sipped it. But nevermind, this east wind is blowing into the west side and is doing some nice things vis a vis positioning these shad and bass.
-- Tommy Samders
---
10:05
AM ET
Here's a picture of one of the baits Dean Rojas is sight fishing with this week.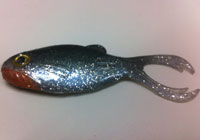 It is a Big Bite Baits Warmouth and seems to mimic a bluegill pretty well. Some anglers change lures frequently to entice a bass to bite, but watching Rojas on the water the past few days, he really only uses the Warmouth.
Thanks to Dave Mercer to grabbing that hunk of plastic from the bottom of Dean's boat.
-- Rob Russow
---
10:02
AM ET
Several minutes without a bite encourages Swindle to switch to a Carolina rig. He slowly drags it through the grass. His boat is sitting in seven feet of water. The flat he's fishing comes up to five feet. A ditch behind him dives to 20.
-- James Hall
---
10:00
AM ET
Our first gallery of the day, featuring the boat launch from this Final Day of the TroKar Battle on the Bayou just went up. Take a look.
PHOTO GALLERY

---
9:59
AM ET
Dean Rojas fishes on slowly, deliberately, up shallow. Zona asks him if he's got any locked on beds. Zero right now, according to Rojas, "But I expect to find them."
Another strike for Rojas, but he loses the 2-pounder. He is making quartering casts to the bank. Then a parallel cast, just outside the grass and bang, a 5-pounder grabs it and it's on.
Rojas is playing it and begging it to come quietly. One jump and he's at the boat and in. Rojas is shuddering with glee. This is a total bonus fish.
-- Tommy Sanders
---
9:59
AM ET
Swindle just boated keeper number four. Ripping the jerkbait out of the grass seems to be the ticket!
Swindle then lost a fish, threw back out and caught his fifth keeper on the jerkbait. An early limit on for Swindle will give him all day to upgrade.
-- James Hall
---
9:57
AM ET
Bassmaster emcee Dave Mercer's Live Video update will be coming up shortly. Watch it live.
---
9:54
AM ET
We've had some technical difficulties. My boat driver went to the spot where we knew Walker would fish, but it appeared Walker and an entourage of spectator boats went farther north. We gave chase, but it turns out Walker just took another route to his hole. We are on the way there now and I'll report back as soon as we reach him.
-- Trey Reid
---
9:40
AM ET
The last two fish catches, one by Swindle and one by Rojas make this a tight race. Both anglers are trying to capitalize on an early bite surrounding the shad spawn.
Here's how the top five shake out right now:
Swindle 59-8
Rojas 59-7
Montgomery 56-15
Walker 53-6
Martens 51-10
We haven't heard any fish catches from Walker or Martens yet.
-- Rob Russow
---
9:38
AM ET
Another bait change for Swindle. He is offering quite the buffet this morning. Looks like he's optingfor a chatterbait now. And back to the jerkbait followed by an impressive backlash throwing into the wind.
-- James Hall
---
9:36
AM ET
At 8:29 a.m., Rojas boats his first keeper of the day, around 2-pounds on the SPRO Hydropop. From Zona: Dean says the big ones want it worked slow. Rojas is calm and this place gives him a positive vibe.
-- Tommy Sanders
---
9:34
AM ET
Swindle just boated keeper number three. This one barely measures, but certainly gives him confidence in this spot. His jerkbait is being abused!
Now, Swindle just put down the jerbait for the first time today and grabbed his cranking rod. His crankbait of choice appears to be a square bill: RC1.5 in Citrus Shad color.
-- James Hall
---
9:32
AM ET
A dozen casts and Dean picks up and runs five miles or so downlake to a bay even closer to the dam. Steve Kennedy is here too. Rojas works his way around the tiny sand points that jut into this bay, for now with a little popper.
Zona says there's a substantial shad spawn going on and awesome grass. Dean catches a short fish that comes in with "a face full of salad."
The water temperature is 66 degrees and again, this will be the last water in the lake to warm up. This area is where Rojas caught 23 pounds on Monday.
-- Tommy Sanders
---
9:27
AM ET
That good catch moves Swindle into the lead with 58 pounds total (6 pounds today). Rojas is in second, still without a keeper, with 57-7. Andy Montgomery holds third after catching this third keeper. He has 6 pounds, 13 pounces today for 56-15.
-- Rob Russow
---
9:27
AM ET
Gerald Swindle just landed keeper two again on the jerkbait. This bass appears to be in the 3.5-pound range. A great start to the morning for the G-Man. Swindle's cadence with the jerkbait is more subtle than other pros I've seen fishing this week. He imparts two short, quick twitches, followed by a two-second pause.
-- James Hall
---
9:20
AM ET
From jnhoupt: "How many of the competitors are still sight fishing today? And are there still quality bass fir them to catch after the previous 3 days of competition?"
No one is exclusively sight fishing as far as I can tell. Dean Rojas is definitely sight fishing for part of the day. On Day Two, the 8-pounder he caught moved onto a bed late in the afternoon. Rojas fished the same spot earlier and said she must have moved up some time during the day. As for Day Three, the wind really hampered the sight fishing bite. Rojas obviously had a tougher day.
The post-spawn bite is definitely improving. As is the shad-spawn pattern, which is why you see so many swimbaits tied on.
That said, it will be interesting to see if Rojas finds another big bed fish today. That might be all he needs to stamp his seal on this victory.
-- Rob Russow
---
9:18
AM ET
From Zona: Dean says anything before the sun comes up is a bonus. We are so far south, near the dam because of water clarity and because you find the late spawners here. No bites yet. Dean changed to what looks like a jerkbait.
-- Tommy Sanders
---
9:16
AM ET
Randy Howell was concerned about locals in his primary area, but regardless, he has the biggest fish of the day so far, a 3-pounder that he pulled out from the crowd. Even with the 3-pounder, he's still a long way off the lead, in ninth place with 49-14 total.
Montgomery has two fish now for 4 pounds, moving him into third place. Swindle's 2-pounder he caught earlier jumped him over David Walker into second. Rojas still leads without a fish this morning, but his cushion is dwindling.
Things will be moving at a rapid pace from here on out.
-- Rob Russow
---
9:10
AM ET
We've had a few comments about watching the weigh-in yesterday. If you weren't able to see it live, you can watch all of the weigh-ins and Hooked Up episodes at this archive page:
http://www.espn.com/outdoors/tournaments/elite/news/story?page=b_ES_TroKarBattleontheBayou_Live_video_page
Thanks to "My Outdoors Iowa" for pointing it out. Keep the comments coming!
-- Rob Russow
---
9:09
AM ET
Just pulled up on Swindle. He is starting at the mouth of Housen Creek. He has 11 spectator boats around him. Only one is fishing. Swidle just landed his first fish of the day. A 2.5-pounder. He's throwing a jerkbait along the edges of a ditch. Although the wind has laid down a good bit, the area Swindle is fishins is still quite choppy. The waves are blowing from across the lake into the mouth of the creek he's fishing.
-- James Hall
---
8:54
AM ET
Head on over to the BASSCam page if you want to watch a few videos from this mornings' take-off. We'll have periodic video updates from the helicopter, from Zona on the water and from our other reporters as the day progresses.
As for fish catching, it looks like Andy Montgomery is on the board first with a 1-pound, 15-ounce fish. He's near the take-off fishing in the small pocket just north of here along with James Stricklin and Aaron Martens. This year really has a talented crop of rookies and they are making it known each tournament. Montgomery shot into the cut yesterday, while Ott Defoe leads the Rookie of the Year race and was making a push in the Toyota Tundra Bassmaster Angler of the Year standings as well.
But our eyes are focused on Dean Rojas as he tries to lock down another Elite Series victory. Tommy Sanders reported the water temperature has cooled considerably over the past two days. Part of the reason has been the cool mornings. Today and yesterday were both in the 50s at take-off and slowly warming from there. It will be interesting to see how that affects the swimbait and bed fishing patterns Rojas is running.
-- Rob Russow
---
8:49
AM ET
It's 7:41 a.m. and Dean Rojas makes his first cast towards the bank of a narrow point. He's throwing a swimbait and right now, the east wind is a bit more than everyone expected. The water temperature is 68 degrees.
-- Tommy Sanders
---
8:45
AM ET
Our BASSTrakk shows anglers making their way out to their first spots of the morning. Randy Howell is already fishing within sight of the take-off. His concern as he sat at the docks looking out: local pressure. Since arriving, he saw four or five boats moving around on the offshore structure he was fishing. A series of bars and humps with stumps on top sit just around the corner from Cypress Bend Park and apparently are well known to recreational anglers.
They will probably give him space when he gets there, but the pressure already could hurt the bite. Aaron Martens was planning on starting there too until he saw all the boats out there. He's been fishing around the take-off, within a mile or two. We watched him battle 4-foot waves yesterday and he'll have an easier time today. So will we, when we get out there.
No fish catches reported yet, but it should start soon.
-- Rob Russow
---
8:26
AM ET
Day Four is getting under way as I type this, with Dean Rojas leading the final-day field of 12 anglers, idling away from the docks and out onto Toledo Bend.
After the last two days, this morning is nothing short of beautiful with clear skies and calm waters. Winds may pick up as the day progresses, but nothing to rival Days Two and Three.
Rojas has been leading each day of the event and carries a 4-pound, 1-ounce cushion over David Walker. The disparity continues from there, with 12th place Ish Monroe 11 pounds, 3 ounces off the lead. As it has been mentioned before, that could change in an instant with one big bite. Rojas only caught 14 pounds yesterday, so another repeat performance could leave the door open for Walker, Gerald Swindle and Aaron Martens, who all are capable of catching a 20-pound bag.
Toledo Bend is loaded with bass and right now they are in all stages of the spawn. Anglers are reporting catching some on topwater, swimbaits, bed fishing and jerkbaits, and that doesn't even cover all the different techniques that are putting fish in the boat.
Today is the final day, giving us a chance to report on exactly who, what and where. We will have four boats on the water and an eye in the sky with Steve Bowman in the helicopter. Make sure you post any questions you have in the comments section and I will try to answer them. After fighting the weather for two straight days , let's just go have fun.
-- Rob Russow
---
Live Blog from Day Three of the TroKar Battle on the Bayou
---