July, 18, 2013
07/18/13
1:30
PM ET
Take a deep breath. This weekend is the last time Sprint Cup goes "raceless" until the end of the season in November -- 17 consecutive weeks of action, starting with the Brickyard 400 on July 28.
Here's a list of six things to watch for (and in some cases, hope for) in the four-month stretch from midsummer to the final weekend of racing at Homestead-Miami Speedway:
[+] Enlarge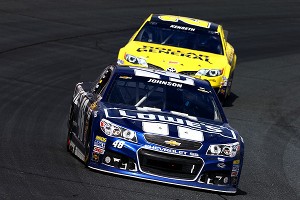 Jonathan Ferrey/Getty ImagesJimmie Johnson's biggest obstacle to a sixth Sprint Cup championship could be Matt Kenseth.
1. Johnson and Kenseth slugging it out for the title -- Other drivers can get in the fight before it's done, but this is shaping up as a classic championship battle between the two guys who have dominated things this season.
Each man has four victories. Jimmie Johnson wants that sixth Cup title. Matt Kenseth wants his second crown, but his first at Joe Gibbs Racing and his first in the Chase format.
And all you Chase haters should be thankful Cup has a playoff. Johnson is 120 points ahead of Kenseth in the season standings. Any realistic chance of some championship drama between them would be lost without the Chase.
2. Back to the future on dirt -- The show so many NASCAR fans have been waiting to see is only a few days away: the Camping World Truck Series race on the dirt track at Eldora (Rossburg, Ohio) on July 24.
No one really knows what will happen, but almost everyone with the slightest interest in NASCAR wants to watch and find out. As Brad Keselowski said: "It's either the smartest things we've ever done or the dumbest."
I'm guessing the former, going back to NASCAR's roots on a dirt short track in the boonies. It's probably the most anticipated race of the season. If it's a success, maybe there's a place in NASCAR's future for dirt tracks once again on a limited basis.
But don't expect the Cup series to start adding dirt tracks to the schedule. The dirt days are long gone for the big boys.
3. The boiling Chase bubble -- Throw about 10 guys in a hat, shake it up and see what you get. This race to the Chase is up grabs like never before.
Only 42 points (fewer than a driver can make up in one race) separate ninth-place Brad Keselowski from 20th place Joey Logano. Kasey Kahne in 10th is only 25 points in front of Jeff Burton in 17th.
Kahne has the advantage of one victory, which might earn him a wild-card spot if he falls below 10th. Right now, Martin Truex Jr. in 12th and Tony Stewart in 13th hold down the two wild-card berths with one victory each, but several drivers could change their playoff fate by winning in the last seven races before the Chase.
So you have the points battle of trying to finish in the top 10 and earn a guaranteed spot, along with the wild-card spots that likely will change a couple of times over the next two months based on who wins or who doesn't.
4. Watching to see where Newman, Busch, Vickers and Dinger end up -- Silly Season speculation will get crazier by the week with the future of several quality drivers still unknown.
Ryan Newman is officially out at Stewart-Haas Racing, Kurt Busch is weighing his options, Brian Vickers raised his stock with his victory at New Hampshire and AJ Allmendinger is the comeback story of the season.
The question isn't so much "Where will they go?" as it is "Where can they go?" Quality options are limited, and as always, any spot depends on sponsorship.
Austin Dillon probably will move up to Cup (likely in the No. 3) to replace Kevin Harvick at Richard Childress Racing. But Richard Childress, and Jack Roush, could add a fourth car if the money is there for the driver they want. Maybe Newman is that guy.
Or maybe Newman could drive for Kyle Busch's Truck team next year. Just kidding.
Roger Penske could add a third car and Allmendinger might get a full-time ride there, or possibly the spot at JTG/Daugherty Racing in the No. 47 Toyota. Maybe Sam Hornish Jr. gets another shot in Cup with Penske.
Vickers appears to be a lock now for the No. 55 Toyota at Michael Waltrip Racing, but most of these unknowns will become clear over the second half of the season.
[+] Enlarge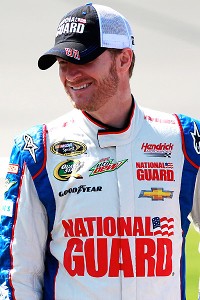 Geoff Burke/Getty ImagesWill Dale Earnhardt Jr. reach Victory Lane in 2013? Stay tuned.
5. Will Dale Jr. win this season? -- Frankly, I'm tired of asking this question, but Junior Nation wants to know. Anyone who runs in the top 10 as often as Dale Earnhardt Jr. has this season could win a race. And his best track -- Michigan -- is coming up next month.
Whether or not he wins in 2013, Earnhardt probably will make the Chase. Is he a contender to win the Chase? Probably not.
The fact that Earnhardt is ahead of Kenseth in the standings shows the points system still needs some tweaking. Kenseth and Earnhardt each have four top-5s and 10 top-10s. Kenseth has a 4-0 advantage in wins, but Earnhardt is fifth with 578 points and Kenseth is sixth with 576 points.
It won't matter come Chase time (drivers are seeded by wins), but it's still wrong.
6. Nationwide could have a winless champion -- With Kyle Busch and other Cup stars dominating Victory Lane again in the Nationwide Series, it's possible that the eventual 2013 champ could be winless.
Six of the top eight drivers in the standings haven't won this season. The top two (Regan Smith and Hornish) have a victory, but Austin Dillon is only 12 points back in third, Justin Allgaier is 20 back in fourth and Elliott Sadler is 24 back in fifth. All three are serious title contenders without a win.
I almost hope this does happen in order to force NASCAR to do something about Cup stars taking all the glory -- and most of the purse money -- in Nationwide.
June, 27, 2013
06/27/13
4:57
PM ET
SPARTA, Ky. -- Churchill Downs might be a little dirtier, and it's ancient compared to Bluegrass State neighbor Kentucky Speedway. But the 1.5-mile oval is downright gnarly compared to most racetracks in NASCAR.
And that's just how most drivers like it. Good drivers tend to want rough and bumpy rather than smooth and untarnished for a racing surface.
"This track really suits me," said Brad Keselowski, who won this race one year ago. "When it's rough, I tend to do better."
The bumpier the track, the less grip it has and the more it brings driver skill into play. Kentucky Speedway is as rough as they come.
"I love how much character that racetrack has," Jimmie Johnson said. "It's so rough. The groove moves around, and you really are just trying to dodge the big swells and bumps to find grip for your race car.
"It's a track I didn't have a lot of success at in the Nationwide Series, or even going there to test before my Cup career really started. We tested there a lot, and I crashed all the time. When the racetrack was back on the [Cup] schedule, I got pretty nervous about things, but I've had a couple of good runs."
Kentucky is one of only four oval tracks where Johnson has yet to win. Of course, this is only his third chance at Kentucky. He was sixth last year and third in the inaugural Kentucky Cup race.
[+] Enlarge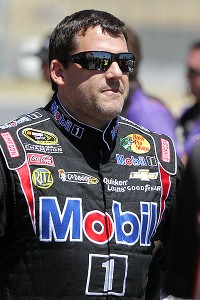 Jerry Markland/Getty ImagesTony Stewart said he's still trying to figure Kentucky Speedway out.
Tony Stewart considers Kentucky one of his two home tracks, along with Indianapolis. Kentucky Speedway is only 65 miles from his hometown of Columbus, Ind. But he failed to post a top-10 finish in the first two Kentucky races.
"We're still figuring it out," Stewart said. "It's got a lot of bumps, so that makes it very challenging. Trying to figure out exactly where to be, where to try to get around some of the bumps, how to get through them better, how to get the car to go through them better -- those are challenges that kind of make it fun, because it's not easy to get around."
All three NASCAR series are racing here this weekend, so the added rubber on the asphalt will supplement the racing groove if wet conditions don't wash it away.
"This track creates a lot of side-by-side racing," Greg Biffle said. "It's flatter than most 1.5-mile ovals and has sweeping corners."
So drivers who consider themselves "wheel men" tend to be the ones who race up front on a track like Kentucky. One of those is Kyle Busch, who won the first Kentucky Cup race in 2011.
Busch and Keselowski are running all three races this weekend because they consider additional track time more important here than at any other track.
"The biggest thing with the extra track time is figuring out the bumps," Kyle said. "It helps if you need your guys to give you a better setup to get through some of those bumps."
Martin Truex Jr., coming off his first victory in six years with his win last weekend at Sonoma, thinks he has a legitimate shot to make it two in a row.
While a road-course win means little on this track, Truex has been at his best this season on the 1.5-mile ovals. He has posted top-10s at all four 1.5-mile oval races this season, including second at Texas, where he led 142 laps.
"But this track is so different," said Truex, who finished eighth at Kentucky last year. "Even though it's a mile and a half, it's unique with the layout and the way it arcs into the corners, but the bumps are the big thing.
"It's just gotten super rough. I guess it's always been rough. They fixed it a few times, and it keeps going back. You have to find ways through the bumps and find ways around them. And that makes it fun to drive."
June, 22, 2013
06/22/13
4:16
PM ET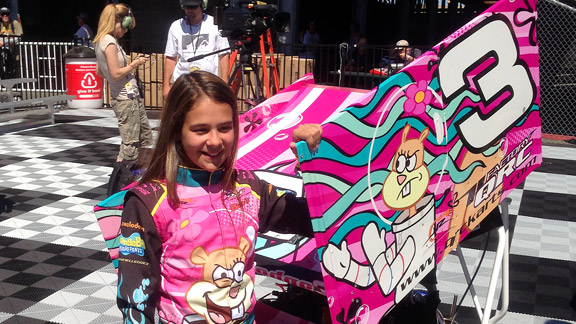 Terry Blount/ESPNKarsyn Elledge, daughter of Kelley Earnhardt Miller and granddaughter of Dale Earnhardt, shows off her Nickelodeon livery after she and her father, Jimmy Elledge, announced she is ready to start racing a Mini Outlaw Series car.
SONOMA , Calif. -- Meet the newest member of the Earnhardt racing family -- 12-year-old Karsyn Elledge.
Karsyn is the daughter of Kelley Earnhardt Miller, who is the daughter of Dale Earnhardt and the GM of the JR Motorsports Nationwide Series team owned by her brother, Dale Earnhardt Jr.
[+] Enlarge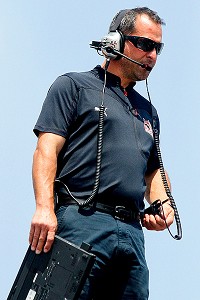 Jason Smith/Getty ImagesJimmy Elledge is living on the West Coast now and ready to help guide his daughter's career.
Karsyn's father is Jimmy Elledge, a long-time NASCAR crew chief who now is working on his daughter's budding career.
Karsyn and her dad held a press conference Saturday morning in the Sonoma Raceway Winner's Circle, unveiling her new, bright pink Mini Outlaw Series car that is sponsored by Nickelodeon.
Of course, the car sports the No. 3 made famous by her grandfather.
Karsyn, who starts eighth grade in the fall, showed she already has the whole interview thing down pat. She stood on the podium in her pink firesuit with her hands on her waist, smiling from ear to ear. She was asked if she wanted to take her car out on the Sonoma road course.
"Well, maybe not yet," she said. "But I hope to be out there sometime in the future."
Dad Jimmy got a little choked up when talking about his daughter. He's building her cars and planning her race schedule. Jimmy now is living on the West Coast. Karsyn will spend the summer with her dad and race events in California, Montana and Oregon.
"The main thing is I just want her to be safe," Jimmy said. "Right now I just want to teach her as much as I can, especially about sportsmanship."
Karsyn has been racing go-karts for a few years and has won more than her share.
"I've also had some races that didn't go they way I wanted," she said.
All part of the learning process. Karsyn said she was nervous before Saturday's announcement, but felt better when uncle Dale Jr. sent her a tweet saying, "Good luck."
Karsyn has racing heritage from her paternal grandparents, also. Terry Elledge, Jimmy's dad, built engines that Dale Sr. used to win several of his seven Cup championships.
Mom Kelley raced with her little brother when they were kids. Earnhardt Sr. once said he thought Kelley had more of what it takes to be a quality racer than any of his children, but Kelley opted for the business side of things.
Maybe Karsyn has some of her mom's racing talent, along with grandpa.
May, 17, 2013
05/17/13
9:17
AM ET
Dick Trickle was so much more than a guy with a funny name.
He knew his name was hilarious and often the butt of jokes. It didn't bother him a bit. He embraced it. Trickle realized his name was marketing gold.
Former ESPN sportscaster Keith Olbermann, like many other sports anchors at the time, took advantage of that unusual name when he teamed with Dan Patrick on "SportsCenter."
"No sports figure Dan and I had fun with took it more graciously,'' Olbermann wrote Thursday on Twitter. "In fact, gratefully. In a time in which athletes were really getting overly sensitive to what we and everyone was starting to do, his attitude was, 'Hey, you guys made me money. All I've got to do is put up with a little giggling, and I put up with the giggling anyway.'
"We gave prominent attention to him, then his races, then all races. He helped mainstream NASCAR at SportsCenter."
Trickle died Thursday at age 71 of an apparent self-inflicted gunshot wound. Depression is a serious problem in our country, from soldiers returning home from the battlefield to people you might never expect who are struggling with everyday life. It doesn't receive enough attention and support. Sadly, it seems to have caught up with Trickle.
[+] Enlarge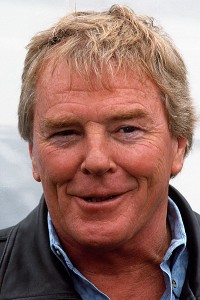 Mark J. Rebilas/USA TODAY SportsDick Trickle made 303 Cup Series starts.
It's also a bit sad that he will be remembered more for his name than for his accomplishments on the racetrack. Even Tom Cruise's lead character in the NASCAR movie "Days of Thunder" had a similar name -- Cole Trickle.
But Trickle was much more than his laughable name. He never won at NASCAR's top level in 303 starts over 24 years from 1970 until his last start in 2002.
However, he was a short-track legend, especially in the Midwest and his home state of Wisconsin, reportedly winning more than 1,000 races.
He also was quite a character. ESPN sportscaster Allen Bestwick pointed out his favorite Trickle quote, when interviewing him after a crash in a Cup race:
"It was at least 50 percent my fault," Trickle said. "I went out there with them idiots!"
A folksy guy to those who knew him, Trickle also knew a thing or two about race cars: "A good friend, he taught me how to drive an IROC car at Indy. Very sad,'' tweeted former Indy 500 winner Eddie Cheever.
Former Cup champion Rusty Wallace considered Trickle a mentor.
"When I was short-track racing, I would call him every Monday morning and he would always help me with race setups and stuff," Wallace said. "He and I had such a good time telling little stories, but he was the guy that taught me almost everything in the American Speed Association. He knew so much about racing."
And that's what people should remember. Trickle was an old-school racer who helped many a talented driver on their way up.
Yes, his name was the punch line to a hundred jokes over the years, and he took it all in stride. But he was so much more than a guy with a funny name.
Allow Blount to be blunt on a few things.
---
NASCAR got a message this week: Loosen up and chill out.
Major penalty reductions came for Joe Gibbs Racing and Penske Racing after NASCAR had basically thrown the book at both organizations.
The JGR reversal Wednesday was a stunner, from a six-race suspension for Jason Ratcliff, Matt Kenseth's crew chief, to only one race. And a huge change to Kenseth's points penalty, from 50 down to 12. He also gets the three Chase bonus points for the win at Kansas reinstated.
This move was the right call, but highly unusual to see the three-person appeals panel (the first level of the NASCAR appeals process) make such a surprising reversal. The one connecting rod that was barely too light (about three grams, the approximate weight of two paper clips) in Kenseth's car was no performance advantage and didn't come from JGR. It was a part from Toyota Racing Development.
Nevertheless, a major penalty revision for any engine violation doesn't happen, until now. It's an indication that NASCAR needs to re-evaluate the severity of some of its punishment decisions.
The JGR decision came one day after chief appellate officer John Middlebrook reduced the suspensions for the Penske Racing team members from six championship races to only two for the rear-suspension violations at Texas.
Losing Ratcliff for only one race is a big help to Kenseth, but losing crew chief Paul Wolfe for only two championship points races instead of six is a much bigger break for Brad Keselowski. Few drivers are as reliant on their crew chief as Keselowski is with Wolfe, arguably the best man on the box in the sport today.
The decision by Middlebrook to reduce the lengths of the suspensions for all the Penske brain trust is much bigger than reducing the lost points or the fines, which he didn't do for Keselowski or Joey Logano's team. The 25-point penalty and the $100,000 hit to each team will remain, but Keselowski and all the Penske guys should be thrilled about the partial reprieve on suspensions.
Middlebrook is proving to be a fair man. When he eliminated most of the penalties on Jimmie Johnson and the No. 48 Chevy team last year after the body violations at Daytona, some people accused him of playing favorites with his old buddy, team owner Rick Hendrick. Nonsense.
Middlebrook carefully studies each appeal and listens intently to the arguments being presented. He is not a shill for NASCAR or any team owner. He simply wants to come to a reasonable conclusion.
Middlebrook is not toeing the party line for NASCAR. Neither did the three-person appeals panel Wednesday on the JGR penalties.
No one can claim NASCAR'S appeals process is a kangaroo court. To the contrary, this week's penalty reductions are a message that NASCAR needs to lighten up on its draconian penalties.
---
No driver has finished on the lead lap of every race this season, which shows how difficult it is to do.
Paul Menard was the only one left until failing to do so Sunday at Talladega. Four drivers have done it in nine of 10 events -- Johnson, Keselowski, Aric Almirola and Menard, but Menard and Almirola are the only drivers in the top 10 who don't have a top-5 finish.
Amirola ranks seventh in the standings after posting four consecutive top-10s, but the one lap he led at Talladega is his only lap led this season. Menard is eighth in the standings with only three laps led.
What does that tell us? Both Almirola and Menard are racing consistently and not making mistakes, but they aren't serious contenders until they can challenge for victories.
---
Kyle Busch is doing things in the opposite fashion of Menard and Almirola. Busch has an average starting position of 6.4, but an average finishing spot of 16.9, a minus-10.5 and the worst ratio of any full-time driver in Cup.
Busch can win races, as he has proven twice this season. But consistency is lacking. Some of it's bad luck and some of it isn't.
The best start/finish among top-10 drivers is Dale Earnhardt Jr. at plus-5.8 (17.6 to 11.8). Carl Edwards (16.1-10.5) and Almirola (20.4-14.8) are plus-5.6.
By the way, Danica Patrick is a plus-5 with an average starting spot of 31.1 and an average finish of 26.1. But the farther back you start, the easier it is to move up.
Take J.J. Yeley, for example. He's at a plus-7.8 (the best among full-time Cup drivers), starting 37.0 and finishing 29.2.
---
Futility, thy name is Kvapil. Travis Kvapil has the fewest points of any driver who has made all 10 starts this season. His average finish is 33.7.
Kvapil ranks 37th in the standings, two spots behind AJ Allmendinger, who has only four starts. Kvapil is the only driver to start all 10 races without finishing on the lead lap.
April, 17, 2013
04/17/13
2:15
PM ET
When Judgment Day came Wednesday, Penske Racing found out NASCAR has no mercy. NASCAR has sent a couple of messages this season for every team to hear:
Do not criticize the new Gen-6, and more importantly, do no tamper with it. Hell hath no fury like a NASCAR judge.
It's no wonder NASCAR didn't fine Brad Keselowski for his angry comments after the Texas race. That would have been equivalent to kicking a dead horse, considering the punishment that was coming.
Other than parking a team for a race, it doesn't get worse than this:
" Drivers Keselowski and Joey Logano docked 25 points each, along with 25 owner points taken from both cars.
" Crew chiefs Paul Wolfe and Todd Gordon suspended six championship races (plus the All-Star Race) and fined $100,000 each.
" Car chiefs and the lead team engineer for both cars also suspended six points races.
" Penske Racing team manager Travis Geisler suspended six points races.
[+] Enlarge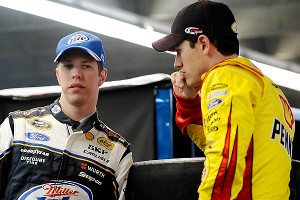 Jared C. Tilton/Getty ImagesPenske Racing teammates Brad Keselowski and Joey Logano got docked 25 championship points each by NASCAR.
In other words, the entire brain trust for both Sprint Cup teams was gone in an instant, a severe punishment for unapproved changes to the rear-end housing on both cars at Texas.
Penske Racing officials immediately sent out a brief statement saying they will appeal. I would hope so. What do they have to lose?
The appeal means everyone keeps working for the moment, but it could be only a temporary reprieve.
NASCAR officials made it clear back in February they wouldn't tolerate any criticism on the new Gen-6 car, fining Denny Hamlin for making disparaging remarks about the car at Phoenix.
And NASCAR made it crystal clear Wednesday it won't tolerate any monkey business when it comes to "pushing the envelope" on the Gen-6. This is one of the harshest penalties ever imposed by the sanctioning body.
Martin Truex Jr. and the No. 56 Toyota team also were penalized Wednesday, but Truex must feel like his team got off light by comparison. Truex was docked six points and crew chief Chad Johnson fined $25,000 for the car being too low in a postrace inspection at Texas.
And Camping World Truck Series veteran Ron Hornaday Jr. also got off relatively easy by avoiding a one-race suspension. Hornaday was docked 25 points and fined $25,000 for deliberately wrecking Darrell Wallace Jr. under caution in Sunday's race at Rockingham.
Kyle Busch fans will howl over that one since Busch was parked for one weekend two years ago when he pulled a similar move on Hornaday at Texas. Hornaday caught a break for previous good behavior.
But the Penske boys were tossed in the NASCAR dungeon in chains. As harsh as it is, the Chase format makes the punishment survivable. Had this happened at the start of the 10-race playoff, game over.
Keselowski can make up the 25 points since it comes long before the Chase starts. It's a little tougher for Logano, because the points reduction would drop him out of the top 10 for now, but not an insurmountable loss.
The real punishment comes in losing the key personnel for both cars. Other than Chad Knaus, who led Jimmie Johnson to five consecutive championships, Wolfe may be the best crew chief in NASCAR today.
Speaking of Knaus, he should send a text to Keselowski and Wolfe that reads: "Welcome to my world, boys. NASCAR has a new champ to pick on."
Few drivers rely on the expertise of their crew chief more than Keselowski does with Wolfe. He's Brad's lifeline.
And any chance of keeping things running smoothly in his absence was eliminated by suspending car chief Jerry Kelley and team engineer Brian Wilson as well.
Logano faces the same fate, just when it appeared he was starting to feel comfortable with his new team. Now both teams will have to fight their way through it.
Until now, inspections had gone relatively smoothly for the Gen-6, so what changed?
Texas was the seventh race of the season in the new car. Teams are starting to feel comfortable with it, and consequently, willing to try more things to make it faster. The more you know, the more you're willing to take a few risks.
No, no, no, boys. Big Brother NASCAR is watching. The Penske punishment essentially tells all the teams, "Don't try it. We will catch you and you will pay."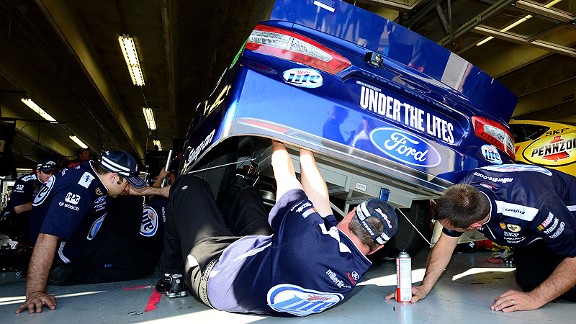 Robert Laberge/Getty Images/Texas Motor SpeedwayThe Miller Lite crew works on the No. 2 Ford after the car failed prerace inspection Saturday at Texas.
April, 4, 2013
04/04/13
5:18
PM ET
NASCAR went with a new points system in 2011 based on one point per finishing position. It's better than the old system, but it still results in way too big a penalty for a bad finish compared to a good one.
For example, Joey Logano has one top-10 finish in the first five races (third at Fontana) and ranks ninth in the standings. The California race was the only time this year Logano has finished better than 12th.
Ryan Newman has finished better than 12th three times. He has three top-10s (including a fifth in the Daytona 500) but ranks 20th overall.
Huh? Newman crashed at Phoenix and finished 40th and had an engine failure at Las Vegas and finished 38th. A DNF (did not finish) is a points disaster.
Greg Biffle ranks fourth in the standings, but doesn't have a top-5 so far this season. Kyle Busch has three top-5s, including a victory at Fontana and second-place at Bristol, but he ranks sixth.
Busch had an engine failure at Daytona and finished 34th. Biffle hasn't finished worse than 17th, which he did twice. But shouldn't the man with three top-5s and a victory in the first five races rank ahead of the guy with no top-5s?
Consider this oddity: A driver could win three times in the first five races and be lower in the standings than a driver who didn't post a top-10 in those five events.
Five finishes of 11th (without leading a lap) would give a driver 165 points.
Another driver could win three times and lead the most laps (good for 144 points), finish 34th in the other two (good for 20 more points), and be one point behind the driver who didn't post a top-10.
That's not going to happen, of course, but you get the point, no pun intended.
The good news is the wild-card format (basing the final two playoff spots on victories for those drivers 11th through 20th) means the driver who wins races is likely to make the Chase if he ranks in the top 20.
But the system should have more of a reward for finishing well or less of a punishment for having a bad day.
---
• Joe Nemechek is really racing: In 98 Cup starts over the previous three seasons, Nemechek was running at the finish only four times. He has equaled that amount in the first five races this season.
Nemechek's only DNF this season came in the Daytona 500. He isn't able to race competitively because he just doesn't have the funding or the personnel to do it. But he's racing until the end, giving it all he has, and that's good enough for me.
March, 25, 2013
03/25/13
3:58
PM ET
If you're blaming Joey Logano for Denny Hamlin's broken back, you need to think again.
Hamlin has an L1 compression fracture now because he hit a concrete wall head-on that didn't have the SAFER barrier in front of it.
It's absolutely inexcusable, after almost a decade of SAFER barrier use by NASCAR, that a car still can slam into a concrete wall that doesn't have the collapsible barrier in front of it.
But it happened to Hamlin on Sunday on the final lap with a vicious crash into an inside wall at Auto Club Speedway that didn't have the SAFER barrier in place.
When will all these speedways learn that any concrete wall, no matter where it is around the track, endangers the lives of drivers if the wall doesn't have the SAFER barrier in place?
Does someone have to die before this situation changes?
Frankly, all these tracks have been lucky it hasn't happened. Changes to the cars, along with head-and-neck restraints, have prevented serious injuries in many severe crashes, just as the SAFER barrier has.
But it's Russian roulette to have any exposed concrete wall, which likely caused Hamlin's injury Sunday.
No one can say for sure the SAFER barrier would have prevented Hamlin's back fracture. But the odds of him coming out of it without a back fracture would have improved dramatically had his car hit the collapsible wall.
Some fans are placing all the blame on Logano for what they see as an inappropriate payback move at the end of Sunday's race.
The two drivers were going all-out to win the race at the end. Had the situation between the two of them been more cordial, maybe the sheet-metal banging at the end wouldn't have happened. But maybe it would have since both drivers wanted to win.
Logano made a comment about Hamlin he shouldn't have made afterward: "He probably shouldn't have done what he did last week [wrecking Logano at Bristol], so that's what he gets," Logano said.
When Logano made the statement, he didn't know Hamlin was injured.
But it isn't like Logano went out and hunted down Hamlin to get even. They were side by side on the last lap, battling to take the checkered flag.
Hamlin may miss several races because of his injury, and it could cost him a spot in the Chase.
Hopefully, that won't happen. If it does, don't blame Logano. Blame the track for not having the SAFER barrier in front of the concrete wall.
March, 21, 2013
03/21/13
6:03
PM ET
I'm officially lobbying for a NASCAR rule change. OK, maybe it's unofficial, but you're welcome to join.
After four races, two cars rank in the top 10 in the owner standings, but they aren't Chase eligible. For the No. 55 Toyota and the No. 51 Chevy, they're top 10 only in owner points because both teams have used more than one driver.
Here's the request: If those cars stay in the top 10 after the 26 regular-season races, let each team designate one driver to compete in the Chase.
As a combo group, they'll have earned it. So let them pick a driver to go for it in the playoff.
Yes, I know. It's not fair to a driver who raced in all 26 pre-Chase events. Who knows if the 55 or the 51 would have stayed in the top 10, or earned a wild-card spot, if each team had used only one driver.
But wouldn't it be fun to give them a shot at it? Each team does have a shot at the owner's championship, not that anyone pays much attention to that.
Maybe they could compete in the Chase in a separate category as a combined driver's champ if they won the playoff.
The 55 Toyota, part of the Michael Waltrip Racing stable, is shared by Mark Martin and Brian Vickers, who have already raced, and Waltrip, who will race in a few events later this season. The 51 Chevy, owned by James Finch, has used three drivers in the first four races -- Regan Smith, AJ Allmendinger and Austin Dillon.
The 55 car ranks fourth overall and the 51 is tied for seventh.
Martin finished third at Daytona and Vickers was eighth last weekend at Bristol. Smith was seventh at Daytona and Allmendinger was 11th at Phoenix and 13th at Bristol.
These guys are getting it done. They deserve some recognition.
Look at it like this: A baseball team doesn't lose the game if the starting pitcher doesn't go nine innings, assuming it is still ahead at the end.
Giving these race teams a chance to compete for something more in the Chase would add an element to the playoff drama.
And there's another factor in this that could come into play sometime. Say a driver led the standings after 26 races, but got injured in the final regular-season event and had to sit out two or three races.
If this rule changes, a team could use a sub and still compete in the Chase. Otherwise, a sponsor spending millions of dollars would lose all the exposure it hoped to gain in the playoff.
So feel free to join my lobbying effort, not that it will do any good. Or tell me you hate the idea. Either way, it's an interesting topic and a fun debate.
March, 13, 2013
03/13/13
5:56
PM ET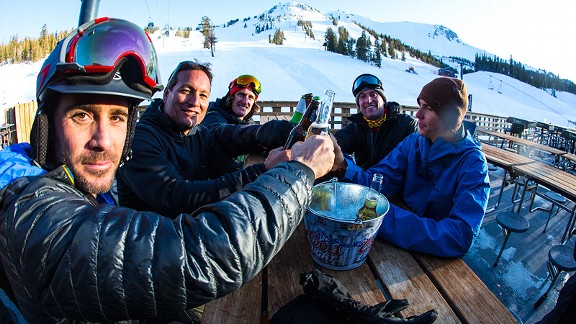 Peter Morning/Mammoth MountainJimmie Johnson and the gang share some drinks on the Main Lodge Sundeck at Mammoth Mountain.
LAS VEGAS -- Radical, man.
That about sums it up for Jimmie Johnson and four extreme athletes who managed to do more sports craziness in one day than most people will do in a lifetime.
This wasn't your typical Monday at the office. In fact, it probably was an unofficial record for trichotomous physical activity over the course of nine hours.
Johnson and his posse of champions -- snowboarder Eddie Wall, ski racer Chris Benchetler, surfer Ian Walsh and standup paddler Dave Kalama -- tackled some of California's epic venues from dawn to dusk last week.
It started with surfing in Huntington Beach -- known as Surf City, USA. Next up was 200-mph action at Auto Club Speedway in Fontana. And the daredevils closed it out with skiing and snowboarding on Mammoth Mountain. Their mode of transportation between venues: Johnson's private plane.
"I met some great athletes," Johnson said. "Only in my home state can you do all three of those cool things in one day. I'm proud of that."
Johnson held his own on the two disciplines that aren't his specialty. Let's start with surfing, which Johnson admits isn't his best sport.
"I was most nervous about the surfing," Johnson said. "There are no guarantees of catching a wave and I didn't want to lay a big goose egg there. I don't think the other guys felt I could catch a wave and ride it, but I did. It wasn't the prettiest thing."
Maybe not, but he got in the swing of things without much trouble.
"I was a little rusty," Johnson said. "It took me two or three tries to catch a wave and remember the right angle so you can ride it. I had three or four good rides.
"The hardest part is you ride the wave in, and then you have to paddle out through all that stuff again. That's tough. We were in the water for an hour and a half. At the end, my arms felt like they were going to fall off."
Johnson just was happy to get through the first phase without an injury.
"The way the waves were breaking would take you right up by the pier," Johnson said. "I was a little nervous I'd get caught in the pillars.
"And I fell off a couple of times in the water. You always wonder where the board is when you fall. It's hooked to your foot, so you know it's going to come back after you."
After holding his own in the surf, Johnson got his chance to shine on the 2-mile oval at Fontana, a track where he has five Sprint Cup victories.
"It was fun to see how excited those guys were to drive a race car," Johnson said. "They were so thrilled to ride around and make laps on their own."
A couple of guys also did their Brad Keselowski impression by tweeting a little in the car.
"If you're not first, you're last. Racing NASCAR with Jimmie Johnson," Benchetler tweeted.
Walsh was fired up in his tweet: "Funnest thing ever. No. 1 hands down."
For the final venue, everyone hopped back on Johnson's plane and flew to Mammoth Mountain (about 165 miles south of Reno) to take on the slopes.
"I feel like I'm a far better skier than a surfer," Johnson said. "So the day went from really nervous, completely comfortable, then pretty comfortable again."
Johnson is no novice on a pair of skis.
"I started going with a good friend of mine from school whose dad was into [snow] skiing," Johnson said. "We went to Big Bear Mountain, a couple of hours away from my parents' house [in El Cajon]. I learned to ski there. I loved it and skied a lot from my mid-teens on."
And Johnson is no stranger to snowboarding, either.
"My wife [Channi] is into snowboarding, so I switched to snowboarding,'' he said. "But I was on skis for this thing.
"We went through some gates and they timed us, which was fun. We did some small little jumps, too, but those guys just fly. It was fun just zipping down the mountain with them."
Fellow NASCAR racer Brendan Gaughan was a little jealous.
"Sure, won't ski with me anymore," Gaughan tweeted to Jimmie. "I see where I rate."
All in all, it was quite a day for everyone involved.
"A Monday I'll remember for a long time,'' Walsh tweeted after a rare tripleheader of sports fun.