Anderson could use some good news
March, 27, 2010
03/27/10
6:59
PM ET
CONCORD, N.C. -- When three-time NHRA champion Greg Anderson pulled up to the starting line Saturday for the last time, it was go or go home.
Only one problem.
"I don't have a home right now," said Anderson, whose house was burned beyond repair two months ago in a neighborhood fire. "But I'm not gonna whine. My family is OK and we're getting through it."
Moments after he was bumped out of the show, Anderson powered down the track at 6.57 seconds and 212.46 mph, setting a national speed record for Pro Stock in the final round of qualifying for the Four-Wide Nationals.
Anderson qualified fifth and hopes to win at his home track. What was Anderson's home, only down the road from zMax Dragway, is a blackened mess now. His neighbor accidentally started a fire in January that destroyed three houses.
[+] Enlarge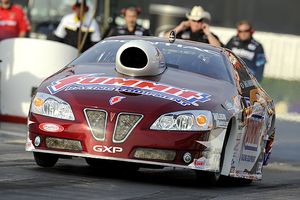 NHRAGreg Anderson, once the most dominant racer in the Pro Stock ranks, has finished second in the NHRA standings four years in a row.
As bad as that is, it isn't the worst thing that happened in Anderson's life recently. Ken Black, his team owner and close friend, suffered a stroke in December.
You'll have to forgive Anderson if his mind isn't always focused on racing these days.
"You can say you're a professional and you've got to block that stuff out," Anderson said. "But I'm not gonna lie. I haven't been able to do it.
"I think I'm doing OK with it, but it bothers you and it's in the back of your mind all the time. The good side is nobody was hurt in the fire. And Ken is still alive and recovering, so brighter days are coming.''
Obviously, the past few months won't make the highlight reel of Anderson's life, personally or professionally.
It wasn't long ago when Anderson was as close to unbeatable as a racer gets. He won three consecutive Pro Stock championships and 35 events from 2003 through 2005.
Anderson was on top of the drag racing world. He was named Driver of the Year in 2004, the only Pro Stock racer ever to win the prestigious award.
Since his three titles, Anderson has become the perennial runner-up, finishing second in the standings each of the past four seasons. He's third in the 2010 standings, still looking for his first win of the year.
"Greg needs a win," said Anderson's wife, Kimberly. "This has really taken a toll on him. It's been a very challenging time in our life.
"The fire was a very bad experience, but what really has bothered Greg more than the house is Ken's situation. He's like a dad to Greg. We both feel like, you know what, the house can burn down if we just can get Ken healthy again."
Black is recovering in a rehab center. Anderson waited a month before telling Black about the fire because he feared it would stall his recovery.
"He lost use of the left side of his body," Anderson said. "But his mind is fine and his speech is fine. It's great he can still talk to us. After this happened we lost a little ground with the race team, but I don't care as long as Ken is still with us."
Greg, Kimberly and their kids -- 19-year-old daughter Brittany and 10-year-old son Cody -- are living in Black's condo in Concord until a settlement is reached with the insurance companies. Greg doesn't know if they are going to build a new house or buy a house.
"Greg wants to get it over with and fix it and make it better," Kimberly said. "But I feel like I'm still in the mourning process."
Anderson said losing their home has been much harder on Kimberly, but they both try to laugh about things when they can.
One of the few things Greg salvaged from the fire was all his NHRA trophies. An event trophy is called a Wally, in honor of the late NHRA founder Wally Parks. Greg has 60 of them.
Greg was at the shop when the fire started. Kimberly and Brittany were outside.
"The firemen didn't want to let me go in the house," Greg said. "I told them, 'I'm getting my Wallys.' I had about 20 firemen in a chain gang passing Wallys out the door."
That fact is an issue for Kimberly, who still hassles her husband over it.
"Trophies?'' she said. "I wanted my shoes. Those are my trophies."
Kimberly is quite the fashion plate among the NHRA wives, so losing her wardrobe was a big deal.
Pro Stock driver Kurt Johnson had a message for Anderson.
"He said he was buying stock in Nordstrom to take advantage on all the clothes Kimberly was going to buy," Anderson said. "Everyone should do that."
The lighthearted moments help the Andersons get through a painful time in their lives.
"It's still a day-to-day challenge to get your normal life back," Anderson said. "It's been a crazy couple of months. But things are turning the corner and now. I think the worst is behind us."
Things are looking up. Jason Line, Anderson's teammate, won two weeks ago in Gainesville, Fla.
A victory for Anderson on Sunday, just down the street from the home he lost, would mean as much to him as any win in his career.
"I want it so bad for this race team," Anderson said. "We have some ground to make up in a lot of ways. And this would be a great way to put a smile on Ken's face."