Sell programs? A monkey could do it
November, 3, 2010
11/03/10
11:04
AM ET
If you want to buy a race program this weekend at Texas Motor Speedway, be sure you have exactly $10.
"Monkeys don't make change," said TMS president Eddie Gossage, "so don't give them a twenty."
[+] Enlarge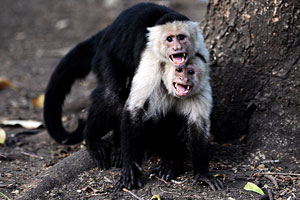 Yuri Cortez/AFP/Getty ImagesWould you like to buy a program?
Gossage isn't insulting his program sellers -- well, unless monkeys are insulted by being told they can't count. Two of the program sellers this weekend at TMS actually are monkeys -- Miki and Rocky.
I don't believe they come with an organ grinder, but they gladly will take your cash and hand you a program.
How did this come about, you ask?
Gossage was in a meeting with Speedway Motorsports Inc. chairman Bruton Smith when someone asked about how to increase program sales at the SMI events.
"A monkey could sell programs," Smith said.
Gossage, always the promoter, decided to take that literally.
His staff started checking and found two trained capuchin monkeys to work the NASCAR races this weekend.
Gossage had Miki (pronounced Mikey) with him Monday on a live TV appearance for the Dallas/Fort Worth Fox affiliate. Gossage also plans to bring the monkeys in the media center Friday to hand out programs to reporters.
And Gossage has changed his Facebook photo to a shot with Miki on his shoulder.
The monkeys will make their first public appearance Friday from 2:30-4 p.m. CT at the Hot Rod Café in the TMS infield.
They will perform their program work assignments from 9:30 to 11:30 a.m. Saturday before the Nationwide race and noon to 2 p.m. Sunday before the Sprint Cup race.
Yes, the circus really is town this weekend at TMS.