Kentucky Speedway gets a second chance
June, 29, 2012
06/29/12
11:16
AM ET
SPARTA, Ky. -- It's fitting that I'm here. The accused (Kentucky Speedway officials) deserve to confront the accuser (me).
No one is confronting me. On the contrary, everyone at Kentucky Speedway has gone above and beyond the norm to make people here feel comfortable this weekend, including me.
I wasn't the only critic last year, but I let 'em have it, and they deserved it. I ripped this place, from the parking attendants all the way up to the big boss: Speedway Motorsports Inc. chairman Bruton Smith.
[+] Enlarge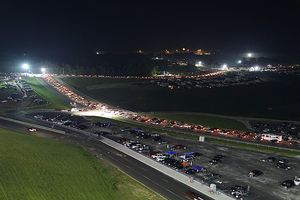 AP Photo/Jonathan PalmerRace traffic was backed up for hours getting into and out of Kentucky Speedway for the track's inaugural Sprint Cup event in July 2011.
It was Bluegrass Armageddon, a traffic and parking nightmare that ruined the day for thousands of fans.
Things have changed. From Smith on down the SMI chain, along with Kentucky Gov. Steve Beshear and other state officials, everything possible has been done to ensure this weekend is nothing like that one.
SMI has invested more than $10 million in road and parking improvements, along with added amenities inside the facility. Interstate 71 was widened at the speedway exit, and the highway entrance around the track was widened to seven lanes.
More than 20,000 additional parking spaces were constructed, along with a pedestrian tunnel that connects 170 acres of new parking to the speedway property.
These guys mean business. The Kentucky State Police even held a news conference last week to present a detailed traffic plan for the weekend. There's also a radio channel (1620 AM) fans can tune to Saturday for traffic details as they approach the track.
"We are taking every measure to ensure our fans enjoy great racing when we take the NASCAR spotlight this weekend," Kentucky Speedway general manager Mark Simendinger said.
Everyone deserves a second chance, an opportunity to make amends. In this case, there's a lot to amend.
One year ago, everyone involved was woefully ill-prepared for a crowd of more than 100,000 people at the track's inaugural Kentucky Cup race. All involved fell flat on their collective faces with a traffic debacle that can be described only as a complete failure.
Thousands of people waited eight to 10 hours in total gridlock. Some were turned away when they got to the track because there was no place to park. Some just gave up, turned around and went home before ever reaching the speedway.
It was a Kentucky catastrophe, but Saturday night's event should be Bluegrass heaven by comparison.
For one thing, the race won't have as many people. Some fans just opted out, deciding not to forgive and forget. About 30,000 fewer tickets have been sold than last season.
Hopefully, those people will be back in 2013 if everything goes smoothly this weekend. The governor is counting on it.
"I commend Bruton and Mark and all the other people at Kentucky Speedway for the obvious improvements to this facility," Gov. Beshear said earlier this month. "Equally important has been their resolve to make the Quaker State 400 the showcase event it deserves to be.
"Their investment and their resolve made it easy for us to also invest in roadway improvements to increase traffic capacity in the vicinity of Kentucky Speedway. We obviously have a great number of passionate NASCAR fans in this region. Kentucky Speedway is ideally situated to draw from those fans in Kentucky, Indiana, Ohio, West Virginia, Tennessee and even farther, and we look forward to this race being a signature event for many years to come."
As we all know, you get only one chance to make a first impression. Kentucky Speedway officials blew that big-time.
But they are doing everything they can to produce new memories and make up for one really bad day.
As a former accuser and critic, I'm giving them the benefit of the doubt.