Enders finally gets historic win
July, 1, 2012
07/01/12
10:49
PM ET
Erica Enders was famous a long time ago as a teenager. Now she's part of drag-racing history.
Enders became the first woman ever to win an NHRA Pro Stock event when she defeated four-time champion Greg Anderson in the finals at Chicago on Sunday night.
"I've been waiting for this moment for 20 years, since I was 8 years old in a junior dragster," Enders told ESPN after her victory. "It's been a long road and I've worked my butt off to get here."
Anderson, one of Pro Stock's all-time greats, was gracious in defeat and the first person to congratulate Enders.
"I'm in the history book now for the wrong reason," Anderson told ESPN. "But the bottom line is this has been a long time coming for Erica. You knew she was going to win soon.
"I didn't want to be the guy on the other end, but I am now and it's probably going to open the floodgates for her."
Enders is a Houston native who lives in New Orleans with her boyfriend, fellow drag racer Richie Stevens Jr. She first came to national attention in 2003 when a Disney Channel movie was made about her and her younger sister, Courtney.
The movie was titled "Right on Track," a story about how the sisters regularly beat the boys as young girls in the NHRA Junior Drag Racing League. Actress Beverley Mitchell played Erica in the movie.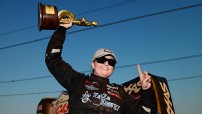 Mark J. Rebilas/US PresswireErica Enders finally got to hold her first Wally as a professional driver.
The movie led to high expectations for Enders when she turned pro in 2005 at age 21. She was a runner-up at Chicago in her rookie season when she lost in the final to Jason Line. She reached another final in 2006 at Gainesville, losing to Tom Martino.
But Enders lost funding and didn't have a ride after the 2007 season. She struggled in 2009 and 2010 while running a limited schedule.
Things turned around last season when she went back to her roots and drove for team owner Victor Cagnazzi. Enders reached three final rounds and was the top qualifier at two events, but a victory kept eluding her.
"Victor gave me a chance to do this for the first time in one of these cars when I never had let out a clutch," Enders said Sunday. "This is amazing to finally win with him."
Cagnazzi said all Enders needed was a quality car and team to bring her talents to the top.
"She is an unbelievable driver," Cagnazzi told ESPN Sunday. "But this is the first time we've given her the car she deserves."
No one was happier for Enders than crew chief Dave Connolly, a talented Pro Stock driver in his own right who has been instrumental in helping Enders become a winner.
"She put in her time for this and she earned it," Connolly said Sunday. "We all knew it was coming."
It's coming soon for another talented female driver, as well. Sunday almost was a double-win day for the ladies. Rookie Courtney Force, daughter of NHRA legend John Force, reached her first Funny Car final, but lost to Jeff Arend.
Enders said she was happy that her first win came against the best of the best in Anderson.
Now she's more than just the woman who had a movie made about her life as a kid. Now Enders is a Pro Stock winner, something no other woman can say.
"This is for all the kids who were told they never could do it," Enders said. "You can do it."