Kurt Busch's grand plan still on hold
September, 25, 2012
09/25/12
11:39
AM ET
Going from one second-tier team to another one is not what Kurt Busch had in mind for 2013 when he was out of options at the start of the 2012 season.
That's how it played out with the news that Busch is moving from Phoenix Racing to Furniture Row Racing next season.
Busch had hoped he could spend one season rebuilding his image and prove his worth so he could land a ride with a major team is 2013. The bottom line is he didn't do enough to get there.
[+] Enlarge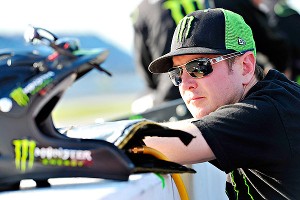 Rob Grabowski/US PresswireFormer Sprint Cup champ Kurt Busch will replace Regan Smith in the Furniture Row Racing No. 78 Chevrolet in 2013.
Even if a top team owner wanted him -- and Richard Childress indicated he did -- no sponsor was willing to foot the bill and take the chance, hoping Busch would represent them in a respectful and responsible manner.
Busch, 34, needed to get through this season quietly without any incidents, but that didn't happen.
He served a one-week NASCAR suspension in June for verbally abusing a media member. Busch, already on probation, told the reporter it kept him from "beating the s--- out of you right now because you ask me stupid questions."
Busch was on probation from an incident at Darlington in May, doing a burnout through Ryan Newman's pit box and endangering crew members.
When the race ended and the cars were coasting onto pit road, Busch bumped into Newman's car, which was directly in front of Busch. He was fined $50,000 for the Darlington situation.
Busch just couldn't do what he needed to do after his falling-out with Roger Penske at the end of 2011 (which cost him his ride in the No. 22 Dodge) over continuing bad behavior and an inability to work well with his teammates.
Busch didn't have to win this season. He didn't have to compete for the Chase. All he had to do was mind his manners and stay out of trouble.
He couldn't do it, so this is the result -- another year with a single-car team that isn't likely to compete at the highest level.
Busch will replace Regan Smith in the No. 78 Chevy, a car that ranks only two spots higher in the standings than Busch is now (23rd instead of 25th), but that comes with one more start.
Sponsorship is not an issue on the 78 team because the owner (Barney Visser) is the sponsor. It's the only Sprint Cup team based in Colorado.
Smith gave the 78 team everything he had, winning at Darlington in 2011 for the team's only victory. Smith represented the organization with class and dignity. He's a decent driver, but he's not Kurt Busch, the 2004 Cup champion who has 24 victories.
Only a handful of drivers have Busch's talent, but it takes more than talent to get a top ride in NASCAR. Busch continues to learn that lesson.