Trickle was more than funny name
May, 17, 2013
05/17/13
9:17
AM ET
Dick Trickle was so much more than a guy with a funny name.
He knew his name was hilarious and often the butt of jokes. It didn't bother him a bit. He embraced it. Trickle realized his name was marketing gold.
Former ESPN sportscaster Keith Olbermann, like many other sports anchors at the time, took advantage of that unusual name when he teamed with Dan Patrick on "SportsCenter."
"No sports figure Dan and I had fun with took it more graciously,'' Olbermann wrote Thursday on Twitter. "In fact, gratefully. In a time in which athletes were really getting overly sensitive to what we and everyone was starting to do, his attitude was, 'Hey, you guys made me money. All I've got to do is put up with a little giggling, and I put up with the giggling anyway.'
"We gave prominent attention to him, then his races, then all races. He helped mainstream NASCAR at SportsCenter."
Trickle died Thursday at age 71 of an apparent self-inflicted gunshot wound. Depression is a serious problem in our country, from soldiers returning home from the battlefield to people you might never expect who are struggling with everyday life. It doesn't receive enough attention and support. Sadly, it seems to have caught up with Trickle.
[+] Enlarge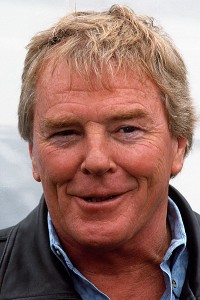 Mark J. Rebilas/USA TODAY SportsDick Trickle made 303 Cup Series starts.
It's also a bit sad that he will be remembered more for his name than for his accomplishments on the racetrack. Even Tom Cruise's lead character in the NASCAR movie "Days of Thunder" had a similar name -- Cole Trickle.
But Trickle was much more than his laughable name. He never won at NASCAR's top level in 303 starts over 24 years from 1970 until his last start in 2002.
However, he was a short-track legend, especially in the Midwest and his home state of Wisconsin, reportedly winning more than 1,000 races.
He also was quite a character. ESPN sportscaster Allen Bestwick pointed out his favorite Trickle quote, when interviewing him after a crash in a Cup race:
"It was at least 50 percent my fault," Trickle said. "I went out there with them idiots!"
A folksy guy to those who knew him, Trickle also knew a thing or two about race cars: "A good friend, he taught me how to drive an IROC car at Indy. Very sad,'' tweeted former Indy 500 winner Eddie Cheever.
Former Cup champion Rusty Wallace considered Trickle a mentor.
"When I was short-track racing, I would call him every Monday morning and he would always help me with race setups and stuff," Wallace said. "He and I had such a good time telling little stories, but he was the guy that taught me almost everything in the American Speed Association. He knew so much about racing."
And that's what people should remember. Trickle was an old-school racer who helped many a talented driver on their way up.
Yes, his name was the punch line to a hundred jokes over the years, and he took it all in stride. But he was so much more than a guy with a funny name.