Stewart vs. Petty: Smoke goes too far
February, 20, 2014
02/20/14
5:41
PM ET
DAYTONA BEACH, Fla. -- We're still concerned about Tony Stewart's mending leg, but clearly his mouth is back to 100 percent -- running wide open, set up real loose, so that the rear end is hanging out.
So Smoke wants to set up a match race between Richard Petty and Danica Patrick, does he? And let me get this straight: Should Danica win, "If I were her, I'd take [the checkered flag] over there and cram it up his [you know].
"But that's just me."
Petty is 76 years old, Stewart is 42 and Danica is 31. I have no idea how such a match race, preposterous at face value, would turn out. But as for the aforementioned celebratory gesture, I somehow doubt Stewart would succeed at such an endeavor. (I'm certain Danica has far too much class even to say such a thing, let alone try it.)
[+] Enlarge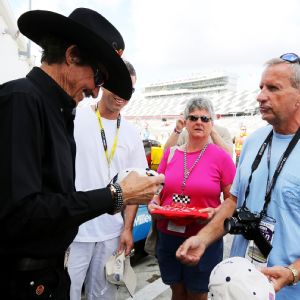 Jerry Markland/Getty ImagesTony Stewart dissed one of NASCAR's hallowed figures: seven-time Cup champion Richard Petty.
But that's beside the point, which is ...
A school of piranhas doing business as the current NASCAR media corps has already picked Richard Petty's carcass clean. They've been all atwitter -- pun absolutely intended -- since, at some trade show in Canada, he was quoted as saying Danica could win a race only if "everybody else stayed home."
Petty went too far. Think of it this way: Even when Danica finishes, say, 30th in a race, she still has outrun 13 drivers. So she would have won if only 29 drivers stayed home.
When she finished eighth in the Daytona 500 last year, she outran 35 drivers, and might have won had only seven drivers stayed home. Hell, she might have won had none of them stayed home, if, while running third going into the last lap, she'd caught the breaks of the aerodynamic pushes and pulls of the draft.
Petty exaggerated. I can't count the number of times I've heard NASCAR drivers, including Stewart -- especially Stewart -- exaggerate things. E.g., his "We're going to kill each other" several years back after he won a preliminary race during Speedweeks and didn't like the way the bump drafting was going.
Stewart paid a price in the media frenzy then, and Petty has paid it lately.
Not even piranhas feed on bones once the carcass is picked. But here comes Stewart to chum the water, and the mania continues, on into the outer reaches of the absurd.
Stewart's mouth has a history of twisting the knife once it's in. He had to get personally professional, or professionally personal, disparaging Petty's career when, yes, at times, it was claimed the King had superior cars.
But don't tell David Pearson or Cale Yarborough or Bobby Allison that. They all beat him, and when he beat them, he had to work at it.
Speaking of feeding, Stewart has fed -- and well -- off a sport Richard Petty made. There are legions of fans because, at the roots of NASCAR popularity, Richard Petty would sit for hours after races, signing autographs and talking with the people.
I was there while Petty was building the foundations of this stuff. He never brushed off the media, young or old, from ABC Sports to small newspapers. He took a lot of time with us. He gave elaborate, respectful answers to our often asinine questions.
Stewart is a very popular driver. But he didn't build this sport. He truly is standing on the shoulders of titans.
One of them, the tallest of them all, is Richard Petty.
I understand fully that Stewart meant to defend his employee, his driver, and by extension, her sponsor.
But one stab would have been enough. To twist the knife, and twist, and twist, was beyond disrespectful to a man highly responsible for where Stewart and his team are today.
Petty went too far. Stewart went far beyond too far.