Little Widow made a big impression
April, 14, 2009
04/14/09
2:21
PM ET
The Little Widow still exists, pretty as ever.
I found her -- actually, it -- through idle Easter Googling that led to my most serendipitous find ever on the Internet.
The Little Widow, you see, is why I am what I am, where I am, who I am. Its siren song to a child changed the course of a life in the bud.
I'd thought it was long gone, destroyed, rusted away in some junkyard, decades ago relegated to my memory.
[+] Enlarge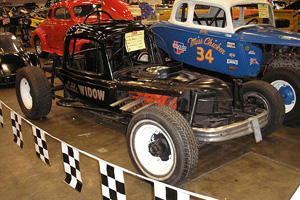 Courtesy Tobby Taylor/Misschicken.comThe Little Widow, smaller and sleeker than the boxier Miss Chicken, was built on a rail frame with a severely chopped-down body. She is more typical of the innovation of the Mississippi constructors of the time, who went for light weight and low profile.
But there the Little Widow sits -- restored, gleaming black -- in pictures from a recent car show, looking as race-ready as it was the night it was the very first glimmer, inkling, spark of my passion for motor racing.
If you want to see it, here's a link: www.misschicken.com. Scroll down the home page until you see the striking little black open-wheel car.
When first I saw and heard it, I wasn't much older than the kid in the picture.
There are some links to other pictures of the car in its heyday on my hometown dirt track, in what was then a racing hotbed.
Was this North Carolina? Indiana? Georgia? Not at all.
This was in Mississippi, of all places.
On summer nights as a preschooler I would lie awake in the dark with the screened windows open, listening to the iron thunder rolling across the trees from the fairgrounds a few miles away.
"What is that, Mama?" I would ask.
"Old stock car races," she would say.
"Can we go see them?"
"No, honey. Only sorry people go to those old stock car races."
The matter was closed for several summers, the taboo absolute -- and tantalizing.
Then my Cub Scout pack was invited to the races. Our leader was a postman. A coworker moonlighted as track announcer at the Laurel Fairgrounds Speedway, a half-mile dirt track, and agreed to let us all in free.
The announcer was called Fats Harvison. Hearing that, I guessed he must be some sort of gangster from New Orleans. Turned out he was quite skinny, and was a mild-mannered mail carrier with a rich and wondrous voice.
The great racing voice Chris Economaki, decades later, would tell me his lifelong philosophy about calling races: "The crowd must never leave the track having seen nearly as good a race as it thinks it has seen. That is the job of the track announcer."
By that measure Fats remains, in my heart, the best who's ever been, or ever will be.
Climbing high into the old roofed grandstands originally built for horse racing, I beheld a little black object in full broadslide through a turn. It came off the corner faster than any car I had ever seen anywhere, and when it reached full throttle I put my fingers in my splitting ears, without even thinking about it, to ease the banshee scream.
They didn't have race cams in those days, so the engines didn't crack or rumble. They shrieked: a horrific high, operatic scream, relentless, the roof of the old grandstand an echo chamber that made it even more painful to hear.
The nearest sound today is that of Formula One cars.
Something called "time trials" was occurring.
There was nothing "stock" about the Little Widow, or any of the other cars. "Stock" was just a word they got from the eastern side of the South. These cars were all highly modified, with rail frames, their bodies cut down so much that even though they had roofs, they were actually smaller than the Indy cars of the time.
The tiny black car came past in a blur, and Fats Harvison bellowed on the loudspeakers:
"This is Ellis Palasini, Leland, Mississippi, in the Little Widow."
From that moment, my world changed. There was far more to it than Ole Miss football and the New York Yankees, my first two sports obsessions.
Down through the decades, at the starts of races from Daytona to Indianapolis to Monaco to Le Mans, the Little Widow has screamed past me in my mind.
A lot of cars then had names, or combinations of names and numbers: Little Widow, Purple People Eater, 2x4, 12 Gauge.
The year was 1958.
Not until Easter Sunday 2009 did I learn on misschicken.com that the Little Widow lost only two races that summer of '58 on Palasini's tour of tracks in Mississippi, Louisiana and western Tennessee.
The other eye-misting Easter surprise was that not only does Ellis Palasini still live in the Mississippi Delta town of Leland, hard by the big river, but that at almost 78, he has a Web site, www.EPV8.com.
[+] Enlarge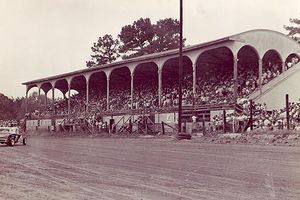 Courtesy Misschicken.com/Bo Freeman The grandstand and frontstretch of the Laurel Fairgrounds Speedway in 1955. This was the source of the mysterious thunder that kept little Eddie Hinton awake on Saturday nights.
And, it turns out, Fats Harvison is alive and well at 86 in Laurel.
So I have spent the past 24 hours, except for some sleep, wandering through my childhood, viewing pictures of racetracks long razed. A couple of years ago I asked my brother if we could go to the place the Laurel Fairgrounds Speedway once was, and he took me to what was nothing more than a vast asphalt parking lot where hundreds of FEMA trailers were stored from the Katrina disaster.
Palasini and his archrival, Ival Cooper (my second-favorite driver) didn't learn to race by running moonshine. Palasini learned to drive on tractors and combines on his family's vast plantation in the rich Delta land.
Cooper learned by racing fully loaded log trucks for the hell of it on dirt roads leading out of the backwoods of Arkansas. After moving to Mississippi for a better day job, he never did think racing cars was very daunting. He has been dead for decades, although I can't find records of the circumstances. I heard once he'd been killed racing, long past his prime.
Palasini quit in 1972, apparently bored with the takeover of Southern racing by late models, cars with fenders that weren't nearly as powerful or quick as the modifieds and supermodifieds he loved so.
The Little Widow was Palasini's sportsman-class ride. That was supposed to be the slower class, but it had a small-block V8 Chevy engine mounted on a rail frame fashioned from the driveshaft of a truck, covered with the chopped-down body of a 1934 Ford coupe.
It looks nothing like those supposedly pioneering North Carolina cars of the 1950s. Beside the Little Widow they are big, clumsy, bumbling oafs.
Palasini's even-faster car, in the modified division, was called the Black Widow and carried the simple number "V8" on the side. But that particular V8 engine was a highly modified version of what went into Corvettes in those days. Well-to-do Delta planters could afford such exotic machinery.
Cooper's No. 248 had a Cadillac engine. Bob Herrin's "Little 312" carried a GMC truck engine, modified by the maestro engine builder Buck Ishee in a place called Sullivan's Hollow.
These were all open-wheel cars. Even the "sportsman" cars were modified, and the "modified" cars were extremely modified. The only cars with fenders were the junkers, the "jalopy" class, and they were run as more of a joke, an intermission from the serious stuff.
I didn't see a serious fendered race car until showroom-like cars began to appear on TV, racing in a league called NASCAR, which didn't impress me at all -- why, Fireball Roberts' Pontiac looked no cooler than any sitting in our neighborhood driveways.
To this day I find it highly amusing when racers and race fans assume my background is in full-bodied cars because of my Southern accent. Along the Gulf of Mexico, from Florida to Texas, it was all open-wheel in those days.
In the 1960s they paved the Laurel track and made it part of a supermodified circuit that included high-banked half-miles at Jackson, Miss.; Mobile, Ala.; Montgomery, Ala.; and Pensacola, Fla.
New drivers arrived, among them two brothers from Alabama named Bobby and Donnie Allison. (You want to know how good Ellis Palasini was? Ask either of the Allisons to this day.)
To big races, 200- and 300-lappers, would come the hotshots from as far away as Indiana and Texas, hunting easy pickings. But they would always leave badly beaten, amazed by the brilliance of Gulf region mechanics like Ishee, Chicken McComb, Fred Sabbatini … outdriven by Palasini, Cooper, Gene Tapia, Armond Holley, Wayne Niedecken.
What dried up the Mississippi racing? Lack of money, probably. And the advent of fendered late models, which nobody down there ever really cared for.
And racing got too professional to be sport.
Once, at Laurel, I paid my 50 cents and scanned the pits for the Black Widow and the Little Widow, and they weren't there. Fats apologized to the crowd, saying Ellis and his father were running combines on the Delta plantation 24 hours a day trying to get the crops in before the rains came.
Think about it. Wouldn't you love for racing to return to such simplicity that its stars could go missing because they had to get their crops in?
Maybe the preachers killed off racing in Mississippi, calling it sin to their congregations, so that the decent folk abhorred a pastime for "sorry people."
For decades afterward, Mama would admonish me: "Honey, no good will ever come from you going to those old stock car races."
In that time, I have known the greatest and most renowned racing drivers in the world, from Graham Hill to Ayrton Senna to Michael Schumacher … from Richard Petty to David Pearson to Jeff Gordon … A.J. Foyt, Mario Andretti, all the Unsers and Allisons and Earnhardts.
For some reason, I never have felt awed in the presence of any of them.
But today I have written the first fan letter of my life to a driver. It's an e-mail to Mr. Ellis Palasini, Leland, Miss.