IRL nuts? Too ambitous? Maybe both
July, 14, 2010
07/14/10
6:18
PM ET
Are they nuts?
That's the thought that kept flashing -- in neon -- in my mind as Wednesday's stiffly choreographed, yet largely chaotic Indy Racing League "announcement" of its car plans for 2012 stumbled and stammered on and on.
Before the discombobulated display began, I'd thought the best possible scenario would be for the IRL to accept all five car designs that had been submitted. That would bring back diversity and innovation.
Worst possible scenario would be acceptance of only one of the designs. That would further mire the league in the kit-car, spec-racing formula that has left Indy car racing dwindling interest and attendance in recent years.
What was announced was worse than one car: no car.
Essentially, after all that buildup to the unveiling of a bold new design or designs, they continued treading water, put off the real decisions indefinitely.
[+] Enlarge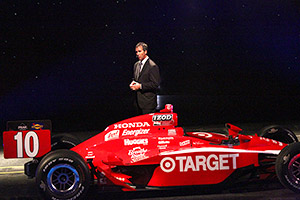 Ron McQueeney/Indy Racing LeagueIndyCar Series boss Randy Bernard has a heck of a road trip coming up to get manufacturers to buy into his sport's new vision.
Oh, they rolled out a rolling chassis. But that's a far cry from a full car.
Whose rolling chassis? Wouldn't you know it? After all that hoopla about wide-open technology, IndyCar is back in bed with its old spec-car partner, Dallara Automobili. Deeper than ever this time, with Dallara agreeing to open a plant in Indiana to hire Hoosiers -- in exchange, of course, for various tax breaks and grants from the state and local coffers. All this to create maybe 100 jobs.
Onto this rolling chassis, the IRL will allow the attachment of various "aero kits" to be approved and announced … well … sometime in the future.
At first the open-ended aero kits seemed something of a way to please all the engineering firms that submitted car designs. BAT, DeltaWing, Lola and Swift are all welcome -- but not their original, highly publicized designs.
They're all welcome to -- er, ah -- resubmit designs compatible with the Dallara rolling chassis.
Also invited are any and all automotive, and even aircraft, manufacturers around the world. Come and bring your own aero packages and make Indianapolis Motor Speedway the cutting-edge proving ground it once was.
"So come on, Ford. Come on, GM. Come on, Lotus, Ferrari, Boeing, Lockheed," cheered British engineer Tony Purnell, a member of the IRL's ICONIC committee that came to Wednesday's recommendation.
Pardon me if it sounded like LeBron James' over-the-top counting last week of "not four championships, not five championships, not six championships, not seven championships …"
The idea that a Ferrari or a Boeing would spend big to develop an aerodynamics package for a 21st century racecar, only to sell it to competitors for a maximum of $70,000 per car, seems tenuous at best.
Every time the IRL lifts off toward new heights of innovation, it applies its same old ruinous brakes, severe cost controls.
Finally, after the Internet-streamed presentation circus abated and we got down to a teleconference, I asked IRL competition president Brian Barnhart if the league had undercurrent commitments from manufacturers, or if this simply amounted to one of the great leaps of faith ever in motor racing?
As for the aerospace industry, "It's kind of a natural to challenge that industry to get involved," Barnhart said. "With regard to the automotive manufacturers, we have had some preliminary dialogue, and it has been exceptionally well received."
The idea is that a Ford-developed aero kit could be called a Ford car, and pack a Ford-developed engine so that in the future, rather than driving a "Dallara-Honda," a driver might simply be driving a "Ford," or "Chevrolet," or "Honda," or whatever.
Which might leapfrog the IRL ahead of NASCAR in brand identification -- except that the "Ford" would really be a Ford on top of a Dallara chassis.
Randy Bernard, the IRL's new CEO, said manufacturers brought into the loop "have said it's very exciting that they could create brand identity with their cars."
Trouble is, "we haven't been able to talk with everyone because we wanted to keep everything as confidential as possible, so we were very selective in our first round," Bernard said.
See? There you go. It's a huge leap of faith, without strong commitments from several manufacturers. Bernard plans a trip to Europe next month to talk with engine manufacturers there, to discuss engine and aero packages that could be called simply "Mercedes" or "BMW."
But that's essentially a sales trip, to make inquiries and proposals.
As the marathon announcement wore on, and they began to make some sense, I decided they're not nuts, but they are very broadly wishful in their thinking.
Here's hoping that it works, that we might again see Indy unveil innovations upon innovations, as it hasn't since the 1920s when the genius Harry Miller and the Brothers Duesenberg were high-tech archrivals. Maybe at least, on the more realistic side, we could see at least the diversity of cars I encountered when I started covering Indy 35 years ago -- the Coyotes, Wildcats, McLarens and various "specials."
But during Wednesday's rambling -- hard to call it an "unveiling" because so much is still so veiled -- through such a lofty, nebulous, unfinished plan, well …
First I got this image of the IRL sprinting headlong toward a cliff and taking a flying leap off … then of it hanging in midair, flapping its arms with all due intensity.
I'm not saying it won't fly. But I am warning: Look out below!